Of course there are literally 100 things to do in Thailand. The places in Thailand are as beautiful as their women.
Thai women are said to be the most beautiful women in the world. Isn't that single reason, not enough to make a trip to Thailand? Yes, for me.
Overview of Thailand
Thailand is an irregular shaped country with a narrow southern tip that is attached to Malaysia.
It is a huge country comprising over 510,000 sq. km!
Over and above this staggering figure, it has as many as 1430 islands that are floating in the Gulf of Thailand and in the Andaman Sea.
These water bodies are on east and west sides of Thailand respectively.
Do you know?
Do you know that Thailand is also known as "Siam" and the Gulf of Thailand's alternative name is "Gulf of Siam"?
Where is Thailand in the world?
Here is a map showing Thailand's position in the world atlas.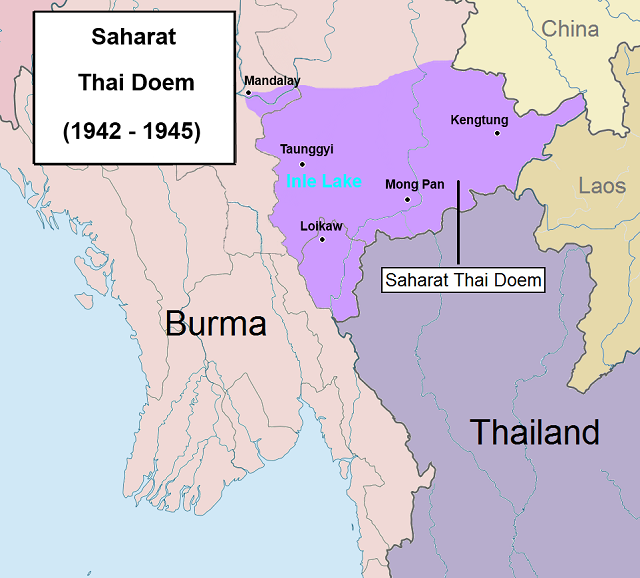 Look at Thailand's borders that are:
Myanmar, Laos in the North
Laos, and Cambodia in the East
Gulf of Thailand-South of Thailand and west of Cambodia. The gulf is the divider between the two countries
Malaysia-attached to Malaysia's main land in the south
Andaman Sea-the west coast of Thailand faces the Andaman Sea
Unless you see the position of a country that you intend to visit, in the Atlas, you will be blindly groping in the dark. A map showing the location of the country of your visit in world atlas is a must to plan your trip.
For example, do you know the Kho Phuket (Phuket Island) attracts more tourists than the mainland Thailand?
Let us now find the ways to reach Thailand.
Thiland's capital city is Bangkok, one of the biggest attractions in Thailand.
It is very well connected by flights from all over the world.
If sea voyage is your passion, you have to explore the possibilities from India, Myanmar, and Singapore.
Road trip to Thailand is possible from the following countries:India
Myanmar
China
Laos
Malaysia
Singapore
Things to do in Thailand:
As I already mentioned, there are literally 100 attractions in Thailand that we can see. We will see many of them below that are ranked high in the top 50 places to see in Thailand.
Bangkok
What a beautiful city Bangkok is! The water body you see above is not any sea but the Chao Pharaya River. It flows right through Bangkot and mingles with the Gulf of Thailand. Ping River and Nan River meet at some point and becomes Chao Pharaya River.
Bankok is placed right on the shores of the Gulf of Siam.
Grand Palace
This is your foremost visit when you arrive in Bangkok and take a tour of this beautiful city.
A series of old building make the palace and it was the seat of Siamese Kingdom once.
The palace complex is built right on the banks of Chao Pharaya River.
Tourists are allowed to some parts of the Grand Palace, one of the important places to see in Thailand.
Wat Suthat
Among the things to do in Thailand, the third most important visit is to see the Wat Suthat. It is a temple dedicated to Lord Buddha.
At the first glance, it did not look like a temple. It is 180 years old and considered as a sacred and royal temple by the Thais.
See the inside of the temple and Buddha's statue, blow.
Giant Swing
You can't miss it, boss! It is right in front of the Wat Suthat. I could not find any video that captured the actual act of swinging. It is a religious structure for the Thais.
Watthana District
It is a bustling place in Bangkok. Shopping, entertainment, eating, drinking, and people watching are the main things to do here.
Visiting the go-go bars in Bangkok is one of the biggest things to do in Thailand. I think almost every city in Thailand has one such area that goes to sleep only at 5 am!
As one of the attractions in Thailand, every tourist to Bangkok will visit the place and stroll around till midnight.
If you visit the Wattahana street in daytime, you can spot consulates of several countries including the Embassy of Argentina.
Democracy Monument
Nicely captured photo at dusk!  Such photos taken at dusk seems to add an importance to the  place.
It is built right on the middle of a road junction where, the vehicles move around the Democracy monument for congestion-free traffic. It is one of the places to see in Thailand.
If you visit the place in the night, you will be mesmerized by the beauty of it against the backdrop of Bangkok's city lights. It will be a dazzling sight.
Wat Saket
This is a Buddhist temple and one of the religious attractions in Thailand. It is usually added in the Bangkok city tour.
Wat Ratchanatdaram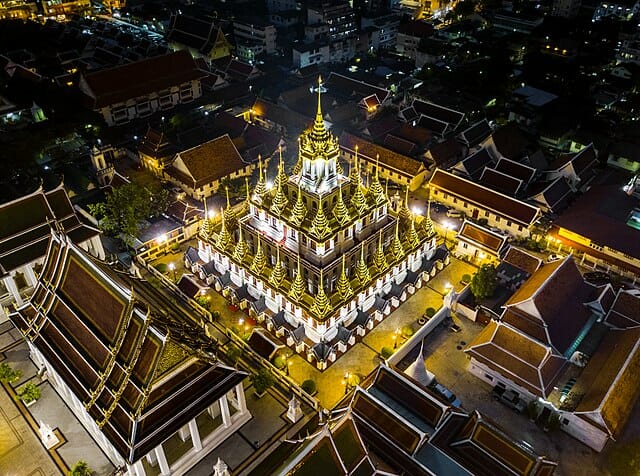 This is another extremely beautiful Buddhist temple that is a big tourist attraction in Bangkok. You can see the tourists join the locals throughout the day at the temple, praying silently.
Ratchadamnoen Avenue
As one of things to do in Thailand, you will most probably visit this important street in Bangkok on your first day in Thailand.
It is a beautiful street with a lot of history behind its development and the present buildings.
Wat Arun
In Thai language, the word 'Wat' indicates a temple.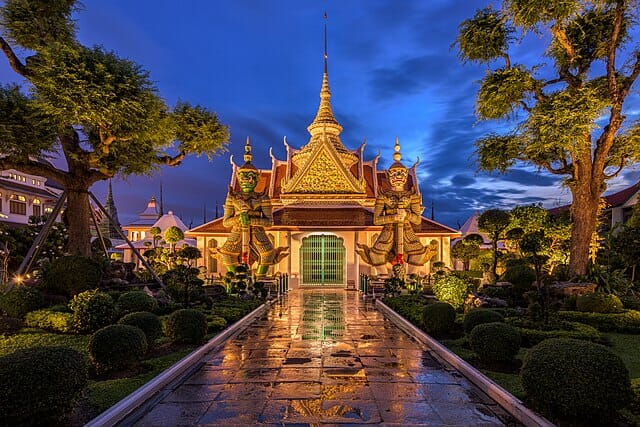 Though it is a Buddhist temple, the words 'wat  Arun" have Sanskrit roots.  It is one of the biggest attractions in Thailand and among the most revered Buddhist temples in the world.
Khao San Road
This is one of the main streets in Bangkok because of availability of cheap food and affordable boarding for budget and solo tourists to Bangkok.
Jim Thompson House
It is a typical house in Thailand.
It is now functioning as a museum in Bangkok. The displays are mainly a collection of fine arts by an individual.
Visiting such architectural marvels is considered as one of the things to do in Thailand for the tourists.
Night cruise in Chao Pharaya River
Most of the evenings during your stay in Bangkok, you will either stroll on the road thai is famous for sex tourism or cruise down the Chao Pharaya River.
The sparkling city lights, chaotic tourist movements, the aroma of Thai food emanating from the street food stalls make your evening cruise pleasant and memorable.
Dinner is served on the boat and a guide will continuously point out at all the wonderful tourist attractions on both sides of the river.
The river cruise begins at 7 pm and terminates at 9 pm.
Floating markets
Thailand's most colorful sights are their floating markets in the canals and river flowing through Bangkok city.
More than a dozen floating markets are in Bangkok selling fruits, vegetables, snacks and sweets, myriad street food, souvenirs, etc.
As a tourist to Thailand, one of the repeated things to do in Thailand is seeing the floating markets. You will also float in a boat to see the cheerful vendors, yelling their merchandise.
The most famous of all the floating markets is the Damnoen Saduak Floating Market in Chai Pharaya River.
The Amphawa Floating Market is usually included in the Bangkok Floating Market Tours or in the Bangkok Nighttime Market Tours.
You must have seen these floating markets in other countries including India, Sri Lanka, Indonesia, Burma, and Vietnam.
Night Markets
Bangkok's nightlife is the most vibrant in Asia. Massage parlors apart that are thronged by the tourists, there are a handful of night markets for various items in Bangkok. Strolling through the market is extremely enjoyable.
The delicious and fresh sea food that is washed down with gallons of beer will make you come again to the night markets.
Here are a few night markets in Bangkok that are worthy of a visit:
Hua Mum Night Market
Jiab Duan Night Market
Suan Lum Night Market
Chatuchak Friday Night Market
The food and drinks are better enjoyed when you watch live entertainment shows on the streets. The mood will be festive and boisterous.
Here is a video of Khlong Thom Night Market
It seems, you have to visit this night market on your first night itself in Bangkok because that is when your wallet will be fat. Undoubtedly, you will be buying quite a lot of Thai souvenirs, eat and drink local snacks and drinks and mingle with the crowds easily.
The Local cabaret show
Not a single tourist to Bangkok will return home without seeing a cabaret show in Bangkok. It is one of the ultimate things to do in Thailand.. These cabaret shows are highly advertised by the Thailand tour operators. They lure the tourists by publishing attractive photos of the cabaret show in their travel brochures.
In Bangkook, you can enjoy several such live shows, cultural shows that always end up with a sumptuous dinner.
Dinners serve international cuisine also but say no to other cuisines and enjoy only the Thai food. You will fall in love with it from day one during your tour of Thailand.
As a matter of fact, Thai cuisine is one of the major attractions in Thailand.
Mahanakhon Skywalk
The biggest attraction and one of the must-do things to do in Thailand is to go up on a viewing platform in Bangkok and let your mouth wide open  and let out an audible gasp when you see the entire Bangkok city from such a height.
Walking on the glass floor gives you goosebumps. Eating at the restaurant on the top viewing platform and enjoying the breathtaking view is an experience that makes you crave for more.
The height of the glass floor on the Mahanakhon Skywalk is 1030 feet, making true of the word 'sky walk'.  When you walk on the observation platform, remember that you are on the 79th floor of the tower.
Can you guess how long does it take to reach the observation deck? Only 50 seconds, buddy! That must be the fastest elevator in the world.
Safari World
Safari World is one of the prime attractions in Thailand and in Bangkok. Inside the usual safari park, there is also a marine park that will steal your heart.
The safari park comprises of an open zoo and a birds park.
The safari park looks like an African Savannah. To go round the safari park in a jeep takes 50 minutes.
Whatever animals that you can spot in Masai Mara, Kenya, you can see them here in Bangkok such as Wildebeest, Giraffe, White Rhinoceros,  the galloping Impala, and Nilgai Blackbuck.
The bird sanctuary houses more than 200 species of birds that includes several aquatic birds.
Caribbean Flamingoes
Wood Duck
Mandarin Ducks
These two duck species are extremely beautiful and throw challenge to the beauty of budgies, peacocks, South American Macaws, and Australian Lovebirds, etc.
There are separate enclosures for a few species of tigers including a white tiger and a few species of Hornbill.
The list of wildlife you can see in the Safari World is endless. Wildlife enthusiasts and ardent bird watchers are sure to return the next day also to the Bangkok's safari World. Visiting it, is one of the most engaging things to do in Thailand.
The friendly and entertaining Dolphins are the major crowd-pullers in the Marine Park.
The Safari World's numerous shows will entertain you throughout the day. Here are some of the animals, birds, and marine creatures show.
Orangutan Boxing Show
Elephants Show
Dolphins Show
Sea Lion Show
You can feed the giraffes and several species of attractive birds.
Siam Park
The huge size of the park gives it the name Siam Park City. The Siam Park occupies a staggering 120 acres!.
Siam Park City houses an amusement park and a water theme park in Bangkok.
The exciting rides include:
Suspended Looping Coaster
Wave Pool in the water theme park
Have you ever seen a wave pool in which waves are artificially created in an ordinary swimming pool. Here is how the wave pool functions in Siam Park City, Bangkok.
Apart from the most enjoyable wave pool in the water amusement park, you can expect most of the modern slides.
The amusement park offers as many as 30 rides that will engage a whole family for a full day. Yes, you need to allocate one full day to enjoy the Siam Park.
Dream World
Dream World is a mini amusement park built for those who are not living anywhere in Bangkok city.
Dream World is located in Thanyaburi. That is situated 60 km northeast of Bangkok.
Ocean World
The endless attractions in Thailand continue. Here is an extraordinary world of Oceanology, showing you a whopping 400 species of underwater creatures.
Incredible marine creatures including spectacular fish species, micro-organisms, Seahorses, and even Penguins can be seen in real time, mate!
The odd-shaped (I mean not shaped like a fish but still called a fish) Jellyfish can also be spotted.
https://upload.wikimedia.org/wikipedia/commons/thumb/4/44/Jelly_cc11.jpg/640px-Jelly_cc11.jpg
Jellyfish
The aquarium named "Sea Life" is built in 110,000 sq. ft area!
The Asiatique
Asiatique River Front is one of the places to see in Thailand. It is not just a night market but you can call it a shopping city facing the Chao Pharaya River.
There are nearly 1500 shops. Imagine the manpower it needs to man that many shops. To feed them, 40 restaurants and small food stalls function.
Tiger Kingdom
Who can resist a chance to see the tigers, the queen of feline species? Watch in close quarters, several tiger in the Tiger Kingdom. It is located in Phuket, one of the most visited islands in the world and extremely popular as a honeymoon destination in the world.
Do you know?
Do you know you can go to Phuket Island from Bangkok in a train? The journey time is about 10 hours. The final leg of your visit to Phuket will be by a bus.
Islands to visit in Thailand
1430 islands are administered by the Kingdom of Thailand.
Leaving the 1400 islands and islets as uninhabited, the rest of the 30 islands attract equal number of visitors as the mainland Thailand.
Here are the names of major islands that are worthy of planning a separate tour of Thai Islands. 'Kho' is the word for island in Thai language.
Phuket
James Bond Island
Krabi
Phi Phi
Lanta
Phangan
Tao
Similan
Tarutao
These are truly exotic tropical islands supported by spectacular beaches and clear water.
Underwater World
We all are excited to see the marine creatures live either in an aquarium or riding a glass-walled submarine.  Snorkelers and scuba divers can even swim with the fish species.
Pattaya is one of the important cities in Thailand. It is listed as the second biggest visited place in Thailand.
Pattaya is located 100 km south-east of Bangkok, right on the coast of the Gulf of Thailand.
Visiting Paattaya is among the muse-see things to do in Thailand. The coastal city's many stunning beaches, extraordinary food and drinks, many shopping streets, engage a tourist for a minimum of 4 days.
One of the biggest attractions in Pattaya is the Underwater World. Apart from hundreds and thousands of small and medium sized colorful fish species, you can watch stingrays, groupers, and even wale sharks.
Tickets have to booked well in advance. It is famous worldwide so much so that several travel websites such as Make My Trip sell tickets online to the Underwater World, Pattaya.
Pattaya Park Tower
Approximately 800 feet tall, the Pattaya Park Tower is the second big attraction in Pattaya city and one of the places to see in Thailand.
The tower has an observation deck that gives you spectacular views of the Gulf of Thailand, Jomtien Bay, and even some of the Thai islands.
There are two revolving restaurants above 50 floors that command high demand. Advance booking is essential to get a table in the restaurant.
Adventure seekers will not let go off an opportunity to go for a jump from the pork tower. It is more of a zipline adventures in which you hang on to the metal ropes and slide down to the base of the Pattaya Tower.,
Here is a video of it.
If you are a water theme park buff, you can enjoy a few slides and rides at the water park, near the Pattaya Park Tower.
Art in Paradise
You must see it to believe it. The 3D art works in the museum will blow your mind.
Did you enjoy the fantasy world of 3D art?
I would rate it in the top 10 attractions in Thailand. The Art in Paradise museum is located in Pattaya.
Nightlife in Pattaya
Just about everybody in the world who is above 15 must have heard of the most exciting nightlife of Pattaya. It is one of the biggest attractions in Thailand.
The fun begins from 7 pm and seems to end just before dawn. Just because of this entertainment in Thailand, Pattaya is known as the 'sin city'.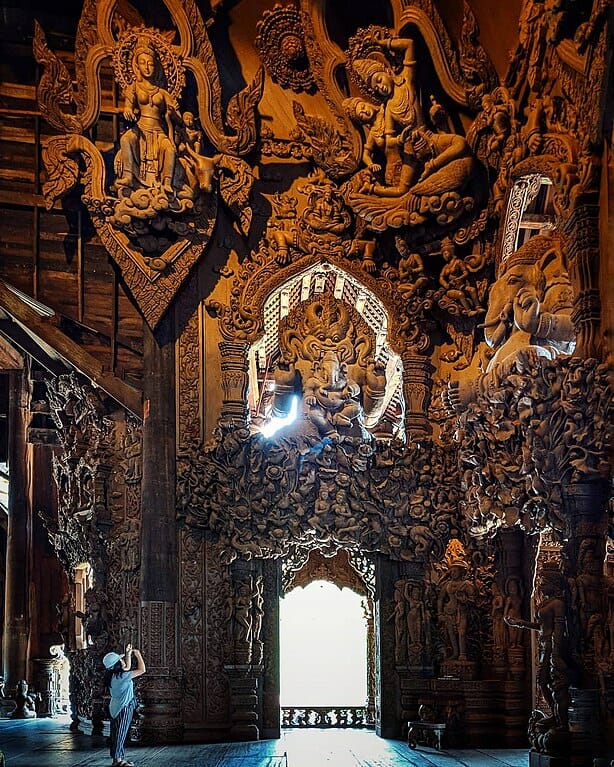 The name of the place that is popular for this kind of entertainment is the "Walking Street". You can find a handful of videos in YouTube if you search for Nightlife in Pattaya or in Thailand.
The Sanctuary of Truth
The name will certainly lure many but once inside the half-finished building, the curiosity might sink because it is actually a museum built with a temple theme.
Wat Khao Phra Bat Temple
Obviously, this is a landmark that is easily visible from several parts of Pattaya.
Nong Nooch Garden
It is one of Pattaya's tourist landmarks. If you are new to a tropical country, you must visit this botanical garden as it is full of tropical flora.
Bird Park
I would visit this paradise of birds first if I were to tour Phuket Island, one of the islands of Thailand.
Feeding the birds right from your hand is a thrilling experience.
Different Festivals of Thailand
Among the various things to do in Thailand is to witness at least a couple of their festivals that give you exposure to the amazing Thai culture, beautiful Thai women and their awesome dresses, and ornaments.
Some of the festivals in Pattaya:
Gulf Regatta –a festival of sailing in April. The highly attractive sails and trhe boats will steal your heart.
Pattaya Marathon in July
Songkran Festival-similar to Tamil New Year, it is Thai New Year celebrated on 13th
There is an international music festival conducted in March
Magic Show
It is an everyday show of illusion that would keep the children at their best mood. It is running in Pattaya. Don't miss seeing the 90-minute magic show.
It is recommended as one of the must-see attractions in Thailand.
Visit Ayutthaya
A visit to this awesome cultural and religious city is certainly one of the most memorable things to do in Thailand. It is interesting to note that the city of Ayutthaya was once the Thai capital.
The city of incredibly built temples itself is situated inside a small island in Bangkok.
You need to cover a distance of 80 from your hotel in Bangkok to come to Ayutthaya. The whole complex of temples and the streets are now declared as World Heritage Site by UNESCO.
Did you notice the name Ayutthaya is similar to Ayodhya, the sacred city of Ram in India?
Please do not miss a tour of Ayutthaya when you are visiting Thailand. It is considered as one of the best places to see in Thailand.
Elephants Show
Watch a short video clip showing awesome show of elephants in Bangkok.
Isn't it marvelous? OMG, what a training of these giants of the forests!
The elephant show can be seen when you visit the crocodile farm where more than 10k crocodiles are kept. I would stay far away from crocodiles.
Tiger Zoo
There is a tiger zoo in Pattaya that is worth visiting. It won't consume much of your time to see around the Tiger Zoo in Pattaya.
Not only the tigers but you can also spot Ostriches, Kangaroos and numerous cute birds. Somehow, the tigers are trained to be friendly with humans. You can stroke a tiger and even feed it!
Sepentarium
Your guess is right, friend! Snakes sanctuary is a place that will keep the majority of tourists away. Not all of us are yearning to see any snake. When a place is full of snakes and nothing but snakes, we would not anywhere near it-right?
However, there are a few alluring factors in the Bangkok's Siam Serpentarium.
One is the sight of the dreaded Annaconda in the snakes preserve. Another is a cobra that is white. A white cobra is very rare that we may not mind seeing it.
The Wax statues (Madame Tussauds)
Who has not heard of Madame Tussaud and her incredibly look-alike wax statues of world celebrities?
You can see a museum of the works of Madame Tussaud right here in Bangkok. This is one of muse-visit things to do in Thailand.
Elephants Sanctuary
Pattaya is where you can visit a sanctuary for elephants alone. The sanctuary also serves as a rehabilitation center for rescues elephants. It is one of the places to see in Thailand. When you watch elephants in herds, you will like them, especially, if there is a calf trying to walk beneath its mom. It is so cute.
Water Sports om Thailand

Water sports are rated as the best attractions in Thailand. Whatever kinds of water-based adventures you know, they are available in Pattaya and in various islands of Thailand, including Phuket, one of the biggest island holiday destinations in the world.
Flyboarding is one of the dangerous water sports that only young people can indulge in. It is available in Pattaya.
Have you ever watched the 'flyborading' adventure? See it below in a video clip.
Other warer sports in Thailand:
Kayakaing
Scuba Diving
Snorkeling
Wave Surfing
Banana boat rides
Wake boarding
Jet Skiing
Kite Surfing-it is the most enjoyable of all water sports.
Kite Surfing
Both the beaches in Pattaya and Phuket are known as water sports centers. Coral Island is also a known place for water sports, especially for scuba diving and snorkeling.
Other adventure activities in Thailand
Apart from water-based adventures, there are more sports that include a ride in ATV (All Terrain Vehicle), bungee jumping, para sailing, sky diving, hot air balloon rides, and ziplining. These adrenaline-pumping adventures are cheerfully participated by the tourists from other Asian countries such as Singapore, Malaysia, Taiwan, Laos, Vietnam, and Cambodia.
I have no option but to deliberately leave out many more places to see in Thailand because, the post's length is getting too long.
Stay tuned to know about various tour packages of Thailand because, unless you join a tour based on your interest, you can't enjoy Thailand to the hilt.