Summer is in full force in India. Summer is hell in the plains. Hill stations beckon us as summer escape destinations. Here is the list of lesser-known hill stations in Kerala.
People who are wealthy, go to highly popular hill stations in the Himalayas. Middle income groups seek summer escape in the lengthy Western Ghats that start from Tamilnadu in the south, go through Kerala, Karnataka, before tapering off in Maharashtra state.
Even in these states, the highly visited hill stations are beyond the means of the majority of tourists. Such places include:
Matheren
Lavasa
Connoor
Chikmagalur
Panchgani
However, quite a number of other options are unknown to many people. Such places don't lack in beauty, pleasant climate, decent hotels, and good food.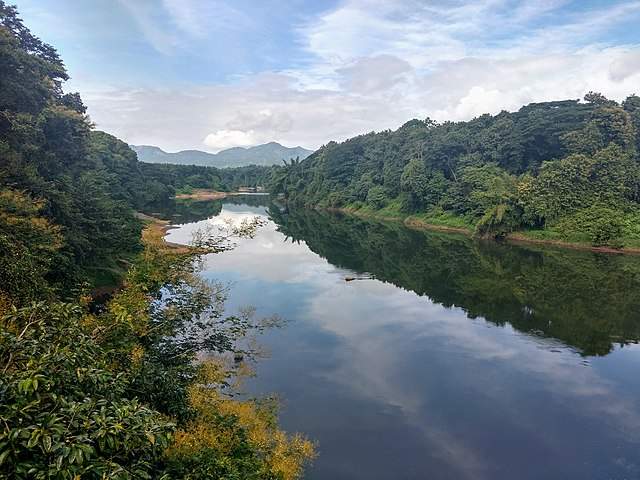 Lesser known hill stations are throughout South India and Maharashtra. From this blog post, you will come to know several unknown hill stations in Kerala state only.
Peermedu
Thiruvambadi
Vithura
Ponmudi
Lakkigi
Ranni
Malampuzha
Gavi
Athirapalli
Vagamon
Silent Valley
Ranipuram
Malakkappara
Kalpetta
I guess you didn't expect so many hill stations in Kerala that are rather unknown-am I right? Apart from these hill stations, there are the much popular Munnar, and Thekkady.
Lesser-Known Hill Stations in Kerala
Let us climb up the cool Western Ghats.
Peermedu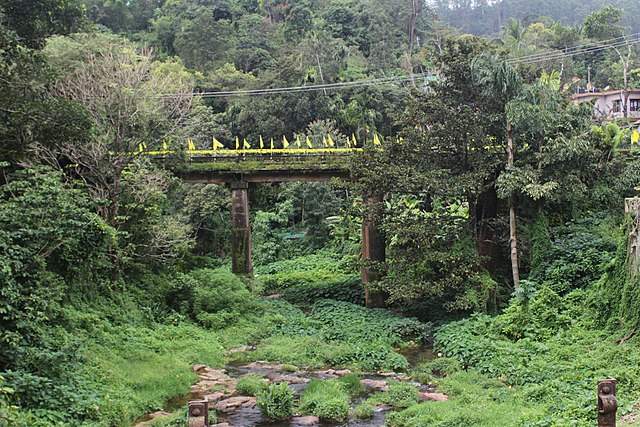 This unknown hill station in Kerala is situated at an altitude of 3000 feet. My home city Bangalore is also at the same height. Peermedu is part of Idukki district, Kerala.
Kottayam, the scenic city acts as the gateway to Peerumedu as it is also known. The distance between the two destinations is 80 km.
You can see the popular Thekkady vacation spot in Kerala, lies on the way.
Peerumedu is known as an Eco Tourist center. Coffee, tea, cardamom, and pepper are aggressively cultivated here.
Though there is not much to do except to go for scenic trekking and horseback riding, Peermedu is a superb place to unwind. You can leave your city toxins here, get rejuvenated and go back to the hells of city life and tensions.
Nearby places to see:
Thrisanku Hills
Kuttikaranam
Eagle Rock (Grampi)
Panchallmedu
Madammakulam Waterfalls
Peeru Hills
How to go to Peermedu hill station?
By air, Kochi is the closest city at 130 km away.
By train, Kottayam railway station is located at 50 km approximately.
This means, you can reach Peermedu either from Kochi in Kerala or Madurai in Tamilnadu.  The road route to Peeumedu from Madurai is picturesque with numerous highway attractions and observation platforms.
Thiruvambadi
It may surprise you to know that Thiruvembady hill station is located in Calicut district that is known for humid conditions. 35 km separates the two places.
River Thiruvanjipuzha flows through the hill station. You may be aware that Kerala is blessed with numerous rivers of which many of them are perennial rivers.
Lovely gorges, green-covered hills, and two waterfalls namely, Aripara Falls, and Thusharagiri Falls are the main places to see in Thiruvembady.
Calicut is equipped with both an airport and a train station.
Vithura
Vithura, an unknown hill station in Kerala is easily accessible from Trivandrum, the capital coastal city of Kerala. Imagine a hill station near a sea; isn't it rare?
Only 36 km is the distance from Trivandrum. It is big tourist spot for the Keralites living between Nagerkoil in Tamilnadu and Trivandrum.
The pleasant climate exists throughout the year.Rubber trees are seen everywhere. In addition, the neatly laid out tea gardens add to the greenery of Vithura.
It is a trekkers' haven. You can climb up to the Agasthiyar Koodam peak.
On the way, one can witness Meenmutty Falls.
Vithura village is the also the gateway to Ponmudi hill station, a lesser-known hill station in Kerala.
I wonder why it is called a hill station as its altitude is only around 400 feet!
Ponmudi
I believe it is popular only for the residents of Kerala and some towns in Tamilnadu, bordering Kerala.
If you drive for 25 km from Vithura, you will reach Ponmudi, considered as Kerala's Ooty. The comparison is definitely not justified because of lower altitude, flora and the number of scenic spots.
Ponmudi's elevation is 3600 feet, just 300 feet more than the city of Bangalore.
The peak of Ponmudi is called, "Varayadumotta".
Ponmudi hill station is poor men's honeymoon destination.
The drive to the town includes 22 hairpin bends with a few view points. On the way, several mountain streams cross your path. The hill's slopes are used for tea gardens.
The most picturesque place is the Golden Valley.
What are all the tourist attractions of Ponmudi apart from the cool mountain range of the Western Ghats?
Echo Point
Peppara Wildlife Sanctuary
Kallar River
Deer park
Ponmudi Falls
Agasthiarmalai Biosphere Reserve
Shendurney Wildlife Sanctuary
Neyyar Wildlife Sanctuary
Kalakkad Mundanthurai Tiger Resrve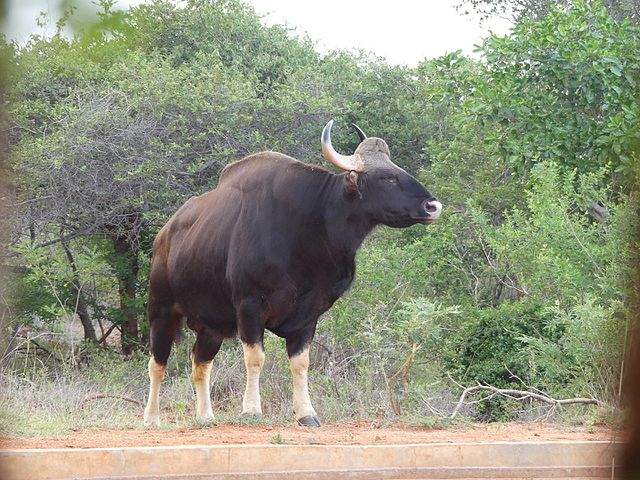 All these wildlife sanctuaries are part of Agasthiarmalai Biosphere Reserve. 7 years before, it was brought under the UNESCO Heritage Sites.
The bio reserve occupies a staggering 3500 sq. km that is spread over Kerala and Tamilnadu state too. Kollam, Tirunelveli, and Kanyakumari towns in Tamilandu has close access to Agasthiarmalai Bio Reserve.
I had been to this place once. The forest with a river flowing through was lush green. The silence was broken by the river's flow and myriad bird songs.
There is so much for the nature lovers, wildlife enthusiasts, and trekkers in Ponmudi hill station.
Lakkidi
It is almost unknown to the public except to the Wayanad farmers. Lakkidi is known for rich and diverse eco system that includes excellent flora, and fauna.
This is not an actual hill station with adequate infrastructure. It is more of a hotspot natural beauty spot that is surrounded by dense rainforest.
Apart from wild, rain-attracting trees, the area is known for large-scale cultivation of spices, tea, black-pepper, and cardamom.
Lakkidi's altitude is 2300 feet. For the children, there is the small Pookode Lake.
For the ardent birders, the rare Indian Cormorant lures them to the interior of the rainforest.
You can buy fresh oranges during the season and coffee powder and tea dust right through the year.
Lakkidi rainforest receives copious rain measuring up to 650 cm! That is a mammoth portion making the place as wet as Chirrapunjee.
Calicut is your gateway to Lakkidi in Wayanad. Just 55 km is all you have to cover by road to reach one of the precious rainforests in India.
Calicut has an international airport and a well connected train station.
Mysore to Lakkidi is 155 km by raod.
Ranni
Thiruvalla is an important pilgrimage town in Kerala. It has a railway station. Hire cab from here to reach Ranni, located 30 km away.
In spite of being an unknown hill station in Kerala, the Keralites consider the place as the 'queen of eastern hills'.
Alleppey town is only 40 km north-west of Thiruvalla.
The elevation of Ranni hill station is only 1100 feet.
Surprisingly, Ranni cultivates cocoa and not many people in India are aware of this fact.
Malampuzha
Isn't it beautiful? Sadly, this is a lesser-known hill station in Kerala, located very close to the big industrial and educational city of Coimbatore, 60 km away.
However, its exact location is 15 km from Palakkad town, Kerala.
So, your accessibility to Malampuzha hill station and Malampuzha dam is either from Coimbatore for the air travelers or from Palakkad for the train travel enthusiasts.
The mountain you see in the above image is known as Anaiakkal hills. It has an impressive altitude of 4600 feet!
The Malampuzha dam and the gardens surrounding it, are excellent tourist spots.
You can stay in a hotel in Palakkad and visit the Malampuzha hill station. Palakkad hotels are cheap and the food (vegetarian) is the best in the entire state pf Kerala.
A cable car ride here is a big tourist attraction.
The view below and on all sides is spectacular. The ride lasts an enjoyable 20 minutes at 60 feet above the ground.
In addition, there is an amusement park, and a Japanese garden.
Gavi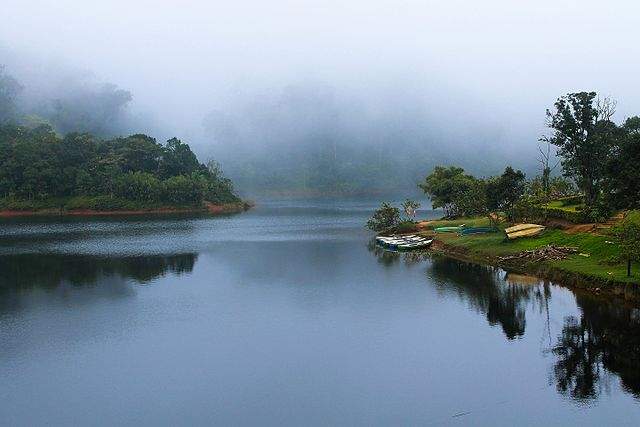 Gavi hill station's height is 3400 feet. Vanadiperiyar, a town on the way to Sabarai Malai pilgrimage, is 20 km away.
However, the nearest railway station is Chengannur at 120 km. It is a major gateway to several Vishnu temples in Kerala.
If you want to go by road to enjoy the scenic western ghats, you can hire a cab from Mudurai city in Tamolnadu.
You have to drive towards Kollam (Quilon) which is near the Arabian Sea.
In addition, you can also drive from Trivandrum city.
If you are visiting Thekkady, a major vacation spot in Kerala, you can make a day trip to Gavi hill station at just 40 km away.
When you are in Gavi, you should visit the Periyar Tiger Reserve, an important tiger sanctuary in Tamilnadu state that also spreads into Kerala.
Apart from tigers, one can spot leopards, bears, elephants, gaur, spotted deer, and the rare Nilgiri Marten.
Nilgiri Langur can be easily seen because of their large numbers.
It is listed as an endangered species and endemic to Nilgiri hills.
If you are alert to movements on the trees, you can spot and identify the Indian Gaint Squirrel.
What a bushy, long tail! It is really a giant.
For adventurers, forest tents are available for overnight stay.
Overall, Gavi hill station is worth visiting.
Athirapalli
I think this short video depicting the lush, and voluminous Athirapalli Waterfalls is enough to make you pack your backbag and head straight to Athirapalli hill station.
Fly or go by train or car up to Kochi and go by road to Athirapalli, 65 km north-east.
Both Kochi and Chalukudi railway station is close to Athirapalli, one of the most filmed locations in South India. Not only Indian languages movies but also a few English films were shot at the Athirapalli Falls.
Only 25 km distance separates Chalukudi and Athirapalli.
If I were you, I would drive from Kochi to Athirapalli via Chalukudi because of some extremely green space.
The series of waterfalls is surrounded by evergreen forests that are habitat to numerous mammals and birds. There is a jeep safari to enter the dense forest and see wildlife.
Vagamon
Vagamon is a lesser-known hill station Kerala. It is located in Idukki district, a major agri and horticultural center in Kerala. Teak and rubber plantations are abundant in Vagamon.
This hill station's elevation is just short of 4000 feet.The English rulers found out this paradise on earth and started tea cultivation on the mountain's (Western Ghats) slopes.
Do you know?
Do you know that Vagamon is among the top 50 beautiful places to see in India. This enviable status was awarded by none other than the National Geographic Traveler.
The hill station's high altitude surrounded by evergreen forests attract countless birds, animals, and reptiles.
Even the flora of Vagamon has attracted the attention botanists from abroad.
In spite of so many features, Vagamon is a comparatively unknown hill station in Kerala.
Silent Valley
Silent Valley is a sort of unsung hero of India. It is incredibly rich in bio diversity. It so much so that, a national park was carved out of it that is visited by few tourists.
The location is near Mannarghat, some 40 km from Palakkad, in the cool Nilgiri hills.
Silent Valley is shared by both Tamilnadu and Kerala states.
Look at the dense, green jungle in Silent Valley.
I feel like walking through the forests for long hours.
Places to see in Silent Valley:
Amarambalam Reserve Forest
Nedumkayam Rainforest
Karimpuzha wildlife sanctuary
Mukurthi National Park (I had been to this place. It was truly silent; there atmosphere was still)
Mukurthi Peak
Anginda Peak
Several rivers
Attappady Reserve Forest
As far as wildlife is concerned in Silent Valley, the beautiful Lion-tailed Macaque is the star attraction.
Countless butterflies, dragonflies, snakes, frogs and insects were spotted and identified in Silent Valley.
How to visit Silent Valley?
Both Coimbatore and Cochin International Airports are gateways for the Silent Valley, Palakkad, Kerala.
Ranipuram
Ranipuram is one more unknown hill station Kerala. It is located near the Karnataka border. Kasaragod city is the nearest railway station to visit Ranipuram hill station. Kanhangad is the closest town to Ranipuram. From Kanhangad, Ranipuram is 45 km.Two hours of drive is required to reach Ranipuram from Kasaragod.
I hope you can guess the ways to reach Ranipuram hill station because Kasargod is a well know city in Kerala. Its railway station is located on the way to Mangalore.
The elevation of Ranipuram is 3400+ feet. The hill station is equipped with a few resorts, and hotels with attached restaurants.
Ranipuran is North Kerala's Vagamon. It is truly a spellbinding hill station in Kerala.
Malakkappara
Chalukudi is again the starting point to reach Malakkappara, certainly a very lesser-known hill station in Kerala. The distance is 90 km approximately from Clalukudi, Trissur district.
Valaparai is a well-known hill station in Tamilnadu, near Pollachi town which is 50 km away from Coimbatore.
From Valparai, you can drive to Malakkappara via Athirapalli road. The distance to be covered is just 27 km. So, Coimbatore city is a perfect gateway to Malakkappara.
The beautiful Sholayar Dam is on the way. Even Aazhiyar dam is located just outside of Pollachi, at the base of Valparai mountain.
At a height of 3100 feet, the place is quite spectacular with dense forests on the way and tea gardens decorate the mountains.
There are a few cottages near Sholayar Dam to stay and hear the sounds of jungle during the night.
Two big tiger reserves namely the Parambikulam and Anamalai tiger sanctuaries are the nearby attractions.
Valaparai is affordable to stay and you can make a day trip to Malakkappara. The lovely Nelliampatti Hills are also nearby.
Kalpetta
At 2600 feet elevation, Kalpetta is a small hill station in Kerala.It is the district headquarters of Wayanad district.
Kalpetta is famous for large-scale tea and coffee cultivation.
If you want to go to Calicut from Mysore by car, you will reach Kalpetta at the 140th km.
Alternatively, from Calicut, the drive involves 75 km crossing.
Kalpetta is surrounded several hill stations and tourist landmarks. Even the picturesque Chembra peak is close to Kalpetta.
Banasura Sagar dam and the Sochipara Falls are the attractions of Kalpetta.
Hotels, lodges, and restaurants are abundant in Kalpetta hill station.
So, as many as 14 lesser-known hill stations in Kerala are the affordable summer escapes for the people of Kerala, Tamilnadu, and Karnataka.