How to see the best of Kerala in just 7 days?
This is how Kerala looks in the morning. Nice capture-eh? Thanks to Wikimedia for this enticing  photo of Kerala, the southern-most state in India.
Kerala is facing the Arabian Sea, on the western coast of India. It is one of the most-visited states in India as its natural beauty, the green cover, backwater canals, thousands and thousands of coconut trees, lovely beaches, magnetically pulls tourists from every part of the world.
If you plan for a week-long vacation, what are all the things to do in Kerala?
How to the see best vacation spots in Kerala in only 7 days?
Where to start your Kerala holiday?
You will get all your answers in this blog post.
Best of Kerala:
Cochin
Cochin or Kochi is the second largest city in Kerala, next to its capital city Trivandrum. You have to book your cheap flight tickets to Kochi and not Trivandrum because the best vacation spots in Kerala are centered around Kochi.
Your first day in Cochin (Kochi)
Kochi is a coastal city on the shores of the Arabian Sea. Similar to Amsterdam, the city has criss-crossing canals carrying the sea backwaters.
You can notice sprawling bungalows and huge villas on the banks of these canals. I think only the affluent people can afford to buy a waterfront house in Kochi.
There are some 5-star hotels also, on the banks of the canals.
Since you will be arriving in Cochin mostly in the morning, you will spend your first day, exploring the beautiful but humid city.
Here are the top tourist landmarks in Kochi:
The promenade is facing the Arabian Sea. It is also a wonderful spot to see the sunset.

Popularly known as the beach road, it is a scenic road abutting the Arabian Sea. Choose to see the road after the lights come up, late in the evening.
Strolling through the marine drive in Cochin is one of the memorable things to do in Kerala.
All along the promenade, you will see a range of restaurants, and shopping malls.
At both ends of the Marine Drive are small boat docks from where, you can enjoy a catamaran ride in the backwater canal to a few small islands in the Arabian Sea.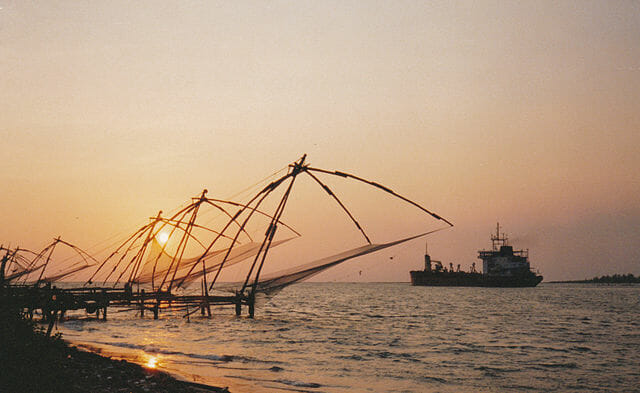 You are not likely to see these fishing nets anywhere in India apart from Cochin. It is popular in China and Indonesia only. They are used to catch truckloads of fishes, crabs, and lobsters and whatever marine creatures that are trapped in the net.
Chinese fishing nets are awesome to see in Kerala. In the video below, watch how the Chinese fishing nets are lowered into the sea and lifted manually after a few minutes, with the catch.
Free lunch for aquatic birds as the net comes up with the fish!
This is an old part of Cochin. It now acts as the gateway to visit a few small islands and islets that are not far off from Cochin. There is nothing to see on the islands; you will just enjoy a breezy boat trip to the floating lands.
The Kochi city landmarks include a handful of churches of which, some are really historic. Even you can go inside a Jewish synagogue in Kochi.
It will be time for you on Day 1 of your visit to the top vacation spots in Kerala.
Day 2 of your places to see in Kerala:
Invariably, you will start very early everyday from day 2 onwards. The second day, you will start your picturesque road trip to Munnar, a beautiful hill station. It is 130 km east of Kochi city.
You can either stay in Munnar a couple of days to enjoy the cool weather and see some breathtaking places to see in Kerala or make it just a day trip from Kochi.
Beware, the traveling time will be nearly 3 hours while going uphill and that's why, you will leave early from your hotel in Cochin.
There are numerous beautiful places to see in Munnar such as waterfalls, lush meadows, tea estates, and spice gardens.
Day 3 in Munnar:
After a cool overnight stay in a cottage in Munnar, you are fresh to start going around several scenic spots and also visit a tea factory. You are also invited to join the 'tea pluckers' and learn to pick the right tea leaves to extract tea.
Ask your hotel reception desk that you would like a typical Kerala herbal massage. You would really enjoy the heavenly relaxation session.
On day two evening, you will start your journey back to Kochi or you can directly head to Thekkady. The distance is 90 km. It is advisable to go to Thekkady directly from Munnar,
Day 4 and 5 of your Kerala trip: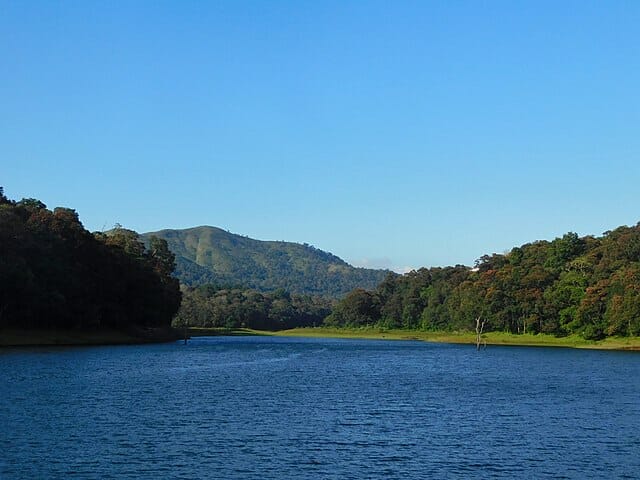 Thekkady is one of the beautiful places to see in Kerala.
I will you give a sample scene of how beautiful Thekkady is.
Thekkady is a gateway to see the diverse wildlife of the Western Ghats and aromatic eucalyptus groves and teak tree groves.
In addition, the Periyar Tiger Reserve, one of the largest tiger reserves in India is near Thekkady.
Additionally, Thekkady is home to several elephant rejuvenation camps.
Here are few sightseeing places that are worth seeing in Thekkady and they will justify why Thekkady is rated as one of the important vacation spots in Kerala.
Periyar Tiger Reserve
Murikkady coffee estates
Thekkady lake and boating in the lake
Chellar Kovil waterfalls
Anakkara spice gardens
Pattumalai is known for hidden gems of beauties, mountain streams that originate from a few waterfalls.
Kumily-a hilly town known for cardamom cultivation
Trekking trails are many in the western ghats of Thekkady
You will spend two full days in Thekkady. Don't rush back to your hotel when in Thekkady. Stay out at least until 10 pm to smell the aroma of spices and tea.
Take a night taxi to go to Alleppey, the place of lakes and boat houses in Kerala.  The distance is 140 km approximately.
Day 6 of your Kerala Tour
Alleppey is full of backwater canals, where you can hire a boat-house for 9 hours (that is the maximum duration allowed in a day for the boat-houses to ply on the water) and enjoy a royal treatment by the host.
It is an experience that you should not miss as it is one of the top things to do in Kerala.
The food will be sumptuous with just-caught fish fry, lentil soups, banana chips, Kerala special rice, and tea.
There will be onshore excursions to see the local temples, buy coir products, and interact with the local Keralites.
In addition, the boatman will point out at numerous birds that are constantly on the look-out for fishes.
The beach in Alleppey is a big tourist attraction. Here is a pier too that is more than a century and a half old.
Actually, 3 days are required to enjoy the Malabar life in Alleppey.  However, your last of Kerala tour is located just 30 km from Alleppey.
Day 7 to see one more of the vacation spots in Kerala:
You can reach late in the evening and proceed directly to your resort in Kumarakon. The resorts with amazing facilities and located amidst dense woods will make you book your next year date with them.
Most of the resorts will have a lake front as the Vembanad lake is quite large. You can visit a bird sanctuary within the Kumarakon village.
The lake that receives water from several rivers is surrounded groves and groves of coconut trees, spice gardens where the gardeners cultivate nutmeg, cardamom, and cloves, is simply breathtaking.
You must get up before sunrise to appreciate the stunning rustic beauty of a Kerala village.
Kerala  Boat House:
If you would like to go for a boat ride, choose the time just after lunch. It will be idyllic setting in the humid and calm afternoon.
After the boat ride, you can visit a gentle cascade of a waterfall nearby. It is known as 'aruvikuzhi'.
If only you can extend your tour by just a day, you can go to a nearby hill station called 'Vagamon". Its unspoilt nature will steal your heart and you would realize the name "Gods own country" to Kerala is fully justified.
There are quite a lot of outdoor activities in Vagamon that include:
Camping
Paragliding
Trekking
Forest walk
More than 20 resorts are available in Vagamon which is undoubtedly one of the most beautiful vacation spots in Kerala.
Nonetheless, you can end your one week holiday in Kumarakon and return to Kochi late in the evening.
The distance between them is only 50 km that your cab can cover in about 75 minutes.
How do you like short and sweet tour plan of Kerala in 7 days?
To enjoy the best of Kerala in 7 days, you can find numerous tour operators if you use the same words found in the title as your search term.