I am sure the above image of Cancun Resorts justifies the craze among Americans about it as one of the top 10 holiday destinations at present.
The region of Yucatan Peninsula comprising Cancun and the cities of Mexican Riviera (Maya Riviera) are hot trending vacation destination as of now. Cancun is a city located on the northern tip of Yucatan Peninsula, facing the Gulf of Mexico.
Last year (2021) alone, a staggering 12.5 million people visited Cancun.  It will be many more this year because of lifting of lockdowns.
To meet the requirements of such numerous tourists, there must be enough hotels and other types of accommodations in Cancun, else, the not-very-big city will sag.
During the last decade itself, plenty of hotels and resorts have come up in Cancun. I believe Cancun resorts are many more than just hotels.
Americans' prefer all-inclusive resorts than concrete jails called hotels. They love the amenities provided in sprawling resorts such as private beaches and lagoons, water sports facilities, more number of bars and restaurants and dedicated area for children's entertainment.
5 Top All-Inclusive Cancun Resorts
The number of Cancun hotels will confuse first time visitors. For their benefit, I have compiled a list of top all-inclusive Cancun resorts that will make your stay in Cancun, memorable and comfortable.
Paradisus Cancun
I am pasting two images of this all-inclusive Cancun Resort. You will nod your head as to why this Cancun stay is called a paradise.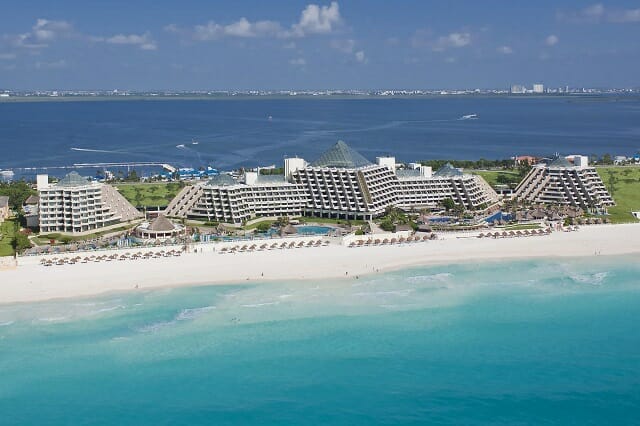 The architecture itself is stunning. It appears more so with the backdrop of the Caribbean Sea.
If I begin to explain all the amenities, you won't have patience to read. I will restrain myself to name just a few that will demand a booking from you.
A private golf course
Wedding hall that can take in 1000 guests
As many as 28 event rooms
Every room offers a view of the Caribbean Sea
I guess you are in a hurry to know how to book your choice of room.
Browse through the website slowly and decide your date of visit.
Moon Palace Resort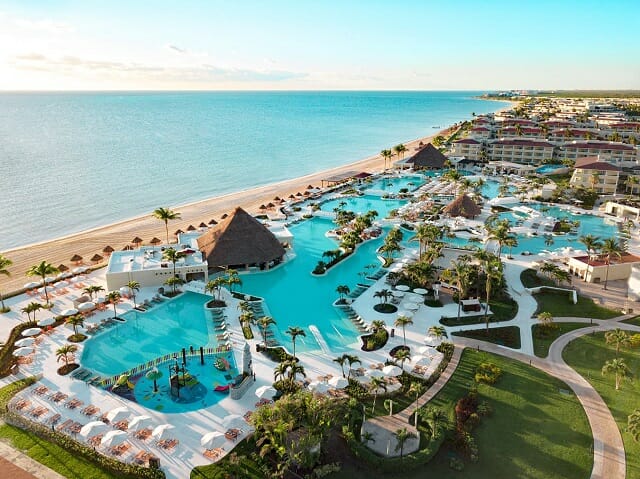 This is rated among the top 10 Cancun resorts. Accommodations include sea-facing suites and rooms overlooking the swimming pool. The presidential suite is beautifully decorated and facing the sea.
The ground to wall window gives you uninterrupted view of the Caribbean Sea.
As far as your dining expectations, you will be more than satisfied with Mexican and Spanish food and drinks.
Apart from spa, gym and the works that you can expect in an all-inclusive resort, there is something for the children in the way of a room full of gaming consoles.
Water sports include solo kayaks, stand-up paddle boards, catamaran rides, and of course swimming and snorkelling. The sunny weather will force staying in the water all afternoon.
Their 24-hour room service is a special attraction for tourist that go here with their full family members.
I saw all the images of the resort in their gallery section. The interior is just awesome. Here, decide yourself by looking at the Moon Palace Resort's nightclub.
For your inquiries and booking, visit their website.
I am sure you would fall in love instantly with your stay in Cancun if you choose this beachfront resort.
Grand Oasis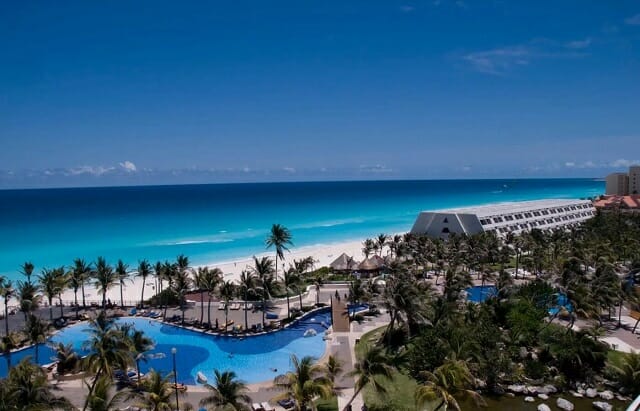 Hmm… This is more than an oasis, and it is really 'grand' indeed. It fits the grandness of Yucatan peninsula.
I saw the rooms, and I am pretty impressed with the furnishings.
This is an all-inclusive Cancun resort that commands envious booking all through the year. Four types of large rooms are offered at different rates.
The restaurants and bars count to nine. They go by the names:
Steak House
Dos Lunas
Sarape
Cocoa
The size of this all-inclusive resort is huge and located right on the white sand beach.
The star attraction of this Cancun hotel is the Casino. Added to that are the nighttime activities that end only at the dawn.
Contact them online for your needs.
TRS Coral Hotel
It's a perfect fit for the Cancun atmosphere; sunny, clear sky, and blue water. The beach chaises are inviting by the side of the swimming pool.
Among this Cancun hotel rooms, I saw a swim up from meant for adults only. It is a terrific room and just ideal for honeymooners. I could add it is good for second honeymooners too.
The highlight of choosing this Junior Swim up suite is the services of a dedicated butler. With such elite services and sophisticated design, you can take all other modern amenities for granted that include free internet, safety locker, concierge, coffee and tea making machine, 24-hour room service, and a minibar.
The provision of fresh bathrobes and slippers would attract just married couples (couples of a few years old would have already bought them).
Above all, there is a private terrace!
The location of this adults-only all-inclusive Cancun resort deserves a special mention. The property is located right on the Mujeres Beach, a coveted one.
Oh, I almost forgot! The beach wears a white sand robe.
Dreams Riviera
The resort facing the Caribbean Sea doesn't possess the sheer grandeur of the above four all-inclusive resort. However, the fact that it is part of the prestigious Hyatt group means you can expect great services and nice comforts.
There is an infinity pool in front of the resort. Do you know what an infinity pool is?
The pool is built in such a way that water flows into infinity. In other words, infinity pools are 'rimless' pools.
Here is a fine example: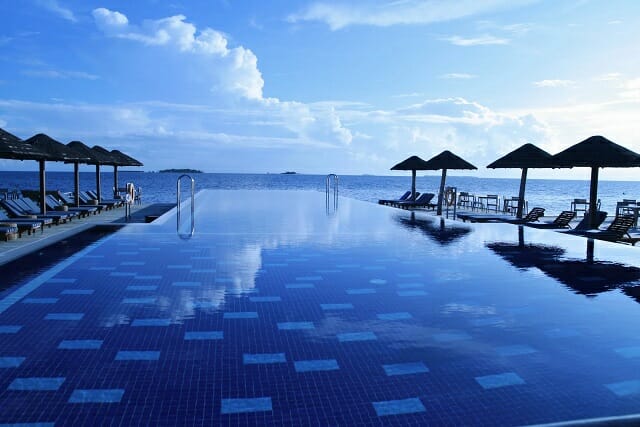 Swimming and just flashing around in such infinity pools give us a memorable experience, and we will start looking forward to them wherever we travel.
If you are a spa buff, you will enjoy the pampering's at the world-class open spa.
A total of 12 restaurants and bars are there for us to taste different cuisine and sip a range of liquors.
One restaurant named 'patio' is just immaculate.
Try to book the 'Preferred Club Ocean View and Pool Front'. The bedroom opens out to the sea. I will explain. If you prop up against a pillow to read a book or nursing a drink, and just look ahead to see the stunning blue of the Caribbean Sea.
For bookings, contact their website.
From the locations of these 5 all-inclusive resorts in Cancun, it is clear that we all should visit Cancun at least once in our lifetime.