As of now, Yucatan Peninsula is under immense pressure. I mean it is facing a big influx of tourists from all over the world. It is the hottest destination in the world. In addition, it is the most visited part in entire Mexico. Even the Mexico City is pushed behind the attractions in Yucatan peninsula.
The winter is already in Canada.  It is 4 Degree C in Ottawa and the time is 10 am. Soon, the majority of North America will go under jackets, blazers, and sweaters.
Before that, the people living in these areas want to enjoy some natural warmth and that's why, they are marching towards the Mexican side of Yucatan Peninsula.
Yes, it comprises of three states of Mexico and two Central American countries namely Belize, and Guatemala.
The square shows the Mexican part of Yucatan Peninsula. The three arrows within the square point to the three Mexican states that are:
The arrows outside the square point to Belize and Guatemala.
Since the map is open and you are facing it, notice the following places that we will be exploring.
The Island of Cozumel is located very close to Playa del Carmen.
Now that you know where exactly is Mexican part of Yucatan Peninsula, we will proceed to see all the beautiful attractions in Yucatan Peninsula and what are the things to do there.
17 Best Things to Do in Yucatan Peninsula:
Attractions in Yucatan Peninsula comprises several tropical jungles, rainforests, pristine beaches, inexplicably large number of Cenotes (sinkholes), Mayan civilization's building ruins, Maya Riviera towns, and superb islands.
Cenotes In Yucatan Peninsula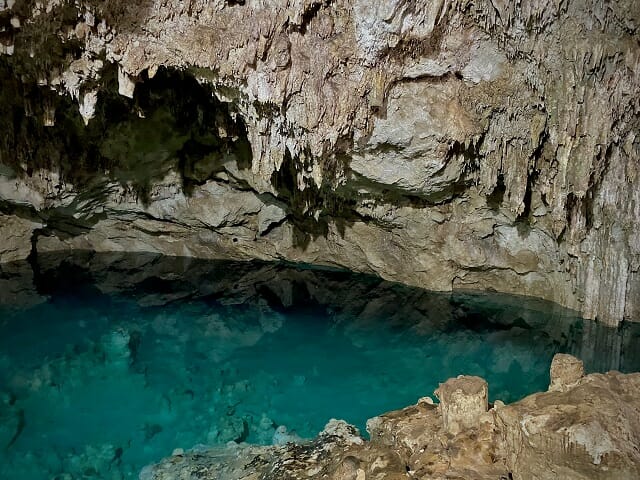 This is one of the 6000 cenotes in all of Mexico. 2700 cenotes can be seen in Yucatan peninsula itself.
Though, it is impossible to visit all the cenotes, we will have a peep into a few of them.
Cenotes are naturally formed sinkholes that expose the subterranean water that is strikingly clear and pure. Cenotes are formed when the earth caved in, exposing the pit.
For the ancient Mayans (Mexicans), cenotes are blessings in disguise as they served as main drinking water resources.
During the Maya civilization, some sinkholes were not used as drinking water supply but as sacred and its water was used for religious ceremonies.
Major Cenotes of Tourist interest in Yucatan Peninsula:
Since the water's surface is at a distance from the ground, a ladder is kept for the benefit of visitors. Of course, if you dare, you jump in.
Look at the blue color of the sinkhole which itself is inviting.
One of the enjoyable things to do in Yucatan peninsula is to swim in the cenotes. I think you are allowed to catch the fish in only a few earmarked sinkholes.
You need to pay to swim in this cenote that also carries another name known as "Manati".
The cenotes mentioned above are in Tulum and this oddly-named cenote is located in Playa del Carmen.
Cenotes Cristallino and Escondido are twins and located on either side of a road.
It is a beautiful cenote located amidst dense jungle. You need to descend a steep staircase and walk around the circular wooden platform built around the sinkhole.
This is also a paid cenote, even to enter.
More cenotes that you will be taken to, if you join an exclusive 'cenote tour in Yucatan peninsula' or 'cenote excursion in Tulum'.
Gran Cenote

Oxman Cenote

Ponderosa Cenote

( it is a breathtaking sinkhole)
This is also a very scenic and very bluish cenote.
I recommend a few 'cenotes tour' that you simply cannot afford to ignore as visiting picturesque cenotes is one of the most memorable things to do in Yucatan peninsula.
A day trip to cenotes in Tulum
ATV tour of Cenotes
Cenote Adventure Tour
These cenotes tour are available in Tulum, Cancun, and Plata del Carmen.
Chichen Itza
Chichen Itza was the most important and the most beautiful city in Mayan civilization era. Though the city is in complete ruins, it is still worth seeing and is listed among the top 10 attractions in Yucatan peninsula.
The added enticer is it is a UNESCO World Heritage Site. It is located with the Tinum municipality of Yucatan State, one of the three states of the Peninsula.
Do allocate some time and visit Chichen Itza and feel a part of one of the advanced ancient civilizations that this world had witnesses.
This is the "Temple of Warriors" in Chichen Itza. Seeing this marvel alone is worth your visit-isn't it?
Uxmal Pyramid
The official name of this pyramid ruins is Pyramid of the Magician. One more name of the archaeological site is the "Pyramid of Dwarf". Uxmal is the name of the place.
Isla Mujeres
It is an incredibly beautiful island, floating in the Caribbean Sea.  The eastern shores of Cancun are almost at a touching distance of only 13 km. It is one of the biggest attractions. You require half a day to see and admire the stunning beauty of its beaches. You can reach Isla Mujeres by boat from Cancun.
Diving and Snorkeling
The coastline of the peninsula stretches to a staggering length of about 900 km from the Gulf of Mexico to the Pacific Ocean. Almost up to the border of Honduras, the coastline of Yucatan peninsula of Mexico reaches. This provided numerous spots for scuba divers and snorkelers to explore the underwater creatures.
Isla Hobox
Isla means an island. Holbox Island is a part of Quintana Roo, one of the states of Mexico. It is quite a long island measuring 42 km in length. Its width measures only three quarters of a kilometer. You can walk across the island several times in a day.
Whale watching is usually one of the things to do here. The whale sharks somehow like the waters off Holbox Island. In addition, the abundant supply of giant lobsters keep the whales roaming around the island.
You can quickly make a trip to Isla Holbox and comeback in less than two hours. Boats take just 30 minutes to reach the island from the mainland of Quintana Roo's Chiquila boat harbour.
Visitors to Cancun and Palya del Carmen, plan a day trip to Holbox to enjoy swimming with the whale sharks and to play kite-boarding, an exciting water adventure.
Watching the graceful flamingos is another one of the things to do in Yucatan peninsula. Those striking 'flamingos' and pelicans can be spotted here. It is a sight from which you can't take your eyes off.
Merida
Merida is a big city in Yucatan, a state of Mexico and one of the three Mexican states in Yucatan peninsula. In fact, it is one of the foremost things to do in the tour. Merida also serves as the capital of Yucatan.
Merida is known to be rich in cultural history and is also one of UNESCO's Cities of Gastronomy.
Sian Kaan
Sian Kaan is one the much-talked about tropical jungles in Yucatan and is also a major Biosphere Reserve.
OMG! It is no wonder a huge biosphere reserve comprising 5000 sq. mt.  This bio reserve not only aims to protect the diverse ecosystem including the reefs but also many of the ruins of Mayan civilization buildings.
If you are keen on knowing at least a few of the wildlife that the Sian Kaan biosphere reserve promised to protect, read further.
Black howler monkey
Geoffroy's Spider Monkey
The Great Curassow
Jabiru
Birds include the magnificent Frigate Bird, Ocellated Turkey, brown pelicans, and the attractive flamingos. There are several species of crocodiles that live protected.
Contoy Island
Isla Contoy as it is officially known is a neighbour of Isla Mujares. The island is a safe haven for several species of turtles that warranted the creation of a national park on this island.
If you care to visit this island as one of things to do in Yucatan peninsula, you will be happy to do so because you can spot a large number of Frigate Bird, brown pelicans and the big 'double-crested Cormorant'.
I hope you have not forgotten the lovely Frigate Bird. In case you want to refresh your memory, here is a photo of it.
Contoy Island's rich and lush ecosystem is under Government protection. Therefore, only 200 visitors are allowed a day. If you fancy visiting this island, you can catch a boat from Cancun. The voyage takes only 45 minutes.
Alternatively, when you are visiting Isla Mujeres, you make a quick trip to Isla Contoy. The sea passage involves only 30 minutes of your time.
One of the biggest attractions is the number of 'pink lagoons'. In order to see them, you have to join an organized tour of Las Coloradas, a small town in Yucatan State.
The pink color is due to the presence of some micro-organisms in the water.
Cancun's Entertainment Scene
Cancun needs no introduction. I would say it is the number one visited tourist spot in the world and naturally, it stands tall among the various attractions in Yucatan peninsula.
Due to the influx of tourists from various countries in the world, Cancun slowly evolved into global tourist destination, its nightlife playing a major in its evolution as the best place in all of Mexico.
Coco Bongo garners all the limelight as the leading night club in Cancun. So, if you happen to stay overnight in Cancun as part of your travel to Yucatan, book your tickets a day in advance as they are getting sold out quickly.
Izamal
One of the itineraries while touring Yucatan is a visit to Izamul, a small town that is located 70 km from Merida. Wherever you turn, you will see buildings painted with yellow color only. Consequently, Izamal is known as the 'yellow city' in Mexico.
It is inevitable that you will visit Cozumel Island, being part of one of the things to do in Yucatan peninsula. As a matter of fact, it is the most visited destination in Mexico.
Cozumel is located in the Caribbean Sea, just off the coast of Playa Del Carmen.
Cozumel is known for its rich bird species, marine creatures, and colourful reefs. These three big attractions on any island will ensure thick influx of scuba divers, snorkelers, and coral reef enthusiast.
Cozumel is equipped with an airport but I guess it has no international connection. Maybe, you can fly into Cozumel from Mexico City.
If you are already touring the peninsula and if you are in Cancun, you can ride in a ferry to go to Cozumel. The sea ride takes only 45 minutes.
Playa Akumal
Playa Akumel is one of the beautiful beaches in Yucatan peninsula. It is a bit far off from Cancum, at 100 km south.  You can drive this distance and reach the destination in 90 minutes. It is included in the itinerary of Riviera Maya cruise packages.
As a favourite with visitors, it is a lively beach teeming with activity both from the visitors and from the turtles.
White sand beach, festive atmosphere, and ideal condition for swimming make this place as one of the prime attractions.
While you are in Akumal, try to visit a lovely sanctuary of monkeys. It is a one-stop place to see several monkey species that include:
Spider monkey
Madagascar Lemur
Capuchin monkey
Howler monkey
In addition, there is a beautiful cenote nearby. Its name is Ma'ax Cenote. The sinkhole is in a lush surrounding. There is a tour combining both the cenote and the monkey sanctuary. This way, you are assured of a personal, one-to-one interaction with a monkey.
Not only the monkeys, but there are several more mammals that are trained to be friendly with human beings. As I mentioned, the surrounding jungle is very pleasing to the eyes.
The 2.5 hour tour can be booked online:
My advice: Do not miss it.
Xcaret Nature Park
Now comes the biggest ever entertainment. The Xcaret Nature Park will demand a minimum of two days to fully enjoy all of its attractions that include:
Swim in an underground river
Enjoy watching the biggest color festival. I mean, you can watch hundreds of butterflies in a butterfly pavilion
See never before-seen colourful corals in an exclusive coral aquarium
The aviary will steal your heart
There are so many more things into in Xcaret. As of now, 50 cultural and natural attractions are in store there.
This part of the attractions in the peninsula demands an exclusive article that I will compose next month.
Xcaret theme park is located in Playa del Carmen.
Bacalar Lagoon
It has many such scenic locations by the Caribbean Sea and the Pacific Ocean. You go to such locations and your mind is instantly relaxed putting in a poetic mood.
Belize, the Central American country is located close to Bucalar municipality in Quintana Roo state. Chetumal, the coastal town of the same Mexico state of Quintana Roo is about 40 km south of Bacalar, near Belize.
Food Tour Of Merida
I wind up the attractions in the peninsula and have come to the last of the things to do in Yucatan peninsula. It is about the culinary tour of Merida, the capital city of the state. I already mentioned that the UNESCO has rated this city among the top 50 culinary cities in the world.
We all know the variety of Mexican cuisine that is highly influenced the Spanish cuisine.
In order to eat the best of such a lengthy food and drinks tour, you must join an organized Merida food tour. I will not let your spirits sink, buddy; the food tour also seats you on a bar stool.
Officially, it is known as 'market tasting' tour.
Go to their link for booking yourself in the gastronomy journey in Yucatan.
How to tour the Yucatan peninsula? Are there any tour companies that offer tailor-made travel package to the peninsula?
Of course, there are several. It is too important a tourist destination and naturally, all the top travel and tour organizations offer several tour packages in it.
I am sure, you can find something you are looking for from these 5 Yucatan peninsula travel and tour operators. Remember to spot the two most important attractions in Yucatan peninsula in their packages.
Xcaret
Merida Market Tasting tour
If you need our help in getting you the best travel package to Yucatan, please let us know and we help you.