What to do in Monaco?  First, let me show you the location of it in the World Atlas.
Can you see Monaco and Italy are encompassed in the same grey color?
It is described as a principality/a sovereign state.  When I read further, these words pointed to an independent country.
So, Monaco is an independent country on the Mediterranean coast. Both France and Italy are its closest neighbors. Only 16 km is separating it from both the western European countries.
It is the darling of French, Italian, and German people for its terrific beauty, friendly climate, ultra-luxury beach resorts, and above all for its casino.
These Western Europeans need not cross the Atlantic Ocean, and travel all the way up to the Pacific coast to indulge in gambling in Las Vegas.
Monte Carlo, the capital of Monaco is famous for casinos.
Let us look into the list of best things to do in Monaco and peruse the list of natural and entertainment attractions in Monaco.
How to reach Monaco?
Nice, a French Riviera city is another hottest vacation spot in France. It is well connected by flights.
You reach Nice by flight or by train from wherever you are such as Strasbourg, Luxembourg, Paris, and Turin.
Nice to Monte Carlo is only 22 km!
This means, there is no airport in Monte Carlo. It is too small a country to build an airport, because, the runway will occupy almost all of Monaco. It just comprises 500 acres!
12 Best Things to Do in Monaco
Prince's Palace
Naturally, visiting the Prince's Palace  will the number one in your agenda of the things to do in Monaco.
It is where the Prince still lives.
In the past, the impressive palace has passed many hands (rulers). The walls inside are decorated with old paintings of the royal families.
You can only admire the palace from outside. The public square in front of the place will slowly build towards noon to watch the spectacle of change of guards.
This is a daily ritual and it's never boring.
Beaches
It's coastline is just 4 km long.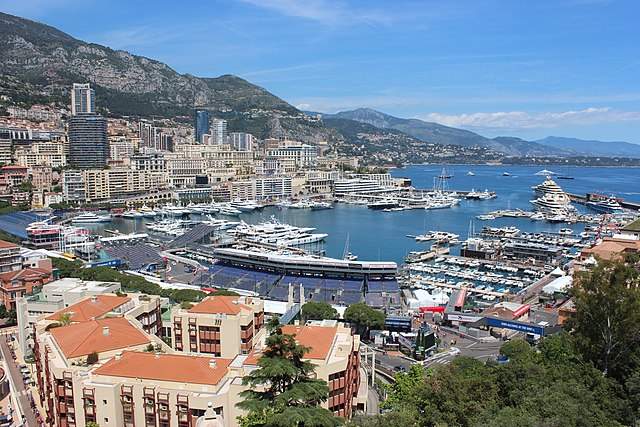 The beaches are sandy but some beaches wear pebbles on them.
The water is azure blue and that's why the French Riviera is called "Côte d'Azur"
I think you need not look for any specific beach in it, because of such a short and straight coastline.
Nonetheless, there is one particular beach that is worth mentioning. It name is Larvotto Beach.
Isn't it wonderful and romantic? There is the Prince's avenue that runs parellel  to this beach.
To live on the picturesque avenue, facing the Mediterranean Sea, you must be a multi-millionaire if not just a millionaire. That should make it to the record books as one of the very expensive streets in the world to live.
A promenade facing the sea is a place for public watching.
Monaco Yacht Club
One of the best things to do in Monaco is to visit its picturesque harbor and the yacht club.
Look at the number of yachts and boat anchored at the port. You can spend hours looking at the yacht movements and at the horizon, without getting bored.
Differences between a yachut and a cruise ship.
Yacht is bigger than a boat but smaller than a cruise ship. In addition, yachts are for private charter but cruise is for all. However, both yacht and cruise ship are recreational boats.
Another big difference between a yacht and a ship is, yacht sometimes uses sail to surge forward.
Go to see a Zen Garden
The Japanese garden in Monte Carlo is designed by a Japanese. It is an attractive park with a place to buy tea, a waterfall and even an artificial island.
Nightlife in Monaco
Being a high-profile vacation spot, there are casinos, opera house, and night clubs that are hot haunting grounds for the locals as well as the tourists. Visiting these entertainment places is one of the top things to do in Monaco.
I heard the night life ends only at dawn. So, from dusk to dawn, Monte Carlo is bustling with activity.
All the wealthy people from France, Germany, and Luxembourg are members of several beach clubs in Monte Carlo.
Cathedral of our Lady of the Immaculate Conception.
This beautiful church is also known as St. Nicholas cathedral.
Visiting this place of worship is one of the things to do in Monaco when you are neither in the beach nor in the casino.
I saw photos of the inside of the cathedral. I am sure it is worth visiting the church.
By the way, do you know the main difference between a church and a cathedral?
A bishop will be present in the cathedral.
Visit Monte Carlo casino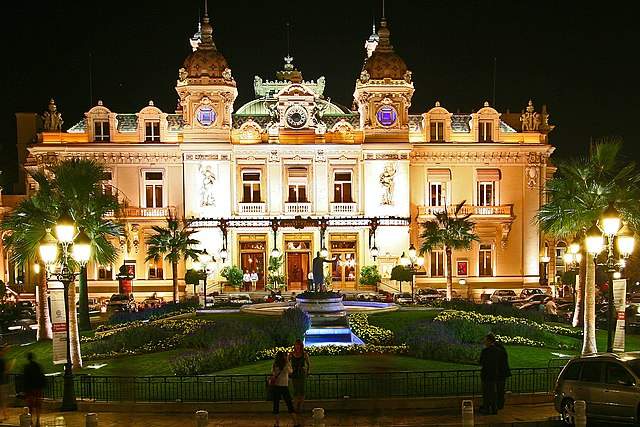 As mentioned already, Monte Carlo is known for gambling. This is a beautiful building that houses a casino, an opera house, and a ballet dance office.
You can enter the casino, just to have a look. Even locals are not allowed to play for money.
Foreign tourists, who eagerly enter the casino, head straight to the Roulette table.
It is the easiest game in which you expect to win some money. Similar to slotting machine, Roulette is purely a game of luck.
Veterans would prefer to play poker, a kind of game with playing cards.
Old Town
These old towns which are part of ultra-modern cities are always worth a visit. You would be amazed at the old but brightly-painted houses, pavement bars, and cul-de-sacs.
And, you can even dine in a family-owned café, and look for suitable souvenirs to be gifted.
You will enjoy spending an hour to two in the old town. It is one of the memorable things to do in Monaco.
See all the important vacation spots in the French Riviera.
Hire a taxi from your Monaco hotel, and drive down south up to Perpignan, seeing Menton, Nice, Cannes, and Marseille, on your way. This road-trip will be the most beautiful of all your past and future road trips.
From Monaco to Perpignan along the Mediterranean Sea is nearly 500 km.
You can stay in Perpignan and start your road trip back to Monaco, the next day.
Admire the sculptures.
An exclusive street is allocated for different sculptures created by different sculptors.
Helicopter Tour of Monaco.
Aerially, a coastline is the most beautiful sight, anywhere in the world. Monaco's Mediterranean coast is no exception.
The celebrated French Riviera would appear breathtaking from the chopper.
Did you notice a small hillock rising from the sea? How about living in one of the houses that offers an elevated view of the Cote de Azur?
However, very sadly, you will be brought down from the sky to the earth in just 10 minutes.
The helicopter will go as far as Nice and return. You will miss viewing the Cannes aerially by just 5 minutes.
Water sports in Monaco
Indulging in some familiar water sports is one of the thrilling things to do in Monaco.
You can go jet-skiiing,  riding water-bikes, scuba diving, stand-uo paddling, and fly-hoverboarding.
I think the last mentioned water-based adventure made your eyebrows raise. Do you wonder what a fly-hoverboarding is?
Look at the video below. It surely an adrenalin-pumping water sport.
Do you feel Monaco is an inviting holiday destination?