Do you know the majority of the most beautiful places in the world are in Italy? Here is the list of 31 Most Beautiful Places to Visit in Italy.
You might recall reading that some of the most beautiful places to visit in Italy are also the most beautiful in the world.
Italy's beautiful places include:
Mind-bogglingly large piazzas
Stunning sunny islands that are floating in Mediterranean Sea, Tyrrhenian Sea, Adriatic Sea, Ionian Sea, Ligurian Sea, and Libyan Sea. Such well spread islands in so many seas mean you get to see diverse marine lives, and marine plants.
Beaches with jagged cliffs as backdrop
White sand draped beaches
Brightly painted houses hanging on the cliffs, with breathtaking views of the Sea.
Immaculate churches and cathedrals
Astonishing Roman architecture
Hill stations with large meadows
Network of backwater canals
31 Most Beautiful Places to Visit in Italy
You will find most of the must-see beautiful places to visit in Italy. This bucket list would be lengthy.
To see them all, you have to plan more than two trips. However, if you can tick off all places in the list, you can consider that you have seen all of Europe.
Let us begin to peruse the list of the most beautiful places to visit in Italy.
Peter's Basilica
Surely, this ranks among the top 50 most beautiful places in the world. A tour of the shrine will consume a minimum of 60 minutes.
The large public gathering place in front of the basilica is also named after St. Peter.
Peter's Square
It is among the highly recognized places in the entire world.
This beautiful tourist landmark in Italy is part of Vatocan City, inside Rome.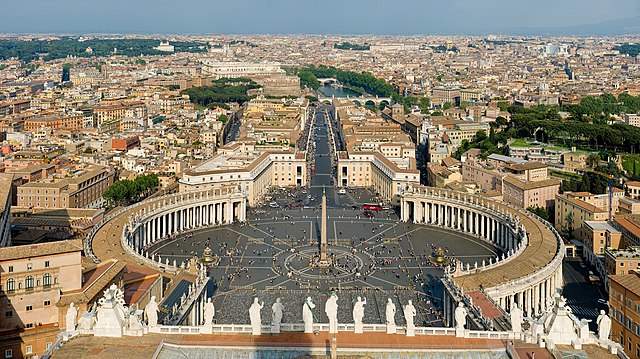 An aerial view of the breathtaking Vatican City.
Do you know Vatican City is recognized as an independent country in spite of being a part of Rome City, the capital of Italy?
Its size is less than 0.50 sq. km! To see around the Vatican City and Rome, you need a local guide.
Vatican City and the Renaissance buildings are some of the most beautiful places in Italy.
The famous River Tiber is clearly seen as you enter the Vatican City.
The stunning beauty, the sprawling size, the ever-lingering tourists in St. Peter's Square will sweep you off your feet, the moment you set your eyes on it.
Capri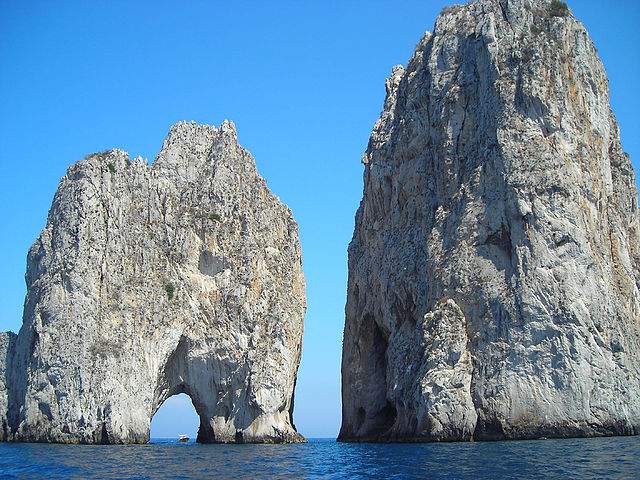 This is an iconic image of Capri. These two towering rocks growing out of the Tyrrhenian Sea are called 'sea stacks'. There are more of them off the Capri's coast. They are known as "faragioni".
There is the breathtaking Blue Grotto, striking town of Anacapri, luxurious beach resorts, boat tour of nearby islands of Ischia, and Procida-all these prove that these are the most beautiful places in Italy.
You can quickly make a day trip to Naples, one of Italy's fascinating cities from Capri or vice-versa.
Capri is a highly visited Itallian Island located in Tyrrhenian Sea. This is a place where the wealthy people of Italy maintain a villa overlooking the sea.
You might have heard about a certain Amalfi Coast quite frequently. Capri Island is located in the Amalfi Coast.
Capri Island sits safely between the Gulf of Naples, and the Gulf of Salerno.
Gran Paradiso National Park
The national park includes the Graian Alps, a great mountain range of the Alps that originates from France.
The snowy slopes in the winter, the most brilliant colors in the autumn, an extraordinary range of fauna make the Gram Paradiso National park as one of the must-see places in Italy.
The astonishing fact of this Graian Mountain range is its length that measures a little over 700 km!
The summit is above 13,000 feet!
Strangely the most prominent wildlife of Gran Paradiso NP includes the Ibex, a kind of wild goat and some lovely white butterflies.
It is simply not possible to describe the beauty of this place in words. You have to see it in person or appreciate it from a video clip.
La Maddalena
Can you bypass or ignore it from the list of most beautiful places in Italy?
La Maddalena is actually a town in Maddalena Island archipelago. These chain of islands are part of Sassari province of Italy. Incidentally, Sardinia, the second largest island of Italy is also part of Sassari province.
When you decide to plan an exclusive a trip to La Maddelan island, you can wet your feet in a series of islands and islets, some of which are:
Barrettini
Budelli
Cappuccini
Barettinelli
Bisce
Camizie
Caprera
Chiesa
Colombo
Corcelli
All the islands and islets of La Maddalena archipelago lie in Tyrrhenian Sea.
The stunningly beautiful La Maddalena is within striking distance from Sardinia. On the other side of La Maddalena Islands, floats Corsica, a French Island.
A large piazza facing the Tyrrhenian Sea is the happening place in La Maddalena.
As a gateway (jumping point) for numerous Italian Islands that are surreal paradises on Earth, La Maddalena is a highly visited place in Italy.
Since its neighbor Sardinia is costlier, you can choose to make La Maddalena as your base and visit Sardinia on d day trip.
Palermo
It is a big city and the capital of Sicily, the largest Italian Island. It is known for its cultural practices, historic values and above all, for mouth-watering Sicilian delicacies.
Palermo was once a favorite holiday escape for the Roman rulers since 700 BC.
The natural beauty of Sicily speaks for the overall beauty of Italy. Palermo is an inevitable tourist destination among all the beautiful places in Italy.
Culinary tour of Roman Street Food
Italian cuisine is ranked high by the connoisseurs, and professional eaters. Do you know some people are paid to travel and paid to eat because their reviews are highly valued?
When you visit Rome for the first time, you will have to allocate three evenings exclusively for Roman food tours.
With a local guide, you will be going to the following food streets:
Testaccio market
Mercato Centrale
Trionfale
Trastevere
Supplizio
Seek your guide's expertise in identifying traditional Roman food that the Roman emperors also ate.
Eating Italian food in Italy's ancient city is considered as one of the top attractions in Italy.
Prato della Valle
Isn't it a magnificent public watching place? It is located in Padua, a city in Venetia region.
Can you guess piazza's size? It comprises a staggering one million square feet approximately!
That is bigger than the St. Peter's Square or for that matter, the biggest in Italy and in all of Europe.
Surely, you will be going to Venice at least once in your life time. When you do that, remember to visit Padua city. It's only 40 km west of Venice.
Galleria Vittorio Emanuele II
What do you make of this building? It is not a cathedral, buddy; it is a shopping arcade and a very old one too.
When you go to Milan to see the impressive Duomo, you can visit Galleria Vittorio Emanulee II.
The entire street has this glass and iron roof. It has numerous shops, cafes, hotels, bars, and restaurants. The sprawling courtyard is treated as a gathering place for the Milanese.
One can shop for the Italy's top brands in prefumes, alcoholic drinks, couture, designer jewelry, and leather goods.
The Grand Canal of Venice
As one of the very beautiful places in Italy, riding in a gondola (water bus) in the Grand Canal of Venice is again an inevitable tourist experience in Italy.
This is a major waterway in Venice connecting numerous historic landmarks in Venice. On either side of the Grand Canal are residential buildings.
Santa Maria della salute
This is an immaculate church in Venice and can be seen as you travel through the Grand Canal in a water bus.
Santa Maria della Salute is usually addressed as the 'Salute' in Venice is obviously one of the top attractions in Italy. It draws Roman Catholics from all over the world.
Italian Riviera
This image shows Portofino, one of the communes of Italian Riviera, the much visited place in Italy, especially the beach lovers.
The Italian Riviera points to several quaint small towns situated along a coastal strip facing the Ligurian Sea.
It is a continuation of French Rviera. The length of the Italian Riviera coast runs for nearly 350 km. Some of the familiar cities and towns that lie along the Italian Riviera include Genoa, Imperia, Savora, and Portofino.
There are several ultra-luxury beach resorts along the coast that are owned by the affluent people of Italy.
Duomo, Milan
It is an astonishing bulding in Milan, Italy. It occupies the top 10 attractions in Italy.
A Duomo points to a cathedral. In most of the big cities in Italy, the top most tourist attraction will be a 'duomo'.
A mind-boggling fact about Milano Duomo is, the construction went on for as many as six hundred years!
The construction started in 1385 and finally opened to public only in 1965!
The size of Milano Duoma supersedes even the St. Peter's Basilica in Vatican City!
Lucca
Lucca is a scenic city near Florence which itself is one of the must-see attractions in Italy.
Lucca city is in Tuscany region, in the middle of Italy.
You might have heard about the art, and architecture of Renaissance era. Lucca is considered as the Renaissance art capital of Italy.
Lucca is located close to the Ligurian Sea and is nearly 100 km west of Florence.
Pantheon
You cannot return back home from Italy without seeing this worldly landmark in Rome.
Pantheon is a Roman cathedral that is serving as a church but also an iconic building in Italy and the number 2 in the list of top attractions in Italy.
I guess that rank was given by the historians because; there are several more Duomos in Italy that are much more beautiful than the Pantheon.
Nonetheless, when you tour Rome, you will go to see the Pantheon immediately after you spent some time in St. Peter's Square in Vatican City.
Dolomites
The famous 3 peaks in the Dolomites Alps Mountain range. You would wish you had more eyes to drink in all the stunning beauties of this terrific mountain range in northern Italy.
You can see it from as many as 6 provinces of Italy, including the Veneto, the land of canals in Venice.
It encompass several valleys and the Adanello-Brenta UNESCO Global Geopark.
If you are fascinated by the Dolomites and the above mentioned Global Park, you may need to allocate a few more days so that you can visit:
Stelvio National Park
Adamello Regional Prk
Swiss National Park
These four nature reserves comprise an incredible one million acres approximately.
Dolomites Alps are one of the big attractions in Italy.
Naturally, such a huge mountain range is bound to have numerous walking trails.
During the winter, the entire range is covered with thick snow and transforms into a big skiing destination.
Covering nearly 150 sq.km areas in Lombardy region in Italy, Lake Como is a pure water lake having the water resulting from melting glaciers in the Dolomite Alps.
Bologna
Bologna is a historic city that is known for some extraordinary buildings, and monuments. The city serves as the capital of Emilio-Romagna region.
The city is studded with impressive buildings with awesome architecture.
The Pelosa Beach
Look at the range of colorful beach umbrellas and the strong crowd enjoying the Pelaso Beach.
It is part of Sardinia Island, one of the sought-after island holiday destinations in Italy and in Europe.
You would surely go to Sardinia during your tour of Italy.
Peloso Beach visitors can nearly see two other islands that are almost at touching distance of the northern end of Sardinia.
Pianosa Island and Asinara Island are also worth visiting because the beaches are as beautiful as Pelosa Beach but with very little crowd.
These three places are also photograph worthy because of shining white sand beaches facing the Tyrrhenian Sea with turquoise color water.
Turin
This is San Carlo piazza, the sunny public square in Turin, the capital city of Piedmont region of Italy.
Without a single exception, every tourist would visit Piedmont, the land of several tourist landmarks, especially in Turin.
In addition, when you go to Turin to admire the city's architecture, you are almost at a walking distance from both France, and Switzerland.
Wouldn't that be a wonderful opportunity to see top 3 European countries in just one day?
It was once the capital of Italy. The places of tourist interest in Turin include the Po River, Susa Valley, and Superga Hill.
I think you need two days-stay in Turin to see and appreciate its numerous churches, art galleries, palaces, and people watching piazzas.
Sample palace to admire:
Palazzo Madanna
Colosseum
In spite of its dilapidated condition, the Colosseum occupies a high position in the list of most beautiful places in Italy.
It is in Rome and belongs to the Roman era of ancient times. The Colosseum was meant to be an amphitheatre, the largest in the whole world.
It can accommodate a seating capacity of 80,000 maximum.
Strangely and sadly, the Roman Classic Building faced earthquakes and robbery of its stones for re-use!
Verona Arena
Your guess is correct. Arena in Verona city is another brilliantly developed amphitheatre.
It belongs to the first century of the dawn of the first millennium.
Verona is an incredibly beautiful city in Veneto region (province) in Italy.
Fortunately for the world, it is still intact and hence in usage to stage large public events, and operas. Verona Arena's seating capacity is only 22k.
Simply fantastic!
Mark's Basilica
It's one more Duomo of immaculate proportions. St. Mark's Basoilica stands tall amidst Venice's countless attractions.
The public square the basilica faces, is also called St. Mark's Public Square.
I am sure you too would rank it as one of the biggest attractions in Italy.
I think Italy's major tourist landmarks include immense cathedrals, churches, basilicas, obelisks, amphitheatres, and monuments. Art galleries are also highly looked upon and preserved proudly, and so do the museums.
Trevi Fountain
It is astonishing fountain that throws up the water up to a staggering 80 feet high! Hundreds of people can stand in front of the world's ultimately popular fountain because of its width that measure a little over 160 feet!
Trevi Fountain is one of the compulsory attractions in Italy. You can see it when you are touring Rome city.
Mount Etna
It is the volcanic Mount Etna erupting furiously in the year 2021. The video capture of the eruption is daringly incredible.
Mount Etna, is an active volcano and is one of rhe must-see places in Italy.
Mount Etna is located in Sicily Island, Italy. The volcano is facing the Ionian Sea, east coast of Sicily. Tyrrhenian Sea is on Sicily's west side.
Pisa
The leaning tower of Pisa stands close to the Arna River estuary (the confluence of the river and the Ligurian Sea). As one of the original seven wonders of the world, Pisa tower attracts millions of tourists every year. Pisa city is part of Tuscany region.
The romantic city of Florence is just 110 km east of Pisa leaning tower.
Procida
Procida is a sunny and beautiful island in Italy. It is located in the Gulf of Naples. It is classified under the Flegrean Islands archipelago.
Visitors to Naples City don't fail to make day trips to the followings attractions in Italy.
Cape Miseno
Ischia Island
Islet of Vivara
The Gulf of Naples is an arm of Tyrrhenian Sea.
These fantastic tourist landmarks are all part of Campania Region, in south-west Italy. I believe this part of Italy's beauty is absolutely captivating and not even the Greek Islands can match Campania region and the Flegrean Islands chain.
Pompeii
This is the excavated and rebuilt city of ancient Pompeii City. It reveals a complete picture of the Romans who lived during the first century AD.
The Mount Vesuvius that you see as the backdrop is a volcano that destroyed Pompeii, and the city of Herculaneum during an eruption 2200 years ago.
Pompeii and Herculaneum will attract mostly history buffs and passionate Roman civilization academicians.
If you make Naples as your base, you can ho to Pompeii in about 30 minutes,
You will be astonished at how the city was built and functioned during the Roman era.
Cinque Terre in the north-west Italy is a captivating locality facing the Ligurian Sea.
The green covered surrounding hills, five quaint villages, and the lovely Ligurain Sea warranted the creation of Cinque Terre National Park.
It eventually attracted the attention of UNESCO that declared the site and the NP as World Heritage Sites.
Just to show you how breathtakingly beautiful the Conque Terre is, I have given the picture of Vernzza, one of the small towns that make up Cinque Terre.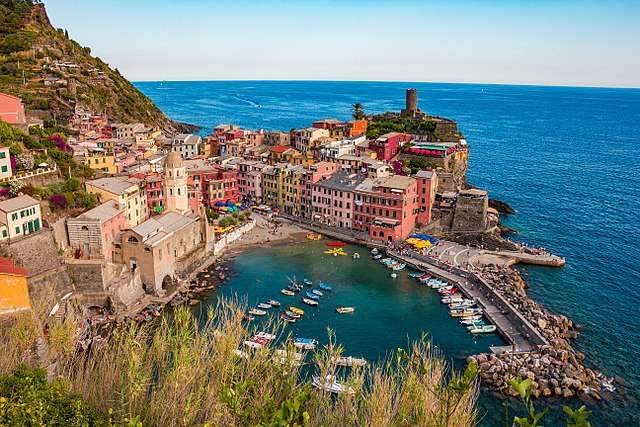 Look at the houses hanging on the cliffs facing the Ligurian Sea, wearing bright paints. Don't you feel like settling down in one of the houses?
Vesuvius
Mt. Vesuvius is one of the ferocious and dangerous volcanoes in the world. You can reach almost up to the crater from Naples by car.
Still, you have to hike a few km to reach the crater's rim.
Mt.Vesuvius is a highly visited natural beauty and rated high as one of te important attractions in Italy.
Cortina d' Ampezzo
It is a scenic ski resort town in the Dolomites, in north Italy and it is part of Veneto region.
When you go to Venice City, you can take a day off to visit Cartina d' Ampesso. It is 155 km north of Venice. The drive is scenic but an arduous one.
Though it is also a summer escape destination, it attracts more visitors only during the snow season.
Here is an excellent map of Italy published by the world atlas. You can spot almost all the places that I have covered in this article.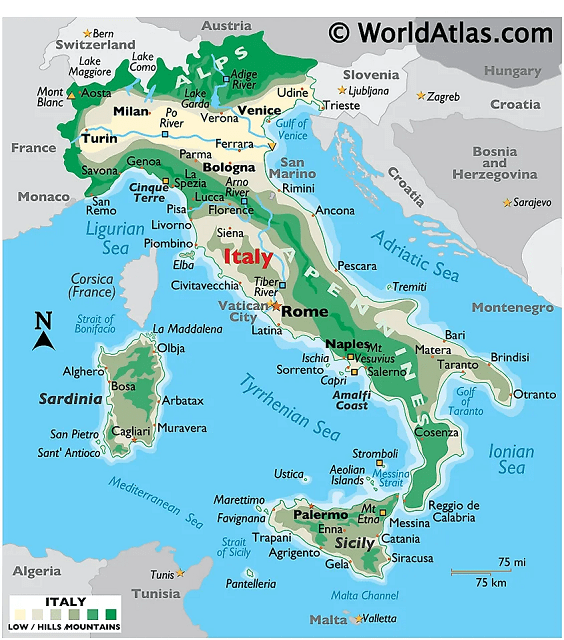 Try to locate the following important places in Italy in the map. I reckon you need to plan three trips, each lasting a week in order to see and appreciate all of the attractions in Italy.
Tyrrhenian Sea
Pisa
Cinque Terre
Ligurian Sea
Bologna
Corscica (France)
Turin
Verona
Po River
Lake Como
What a clear map!