A holiday in Venice at least once in our life is everyone's yearning, there are plenty of things to do in Venice.  The floating city's mindboggling network of canals, imposing churches and palaces, sprawling piazzas, and above all the San Giorgio Maggiore Island beckon us perennially.
Apart from Venice canals and the gondola rides, we are not aware of certain interesting facts about Venice. In addition, the majority of the tourists to Venice, the capital of Veneto region in north-eastern Italy rush to ride the canals, sip a glass of wine and rush out of Venice in a hurry. There are many more things to do in Venice.
I don't blame them. It is their lack of knowledge about Venice geography.
Facts about Venice:
Venice is not only a network of canals but also 118 islands! The city and all of its islands are floating bodies in Venetian Lagoon.
There are 170 canals.
As many as 400 bridges are built over the canals connecting the islands, residences, shops, piazzas, cafes, and bistros.
10 Best Things to Do in Venice:
Let us go over the wonderful tourist landmarks in Venice, Italy.
The Grand Canal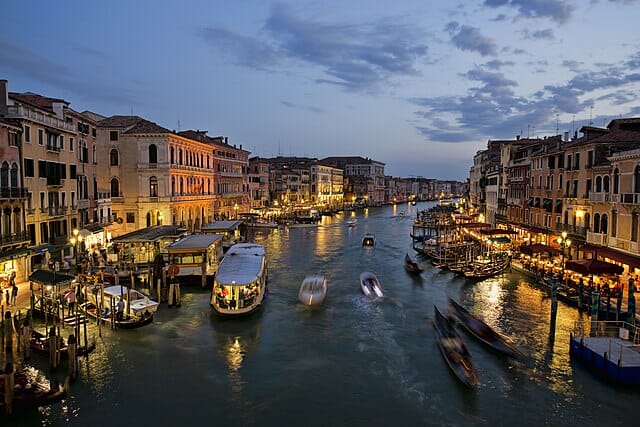 Since our first attraction in Venice is its canals and boat (gondola) rides, we will have a look at the Grand Canal, the main thoroughfare in the floating city.
It runs for nearly 4 km connecting the famous Venetian Lagoon where all of the 118 islands are floating and the island of San Giorgio Maggiore, San Marco.
A trip through the Grand Canal's length takes you through most of the major attractions in Venice including:
Mark Piazza
Mark Basilica
Palazzo Dandolo
Doge's Palace
Your gondola driver will point out to you several more palazzos, churches, cathedrals, and hotels.
One of the memorable things to do in Venice is to join a customized Vaporetto tour of Venice's historical landmarks and see some mind-boggling architecture.
Mark Square
It is a piazza and most probably, your magnificent sight of Venice. It is a palace of astounding beauty and imposing architecture.
The canals are everywhere because here, the canals are the streets.
Piazzas are places of public watching. Napoleon aptly called it the drawing room of Europe.
There are several public squares. If time permits, go to at least a few of them.
Inside the public square, the dome shaped structure is St. Mark Basilica.
It has been standing here since 1094 Ad!
You can go inside the basilica but can remain inside just for ten minutes. Even for such a short trip inside the basilica, there will be hundreds of people waiting outside eagerly.
Warning: If you are wearing shorts with your knees exposed, you will be barred.
In addition, there is a clock tower that was built in 1499 AD.
There are numerous historic sites inside the piazza. You would need nearly two hours to spend there and to allow the glory of the site to sink into you.
We will look into a few islands that are located in the Venetian Lagoon, a tributary of Adriatic Sea.
San Giorgio Maggiore
People live here, buddy. It must have been inhabited since the glorious Roman era. It is a picturesque island that is surrounded several more islands floating in the Venetian Lagoon.
Setting afoot in as many islands as possible is certainly among the thrilling things to do in Venice.
Inside is a Roman monastery that was established as early as 982 AD. However, the church of San Giorgio Maggiore is more popular than the monastery.
Do you know?
Do you know the boats that roam the canals are called water buses or Vaporetto
Santa Maria della Grazia
Quite a long name for a small artificial island floting near the San Giorgio Maggiore. It's shortened name is La Grazia.
Giudecca
One more Venetian Island lying in the vicinity of La Grazia.
Murano Island
Murano Isand is one of the important attractions. It is just a short vaporetto ride away from the heart of the city.
As the motor boat enters the waters of Murano, you will be taken aback by the brightly painted houses and shops.
Glass blowing is an important industry here. You can buy fancy glass articles in Murano including elaborately made, exquisite chandeliers.
Doge's Palace
An important attraction in Venice. It lies on the route of Grand Canal. Visitors are allowed inside the palace. Beware of long queues outside.
Railto Bridge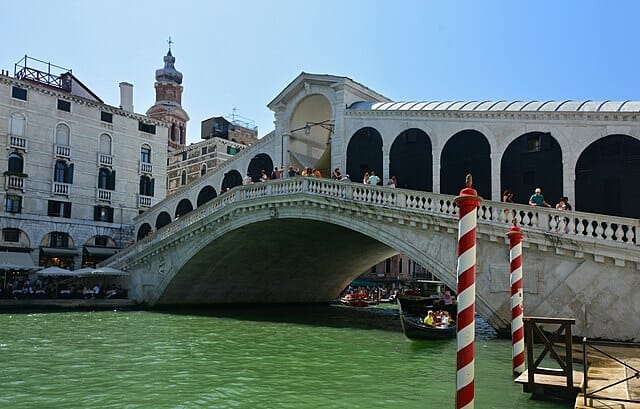 It is a famous landmark in Venice that is built over the Grand Canal. You must have seen it in films and serials.
Gondola Rides
A Vaporetto is of course your main means of transport but the gondolas came much earlier to Venice. They are row boats.
It is a pleasure to slowly cruise the Venice's canals. You can catch up with fellow tourists from various parts of the globe.
If you join an organized gondola tour, you can see several narrow streets (canals) on whose banks sit excellent coffee bistros and beer taverns.
When you are touring Italy, you must visit a tavern and a bistro.
Santa Maria della Salute
It is a Roman Catholic Church of importance. It is usually included in the itinerary of Venice tour.
A tour of Venice involves seeing all the historic landmarks such as basilicas, churches, palaces and piazzas. Moreover, a visit of the small islands surrounding the Venice City is a popular thing to do.
A leisurely ride in the gondola, a tour of famous Venice landmarks in a Vaporetto, a lunch in one of the restaurants overlooking the canal are some of the must-do things in Venice.