Times have changed. We are all evolving and so too our needs. We look forward to things that make our day-to- day life easier.
We buy so many gadgets that entertain us, educate us, and  enable us to buy things including cheap flight tickets, book hotels, and reserve table tables in restaurants.ing
We have changed our travel preferences. We were traveling only on trains. We started traveling in first-class compartments.
Now we fly. We upgrade to business-class. Be it an economy class, or business class in flights or cabins with a balcony on cruise ships, we started packing certain things that will make our life easier when we travel.
Innovative Travel Accessories for Hassles Free Travel
Travel accessories too are evolving. There are many more of them that make our travel hassles free. The title image is one among innovative travel products.
In this blog, I am going to introduce several travel accessories that are trending in the holiday world.
Foot Hammock
The picture explained itself. While sitting and traveling, we find it difficult to stretch our legs due to a lack of space. We feel an irresistible urge to put our feet on the seat in front of us-right?
How do you think the foot hammock will help us relieve our foot pain? I think it is an idea of a genius who has traveled a lot and felt the inconveniences of traveling in economy class seat.
Buy your foot hammock today.
Are you wondering where to hang this portable, and height adjustable foot rest? Just hang it on the food tray in front of you, buddy.
You can even use it in your office. I hope your boos don't fire you for being impolite.
Paper Soap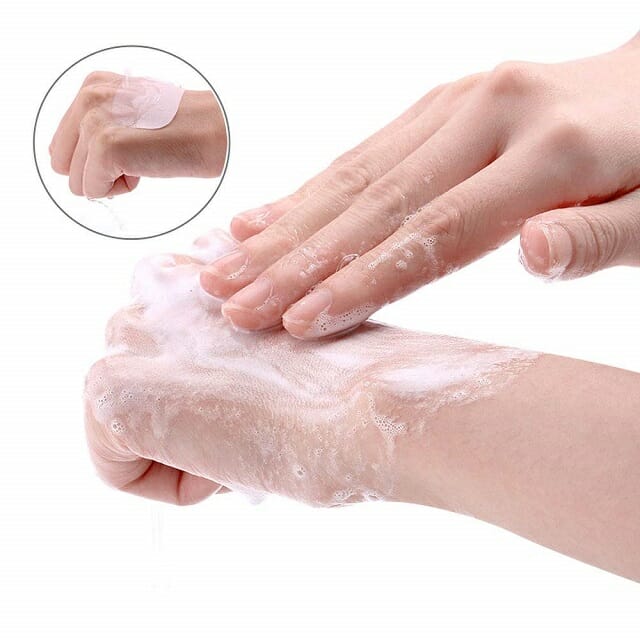 Soap is an essential item when we travel. However, carrying a soap cake in a box, putting it back after using it, is a clumsy job. It is greasy and spoils our clothes or vanity bags.
Using paper soaps is an excellent solution. Soap sheets as hassles free travel accessory is a brilliant idea. Until you use it, you may not agree with me.
Why don't you buy paper soaps just once and decide to share your experience publicly?
Paper soaps are affordable.
They are handy while traveling, camping, and staying in airbnb premises where you are not provided toiletries.
For less than $9, you get 200 paper soaps that are scented and absolutely easy to use.
Here is another brand called Fomin that sells 300 soap sheets for less than $13. They come in three different fragrances namely, Lavender, Tea Tree, and Orange.
See how to use the paper soap, a great travel accessory.
Impressed? Like to buy 300 Fomin paper soaps?
A scarf with hidden pocket
This is another brilliant idea of a travel product. An infinity scarf that is a high fashion these days, works as a safe place to keep light weight things in it.
Watch a video below that shows how an infinity scarf with a hidden secret pocket that can be zip closed!
Cool-eh?
Keep your passport and boarding pass safely without worrying about losing them and searching in your handbag that is filled myriad paraphernalia.
When you drive your car to your office or to a restaurant, you can keep your car keys and mobile phone. Of course, there is enough space for your earphone, business card,  and credit card inside the hidden zipped pocket in the scarf.
Ultimately, a scarf worn around your neck will make you look stylish-isn't it?
Get your infinity scarf with two hidden pockets!
Portable self defense gadget.
We have waited long enough for a handy self defense device and finally, it is brought out by none other than Hammacher, the company that is 174 years old.
Shrewd people who hunt for innovative personal care items look in Hammacher[dot]com for highly innovative products that include travel accessories.
Their latest update is about a personal, portable security device that comes with:
A flash light
A siren
A stun gun
The siren (alarm) can be heard 500 feet away. The sten gun when aimed at the intruder will immobilize him with in a second!
Smart and Small umbrella
An umbrella is an essential item anytime. It should be one among your travel products even if you go on a desert safari in Sahara.
We don't often carry them because of its large size. In addition, the fabric of the majority of the umbrellas these days are neither water-proof nor wind-proof.
Here is a solution and an affordable one.
The umbrella shown above is sold in Amazon for only $17.99.
Amazon says it is a portable, foldable, and wind-proof umbrella that comes in many colors.
Do you want to gauge how handy this small umbrella is? Here is an image that clears shows how small it is.
Digital travel scale
I agree, we all have it in our house now. However, the moment we are finished weighing the luggage, we put the digital scale back in our basement cupboard.
Alas, when we have finished shopping in Paris or on Bali Island, we are worried if our purchases will add to the allowed weight by the airlines.
We might have bought quite a few gifts including edible souvenirs. If they over-weigh, we will end up paying through our nose at the check-in counter.
Therefore, it is a good idea to carry our portable digital scale as an essential travel accessory.
For just $11.99, you can buy an attractive digital travel scale
Portable charger
No, I am not talking about any power bank; I know they are barred in flights.
Here is what I am talking about a portable charging station with an adaptor.
Charge your mobile phone, iwatch and air podes simultaneously, saving precious time when you are on the go.
Go to the dependable Amazon to buy this useful travel product.
Ultimate pillow for a traveler
No more fear of sitting on the middle seat, sandwiched between two passengers!
We have seen travel pillows of various sizes and designs though we have not used any of them simply because we are yet to be impressed by a uniquely designed travel pillow.
Finally, I think I have found the one that I am about to buy.  Here it is, the ultimate travel pillow.
The moment I saw it, I concluded this is one of the best travel accessories.
I don't sleep while traveling in a sitting position; be it on a train, car, bus, or a plane because I am always afraid of falling asleep on the neighbour's shoulder.
Don't you think this pillow will definitely prevent you from leaning on the fellow passenger's shoulder?
See how it works.
It is conveniently rolled up to reduce its actual size when inflated.
Thus, it doesn't occupy much space in your cabin luggage or even your handbag.
Buy today, this ultimate, traveler-friendly inflatable pillow
Unbreakable bottle bags.
We used to carry whiskey or wine bottles as a gift to a VIP or even to our parents. While carrying it, we are constantly afraid of the bottle getting broke.
Or
We buy expensive liquor bottles in duty-free shops. Again, the same worry tags us.
How about safeguarding the glass bottle in a bag filled with air? Doesn't it sound a good idea?
Generally, anything placed in an air container is protected from breakage or leakage.
Here is how you carry a glass bottle safely without worry.
I hope the packers and movers are also aware of this innovative product because they can assure their customers of safely packing any glass bottle-right?
Actually, I am thinking of buying a couple of perfumes, now that I can pack them in air bags.
Buy these inflatable bags from Amazon.
International Travel Adapter
I think next to our passport and boarding pass, we value an adapter very much. It seems we can even convince a flight attendant about losing our boarding pass and still getting seated but we simply cannot imagine traveling with our dead mobile phone or ipad.
We don't forget to pack our mobile charger based on our previous flight experience. However, even planes keep upgrading in addition to flying to different countries.
Therefore, airlines might come out with new and suitable charging points in the aircraft. Accordingly, we too have to change our charger or bring a latest universal adapter that is fitted with USB ports also.
Look at this international adapter tht comes with as many as 4 USB ports.
You can even offer to charge your fellow passenger's gadget.
This adapter is suitable in 160 countries! Wow! Isn't that very useful?
It costs only $19.89. Get it from Amazon by clicking the link.
Luggage tags with name card slot
I used to type my name and address in large fonts and paste the paper on all my check-in baggage. Who is not afraid of losing their luggage?  Even airports these days are clumsy in handling baggage.
Apart from the tags fastened by the airlines, we can tie these luggage tags after inserting our name and address card inside the silicone (unbreakable) tags.
I think these name tags are wonderful travel accessories for all time. Apart from tracking facility, you can identify your baggage quickly and easily in the baggage carousel.
Luggage tags with name cards are very cheap. 8 tags cost only $14.99
Passport and vaccine certificate wallet
We are used to carry this new headache called covid-19 vaccination certificate. It is as valuable as our passport. Of course there digital version of vaccination proof but we still carry the physical certificates, just in case…
This is a convenient case for carrying both your passport and vaccination proof in one place.
This dual holder is made of leather that is also water resistant and that implies the holder is long lasting.
Someone has been thinking of brilliant business ideas and need to appreciate that creative person.
Buy the passport cum vaccination card holder from Amazon.
Insulated coffee mug
Airlines coffee is not always good and I think the airlines are also aware of it. However, airports' coffee is aromatic and creamy. That coffee tastes divine.
Now, we can buy a cup of airport coffee in the insulated mug and carry it with us to the waiting hall. This mug is handy during road trips also. The cup inside the outer insulated mug is made of stainless steel.
The space in between the outer plastic mug and the inner stainless steel cup is vacuumized. There is the lid for the mug that fits snugly preventing spilling of the liquid inside.
You can put it in the dishwasher if that is weighing on your mind. Restaurants can think of replacing their existing and old-fashioned coffee containers with these insulated coffee mugs. This move will greatly relieve the tensions of waitresses.
Buy insulated and vacuumized coffee mugs. It is a useful travel essential.
Cable Organizer
We carry mobile phones, ipads, video cameras, and what not. These gadgets need charging and so we carry their charging cables.
We are not efficient packers. We quickly fold the cables and stuff them in our suitcase. When required, we pull them in haste.
Ah, they don't understand our urgency. They get entangled hopelessly. If only we arrange them neatly in an exclusive pouch, things could be easier. It won't take extra time to organize the cables this way.
The lower layer in the pouch is meant for keeping the gadgets safely.
This is useful not only for travelers but also for technicians who are handymen for repairing electronic devices.
Buy your gadgets and cables organizer today.
I will recommend another superb travel essential for keeping the cables and chargers tangles free.
Look at the image below.
These are magnetic cables and cords organizer that are very easy to use and at the same time, maintain them tangle free always.
Watch the video that shows how to use the magnetic cable organizers.
Get a pack of magnetic cord organizers
Great travel accessories-eh?
Travel wallet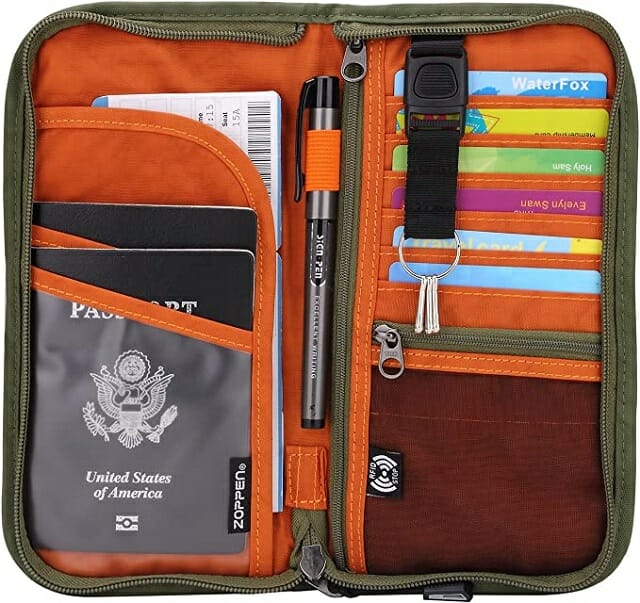 Cool and very efficient organizer for all your travel related documents.
I could see a passport, a boarding pass,  a pen that is neatly placed in an enclosure, several debit, credit, and business cards kept in their dedicated slots, and a removable mesh bag  that is not visible here but it is included in your purchase.
It's a terrific travel wallet that gives you peace of mind.
Vacuum storage bags
Probably, this is the most brilliant travel product that we all have ever came across. When we pack our suitcase, air occupies the majority of the space. If there is a way to create a vacuum, we will get incredible space.
Here is a video of a superb Space Saver Vacuum Storage Bags that speaks volumes about the usefulness of the product,
What an innovative idea!
You get several storage bags along with a vacuum hand pump.
There is a video that shows how the whole things work. When you go to the webpage, you can watch the video. I would rate this travel product very high.
Friend, don't you think these amazing travel essentials make wonderful travel gifts? I already use a few products from this list and I only need to buy a couple of more items.