Which hostels in Washington DC are recommended?
Travel vloggers show the hostels in which they stay whenever they visit a new city or town.
While the amenities are very basic, it serves their purpose because, they spend most of their day outside sightseeing and they return to their hostel in the night, only to sleep.
Don't expect any kind of privacy in a hostel. They typically look like this: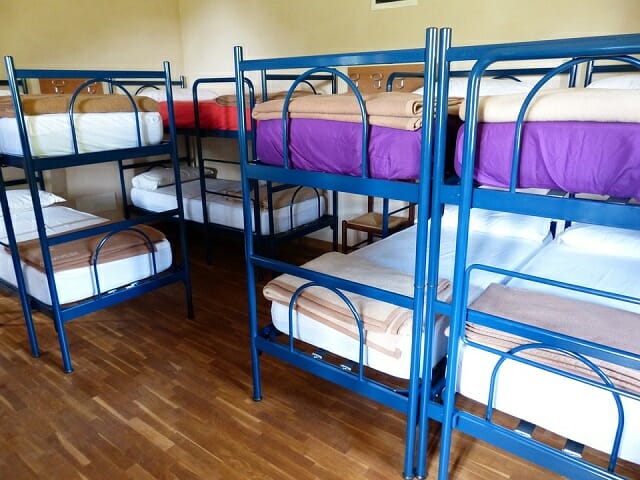 Who are all likely to look for a cheap hostel?
Solo travelers on a tourist VISA.
Travel bloggers and vloggers
Students
Prospective job seekers who come to attend job interviews.
What do the hostels lack?
Privacy
No attached bathrooms; only common restrooms
Restaurant
Errand boys
What about the safety in a hostel?
Generally, hostels provide good safety. In fact, from what I have seen, the security in hostels is much better than in hotels.
For example, you can't just walk into any hostels. You ring a bell, someone will see you on their monitor and then they open the door.
For every person who stays in the hostel, a safety locker is given to keep their valuables.
Are the hotels are generally dirty?
Absolutely not! The majority of the hostels are well-kept.
What about the locations of the hostel? Are they far off from shops, restaurants, and public transportation?
Again a big NO. In fact, all the hotels are located in prominent areas where the shops and dining facilities are in proximity. Invariably, a metro station will be located within 5 minutes walking distance from the hostel.
Are there cheap hostels even in big cities?
Of course, there are. For example, even America's capital, Washington DC has hostels. If that is the case, you can find hostels in just about every big city that is high on tourism.
In this blog post, I will mention briefly some cheap hostels in Washington DC.
As you are aware, Washington DC is very high on tourism and as such, the city is terribly expensive for budget travelers. Even a lowly two-star hotel will charge more than 100 USD.
Washington DC's numerous historical monuments, number of highly-engaging museums, nightclubs, and a diverse range of restaurants will keep any tourist for a minimum of four days in the city.
If you are not an affluent traveler, you can forget about staying in any hotel. A hostel is your only option.
Can we book hostel accommodation online?
Yes, of course. Hotels usually have their websites with a facility to view the rooms, look at the price, and book.
Nonetheless, Google is the ultimate website to find hostels all over the world. The site allows you to book your accommodation.
Note:
Hostels are never for couples because of large shared rooms with no privacy.
Advance booking is highly essential because there is always a demand for such accommodations in the center of the city or places of happening.
High Road hostel
I think this is the most sought-after hostel in Washington DC because of its excellent locations. First of all, as many as fifty restaurants are in its surrounding area. Surely, I reckon at least 10 of them will suit the budget travelers. In addition, Washington DC's downtown area is also not very far off.
Moreover, I believe couples are also welcome to stay in one of the private rooms that are added recently.
What else do you need?
I read the hotel staff is friendly and knowledgeable. They will answer any questions you might have such as cheap street food joints, way to the metro station, and public transportation to go for a sightseeing tour, etc.
If it is raining outside, thus, forcing you to stay indoors, you can watch TV in your room or browse the web. You are given free Wi-Fi access.
There are amenities for the guests that are not provided in every hostel. These include:
Washing machine ( you will have to pay)
You can iron your dresses on the ironing board
Safety lockers
Coffee making machines
Hilltop Hostel
I stumbled onto the hostel's Facebook page accidentally.
The bunker beds are made exclusively for solo travelers. This Washington DC hostel is located very close to Takoma Metro Station. I noticed even the DC's downtown is not far off.
Actually, if the downtown area is quickly accessible, any hostels would boast of a high occupancy level.
This hostel and the previously mentioned one are known for spic and span rooms and the common areas.
The hostel provides free Wi-Fi and cable TV connections.
Sadly, I did not find a single review of the Hilltop Hostel in DC.
U Street Hostel
U Street hostel in Washington DC is a duo hostel that takes in couples and offers a private room apart from dormitory type of accommodation.
U Street is a happening place in Washington DC. There is also a metro station in the same name.
I got a video clip of the U street Hostel, Washington DC.
The hotel looks fancy and clean. There is a gym for the guests. The heartening part is breakfast is offered free.
There are more cheap hostels in Washington DC but many are closed to the pandemic.
Price of a hostel stay in Washington DC
Depending on the demand, the price of a shared room costs 20 USD per night. This is the cheapest price in the lean season.
The maximum price is 40 $ per night. Given the hostel's great location that can save you a lot of money of transportation locally, I would say 40$ is ok.
In small cities, you can get a bed for just 12$. I recently watched a video of a travel vlogger who was touring the Maldives where he paid a dirt-cheap $4 per night for a hostel bed that looked like a dungeon.