Car buffs and road trips enthusiasts fall into a special category of travellers. We all owe them a lot for their contributions in letting the world know some of the odd and roadside attractions that they find when they traverse highways.
Some of these attractions can be classified as hidden gems. In spite of their revelation, they remain obscure to the majority of us because we focus only on popular tourist spots and well-known sightseeing landmarks.
Road trippers have the uncanny eye for stumbling onto weird and other-worldly places, events, monuments, shops and restaurants, and museums.
Roadside America: 12 Weird Roadside Attractions in US
I am an avid curator of anything offbeat and exotic. Once in a way, when I have substantial stuff to share, I publish them on my blogs.
Here I go and I request you to travel with me.
A Museum of Vintage Motorcycles
I am absolutely sure this brief mention about a vintage motorcycle museum in the state of Alabama will make the ardent motorcycle buffs sit up and make a note of it.
This roadside attraction is located in Birmingham and is called the 'Barber Vintage MotorSports Museum'.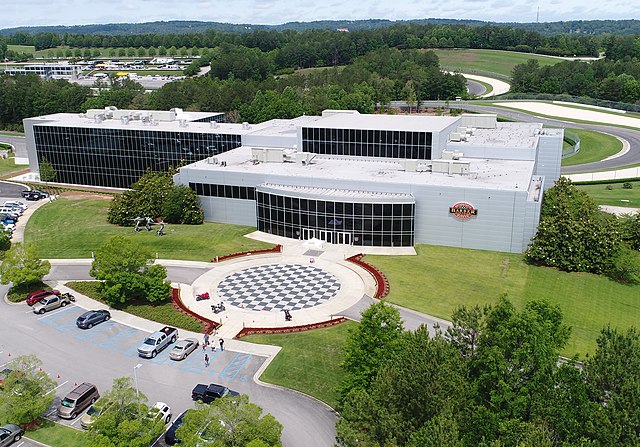 The founder of this museum George H Barber calls his proud creation a' motorsports park'. I think this is a better name.
Every display of a vintage motorcycle is gleaming and doesn't look vintage stuff. See below how the old motorcycles are neatly arranged on a vertical rack.
On an after-thought, he started curating vintage cars to his motorsports park.
Wikipedia says he has around 1500 motorcycles displayed in his motorcycle museum. Some of the machines are a century old but still maintained in excellent road condition.
Hood Milk Bottle — Boston, Massachusetts
I wonder how anyone can miss spotting these 40 feet tall structure depicting a milk bottle. The current generation of youngsters and children might look at this museum piece in awe because they would not know that milk was used to be supplied in glass bottles some 40 years ago.
This mammoth milk bottle structure can be spotted easily as it is situated next to Boston Children's Museum. The milk bottle is made of wood and was built by an ice cream businessman named Arthur Gagner in 1930.
Yes, this is an odd attraction in the AMERICA. but certainly not obscure-eh?
Cabazon Dinosaurs, California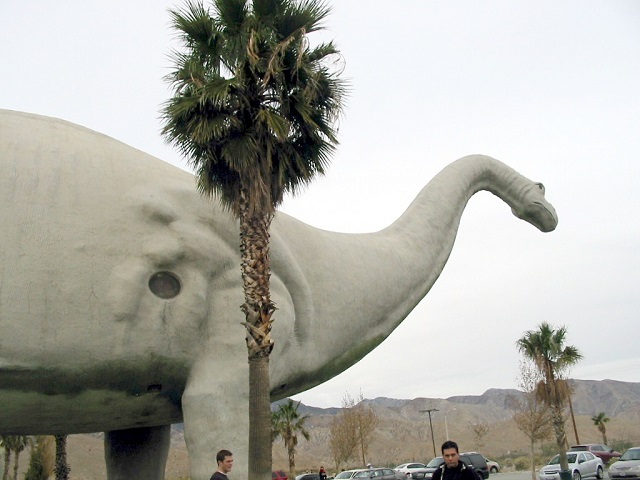 This is an appropriate description of an extinct Dinosaur. Yes, an unusual attraction that would make you stop your car in Southern California's Interstate 10 and stroll across the road to take a selfie.
There are two of them named Dinny that is 150 feet long and Mr.Rex that measures 65 feet tall. These two dinosaurs are made of concrete and steel.
The Dinny's belly is open through which you can enter only to find a curios shop. I am sure everyone who visits this roadside attraction would end up buying a souvenir.
Pineapple Maze
Dole Maze is a more frequently used word to describe this children's biggest attraction in Hawaii.
You should ask your hotel receptionist for guidance to go to the Kamehameha Highway in Wahiawa, Hawaii. On this road, you can't miss out on this offbeat roadside attraction.
While you let your children get lost (temporarily) in the garden maze, you can do some shopping in the exotic fruit market inside the building.
Later, you can join the children in a toy train tour of the pineapple plantation. The joy ride in the Pineapple Express Train Tour will make the riders enjoy unashamedly. A toy train ride has that effect on us, irrespective of our age.
After the ride, in order to change your children's sagging mood, you can buy them the famous Dole Whip, a pineapple ice cream.
Igloo City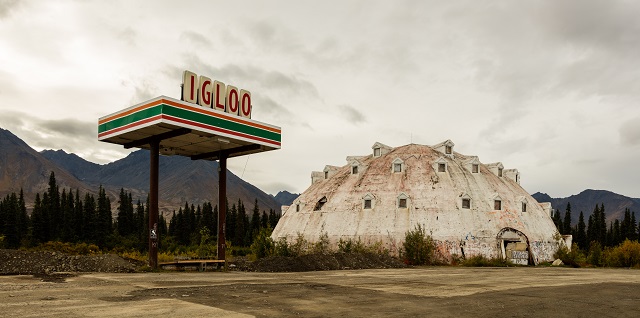 What you see above is the remnants of an abandoned hotel, located 32 km away from Cantwell City, Alaska. It is situated on the Denali Highway.
The hotel was once a four-story building but sadly abandoned. Only the shape of the hotel is igloo, mate.  Its name was Igloo Lodge that never went into business. It was abandoned well before it opened for the public.
People stop their car seeing the giant igloo and wander around it to find any evidence of life but after a few minutes of loitering, they drive away.
The Thing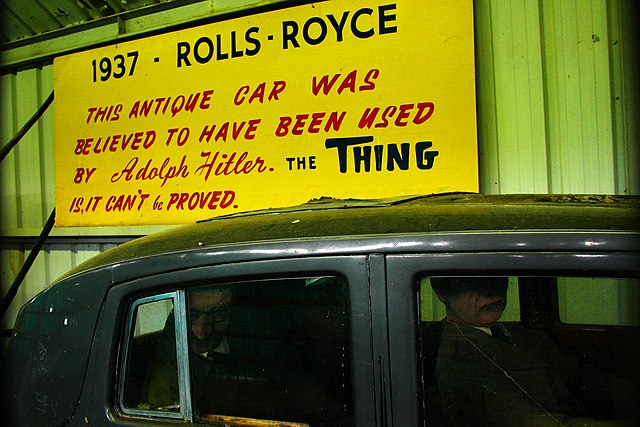 I don't know what to say about 'The Thing'; whether it is a famous Arizona roadside attraction or some business promotion idea.
The Thing is a sort of museum that was brought from California. Once set up as a roadside weird attraction, casual onlookers were charged to pay 25 cents. It was soon raised to 50 cents and now it stands at a dollar.
See what are the exhibits inside 'The Thing'.
The myriad objects that are in the exhibition are certainly invoking curiosity. I think it is worth taking a pep in 'The Thing'. The name itself is odd that pulls you to see what exactly is in. The Thing is open for visitors from 7 am to 6.30 pm on all days.
The myth and mystery of The Thing are worth finding out.
Stand on the Center Of The World
How do you like to stand (literally) in the center of the world and prove it to your friends by displaying a certificate that you receive?
Well, won't that be your priced souvenir?
This place, the center of the world in California is situated on the border between Arizona and southern California.
There is a pyramid built on the site. You can step inside the pyramid.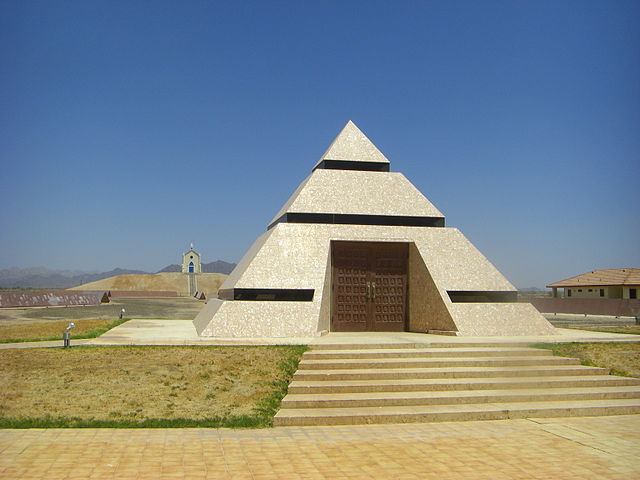 And then, there is a metal disc. You stand on the disc and take a selfie. Don't worry if the selfie did not come out as expected. You will receive a certificate for having stood in the center of the world! How about that, buddy? Isn't that an roadside attraction in the United States?
The Center of the World disk, the metal plaque, and the town named Felicity in the Sonoarum district were the creation of Jacques-André Istel.
Giant Dancing Hog Statue
This roadside attraction of the wild boar is made of copper metal. The height of the statue is 25 feet, thus making it visible clearly from quite a distance on AMERICA. Highway #62.
This statue is meant to be the logo of a company called 'Hogeye Inc'.
Christ of the Ozarks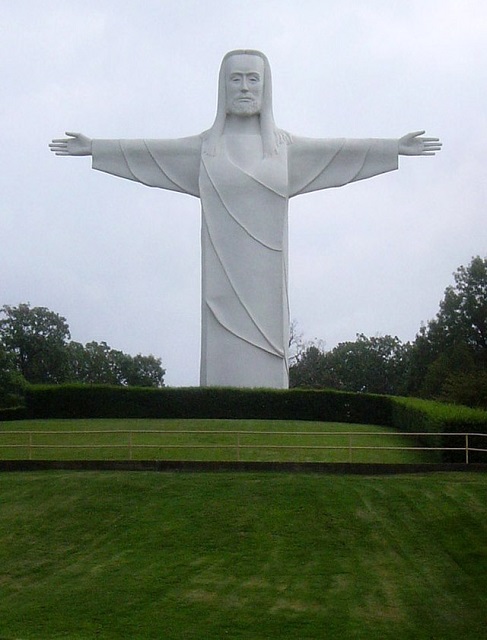 It seems the state of Arkansas has several 'neck-sprainer' statues. Another roadside attraction in the AMERICA. is the mammoth, 66 feet tall statue of Jesus Christ. It is known as the Christ of the Ozarks.
The Americans are proud of this giant statue and they would drive out of the way to go to Eureka Springs to see the statue. This is a big tourist landmark in Arkansas since 1966.
Merman
We all have heard about 'mermaids', woman and fish combination. This is the first time I hearing about 'merman', a body of a man and a fish.
We entertain doubts about the veracity of such creatures' existence.
However, in a museum in Delaware, AMERICA., there remains an exhibit of the skull of a merman called 'Fiji Merman'.
If you want to see this roadside attraction in the AMERICA, you have to go to a city known as Lewes in the state of Delaware. In the city's downtown, look out for Zwaanendael Museum. Once there, you don't have to ask around for the Fiji Merman. Every visitor to the museum would be heading towards that exhibit only.
Miles the Monster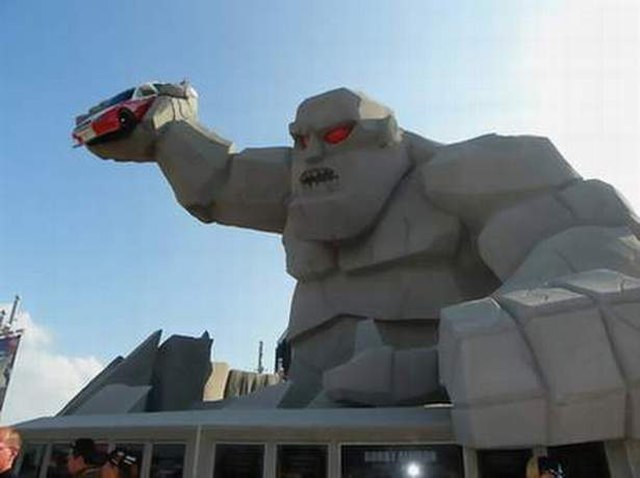 Yes, a monster of a creation! It is in Deleware's capital Dover.
Miles the Monster is actually a mascot for a race track company called "Dover International Speedway".
The site has hosted several motorsports events since 1969. The company has named its racing track "Monster Mile".
Let us have a look at the motor racing track.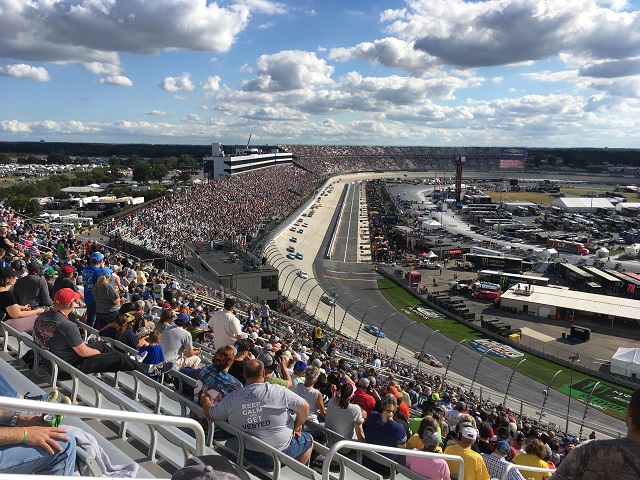 Now, do you understand the reason for building a monstrous mascot and naming it as the Miles the Monster?
The exact location of the 'Miles the Monster is in N.Dupont Highway, Dover, Delaware.
Want a piece of Unclaimed treasures?
Won't you say this is certainly one of the best roadside attractions in the AMERICA.'s Alabama? I see your urgency to know from where you can buy some of the unclaimed baggage. If you want to inspect them first, go to Unclaimed Baggage Center — Scottsboro,  Jackson County, Alabama.
If you are not interested in physical scrutiny but want to straightaway browse the listings, please visit their online store.
Its physical location receives as many as a million shoppers and curious onlookers. The authorities add around 7000 items from the warehouse of unclaimed baggage that is left behind in various airports across the United States of America.
The treasures are going dead cheap up to a whopping 80% discount!
I think if I browse around online, I would unearth several more roadside attractions in every state of America.
I am a sucker for these strange places to see and odd things to do. My top picks on this list are the Fiji Merman and the spot claiming to be the center of the world.