Would you like to try some Persian Food?
The image suggests that the modern-day Mughal food might have been inspired by the classic Persian Recipes. I believe all over the world, even people from counties that are too far away from Persia have developed a strong affinity to Persian cuisine.
Which countries constitute Persia?
We don't use the word 'Persia' anymore. Nonetheless, the following countries were said to be in Persia about 100 years ago.
Turkey
Egypt
Afghanistan
Pakistan(partially only)  (maybe extreme North Pakistan)
Do you think the present-day methods of cooking such as tandooris, skewers, and kababs must have been originated from Persia?
I read long back that the Persian white bread must have penetrated deep into Asia. I like to believe that after reading some of the top Persian personalities' food preferences.
For example, the Irani tea and biscuits that I tasted several times in Madras. Throughout India, Irani Tea Shops were scattered in most of the big cities.
Even the cuisines from several Central Asian countries distinctly resembled Persian cuisine.
In this blog post, I am sharing with you some of the tasty Persian food.
The main identities of Persian cuisine.
Rice is their staple but it used to have the following ingredients.
Mutton
Potatoes and capsicums
Dry fruits that include raisins, walnuts, and pistachios
Saffron
Cinnamon
Clove
Parsley
14 Classic Persian Food and Persian Recipes
The Persians (Iranians) were the first to introduce long-grain rice that we love. Fragrant rice (basmati) is also their introduction.
Pulav (pilaf)
The modern-day pulav if mixed with a liberal quantity of dry fruits and saffron, you can surely say it is one of the Persian Recipes. Later on, the Afghans have imported this delicious rice dish from Iran and it then migrated to the Kasmir region. It ended up with the name 'Kashmiri pulav' in India.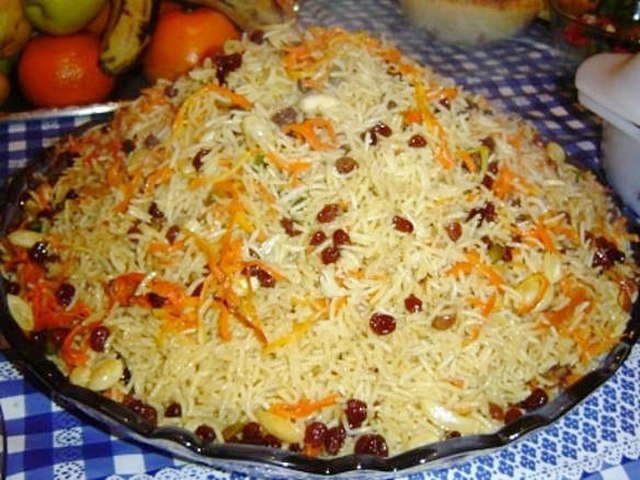 The Mughals further improved it by cooking the long grain aromatic rice in pure orange juice to give the Kashmiri pulav an exotic taste.
Keteh
This is that 'dum biryani' that we know. It is a one-pot dish in which the water is allowed to cook all the ingredients before there is no water left inside the cooking vessel.
The Persians used to make bread also using this method where the bottom part of the cooking pot forms a crust and sticks to the bread.
Tahdig
The crust that forms on the bottom of the cooking pot is deliberately allowed to form. The crust thus formed is scraped out and served as a delicacy at the start of the meal.
This is their exotic 'cherry rice' with the crust on top of it.
This form of cooked rice is also known as 'crunchy' or 'scorched' rice.
Flat Bread
The so-called 'flat bread' is generally known as 'roti' in various parts of Asia. However, the Iranians (Persians) make unique rotis.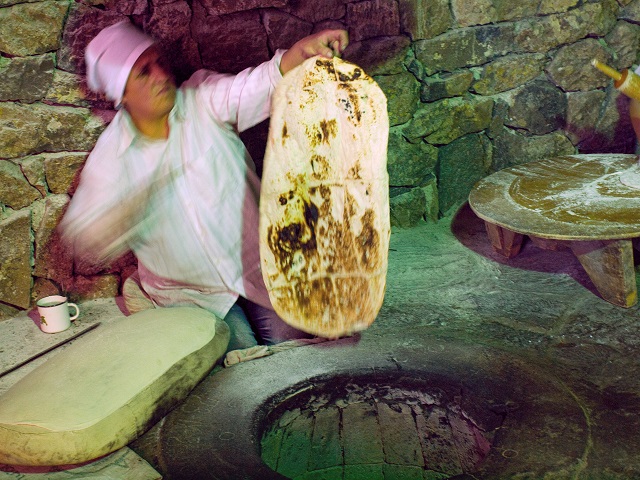 Do you recognize that roti? It is almost baked on the wall of a clay pot that is heated with charcoal. In Pakistan, Afghanistan, and in India, this type of flatbread is known as 'tandoori roti'.
The names of other Persian rotis are: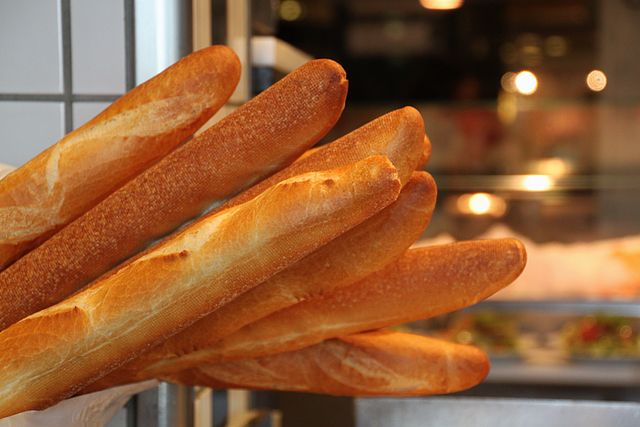 It looks like the French Croissant.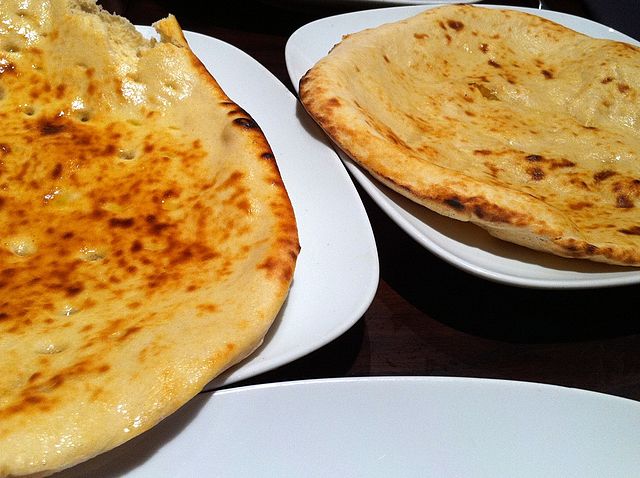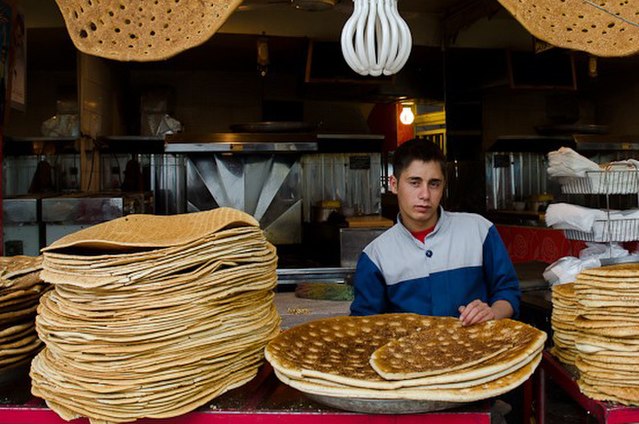 The Persians also are adept at making sweet bread that they consume hot with a glass of milk. The children love 'Sheermal'.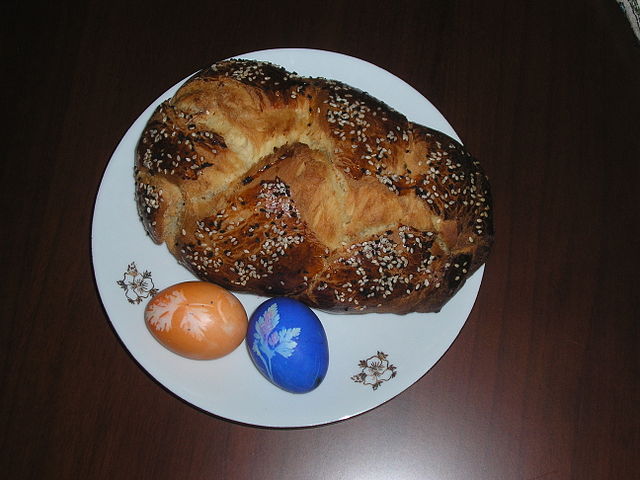 Rice and Kabab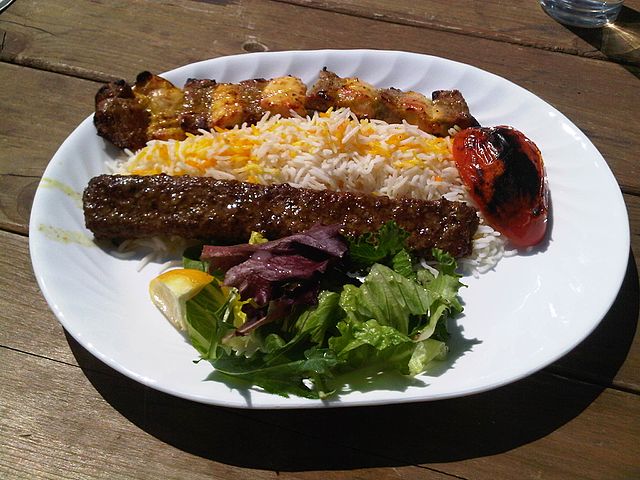 This is the national dish of Iran. Generally, kababs (skewers) are eaten as starters in other parts of Asia. Chelow Kabab as it is called in native Persia is a rice dish that is accompanied by mutton kababs.
Dolma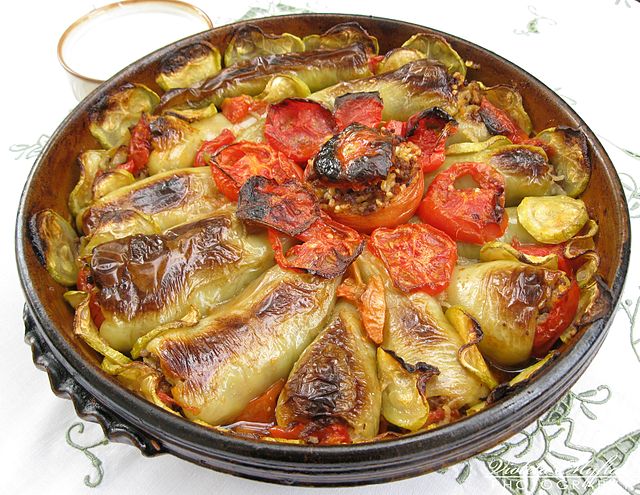 What do you make of it? It certainly looks yummy. This is an authentic Persian food that is found more in modern Turkey. Dolma is a stuffed vegetable and fruit. I believe the bell pepper and tomatoes are used to make this delicious Dolma.
Other Variations of Dolma are:
Sarma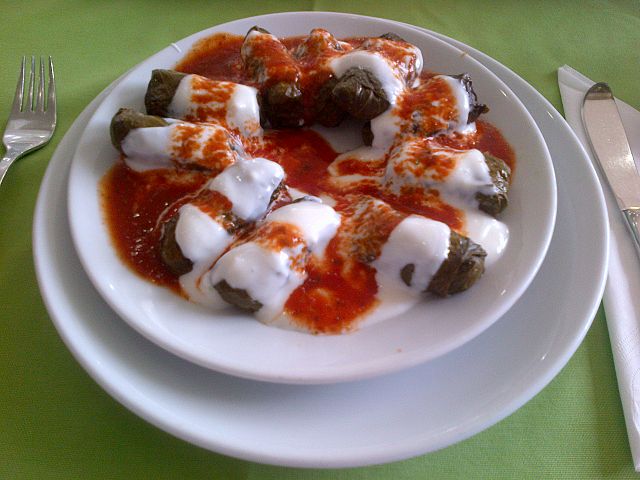 This is an exotic avatar of Persian cuisine. In this dish, vine leaves are stuffed with rice and spices and served with a dollop of curd. On the restaurants' menu card, you will find 'yalanci dolma'. It suggests the stuffing does not include meat.
Invariably, the different versions of dolma include cherry fruits and prunes (dried plums).
Instead of curd, sometimes a sauce made from ripe pomegranate fruits is served. OMG! What a combination.
The Persians truly are imaginative cooks.
Basuts Dolma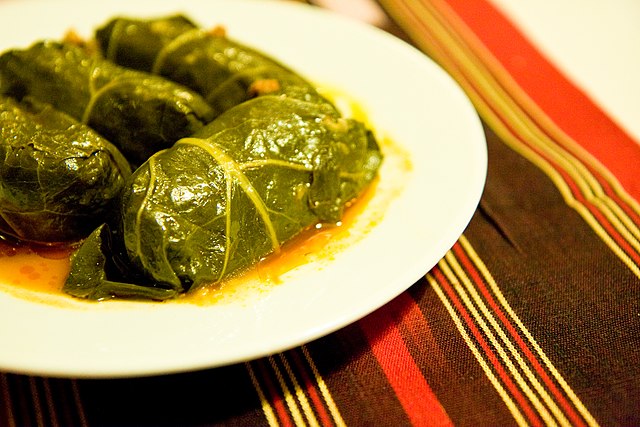 Brace yourself, mate! This dolma variation is absolutely creative.
The leaves that you see are cabbage leaves. These cabbage rolls are stuffed with myriad lentils, nuts, vegetables, and fruits.
Red Beans
Citrus fruits such as cranberry, gooseberry, grapefruit, and so on. (sour fruits)
Broken wheat
Tomato
Of course, onion is liberally used in Persian Recipes.
The veggie rolls along with stuffed ingredients are steam cooked. It won't emanate the ubiquitous 'smoky' flavor that is found in 90% of Persian foods.
Halep dolma
Look at it! Here, the inside of the eggplant (big brinjal) is partially scooped out to create enough space to stuff with meat and rice. The seasoning includes 'plum syrup'!
Oh man, I surely would like to try this incredible Persian cuisine. Cooked vegetables, rice, and meat served with plum syrup must be a heady combination.
Sogan Dolma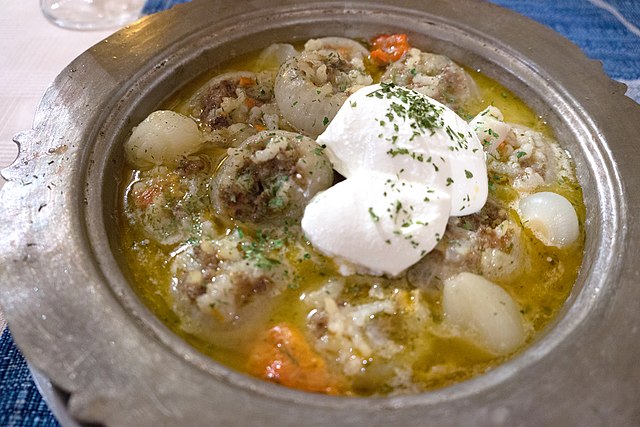 This version of Persian dolma means stuffed onions. How anyone can stuff in an onion! There must be a secret.
Midye Dolma
This Persian Recipe is a crazy combination of mussels (mollusks), rice, onion, and pepper.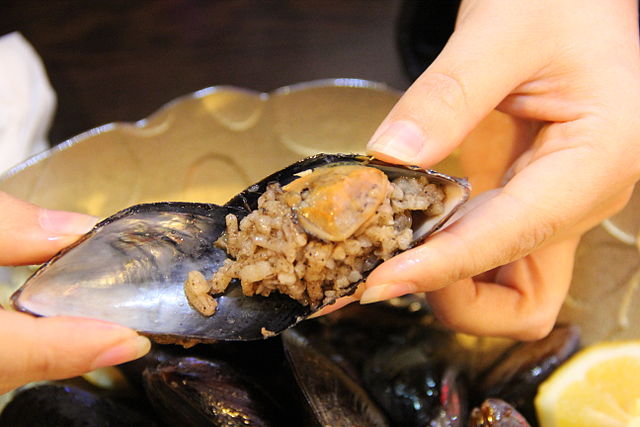 Mollusks are split open, removed of the flesh inside and the void thus created is used to stuff with imaginative fillings.
The Persians continue to amaze me. Even a diehard gastronome would find it hard to believe the fillings the Persians use to stuff vegetables, fruits, and seafood
There are several more 'dolmas'. However, I think I will move on to other Persian dishes.
Offal
Presented appetizingly-eh? This Persian food is made by cooking animals' organs such as liver, head, wings, or even brain.
Juje Kabab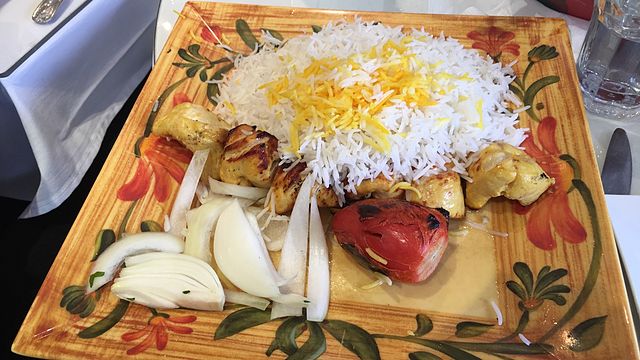 Again, the kabab (grilled chicken served on a skewer) is not a starter in this Persian Recipe but is eaten with rice and other vegetables that include onion and tomato.
Ghormeh sabzi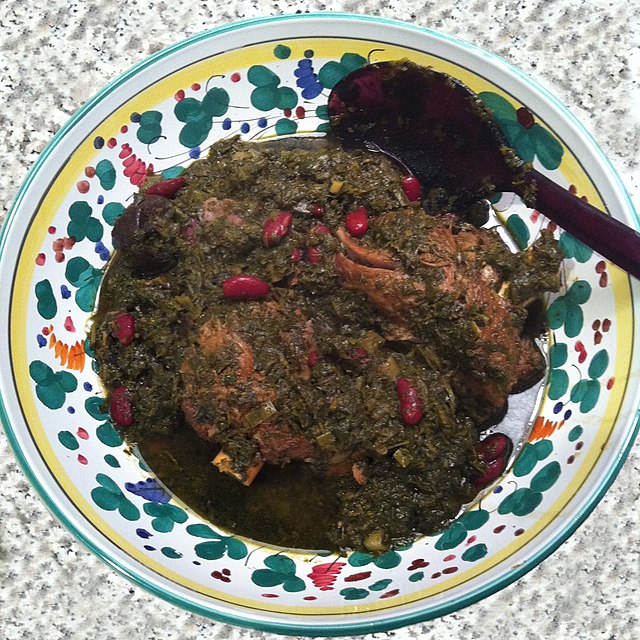 This is a kind of herbal stew but to me, it doesn't look like a stew. It is more of a solid than a stew.
Look at the range of ingredients of Persian stew.
Parsley
Spring onions
Methi leaves
Lamb chunks
Strangely, the Persians don't consume this stew as a standalone meal but is eaten with Chelow Kabab.
Tip:
If you find the word 'khoresh' on the menu cards, understand it is a stew.
Eamples of Khoresh
Koresh Bademjan
Eggp[lant stew
Khoresh Bamieh
Lamb and okra stew
Khoresh Gheimeh
Lamb and split peas stew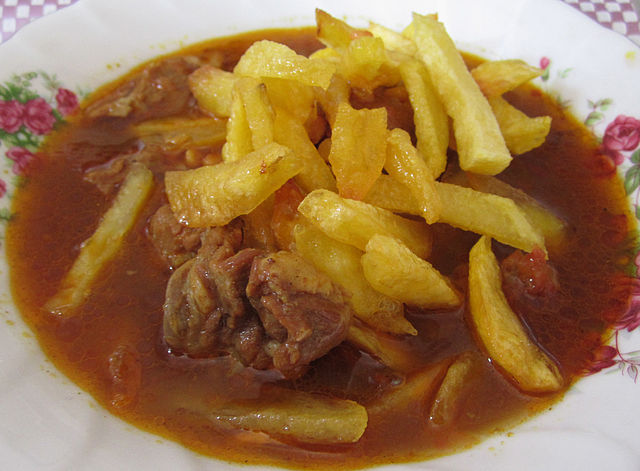 I think a brief knowledge of Persian food will make you survive in Persian countries without a translator. In any way, you can always seek the help of the waiter to explain any dish. Just make him sure you have a working knowledge of Persian foods and you will command respect.