Let us know some of the top Zimbabwe tourist attractions.
The Zimbabwe that we all know from watching cricket is severely land locked in-between several African countries that include: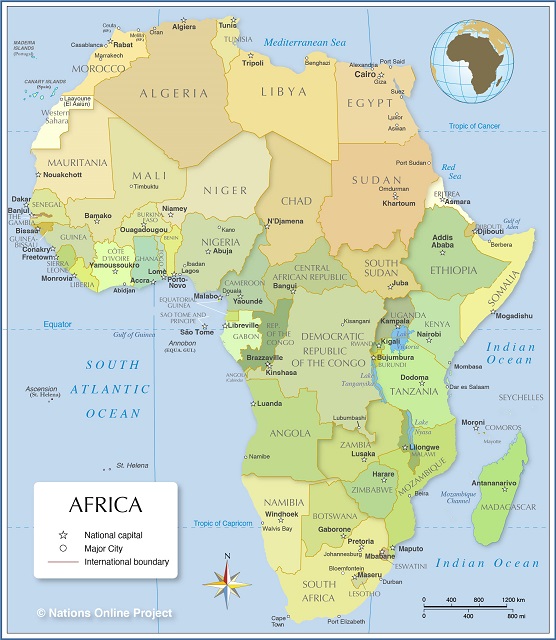 When I perused the list of Zimbabwe tourist attractions, I was taken aback at the number of places to see in Zimbabwe.  I guessed the list was deliberately shrunk in order not to test the patience of the readers. And, I dug in to found out nearly 45 things to see and to do in Zimbabwe alone.
Besides, I thought you need to spend a whole week in Harare, it's capital, and Bulawayo, the second big city in Zimbabwe.
Zimbabwe's geographical position between several African nations means it is easily accessible for tourists.
Another astonishing fact about Zimbabwe is the number of languages spoken there. As many as 16 languages are spoken including English. I am sure you heaved a sigh of relief-am I right?
When compared to Papua New Guinea and Indonesia that speak 800 and 700 languages respectively, Zimbabwe stands like a pygmy.
Zimbabwe is mostly mountainous with an average elevation of 3000 feet!
Top 16 Zimbabwe Tourist Attractions
Let us browse through the list of Zimbabwe tourist attractionss.
Mana Pools National Park
Africa means wildlife watching in national parks, game parks, and wildlife sanctuaries. That is the prime aspect of anyone who has chosen to tour an African country.
Manas Pools National Park comprises a huge 2200 sq. km area in Northern Zimbabwe. This is one of the foremost tourist attractions in Zimbabwe and a highly visited place to spot African wild animals.
The African wildlife that one can spot in this national park includes:
Brown Hyena
Cape Buffalo
African Elephant
Leopard
Zebra
Hippopotamus
Crocodiles large numbers
River Zambesi flows through almost the entire length of the Manas Pools National Park, forming numerous pools.  That's why the area is recognized as a Ramsar Wetland site.
For the national park's diverse beauty, range of mammals and birds, vast wilderness, the Manas Pools National Park comes under UNESCO World Heritage sites.
Victoria Falls
The world's most spectacular waterfalls is undoubtedly the Victoria Falls that can be seen both in Zimbabwe and Zambia where the mighty River Zambezi falls to form the Victoria Falls.
The width of Victoria Falls is an astounding 1700 meters! The height from where the Zambezi River falls is 108 meters!
Look at this breathtaking view of Victoria Falls.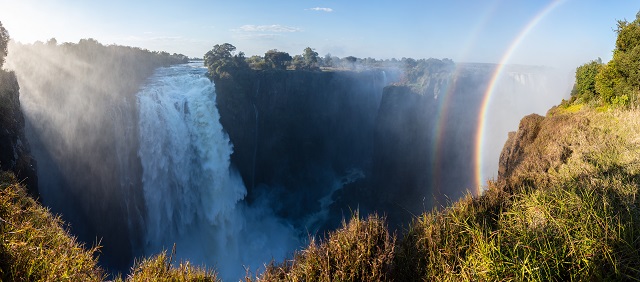 It seems the northern part of Zimbabwe is rich in natural attractions, forests, wilderness, and wildlife.
I wonder why Africa is called a 'dark continent' in spite of being the world's foremost visited country by tourists.
Mount Nyangani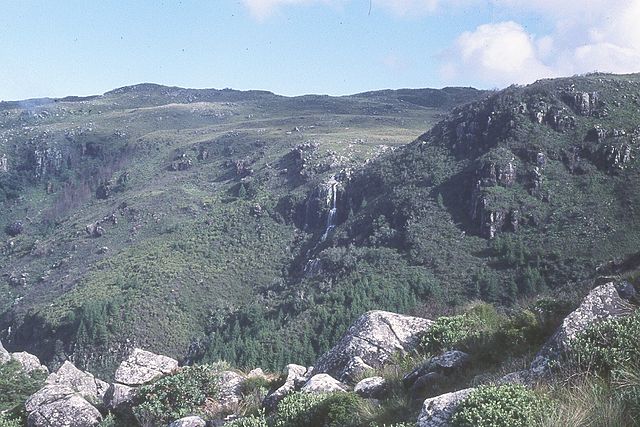 The peak that you see shrouded in mist stands at 8500 feet! Watching the peak of Mount Nyangani and trekking up to the peak is another big tourist attraction in Zimbabwe.
The trekkers are rewarded for their courage by the sight of three beautiful rivers that are:
Nyamuziwa River
Gairezi River
Pungwe River
All the three rivers' source is the Zambezi River.
Nyanga National Park
Nyanga National Park is a terrific tourist attraction in Zimbabwe. It is home to the Nyanga Mountian Peak, the highest peak in Zimbabwe.
Unlike most of the mountains in Africa that look rather dry without much foliage, the mountains found in this national park are enriched with thick forests and rolling meadows.
Most of the wildlife that you spotted in Manas Pools National Park, can be seen here too.
Mutarazi Falls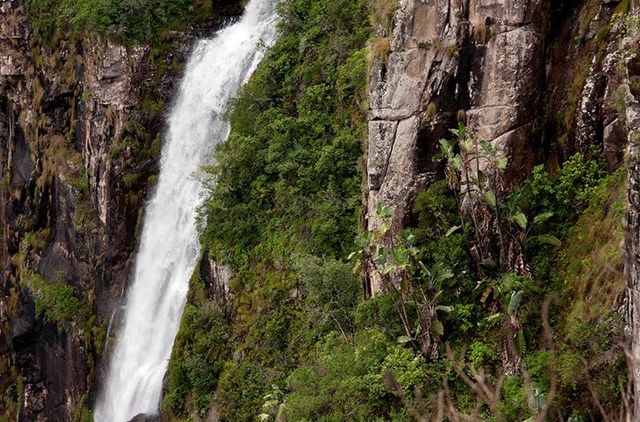 These gorgeous waterfalls are part of Zimbabwe's Eastern Highlands.
It is the highest waterfall in Zimbabwe at a mind-boggling 2500 feet!
Honde Valley
The area where the water falls is called the 'Honde Valley'. It is an unknown haven for bird watchers. The nearest city to see Mutarazi waterfalls, and the Nyanga Nation Park is the beautiful 'Mutare'.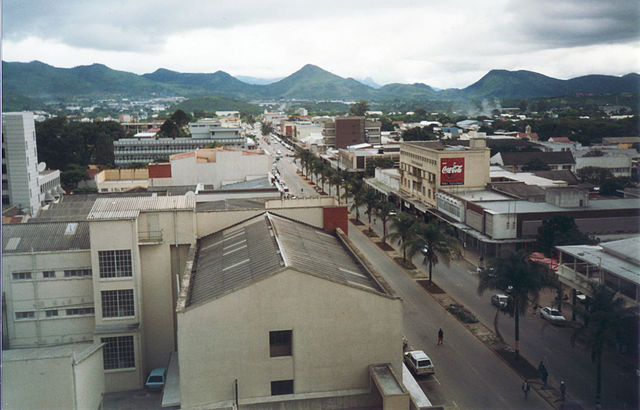 The city is surrounded by the Eastern Highlands of Zimbabwe. The exact name of the mountain that you see in the distance is known as the Bvumba Mountains.
The Honde Valley itself is the twin brother of the Imbeza Valley, which is located on the other side of Mutare city.
Mutare plays an important role in trade and tourism. It acts as a major gateway to several of Zimbabwe tourist attractionss.
Lower Zambezi National Park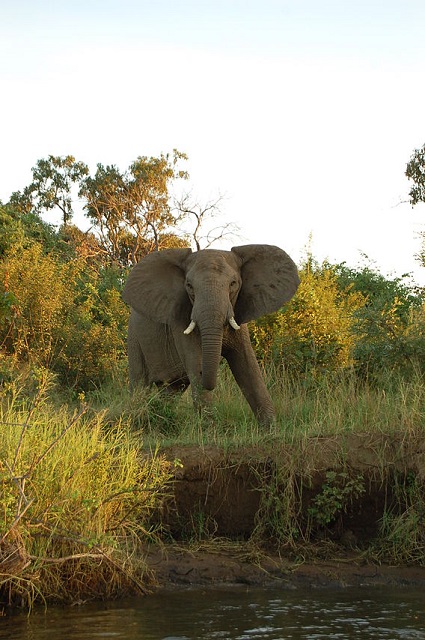 The Zambezi River that flows through Zimbabwe and Zambia is one of the longest rivers in the world. Its length is approximately 2600 km.
The earlier mentioned Manas Pools National Park is located on the south bank of the Zambezi River.
The Lower Zambezi River National Park, another gem of Zimbabwe tourist attractionss is located on the northern side of the Zambezi River.
Due to the intervention of high political leaders, this is a highly protected game reserve and pristine wilderness of Zambia. It comprises a huge area measuring a little less than 4100 sq. Km.
All of Africa's proud wildlife such as the giant elephants with huge ears, lions, and giraffes can be spotted in this game park. When you are visiting the Manas Pools National Park, you can quickly make a day trip to this tourist interest.
Zambezi River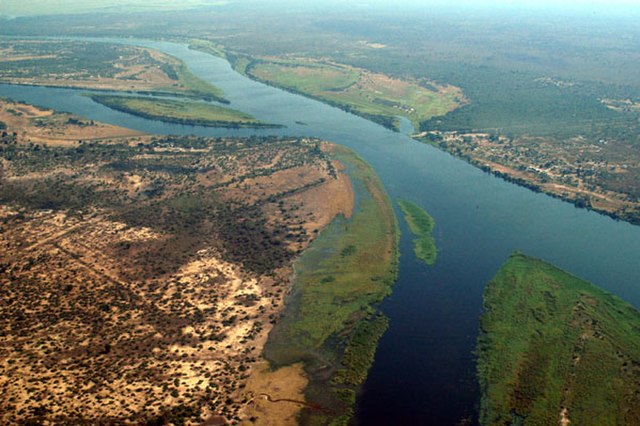 You cannot miss seeing the Zambezi River if you are going into the national parks and game reserves. As a matter of fact, Victoria Falls would be your first stop when you are touring Zimbabwe. As you are aware, it is the River Zambezi that feeds the mighty Victoria Falls.
The lengthy river creates a few more waterfalls on its way to the Indian Ocean.
Chavuma Falls
Ngonye Falls
Do you know that the Zambezi River flows through several African countries that include:
Angola
Zimbabwe
Zambia
Botswana
Mozambique
It weaves its path through diverse landscapes and mountains for a total length of 2,574 km!
At various points, the Zambezi River acts as the major drinking water resource for the majority of the wildlife including the elephants, the big cats, Cape Buffalos, etc
Are you interested in watching the big Hippopotamuses playing happily in the water?  They are seen in hordes in the Zambezi River.
Other wildlife that is dependent on the Zambezi River are:
Nile crocodiles
Monitor lizards.
African Fish eagles
Pelicans
Herons
Egrets
Lesser Flamingos
The Zambezi River is known for its unannounced rapids. The rapids instill fear in us but they entice adventure-minded tourists who can't resist their urge to join like-minded individuals to indulge in water rafting.
If you love to cruise in the river, there are guided cruises. You have to book your cruise timings in advance.
The unforgettable cruise will take you near the river boundary of the Mosi-Oa- Tunya National Park, Livingstone Island, and Siloka Island.
As you cruise, keep your binocular focused on sightings of crocodiles and hippos. Watch out for sudden movements of African fish eagles that are expert hunters of fish.
To save you precious time researching some of the Zambezi River cruise operators, I am giving below a few links.
www.visit-victoria-falls.com
www.livingstonesadventure.com
www.raikane.com
www.visit-victoria-falls.com
www.pure.africa
I understand your dilemma. I admit it is tough to choose the best Zambezi River Cruise.
Troutbeck
Troutbeck is an inconspicuous mountain village in Zimbabwe. However, it is a tourist spot that is worthy of your visit. I reproduce an image below. After looking at it, you will realize why it is one of the spectacular tourist attractions in Zimbabwe.
Isn't the view sweeping? It is called the 'world view' and aptly so-right?
Troutbeck's location in the scenic Eastern Highlands of Zimbabwe makes it a compelling stop for visitors.
Chimanimani Mountain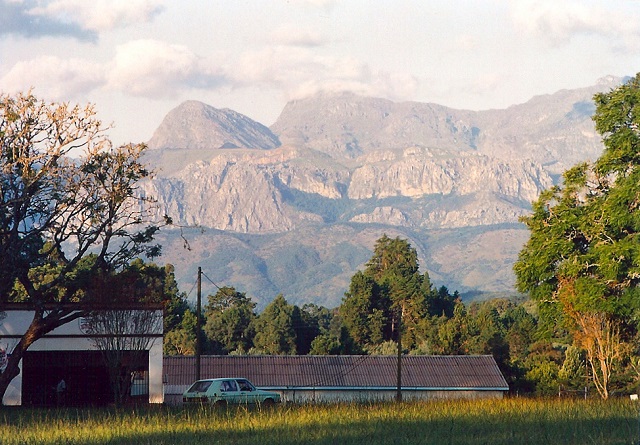 Both the Troutbeck and the Chimanimani are located in the Eastern Highlands's province called Manicaland. The Chimanimani Mountains extend up to 50 km that invites trekkers in large numbers. Some passionate trekkers even walk up to the neighboring African country Mozambique.
Chirinda Forest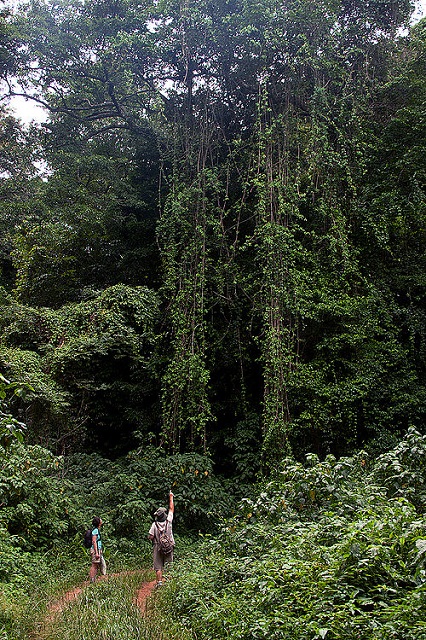 How do you like the look of Chirinda Forest? Its dark interiors are beckoning nature lovers who won't budge easily from places such as thick jungles where the sunlight is not always permitted.
Chirinda Forest is another must-see tourist attraction in Zimbabwe. When you go to Africa, you have to leave behind the smells and dust of the cities and embrace virgin nature.
It is of the thick woods that is home to some rare species of flora.
Apart from the rarely sighted squirrel with a red belly, birders will have a tough time to keep shifting focus on numerous African native birds.
You would be surprised to spot several species of pigeons, eagles, and robins. They are easy to spot and identify.
The two most striking birds in this region are the Livingstone's Turaco  and Crested Guineafowl.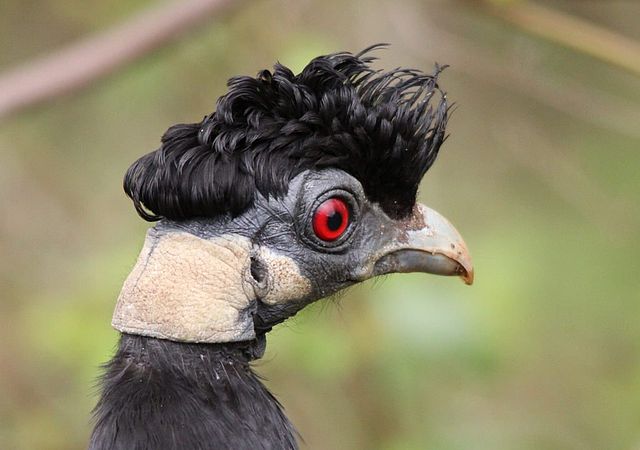 Harare
Naturally, you will land here as Harare is the capital of Zimbabwe. Being the gateway to endless game parks and wildlife preserves, the city is home to numerous hotels to stay. The restaurants have learned to serve continental fare but I would suggest you turn blind to all those popular dishes and simply try the true African cuisine with an open mind,
Matobo National Park
You will call it a natural rock art park after spending an hour. To visit the Matobo National Park, you have to stay in Bulawayo, the second big city of Zimbabwe.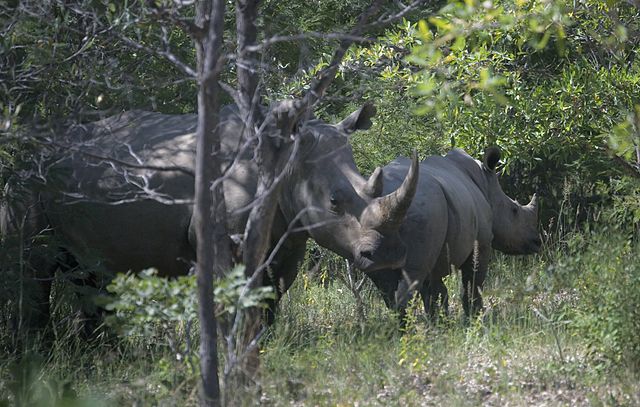 Of course, the Matobo National Park is not devoid of rare wild animals of Africa. You can spot the white Rhinoceroses ( I would not call it white but it is not dark definitely)  and a large number of leopards, the graceful runner in African forests.
I consider the Ostrich as another graceful runner that you can see here.
As a matter of fact, I would pay to watch an ostrich running for life than a leopard chasing an impala.
You can enjoy watching the forest animals safely from the back of an elephant.
This game park offers numerous camping grounds with basic facilities. It is my dream to stay in one such camp in the African wilderness.
Hwange National Park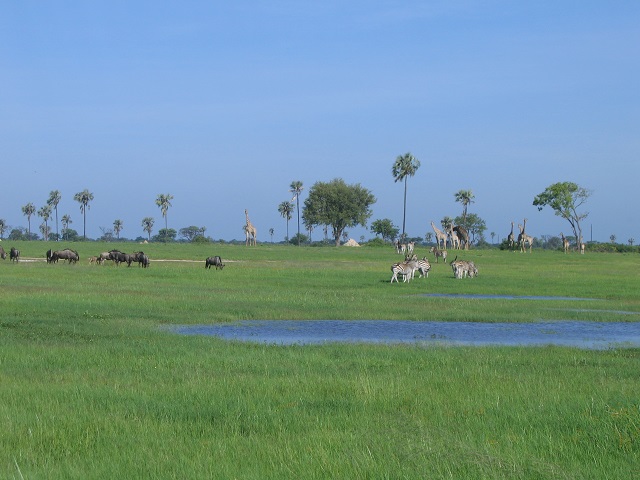 Hwange National Park (formerly Wankie Game Reserve) is the largest natural reserve in Zimbabwe. The park lies on the main road between Bulawayo and Victoria Falls.
Another exciting landmark, one of the dreaded Kalahari Desert is located very close to this national park in Zimbabwe.
Similar to the national parks in Zimbabwe, Hwange National Park is hosting all the big wild animals and over 400 species of birds. A large population of Gemsbok lives here.
It has another name "Oryx Gazelle".
Have you ever looked at the Ground Hornbill?
Here it is.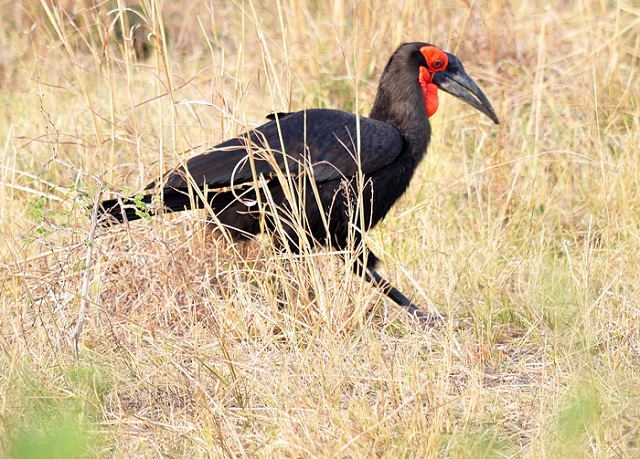 Great Zimbabwe Ruins.
I think you have no choice but to visit the ancient ruins of Zimbabwe if you are part of a guided tour.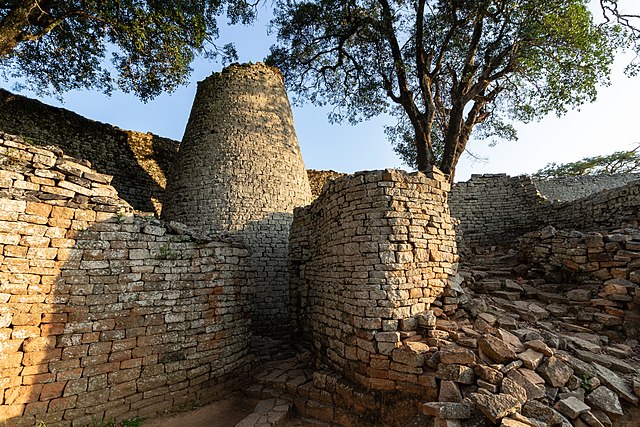 If you want a piece of Iron Age, take a selfie when you stand amidst the ruins of ancient Zimbabwe.
Lake Mutirikwe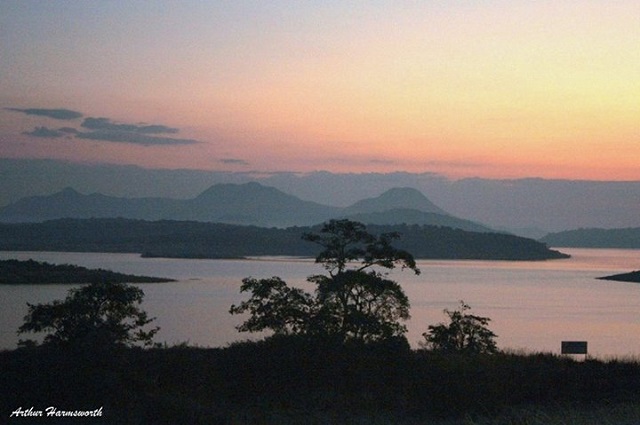 This sprawling lake with a catchment area comprising a whopping 3900 sq. km is a delight to watch. The still water always instills a sense of calmness in us.  As many as five rivers empty their water into this lake which is a beautiful Zimbabwe tourist attraction.
With so many national parks that are vantage places for game viewing, it is advisable for you to choose a reputed and well-guided tour operator or a Zimbabwe safari package even before you settle on the cheap flight deals to Harare or Bulawayo.
I would give you a tip based on my research to compose this blog post on the tourist attractions in Zimbabwe.
Select a safari that takes you either to national parks in northern Zimbabwe or in the Eastern Highlands.