What to eat in Doha street food stalls? Let us know the most popular street food in Qatar.
Doha's street food stalls have multiplied. They are now open until 2 am. I heard the mini cafes and small eateries in Doha begin selling as early as 9 am.
Tourists who have arrived in Doha to watch the FIFA 2022 world cup are equally hungry for food as they are hungry for watching the frenzied game of football.
The cheer fills up the air and so do the aroma of Qatari food in the streets of Doha.
There is one particular street that is famous for eating street food in Doha. It is called, "Souq Waqif".
It is a marketplace for buying Qatari garments, pet animals and birds, local spices and dry fruits, and also several restaurants that are now over-crowded.
And, It is located in the heart of Doha, near the harbor.
10 Most Popular Street Food in Qatar:
Let us know what to eat in Doha.
Machboos (Majboos)
Your guess is right. It is a briyani. The aroma of cooking basmati rice is heady. In addition, meat which is either chicken or mutton when cooked with several spices is salivating.
Kabsa is a more popular word to describe Majboos. It is a ubiquitous street food in Qatar and is available anytime.
Ghuzi
This is slightly different from Kabsa but still it is a rice dish which is served with roasted lamb.
Madrouba
Madrouba is eaten for breakfast in Qatar. As a street food in Doha and in the rest of Qatar, the locals eat it from a bowl when the rice porridge is piping hot.
Similar to the Asian countries, the porridge is added with some condiments and spices that include cumin seeds, turmeric powder, and ginger.
The only major difference is Madrouba contains chicken meat.
Harees
Harees is another porridge but instead of rice as the basic ingredient, you find wheat in this street food in Doha.
Khobes rgag
The most eaten roti (Falt bread) made of wheat flour is called "Khobes Rgag" in Qatar. It is usually eaten with some meat-based gravy and a curd-based accompaniment known as 'raita'. It is usually made with curd mixed with chopped onions.
Shawarma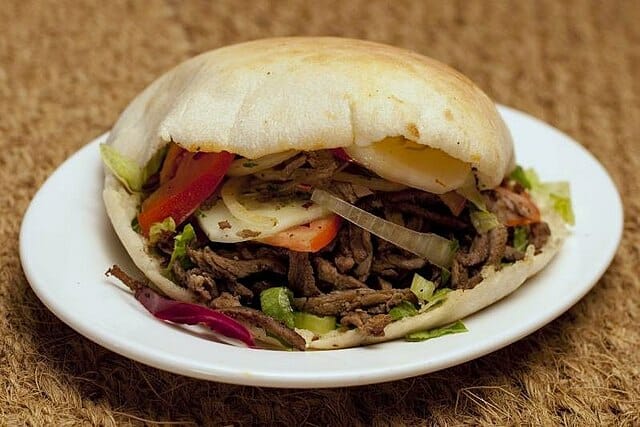 Shawarma is a traditional Arabic street food that is imported by all the Asian countries including the Philippines that is so far away from Middle East countries.
Shawarma is skewed and finely shredded chicken meat that is stuffed inside a flatbread with onion, garlic, and shallots.
People are who are touring in Doha to watch the FIFA 2022 World Cup, would surely like the taste of Shawarma, an authentic street food in Qatar.
Karak
It is a must-try hot beverage in Doha. It is nothing but tea though the addition of saffron and cardamom give the tea an exotic flavor. The fine aroma will make turn towards the side of the  karak shop involuntarily.
Sambousek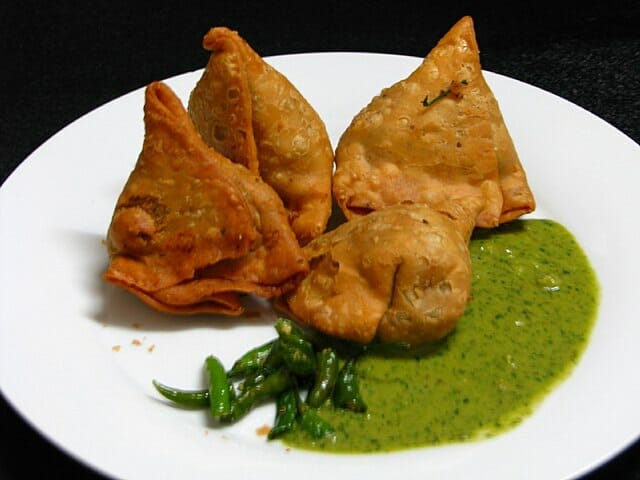 This savory is the most eaten street food all over Asia and hence, it is found widely as a street food in Doha.
It is a deep-fried and stuffed pastry.  Potato, onion, garlic and mutton chunks make the ingredients of the stuffing.
Samosas (alternative name) are always accompanied by mint chutney.
Wraps
Wraps are ubiquitous street food in Qatar. A flatbread is rolled nicely to make it an edible bag and in which, meat with several raw vegetables are stuffed.
It is served in a plate with some ketchup. You dip the wrap in it and take a succulent bite. Wraps are filling snacks.
Qatari Sweets
The Qatari sweets are highly popular among visitors from other Asian countries. The sweets stalls are loaded with numerous sweets. You will be definitely tempted to buy by the appearance of colorful and juicy sweets.
I remember reading you can try them in the shops before proceeding to buy.
Some of the highly recommended Qatari sweets that you can eat in Doha include: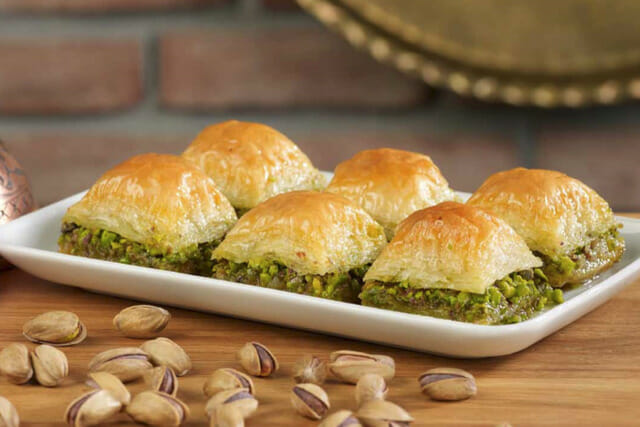 This is the highly sought-after sweet in Qatar and is available as a street food in Doha. It is a pastry that is filled with pistachio nuts. And, It is juicy because of honey that is stuffed inside the baked bun. Besides, It owes its nativity to Turkey.
Qatayef-it is a pancake made of semolina
Umm Ali-a delicious dessert that is garnished with raisins, almonds, and walnuts. Basically, it is a bread pudding. Umm Ali is said to be a Greek delicacy.
Kunafa (knafeh)
Basboussa
This is another Egyptian dessert that is made of semolina.
Actually, I expected to find sweets that belonged to the Mughalai era such as Jangiri. I am surprised to find Greek flavor in Qatar street food.
Without tasting the delicious Arabian dates, your gastronomic hunger will not be satiated in Doha. Khabees in street food in Qatar that contains dates without seeds, saffron, sugar and flour cooked together. You can call it "dates halwa" if you have already eaten any halwa, which is basically an Arabic sweet.
Have you ever eaten noodles that tasted sweet? Here is a chance to try that as it is a popular street food in Doha.
If I were you, my choice of street food in Doha will be the local sweets and I would definitely drink a glass of 'karak' with saffron flavor.