Let us taste some of the most popular Mexico street food in this post.
When I was about to begin my research to compose content for this article, I wondered whether India still retained its top place as the best street food in the world.
I quickly found out India lost its place as the most visited country in the world for street food. The position was grabbed by Thailand.
I was not surprised because several gourmet bloggers admitted they have to stay for full three weeks in Bangkok to try out every other street food of Thailnad.
Next came Hong Kong but I find it hard to digest, not the street food of Hong Kong but its second rank.
Singapore pushed India further down but again, I feel it is not justified. Singapore's food aroma is nowhere near the aroma of Indian food.
The fifth rank was claimed by the Mexican street food. Well, fair enough; however, I foresee it pulls down others and go to top of the table next year.
Without wasting on preliminaries, let us go through the list of highly-aromatic Mexico street food.
You must be already aware of the following foods sold in Mexican city streets.
Tortillas
Quesadillas
Enchilades
Burritos
Corn Flour (Masa) is the predominant ingredient used in the kitchens of Mexico.
Mexico Street Food Tours
The second most used ingredient by the Mexicans is the kidney beans.
Chilaquiles
I remember reading that the Mexicans started eating cheese so much later in spite of their geographical proximity to the U.S. one of the biggest consumers of cheese in the world.
Chilaquiles is eaten for breakfast in Mexican cities and villages. It is a thin flatbread made of maize or wheat flour.
The top up includes cheese, scrambled eggs, and salsas-the traditional Mexican dip.
Guacamole
You might not have heard bout it before. It is a paste made of avocado fruit! Tortillas are dipped into a bowl of Guacamole before putting it in the mouth. Strangely, it doesn't emanate any aroma.
Pozole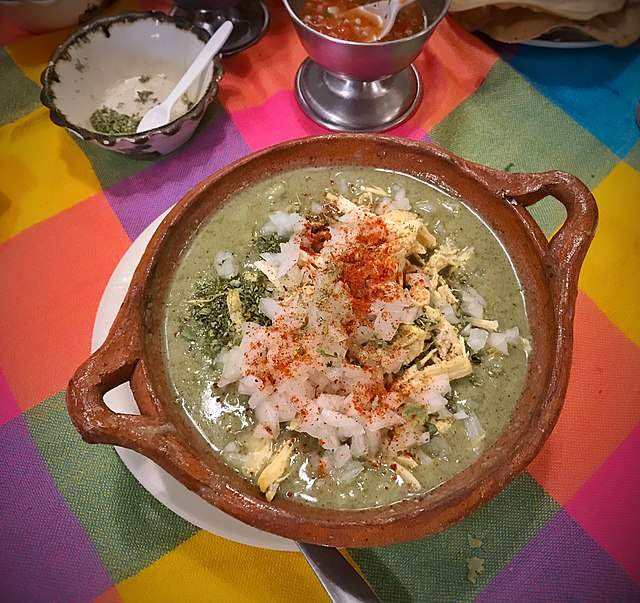 It looks like a stew with chunks of chicken or mutton or pork meat floating. Broccoli or cabbage also floats accompanied by raw onion rings, raddish, and or avocado.
How can they eat avocado in almost every street food in Mexico?
Pozole is an event-based dish in Mexico. Quite a few variants of Pozole are found throughout Mexico.
Tacos al pastor
Tender pork meat, thinly sliced and marinated in a paste of several spices and served with rings of pineapple fruit is widely eaten in Mexico.
The base taco is wrapped around a filling consisting of one or more read meat, vegetables, and accompanied by guacamole or any red or green salsa.
Tostadas
Imagine a base of tortilla that is either toasted or even fried. For a change, the Mexicans prefer placing fried shrimps on a tostadas.
Tostadas is a very popular street food in Mexico. It is cheap and also very filling. It is a good innovation to serve it with juicy, and crunchy shrimps.
Chiles en nogada
This is a 100% Mexican street food with an exotic taste of walnut. The base ingredient is a special Mexican pepper called, 'poblano'.
The bellpepper is stuffed with shredded meat. The garnishing is what that is special. Pomegrenate and parsley are used along with a white walnut sauce.
Chiles en Nogoda is Mexico's national dish and the colors of the dish represents the colors in the Mexican flag.
Elote
Have you ever eaten a corn with hob? It is usually roasted in open fire and slat is rubbed on it. Even a lemon fruit is rubbed to give the corn, a tangy taste. It is a poor man's street food.
Elote is just the Mexican version of grilled corn. In Mexico, cheese is applied after the grill work. Chili powder is sprinkled liberally on the cob.
Enchiladas
Enchiliada is an ubiquitous food in Mexico. It is a kind of wrap using corn tortilla. Inside the wrap will be finely chopped meat, vegetables, and cheese.
Usually, your organized Mexico street food tour begins with Enchiladas because, the Mexican are very proud of this food item and are confident that the tourists would like it
Churros
Churros is sold everywhere in Mexican cities and towns. A deep fried dough that is either served sweet or a savory, it is a favorite of children.
The lunch box of school students will contain a few pieces of churros.
 Cochinita Pibil
Mexican are crazy about this pig dish that is eaten as a whole meal. A tender whole pig is marinated in a paste of several Mexican spices and then cooked in banana leaves.
Malote
Some of the Mexico street food tour are region oriented such as 'cancun' where the local specialties are given weightage.
Malote is a pastry, a corn-based snack that uses large quantities of mashed potatos.
Mexico street food is predominantly corn based and uses liberal quantities of red or green salsa. Not many vegetables are used. I think the food is overall very spicy.