My continuous research as a travel writer revealed that the massive South America is the most under-visited continent in the world. Astounding South America Tourist Attractions are worth for a visit.
I stumbled upon to some of the astounding South America Tourist Attractions, the land of Amazon Rainforests, Machu Picchu, Galapagos Islands, Macaws, Iguazu Falls, Andes Mountains, and Colca Canyons.
I was just wondering which are all, the ultimate places can I see in South America if I buy a seat in one of the South America cruises.
With a total coast line length of 25,500 km, I know the cruise will be long but it certainly won't lack in excitement and thrill.
Overview of South America.
South America's borders:
Caribbean Sea to the northwest and north
Atlantic Ocean to the northeast, east, and southeast
Pacific Ocean to the west
North America in the northwest.
The South and North America are connected by the Isthmus of Panama,
Which South American countries a cruise ship can visit?
Except Bolivia, and Paraguay that are land-locked countries of South America, the rest (below) are on on some coast or other.
Countries on the coast where cruise ships anchor:
Venezuela
Guyana
Suriname
French Guiana
Brazil
Uruguay
Argentina
Chile
Peru
Ecuador
Columbia
Astounding South America Tourist Attractions
The list of astounding attractions in South America:
Let us begin our onshore tour of South American coastal countries from Venezeula.
Since the list is long, every top places to see in South America country wise will include only a brief description.
Angel Falls, Venezuela
This is the tallest of all waterfalls in the world, If you look down from the top of the Angel Falls, you can see te bottom only if you faint and fall down because of the dizzying height of 3200 feet!
Did you notice the water was falling without any interruption? I mean, it did not fall on any rock in between like a cascade. It is a direct, uninterrupted waterfall up to 2600 feet. There, it drops on a rock and the final plunge begins.
Angel Falls is fed by Churun River.
Canaima National Park, Venezuela
This is a UNESCO World Heritage Site. The Angel Falls is part of this National Park in Venezuela.
It occupies a massive 30,000 sq.km of land in South-east Venezuela. When you go on a tour of Canaima NP, you will see:
Moist forest of Guyana Highlands
Tall mountains with high vertical walls and flat top (table top). Mount Roraima, one of the Table Top Mountains.
It is mind-boggling to look at and certainly one of the ultimate places to see in South America.
Roraima Falls
Devil's Canyon
Kama Falls
Jasper Creek
Yuri Falls
Toroncito Ravine
El Danto Falls
Chivaton Falls
Wildlife to see in Canaima NP:
Jaguar-it is a rare cat in the world
White-faced Saki (can you believe it is a monkey?)
Giant Armadillo
Harpy Eagle
Toucans
Bush Dogs
I guess you need two full days to see all of Canaima National Park, Venezuela
Margarita Island
I think you have not heard about it before. As a matter of fact, do you know Venezuela has 300 islands? One of them is Margarita Island and is the most visited one.
Margarita Island is floating in the Caribbean Sea.There is an interesting geography on this island in Venezuela.
The entire island is divided into two by an 'isthmus', an isthmus is a piece of land with two water-bodies on its either side. In this case, it is the Caribbean Sea.
In spite of an island, it is a highly developed one with modern residential complexes.
A few facts of Margarita Island:
Known for beautiful pearls that you can buy.
One of the top windsurfing spots in South America
Kitesurfing is also a highly indulged in water sports.
The isthmus is 18 km long. It is called "La Restinga".
As many as 70 beaches are recommended on this island. Parguito Beach is the best there.
Margarita Island is a great island for holiday in the Caribbean Sea, the world's top host of spectacular islands.
Central Suriname Nature Reserve
Suriname is a South American country on the Atlantic coast with Brazil as one of its border. Some of the top sights in South America point out to the rainforests of Suriname.
The Central Suriname Nature Reserve comprises a huge 4 million acres of land. World's rare moist forests are highly protected here. These moist forests are classified under Guyanian Moist Forest, a very few such ecosystem exists in the world. As a result, Central Suriname Nature Reserve is among the ultimate places to see in South America.
Brownsberg Nature Park
The falls you see in the image is known as Leo Waterfall. It deadly exists amidst dense foliage.  This nature reserve is again considered as Guyanian Moist Forest Ecosystem.
It is sad to learn that such a precious and rare moist forest receives just 20 thousand people a year.
Gold and mercury were mined once in this region of South America. They are termed as illegal now.
Kaiefeur Falls, Guayana
What a voluminous waterfall!
The waterfall, falls from a height of 740 feet. In addition, its width is 340 feet, resulting in getting a high rank in the list of astounding South America Tourist Attractions.
The source of Kaiefeur Falls is Potaro River. It is interesting to note that this Guyanese tourist landmark is a part of the Amazon rainforest.
Devil's Island, French Guiana
With a slight change in the spelling in Guiana, this South American country is a French overseas territory, on the Atlantic Ocean.
With a troubled history as a penal colony (convicts including the French were exiled here), it is a tropical island that attracts the French in large numbers who are deeply interested in studying their ancestors' history.
The beaches are lovely and sunny with almost no tourists throughout the year.
French Guiana Zoo
Don't miss seeing the wildlife of such a remote island in the Atlantic Ocean. The star attraction of this zoo is the breathtaking Scarlet Ibis (see above the tite image).
A unique breeding center for Humming Birds is functioning on Devil's Island, French Guiana.
The zoo has built a canopy walk mainly to spot numerous bird species that are living in the island's forest.
Christ the Redeemer, Brazil
You might have seen it many times, especially during the last week of Feb 2023 when a lightning struck the tall statue.
The statue stands tall at nearly 100 feet. The out stretched arms measured 92 feet from right to left,
The location is on Corcovado Mountain's peak. The altitude of the summit is 2300 feet! It is one of the top sights in South America. You can see it from anywhere in the city of Rio de Jeneiro.
Iguazu Falls, Brazil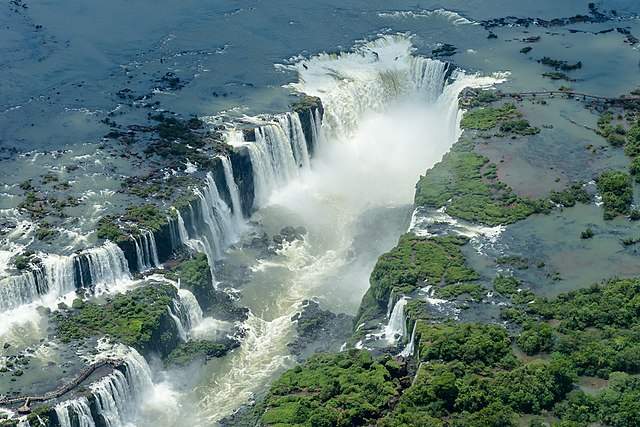 It is very difficult to look elsewhere when you are facing these large waterfalls system.
As many as 275 falls are there, the tallest being 270 feet.
One of the astounding South America Tourist Attractions, the falls can be seeb from Brazil also because of the width.
Sugarloaf Mountain, Brazil
The 1300 feet summit is close to the Atlantic Ocean.
You can reach the peak and enjoy a stunning view of the ocean by going up in a cable car.
Sadly, the sky ride lasts just 3 minutes!
Surprisingly, the cable car can accommodate 65 passengers! I tgought usually the cable cars carry a maximum of 6 people.
Selaron Steps
Somehow this staircase in Rio de Janeiro became world famous and treated as one of the top sights in South America.
While, I don't see any beauty in this, the numerous painting on the walls would make anyone to stop and stare.
However, I would not reach the top step as that would require a painful climb over 214 steps.
Do you know the painter procured the tiles for constructing staircase from 60 different countries?  What an obsession and perseverance!
Tijuca National Park
This South African tourist landmark is located in the proximity of Rio de Janeiro City. Inside the park is the statue of Christ the Redeemer, a chapel, a gazebo and several trails for trekking.
Beautiful Cathedral
The design is futuristic!  In addition, it certainly doesn't look like a place for worship. However, 4000 people can pray at a time in the cathedral.
Maracana Stadium
Without making a visit to the Maracana Stadium in football-crazy Brazil, your cruise to South America is not complete.
It is the biggest tourist landmark in Rio de Janeiro, Brazil and remained so since 1950!
It can seat 79,000 spectators approximately.  Unfortunately, Brazil lost the FIFA World Cup it first hosted in 1950.
Amazon Jungles
So, here we are, at the world-famous Amazon rainforest, one of rhe ultimate places to see in South America.
The incredibly large rainforest comprising a whopping 7 million sq. km of which 60% is in Brazil.
No one can say you require a certain number of days to see the Amazon jungles and cruise the mysterious Amazon River because of the rainforest's mammoth size.
Do you know there is an unimaginable number of 390 billion trees in Amazon? It is an habitat to 30 million native people of the sprawling forest.
The number of species of wildlife in Amazon jungle cannot be estimated accurately.
Manaus is a city in Brazil and is the gateway to explore the Amazon rainforests.
It is not only one of the astounding South America Tourist Attractions but also one of the top most places to see by every one of us.
Parque das Aves
Translated into English, it points to a bird park, a huge crowd puller because one can see the majority of the Amazonian birds that include the celebrated Macaws, Toucans, Paradise Tanager, and the brilliantly colored parrots.
Above all, you can see a real and living Anaconda.
Chapada Diamantina National Park
The whole area comprises of rugged mountains, cliffs of dizzying heights, and large tracts of grassland.
Several rivers enrich the region's topography.
Pocitos Beach, Uruguay
I have seen countless beautiful beaches. Pocitos Beach located in Montervideo, the capital of Uruguay is strikingly beautiful beach with the backdrop of city's skyscrapers.
Montervideo city's stunning architectural buildings add to the chram of the top sights in South America,
It is a palace.
A few more beaches in Uruguay's capital are really worth visiting. Overall, you can spend two days in Montervideo.
Torres del Paine National Park, Chile
The 'paine towers' are world-famous and astounding South America Tourist Attractions.
You can see them in Chiliean Patagonia. The np comprises lovely glaciers, mountains, fjotds, rainforests, rivers, and lakes.
Patagonia is a region where the Andes Mountain range slopes down in Chile and Argentina.
Do you know Chile is the gateway to explore the freezing Antarctic Circle?
Costanera Tower
It is the tallest building in all of South America. The terrace of the building is situated at almost 1000 feet! This is the largest tourist landmark in Santiago, the capital of Chile.
62 floors are in this sky tower. In an incredible speed of just 60 seconds, you can reach the top of the building by a high-speed elevator.
From the top floor bar, an exhilarating sunset can be watched with your mouth wide open.
Plaza de Armas
Plaza de Armas in Santigao, Chile is a public gathering place. As usual, this plaza in Chile is also surrounded by historic buildings of attractive architecture.
The buildings usually house the official Governmental complexes. Like any plaza, this also occupies a prominent place in the heart of the city.
San Cristobal Hill
It is a beautiful part of the city of Santiago, situated at nearly 1000 feet above the level of the Pacific Ocean.
There are houses of the affluent people, an amphitheater and a chapel with a very tall statue of Virgin Mary.
Funicular Rail
For the attractions of children, there is a funicular trail that looks similar to a cable car.
Uyuni Salt Flat, Bolivia
OMG! It looks like a flat sea of salt! A salt flat is a kind of salt desert. The expanse is far and wide with apparently no end. It occupies a staggering 10,000 sq. km area!
Obviously, this world wonder is among the ultimate places to see in South America.
Mysteriously, the sea, the main source of salt is located way below at 12,000 feet!
In such a large flat surface with no artificial lights in the vicinity, I think this place is the best in the world for star gazing.
Another strange fact about this salar is, the flamingoes like this place very much and make it their private breeding ground.
Don't imagine seeing the usual pink or orange flamingoes, buddy. Here, the so-called Jame's Flamingos converge.
In spite of a desert of salt, it serves as an habitat to several wildlife that includes:
Andean Goose
Andean Flamingos
This is apart from the Jame's Flamingo
A species of Lama
Salt Hotels
To meet the needs of large number of tourists to see this geographical world wonder, a few hotels were built, whose walls are made of the same salt that is found on the Salar.
Here is one such weird salt hotel called Palacio de Sal.
Train Cemetery:
Naturally, you will spot this graveyard for an extinct train service.
Salt Uyuni is one big attraction that brings the tourists to Bolivia.
Cristo De La Concordia
This statue is similar to the Christ the Redeemer in Brazil. Cristo de la Concordia ranks high in the list of astounding South America Tourist Attractions.
It is installed on San Pedro Hill. Cable car service takes the visitors near the statue. Some pilgrims climb the 2000+ steps to worship the Christ.
Madidi National Park, Bolivia
We are still exploring the top places to see in Bolivia. This must-see natre reserve is part of the Amazon River basin.
It occupies a whopping 19,000 sq, km area. And it is highly protected and preserved nature reserve due to its precious flora and fauna.
Such a large area of 19k sq, km naturally tends to support diverse geography and topography.
If you have a leaning towards anthropology, you can meet a few native ethnic people who speak strange languages.
The np is home to so many floras that the authorities admit they are yet to document the total number tree and plant species.
It seems Bolivia is a must-visit South American country for a range of natural attractions and to witness an amazingly  different culture.
Amazing fact about Bolivia:
The country's width is only about 60+ km but its length measures at 6400 km!
Machu Picchu, Peru
Machu Picchu is considered as one of the wonders of the world. The Inca reign citadel is built at a height of 8000 feet.
Sacred Valley
It is amidst the Andes and also called Urubamba valley.
Sacred Valley of the Incas is one of the major sights to see in South America and Peru.
If you see a video clip of the nature-rich Sacred Valley, you will explore the possibilities of relocating to Peru, to spend the rest of your life in the Urubamba Valley.
Colca Canyon, Peru
I think you sat up after reading the word, 'canyon'. All canyons got that effect on us. Not only human beings but also animals, birds, and snakes like canyons.
The canyon was caused by relentless erosion by Colca River in Peru.
The mighty and giant vulture called the Andean Condor can be easily spotted in the canyon's crevices.
With the bottom of the canyon placed at nearly 4000 feet, it is the deepest canyon in the world and that makes it as one of the ultimate places to see in South America.
Hot springs are several in the slopes of Colca valley. Colca Canyon is one of the biggest tourist attractions in Peru.
Polished rock samples taken from the canyon are souvenirs that you can buy.
You can also visit another canyon in Peru called "Cotahuasi Canyon" with a depth of nearly 3500 feet!
Terraced fields
This is similar to the stepped-terrace rice fields in Bali, Indonesia. They attract our eyes and we won't be able to suppress our urge to go up on one of the steps and enjoy an aerial view.
This is in the Colca region where you can also have an encounter with the ancient natives called "cabanas". They are said to have settled in Colca region, Peru, prior to the Inca reogn.
Lima
Isn't it breathtaking? This is a view of Lima, the capital of Peru.  One of the oldest educational instituitions in America named National University of San Marcos has been functioning from Lima since 1551.
Another piece of brilliant architecture is the 'Palace of Justice'.
That must be the central court of Peru in Lima.
Similar to the piazzas of Italy, there is one in Lima and it called a plaza in this part of America,
Other paces of tourist interest in Peru:
Mancora Beach
Chan Chan-a city built during the pre-Columbian era
Cuzco Main Square-a place for public gathering
Arequipa-a beautiful city in Peru and the gateway to the Colca Camyon
Huacachina-known for sand dunes
The list is too long to cover in this post. To sum up, Peru is one of the ultimate South America Tourist Attractions.
Malecon 2000, Ecuador
It is a promenade on the banks of Guayas River in the city of Guayaquil, Ecudaor, a coastal South American country facing the Pacific Ocean.
The 2.5 km stretch of boardwalk is dotted with stunning historical buildings, interspersed with shopping malls, fountains, restaurants, bars, a giant ferris wheel, and gardens.
A video clip of Malecon 2000, Guayaquil, Ecudaor
I am sure this is a worthy of visit and should be in the bucket list of top sights in South America.
Basolica Del Voto Nacional
Obviously, it is a national basilica located in Quito, the capital city of Ecuador. I have never seen a basilica that is more magnificent than this, not even in Italy.
I would rate it as one of the astounding South America Tourist Attractions.
Ciudad Mitad Del Mundo
Have you ever imagined you would go to the middle of the planet Earth? Here it is in Ecudaor, where the imaginary line of Equator passes through.
The resulting monument places it among the ultimate places to see in South America.
A 45 minutes taxi ride from your hotel in Quito city will make you stand in the middle of the world. That should give you goosebumps instantly.
The yellow line shows the division of the world into two hemispheres.
This is the monument to the Equator. (note the spelling).
Cotopaxi Volcano, Ecuador
It is an active volcano that is rated as one of the top sights in South America. The volcano sits in the Andes Mountains and can be visited if you travel about 50 km from Quito.
The volcano's crater (mouth of the volcano) stands at 19,400 feet! The crater last spewed lava in Jan 2016.
Ecuador is known for several large cathedrals, waterfalls, gardens, national parks, and fantastic beaches that retain their wild beauty.
Tayrona Natural National Park, Columbia
The large national park comprises diverse ecosystems with varied climate.
Cartegena, Columbia
Cartegena is a terrific looking city which has an alternative name Cartegena de Indias. The city sits on the shores of Caribbean Sea, northern Columbia. The city has several pre-historic human settlements that are worth seeing during your cruise to coastal South American countries that end with Columbia on the western side of South America.
To look back, I would rate Brazil, Chile, Bolivia, Peru, and Ecuador constitutes much of the ultimate places to see in South America.
Which cruise lines offer South America cruise packages?
The famous Norwegian Cruise Line, Celebrity Cruises, Azamara, and Princess Cruise Line offer various South America cruise tours.
I would advise you to choose the longest cruise tour to South America because it has many more and exotic tourist interest than the North America.