I was bemused when I first came upon the title "Adults Only Hotel". I wondered what exactly it meant! Who are all the customers that such hotels don't allow? Above all, where are these hotels that are meant exclusively for adults?
I found out adults only hotels have nothing to do with public nudity.
I know these hotels can also be called 'honeymoon hotels' because obviously, the just-married couples would look for such hotels only.
Honeymoon resorts or hotels would lure first or second honeymooners by promising the following.
No need to whisper (what a bright idea of privacy). This implies each room has more space between them.
Ultimate privacy
No children or pets
24 hours room service
Private swimming pools
Open to air bathrooms
No junk food at all; only freshly cooked organic food.
In-room pedicure and massage
Ah, I am sure these alluring amenities are the identities of an adults only hotel.
I remember reading somewhere on the web that these honeymoon resorts are in good numbers on the Caribbean Islands.
Yes, islands are ideal places on the earth to construct adults only resorts. If the islands can be reached only by yacht, they are more preferable.
Oh, I just remembered. Would these adults only holiday properties entertain 'valentines' also?
Regarding where these top adults only hotels are, one thing is for sure that they all will be in romantic locations such as beachfront, overwater villas, treehouse hotels, hotels that are perched on the edge of mountains overlooking a gorge (this is my idea of romantic location), and so on. Some are built inside big cities including New York but they must be on exclusive scenic locations or private large gardens.
Top  Five Adults Only Hotels in The World
Incidentally, I have a suggestion for hoteliers. Why don't you think of tieing up with a large farm or a western dude ranch and offering 'adults only perks and facilities'? I am they would command good occupancy level. It would be a novel idea for spending a honeymoon.
TRS Cap Cana Hotel, Dominican Republic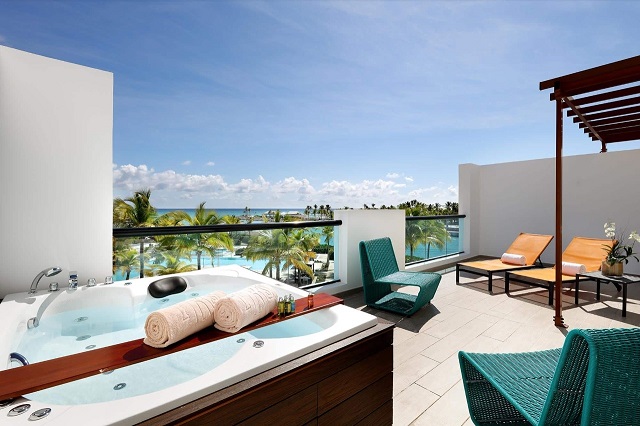 That looks terrific! A bit sunnier for honeymooners but some couples don't mind the sun on their deck and back.
It is ideally located in Punta Cana, one of the most sought-after honeymoon resort towns in the Dominican Republic which itself is the most preferred Latin American vacation spot in the Caribbean region.
Punta Cana attracts more tourists and honeymooners than any other place among the Caribbean Islands. In spite of being just being a coastal town, it has an international airport that is busy right through the year.
Beaches are beautiful, the sand is hot and the water lukewarm.
Well, that's a brief summary of the location of this adults only resort.
Now, about the hotels and their restaurants, white-sand beaches, and golden sand beaches (yes, two colored sand beaches because the Punta Cana is facing both the Atlantic Ocean and the Caribbean Sea).
Restaurants are four, serving food from countries that are as far as Japan. In addition, you get to eat exclusive Argentinean cuisine and of course Spanish food.
The marine diversity in this region promises a delectable fare making you plan an annual honeymoon.
Hmm.. that is surely luring even the diehard bachelors to marry.
If you opt for an all-inclusive honeymoon package deal, you are assured of one of the exclusive adults only perks-all food and drinks are served in your room.
For booking of vantage rooms, please visit their website.
Hurawalhi Island Resort, Maldives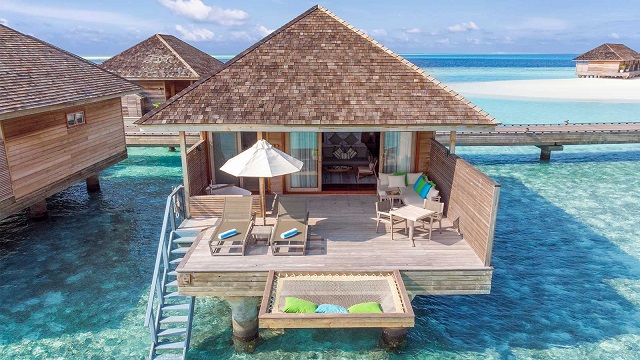 When it comes to adults only hotels, nothing is more convenient than an overwater villa. This honeymoon hotel offers them.
Look at the private, first-floor deck that is open to the sky and literally floating on the sea. I feel like spending a weekend in this Maldives beach resort.
Hurawalhi Island is a private island where the owner of the island had developed this resort meant for adults only.
Hurawalhi Island itself is part of an atoll named "Lhaviyani". Being a private island resort, you are assured of ultimate privacy as well as a lot of water-related adventure sports.
Don't worry about not getting your water villa, buddy; there are as many as ninety floating villas where you can afford the luxury of bare-footed living.
The food and comforts are five-star standards. As far as the service is concerned, in spite of water villas that are cumbersome for the waiters and housekeeping staff to access, you can expect impeccable service.
Underwater Restaurant
The resort boasts of an enviable 'underwater restaurant'.
I think the experience of walking under the water without any breathing apparatus must be surreal and a bit weird too but nonetheless absolutely memorable.
Visit the hotel's website located at hurawalhi.com  for more details.
Accessing this adults only hotel itself is a thrilling experience. From Male, the capital of Maldives, you can go to Hurawalhi Island in a seaplane that involves 40 exiting minutes! I saw these seaplanes very low over the water. You may feel like touching the water from your seaplane seat!
Post Ranch Inn — Big Sur, California
So, here it is, an adults only ranch. Below is a whole private home inside the Post Ranch that also offers private rooms only to just wedded couples.
Apart from the rustic ranch settings, the overall location of the ranch itself is in 'Big Sur', America's most beautiful beach region in Central California.
The ranch is surrounded by the Pacific Ocean on one side and on the other side is the Santa Lucia Mountains that offer sweeping views of the Pacific.
Moreover, the mountain is covered with redwood trees and long hiking trails.
Big Sur's rugged mountains on the shores of the ocean along with its pretty long stretch of the beach have a reputation as one of the most beautiful coastlines anywhere in the world.
About the adults only facilities of this Californian dude ranch, I need not describe it in words. The video below will convince almost instantly that this is "THE HONEYMOON LOCATION" in the world that everything other claim is thin and unconvincing.
Just click on the link to watch the breathtaking video. Don't forget to record your audible gasp. This is no exaggeration, mate! It is all real.
Pay a visit to the ranch's website at postranchinn.com/accommodations/
Anantara Medjumbe Island Resort — Medjumbe Island, Mozambique
Now, visualize an island, somewhere in the Indian ocean. Imagine you can walk across the island several times daily. What if such a tiny island is entirely developed into a resort where honeymoon couples can stay in a wooden chalet, with an ocean-facing private verandah?
Look at the wooden chalet below.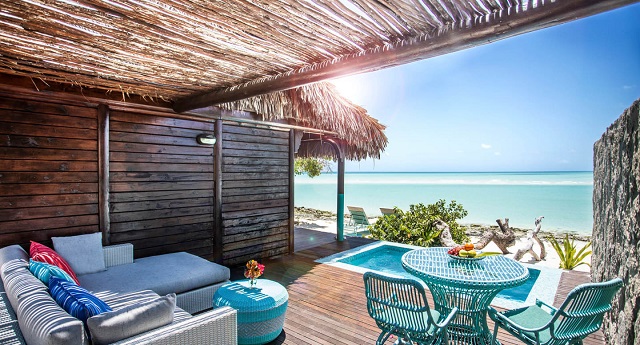 Wouldn't that be a dreamy 'adults only resort'?
Medjumbe Island measures only a km in length and half it in width. It is part of the Quirimbas archipelago comprising 32 islands and islets.
The proximity of Quirimbas National Park makes the location engaging even the honeymooners. An African park has that inimitable charm and lure.
The Anantara Medjumbe Island Resort can accommodate only twelve couples at a time as there are only that many wooden shacks that are nicely painted and face the Indian Ocean on all sides.
Guest of the resort can go diving to see a range of coral reefs. If scuba diving is not your forte, just indulge in some snorkeling. A windsurfing facility is also offered by the resort.
Whale watching and playing with the friendly dolphins would engage the guests.
The food will be unexpectedly exotic because you are somewhere on an African Island where the local culture and traditions are minutely preserved.
Surprisingly, you can find the local cuisine has Portuguese flavor. The staple is a corn porridge named xima. Casava (tapioca tuber) is the most eaten vegetable here.
I think this African adults only hotel will be budget-friendly.
Likuliku Lagoon Resort — Fiji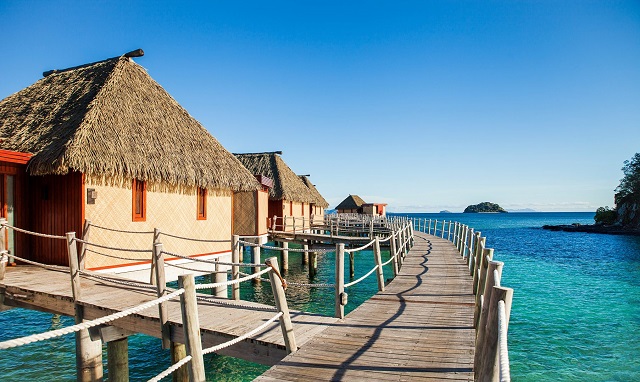 Ah, the Fiji Islands, the land of beautiful Polynesia, South Pacific Islands are the zenith of romantic locations all over the world.
The incredibly blue-green water, the coconut trees, out-of-the-world food, a range of water sports, and impeccable hospitality-these are the hallmarks of any resort in Fiji. You can expect all these facilities in the Likuliku Lagoon adults only resort.
The accommodation for the couples is all floating on the ocean, each overwater bungalow is well spaced in between.
Look at the very small private pool in front of the verandah of your water villa.
The resort and the location are a piece of real paradise on earth. The word 'likuliku' means the 'lagoon' on the name of the resort.
The Fijians call the villas 'bures'.  The marine life is rich and very diverse that warranted the creation of a marine life sanctuary surrounding this adults only hotel in Fiji.
The architecture of the floating bungalows and non-floating huts speak of true Fijian culture but you can expect every modern facility and amenities.
As the resort right described, it is an adults only sanctuary. I think that description is very apt and every prospective guest would love that.
There are 35 natural huts on the beach and 10 overwater bures, each with a private plunge pool.
Actually, I came across 14 adults only hotels across the world but these five honeymoon resorts have no match.
Other Adults Only Hotels Around the World
More popular places where one can find adults only resorts that include:
Las Vegas
Vermont
Miami, Florida
Riviera Maya, Mexico
Barbados
Maui, Hawaii
Montana
Pennsylvania
Santa Catarina, Brazil
St. Lucia Island
Majorca Island, Balearia, Spain
Puerto Rico
Depending on the location, the shape of the accommodation for the couples varies and so as the food and the outdoor time-pass activities.
When it comes to eating, naturally there will be an overdose of local cuisine but an international menu is also available.
Looking at this long list of adults only hotels and honeymoon resorts, you and I are going to have a tough time deciding on the location.
My first choice and the second one are already decided. Fiji comes first and the Big Sur, California follows.
What about you?