Let us know more about Jodhpur Attractions. This city is fondly called the 'blue city' of Rajsthan whose capital Jaipur is known as the 'pink city.
Since there are so many palaces in Rajasthan capital Jaipur that were built using pink sandstone, it was called the pink city.
But Jodhpur has different stories for its blue color.
 When you look down from the heights of Mehrangarh Fort, you will be able to see hundreds of houses that are painted in blue color. This is the main reason for getting the name 'blue city.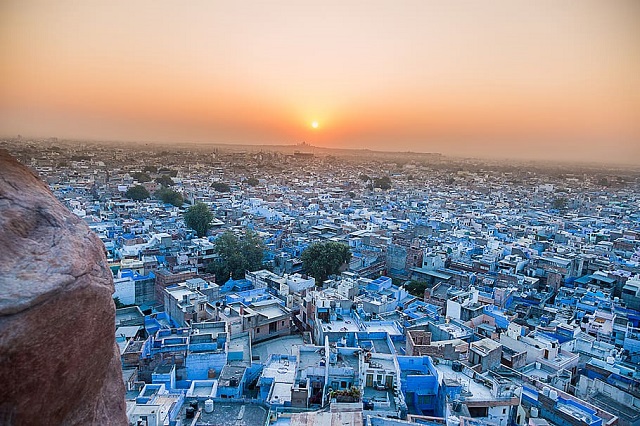 Well, why so many houses are painted blue?
It indicates the house members are the followers of Lord Siva, whose neck was turned blue because he swallowed poison. Since these Siva followers are Brahmins, the blue houses are believed to be brahmins' houses.
Interesting reason. However, not the entire city would look blue. Only the old city near the Mehrangarh Fort area sport blue painted house. New Jodhpur looks like any other modern city.
24 Jodhpur Attractions to Visit Anytime of the Year:
Let us explore both the old and new city attractions and all the important tourist landmarks that your well-informed local guide will take you to.
Jaswant Thada
It looks like a beautiful white marble palace but sadly it is not so. It's only a cenotaph in the memory of king Jaswant II. A cenotaph is actually a tomb but nothing is buried under it. It is just a monument built in the remembrance of someone highly respected. Jaswant Thada is one of the major Jodhpur tourist landmarks.
Mehrangarh Fort
The Indian state of Rajasthan is known for numerous spectacular palaces and forts. While palaces are built at the ground level, most of the forts are built on a hillock as a defensive measure.
Mehrangarh Fort is one of the foremost Jodhpur tourist attractions. The view from the fort is breathtaking and you will realize why it is called the 'blue city' in Rajasthan.
This fort is part of the old town. This is a walled city with several entrances that are also used as exits in case of invasion by the foes.
The blue city as this part is called echoes the ancient cultures and traditions of the Rajasthanis who are known for their fearless attitude.
Here, you can try hundreds of authentic Rajasthani cuisine (all vegetarian) that include incredible sweets, extraordinary snacks, and but myriad handcrafted metal and wood artifacts.
Kalyan Lake
Similar to the lakes of Udaipur, this lake is also an artificial lake. However, the water is potable and acts as a major drinking water resource to the city of Jodhpur which incidentally is the second-largest city in Rajasthan.
The surrounding natural flora and the abundance of water during the monsoon season attract numerous migratory birds including the big Siberian Crane.
Bal Samand Lake
This is another manmade lake developed in the 12th Century. Over so many centuries, the surrounding area turned into beautiful forests with wild trees and bushes.
Much later, a palace was also built in the center of the Bal Samand Lake that was a protective moat to the royal members of the palace.
Among various attractions, this lake is a must-see one. Now, this palace was transformed into a five-star hotel.
The captivating WelcomHeritage Bal Samand Lake Palace Hotel is located in the outskirts of the city but not very far away. Only 5 km is the distance from the city railway station on the way to Mandore.
As you can see from the video, the palace was built using red sandstone in typical Marwar architecture.
Food walk
After seeing the first four attractions, you will feel hungry. Don't yet walk into the first restaurant that comes into your sight. Go for a food walk on a street full mouth-watering Rajasthani delicacies that have no match anywhere in India.
Your guide will take you to the local clock tower to begin your food walk. In Hindi, the clock tower is called "Gahnte Ghar".
The food stalls containing all kinds of sweets and snacks in marvelous colors and appearances will simply blow you away.
If you are from the U.S. or Europe, you would wonder why you are still living in your country, eating frozen fish and beef.
The amazing taste and sweets made of ultra-pure milk will instantly make you addicted to Rajasthani food.
I would recommend below some of the dishes that you must try in Jodhpur's food walk.
Kachori
Samosa
Ganji Vada
Chili fritter (mirch bajjis)
Rabdi
Rasmalai
By 2 pm, the eateries will close and come back again by 6 pm. The shops will remain open till 9 pm.
This is a wholesome Rajasthani plate meal.
Umaid Bhavan Palace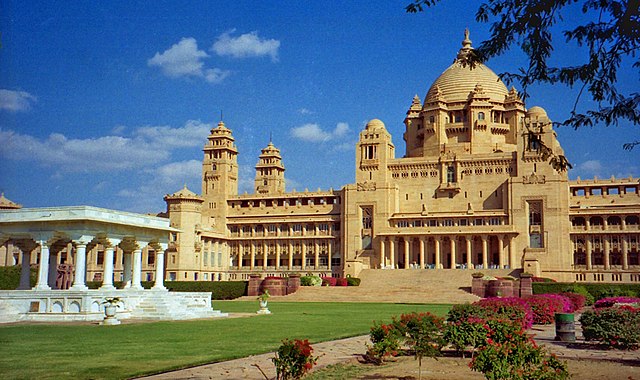 With a whopping 345 rooms, this huge royal building is now a 5-star hotel and a museum. The hotel is owned by the Taj group of hotels in India.
It is absolutely gorgeous! In addition, it is one of the top attractions. It is open to the public from 9 am to 5 pm.
Mandore Temple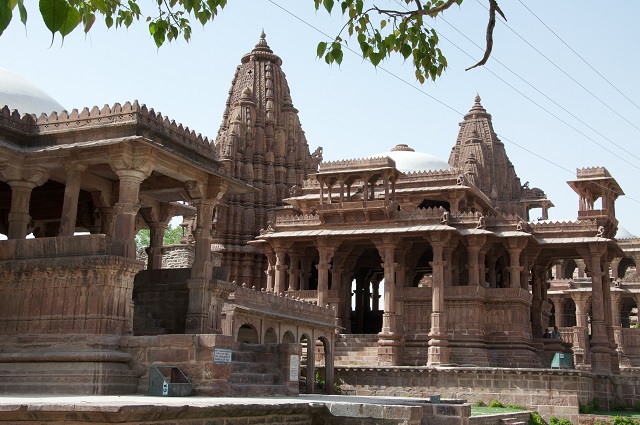 It is an awe-inspiring temple. Not many are aware of the fact that this temple (?) is also called the Ravana Temple because his wife Mandodari was born here. I wonder why it is called a temple because no one in India would worship her.
The town of Mandore has several cenotaphs and temples, that are great architectural monuments.
Clock Tower (Ghanta Ghar)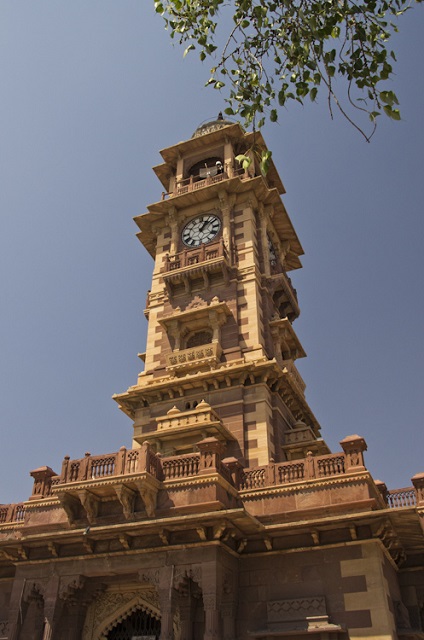 Well, there is nothing special about this tourist landmark but since so many shops and diners are scattered around this, people are taken to this spot by the local tourist guide.
In addition, it is more than 100 years old; so there is some monumental importance attached. Moreover, I must admit the ghanta ghar has some architectural attraction to it.
StepWell (Toorji ka Zalra)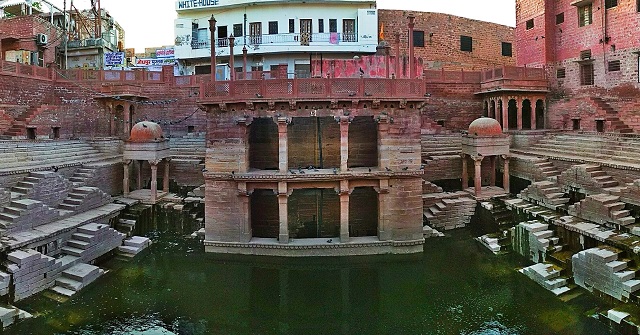 This artistic pond is a must-see among numerous Jodhpur attractions. These types of stepwells are common in the western and northern parts of India. They act as perennial water resources even in places that are close to deserts or infamous for a year-long draught.
To fetch water, you have to descend nearly 100 steps which is certainly a laborious process.
Alternatively, a water wheel is attached to a pot or a bucket which is drawn by a bullock cart.
The architectural genius in construction of a stepwell is you can easily reach even when the water level hits the bottom.
Stepwells are also common adjacent to temples all over India.
Rao Jodha Desert Rock Park
One of the finest tourist landmarks, the Rao Jodha Desert Rock Park is set amidst a large land area comprising over 175 acres.
Tourists to city who are first taken to Mehrangarh Fort would be next taken to see this rock park as both are located near each other.
Nothing is man-made here. All the rock formations are natural. It is not a surprise when you recognize a shape in a rock formation whereas I might say something different looking at the same.
Just after spending a minute or two in the roc park, you would be tempted to go round the park fully with the help of a guide.
He will take you through one of the four hiking trails and point to incredibly beautiful sandstone natural formations.
In spite of being a rocky area, the park is known for some rare plants that thrive only in a rocky area.
If you are a home gardener, you can buy saplings from the nursery the park maintains.
If such abundant flora exists in a rocky region, naturally, it can be a habitat for several animals and birds. One can spot (if lucky) the very rarely sighted 'crested porcupine'. If your luck clings on to you, you can spot the striking Golden Oriole too.
I read the rock park is home to as many as 200 birds and butterfly species. I guess the rock park would engage a naturalist for a full day. To assist such visitors, there is a small café inside the park. Please remember to carry several bottles of mineral water.
Masuriya Hill Garden, Jodhpur
Another garden, this time a green garden is generally included in the itinerary of Jodhpur attractions. This would turn out to be more than expected because the garden is situated on a hill.
Masuriya Hill Garden also acts as an observation platform o view the city from a higher plane.
Veer Durgadas Smarak
Veer Durgadas Rathore was a Marwar hero and is worthy of a monument erected in his honor on the same  Masuria Hill. From here, you can distinctly identify the blue house down below.
Bhim Bhadak Cave
This is a spot for the young and daring who love to climb steep rocks so as to emulate the 'spiderman'.
The cave is home to a Hindu temple too housing a Linga and a statue for Vaishno Devi.
The locals frequent this place with their friends. If you visit Kalyan Lake, one of the biggest attractions, you can reach this cave within 3 minutes.
Machia Biological Park
Among various Jodhpur tourist landmarks, this biological par would engage the children more as it is home to numerous wildlife.
Located close to Kalyan Lake (it seems it is a happening place in Jodhpur), birds are also kept. There is an exclusive spot for birders.
Inside the biological park,
Take a ride on the back of an elephant
Enter the Machia Fort for breathtaking views of the city
Ratanada Ganesh Temple
A Ganesh temple gets quickly popular anywhere in India. Being a big tourist city, here also no exception. This is more so because it is 6 centuries old!
The idol of Ganapathi is eight feet tall that is a swayambu. It means nobody installed the idol here bet it sprung from the ground naturally.
Ratanda Ganesh temple is an important tourist landmark.
What to buy in Jodhpur and where?
Like any other city or town in Rajasthan, Jodhpur tourist attractions include several bazaars, each one is known to something specific apart from the usual paraphernalia that we buy.
Nai Sarak
Nai Sarak means 'new street'. This market will steal your heart as well as your eyes with its assortment of colored clothes, especially, the Rajasthani headgear called 'bandej'' in the local language.
Women tourists accompanied by gullible men, shop for hours collecting myriad dress materials that they are unlikely to use more than once.
Leather goods are also famous here.
Mochi Bazar
This is a footwear market where you can buy highly fashionable and extremely colorful Rajasthani special footwear, that is mostly meant for women.
Locally, the people call them 'mojaris' that the past royal family members only used to wear.
Clock Tower Bazar
As I mentioned earlier in this post of Jodhpur attractions, the area in and around the clock tower is busy with local as well as tourist shoppers.
You can buy authentic Rajasthani spices, cheap glass and beads jewelry, glass-embedded dresses for women, embroidery fabrics, and numerous wooden handicrafts.
Here, all the by-lanes sell tasty sweet lassi with cream topping and tea with various flavors including chocolate.
Sojati Gate Market
This again is a very crowded market throughout the year. Hundreds of small shops display glass bangles, beads and beads curtains, exquisite shawls, and various handicrafts. This is the main bazaar for buying souvenirs.
Note: You are supposed to bargain hard without fear.
Eating in Raas Haveli
One of the most memorable experiences that you should not ignore here is to visit the famous Rass Haveli, an ancient royal mansion that is now transformed into a hotel that is open 24/7.
You can eat true Rajasthani meals sitting in traditional wooden furniture.
To attract foreign tourists, this restaurant now offers Mediterranean dishes too.
Camel ride in the desert
The majority of us would not have been to a desert. Thar is the only desert in India and spreads over several districts of Rajasthan.
When you are touring here, you must experience a visit to this famous desert.  Bishnoi is the village you must go to, to take a camel-back ride in the Thar Desert. It is 22 km away from here.
Ziplining Adventure in Jodhpur
If you want to zip past onmetal wires way above the blue city, you can make a visit to an adventure park called the 'Flying Fox'. While zipping, you would look like a flying fox (bat) hanging on to the ziplines.
Other adventure activities in this park include rope walking and rock climbing.
Ranisar Lake
It's a scenic lake that surrounds the Mehrangarh Fort partially.
Machiya Safari Park
The Kalyan Lake again comes into focus because the Machia Safari Park is situated adjacent to the Kalyan Lake, one of the most prominent tourist attractions.
Being a wildlife park, naturally, children would be eager to visit it.
The usual herds of spotter deer and blue bulls can be easily seen.
It is clear that you need a full week to spend in Jodhpur to see all the tourist attractions and see the real life of Rajasthanis.