This blog post is a guide to eat some of the most delicious Rajasthani Snack.
Are you planning for a holiday in Rajasthan? Whatever may be your city of visit in Rajasthan that includes:
Jaipur
Jodhpur
Ajmer
Udaipur
Bikaner
Kota
Bhilwara
You must try to find all the extraordinary snacks of Rajasthan that you will read about, in this blog post.
Actually, these mouth-watering Marwari delicacies were revealed to me by a friend of mine who is also from Rajasthan. When I showed one of my earlier blog posts titled, "10 Mouth-Watering Street Foods in Jaipur"
and asked for her expert inputs, she told me about several more street foods of Rajasthan and even offered to cook one or two dishes for me.
To the best of my understanding, I have shared here some of the savories and sweets that are ubiquitously found in Rajasthan cities' street food stalls.
Bajra and Potato Pancake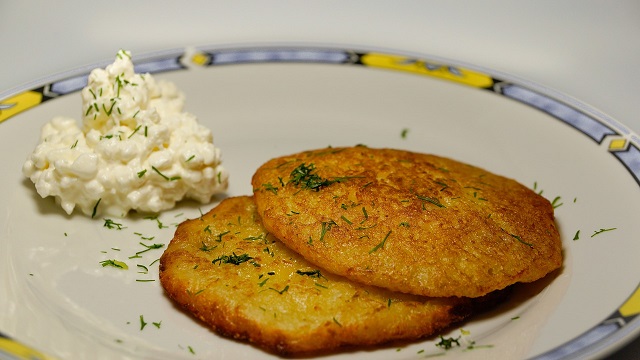 Bajra and potato; what a combination! The roadside chefs of Rajasthan are unbelievable. They keep upgrading their culinary skills and come out with tasty sweets and snacks every now and then.
Bajra is known as 'pearl millet' that is widely eaten in Indian villages.
In this Rajasthani pancake, raw potato is first grated and then mixed with the bajra, salt, and some spices. Water is added to the ingredients to make it a batter. The batter is then poured into moulds and cooked.
I was told even sweet potato is used sometimes in place of potato.
Bajra is free of gluten and hence is very healthy.
Kanji Vada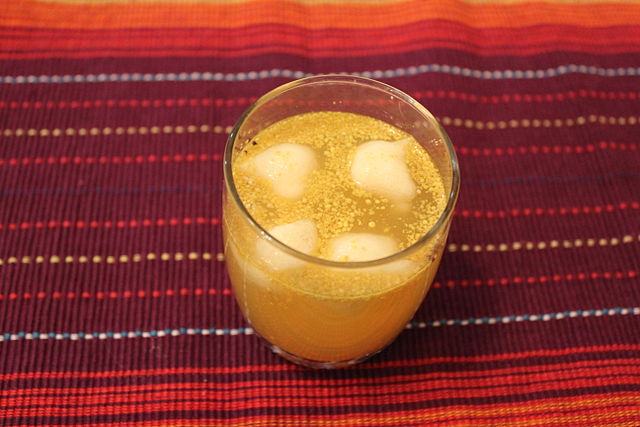 Kanji Vada appealed to me very much as it is similar to the 'sambar vadai' (soaked vadai) from South India. Of course, the differences are more between these two soaked snacks.
Kanji is more dilute whereas sambar is a much thicker consistency.
Kanji in Rajasthan's kanji vada is prepared a day in advance to allow the mustard water to ferment and tastes 'tangy'. Black salt is the main ingredient in 'kanji'.
The vada is a deep-fried savory and is dropped into a bowl containing the 'kanji'. The hot vada becomes soft almost immediately.
Kanji vada is a very delicious Rajasthani snack and it is said to aid digestion because of the kanji that is alternatively known as "Rai Ka Paani".
The 'vada' is made of moong dal batter.
Dhuska
Dhuska alternatively called Dhooska is another Rajasthani special snack that is eaten during the 'Holi' festival.
The ingredients that include rice flour, chickpea flour, mashed potatoes, green chilies, and salt are made into a soft batter and then deep-fried.
Dhuska is served with either mint chutney or tomato ketchup.
Kachori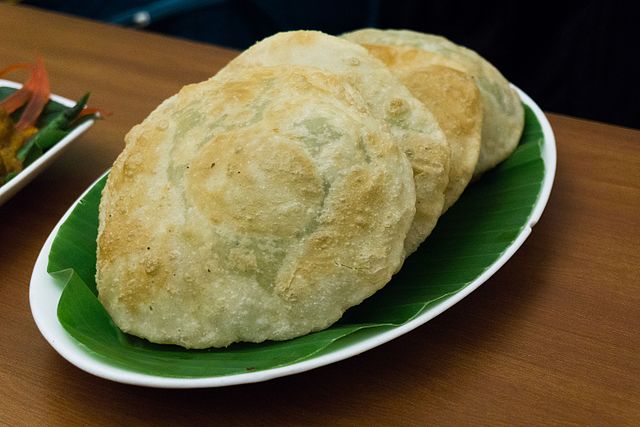 Wow! Don't these kachoris appear yummy?
Well, kachoris are not exclusive to Rajasthan's street food scene but I reckon kachori is a native of Rajasthan.
Generally, we get kachoris made of either moong dal or onion. However, Rajasthan's street food vendors make quite a range of kachoris that you didn't know existed.
Here are the different kachoris cooked in the lanes ad by-lanes of Jaipur and Jodhpur.
https://upload.wikimedia.org/wikipedia/commons/thumb/0/0b/Raj_Kachori_Haldiram.jpg/945px-Raj_Kachori_Haldiram.jpg
Upwas Kachori ( sweetish)
Khasta Kachori
Koraishuti Kachori
Dahi Kachori
Shahi Kachori
Kachoris are always served with a green chutney made from mint leaves. Sometimes, a diluted tamarind juice mixed with spices is given as an accompaniment to kachoris.
Kachoris are eaten as a snack in Rajasthan. It is mostly during the evening that people eat kachori and finish it with a cup of flavored tea. Oh, I forgot. In Rajasthan city streets, a jalebi (sweet) precedes the kachori.
Watch a short video that demonstrates three types of kachoris that include:
Onion Kachori
Potato Kachori
Moong dal Kachori
After watching the video, I am sure you have developed strong pangs to bite into a crispy and flaky kachori.
See how a plate of kachori is served with attractive garnishing  in Rajasthan.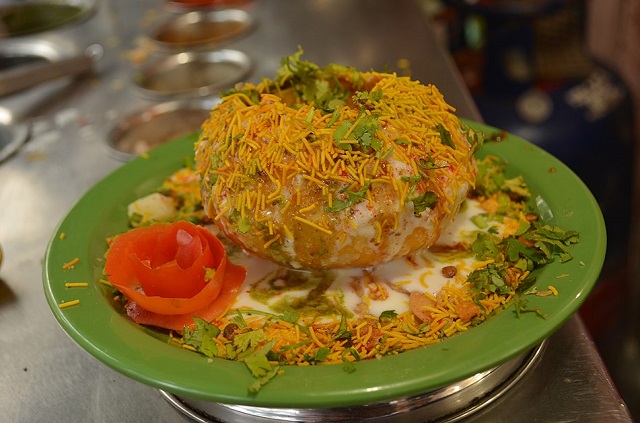 Rajasthan's snacks seem to be the sole attractor for tourists, especially, food travelers and foodie bloggers.
So, what's your choice of kachori? Mine is 'Raj Kachori'.
Gujia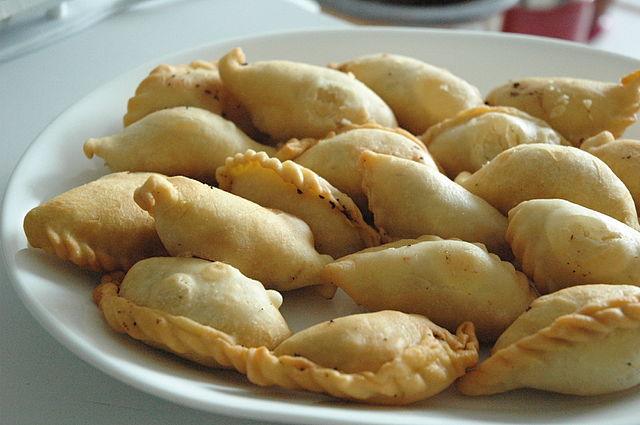 Gujia is a kind of dumpling (momos) that is vastly different from the momos of Nepal and Sikkim.
While the momos are steam cooked, the gujias of Rajasthan are deep-fried snacks.
Gujiya is a sweet dish ad is made with semolina (rava or sooji), maida. The stuffing inside is made of khova and cashew nuts. Raisin is also added to enhance the taste of gujias.  I think it is appropriate to call the gujias as 'sweet samosas'.
In Rajasthan, the Marwaris call the khova (solidified milk) 'mawa'.
Raw Mango Jal Jeera (kairi ka jal jeera)
Along with Rajasthan snacks, I am adding a couple of sweets and drinks that the people of Rajasthan love. I am sure you will also like them.
I would call it a raw mango stew that also goes by the name 'aam panna'.
It is a summer drink in Rajasthan and mainly served in the Rajasthan city streets. In addition, It is a coolant and very healthy. Take a note of this raw mango jal jeera's ingredients and you will acknowledge it is a healthy drink.
Raw mango
Rock salt
Black Salt
Cumin powder
Ginger in powder form
Pepper
Though it has a shelf life of a week, it is better to drink it fresh.
Thandai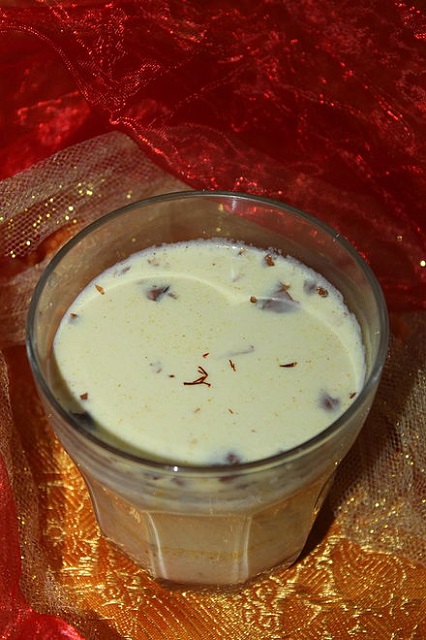 Thandai is a delicious drink of Rajasthan and looking at its ingredients, I would say it is an exotic royal drink.
It is basically a milk drink that also contains saffron, rose petals, almond, poppy seeds, cardamom, and fennel seeds. Your tour of Rajasthan's street food is incomplete if you don't taste a glass of Thandai.
Unfortunately, Thandai is not a 'takeaway' drink.
Pithore
Pithore is another exclusive Rajasthani snack made of gram flour. It will look like the Gujarati 'dhokla' but it is slightly different.
When I first tasted it, I thought it is a Rajasthani dhokla. Similar to its Gujarati cousin,  Pithore is a starter dish.
Gram flour, sour curd, and coriander leaves are the main ingredients of Pithore.
Green Peas Puri
This is certainly a healthy and filling snack either for breakfast or for evening tiffin. The regular puri dough is mixed with boiled green peas and then deep-fried.
Green peas puri is served with a bowl of masoor dal (red lentils) or chickpeas curry.
Kalmi Vada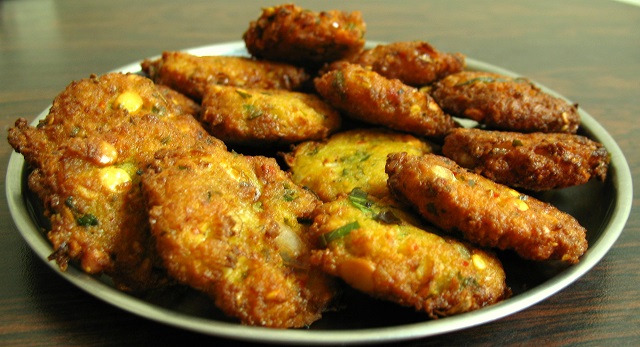 usually, Kalmi Vada made of Bengal Gram. In addition,  This Rajsthani snack is similar to the ubiquitous south Indian street food 'masal vadai'.
Kalmi vada can made either with onions or without.
Papad ki suri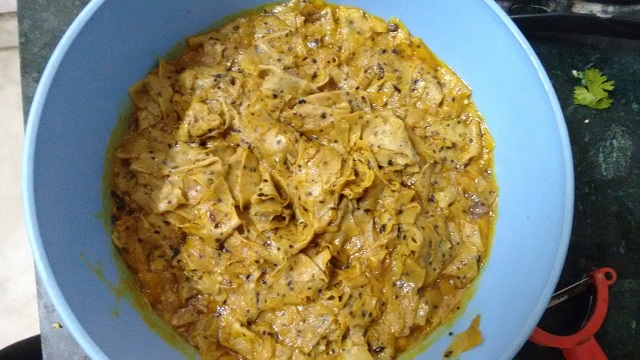 This is the simplest of snacks of Rajasthan. Moreover, The usual humble (urad dal papad)roasted papad (not fried papad) is crumbled into small pieces.
Added to this are pepper powder or red chili powder and some butter.
Besides, It is a very tasty 'anytime snack' and can be prepared in under three minutes.
Have I left out any other Rajasthani Snack? Feel free to add your comment.