Know the names of some of the tastiest Portuguese food that one can eat in Goa, India.
Why do tourists from all parts of India flock Goa?
Goa attracts Indians mainly because of four primary attractions:
Very popular alcoholic drinks from all over the world are available dead cheap
Incredible fare served in Goan restaurants exclusively Portuguese food in Goa
Sunny beaches
Range of water sports.
In this blog post, I have written about the food culture of Goa.
Portuguese influence in Goa.
Goa was under Portuguese rule for a long time. That certainly left behind a lot of influence, especially in cuisine and festival celebrations.
Strangely, the Goans are following a sort of religious cooking. The Goans are fiercely religious. Till today, they follow the practices of Portuguese in the way they cook and eat, dress to church and celebrate Christian festivals.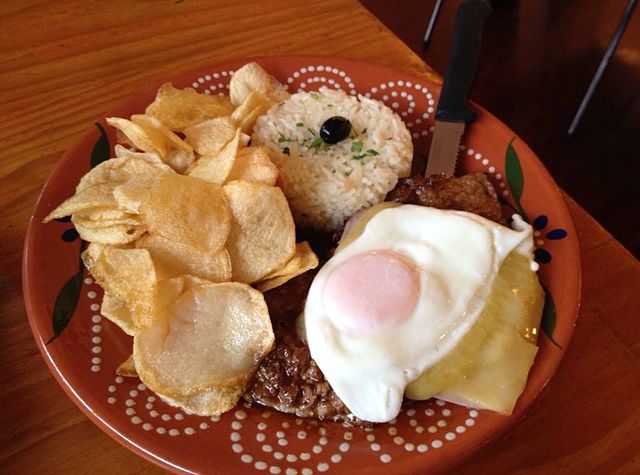 Come into the Goan kitchen and know some of their tastiest foods.
What is the most popular staple food in Goa?
Goans' staple is rice and fish. It is amazing how they prepare so many dishes using just these two staples.
Of course, you can notice a semblance of Karnataka in a few dishes such as roti made of cornflour, the use of jaggery in the side dishes of breakfast, etc.
However, I would say Goan cuisine can be easily recognized because of strong Portuguese flavor.
The 11 tastiest Portuguese food in Goa that you should eat
Though I used the words 'Portuguese food in Goa', they are now authentic Goan foods.
Mackerel Recheado
Forget the name; the image (see the title image) says it is a fish dish, cooked out and out the Goan way. You can call it the 'Konkan' way too.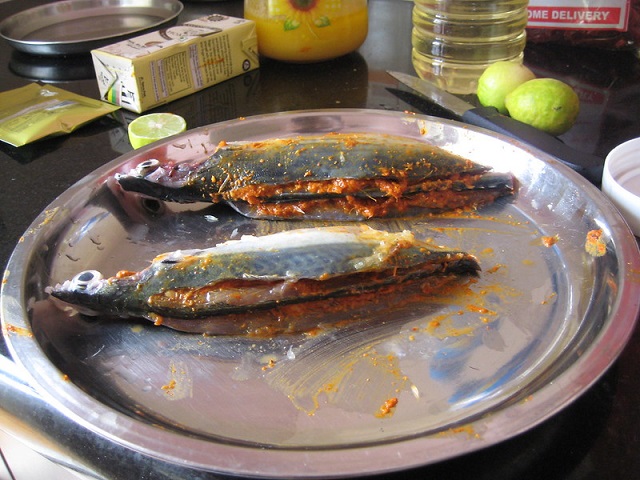 You may notice the uniqueness of Mackerel Recheado when it served in front of you on the dining table. Only after you cut the crispy fish, you will know it has stuffing inside.
The stuffing speaks volumes of original Portuguese spices.
In some restaurants' menu, if you find the name "Bangdo" at the top, understand it is "Mackerel Recheado".
Bangdo is a Konkan name for the traditional fish fry.
The word 'Recheado' points to a local masala made of a few native Goan spices. Recheado masala used in umpteen number of meat-based dishes all over Goa.
It is a red-colored paste and readily available in Goan stores.
This Goan special food also served in every street food kiosk lining the beaches in Goa. Therefore, the same Mackerel Recheado sold at various prices, depending on where you eat it.
Vindaloo
Ah, Vindaloo is a ubiquitous food in every nook and corner of Goa. Though this is a restaurant-style Portuguese food made of pork, these days, just about every house is making it for guests as well as permanent residents.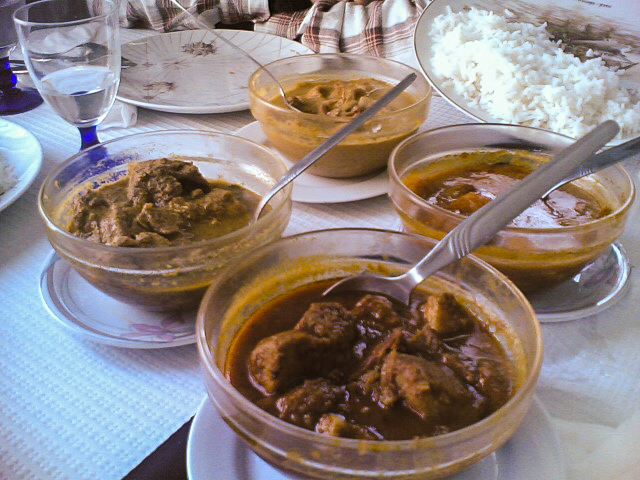 In foodie blogs, Vindaloo is mentioned as an 'Indo-Portuguese' food.
You may ask what is special about 'vindaloo' in Goa. How would you expect a pork dish to taste when it is marinated in garlic and wine?
Garlic and wine? What a combination! It is certainly an innovation of a daring chef.
I read the Goans have started replacing the red wine with vinegar for soaking the meat.
When you tour Goa, do not forget to try this old Portuguese food. It is different.
Trivia:
Do you know the Goans use cashew nuts magnanimously in making sweets, spicy curries and in brewing a drink called 'Feni'?
Bebinca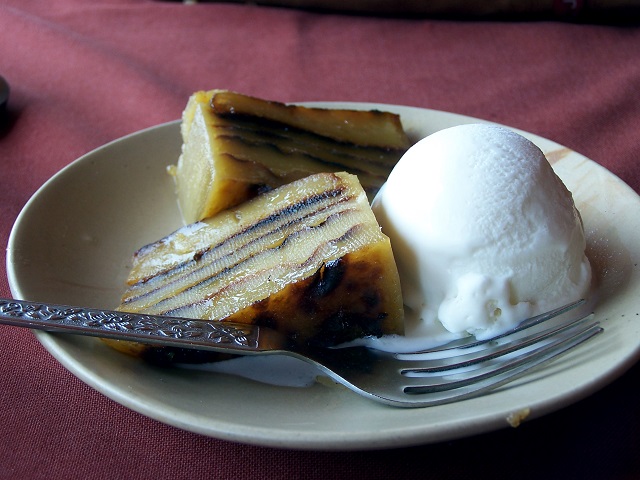 Yes, you guessed it right! Bebinca a Portuguese sweet made in Goan style. It is best eaten with a blob of vanilla ice cream. I think the addition of ice cream is an innovation by a Goan.
Do you know the inventor of Bebinca-the Portuguese, have started importing their sweet from Goa?
Bebinca is a widely sold cake in Goa. It is a must-eat Portuguese food to be eaten in Goa.
Sarapatel (Sorpatel)
Hmm… looks appetizing-eh? Sarapatel (the name is very Indianish-eh) is another Indo-Portuguese food that one can eat in Goa.
Sarapatel is again a pork dish that uses all the 4 Cs while cooking it.
The 4 Cs are:
Cumin
Clove
Cinnamon
Coriander
When you travel to Goa for its beaches and drinks, don't forget to eat 'Sorpatel', an exclusive Portuguese food that is available only in Goa, India.
Sanna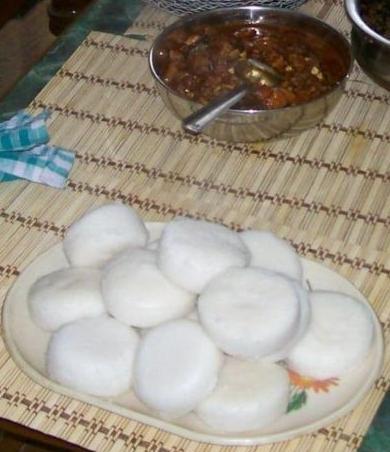 Sanna a typical Goan food made of rice. Rice steamed to perfection and rolled by hand into a flat cake.
It is eaten with fish broth or coconut chutney. The texture is spongy like the South Indian 'idli'.
Portuguese Food in Goa: Chicken Xacuti
"Xacuti"-what a name! It is a Govan word that must have originated from Portuguese "Chacuti".
I still wonder how and why the "X" came into the picture!
In Goa, Xacuti is a kind of authentic Goan gravy. It made of coconut mainly. Other ingredients in Xacuti are:
Cinnamon
Poppy seeds
Red chilly
Nutmeg
Clove
You can find the name "Xacuti' appended to several dishes in the menu of restaurants in Goa such as: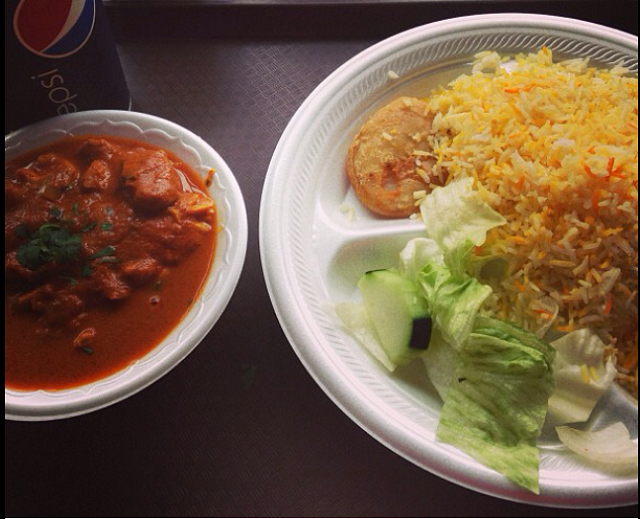 The Indian favorite 'briyani' goes well with any xacuti dish.
Mushroom Xacuti
 Mutton Xacuti
Ambot Tik
In common terms, Ambot Tik is Goan fish curry. The gravy tastes slightly sour. Tik means 'spicy' in Portuguese and thus making it a 'Portuguese food' in Goa.
Goan coast seems to attract a large species of edible fish as well. Over the decades since the Portuguese people left the shores Goa, the Goan cooks have really honed their cooking skills.
They have introduced quite a lot of innovation using new fish and crabs caught off the coast of Goa.
Crab Xec Xec
Again the 'X' factor. I believe it is the way the Goans use coconut in their recipes, especially the non-veg recipes.
In this particular Goan food, coconut and tamarind used as main ingredients. I am sure tamarind is an odd addition to make the Goan food a local specialty.
Portuguese Food in Goa: Chicken Cafreal
Wow! The chicken looks juicy and succulent indeed! The color of this Goan special indicates the chicken must have been marinated in a coriander paste for a considerable time.
In several places on the web, Chicken Cafreal preparation credited to the Portuguese.
These days, due to a large number of tourists from North India,  tandoori roti is accompanied by a plate of chicken cafreal.
You will have the satisfaction of having eaten a Portuguese food without going to Portugal.
Prawn Balchao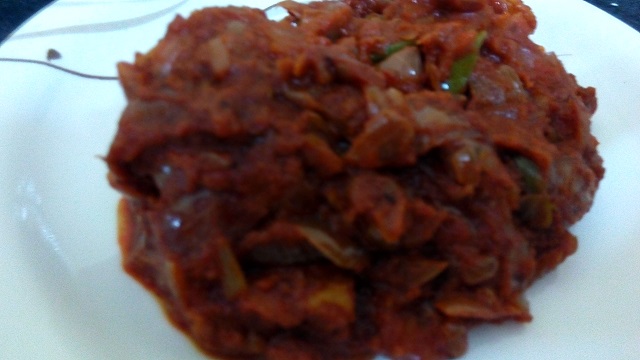 Well, this is not a main dish on the dining table but is an accompaniment to just about whatever Goan food you order in Goa.
A 'balchao' is a seasoned sauce or call it a pickle, mate! The basic ingredient of a balchao is shrimp also known as prawn in India.
In America, the shrimp called  as lobster
The 'prawn balchao' eaten along with rice pulao in Goa. Having toured Singapore, I think the balchao is a Portuguese preparation. It is their legacy left behind in Goa.
You will have the satisfaction of tasting one more Portuguese food in Goa.
Caldine- Portuguese Food in Goa

The image indicates it's a mild gravy without any fiery red chilly. The gravy nature says it is a dish that may accompany a roti or a rice dish.
Both vegetables and seafood added in the preparation of Caldin.
The fact that the basic ingredient of Caldin is coconut milk, it must have traveled from the Malabar coast.
In India, you can eat foods from so many countries that include:
These imported foods are available in most of the big cities in India. However, Portuguese food can be eaten only in Goa. You can say they are 100% authentic Portuguese cuisine.