Thekkadi is a very popular and beautiful hill town in Kerala, on the border of Tamilnadu. It's well-known attractions include the Periyar National Park and Tiger Reserve, Kumily tea gardens, Mullai Periyar Dam, an annual rejuvenation camp for elephants. However, there are best places to visit in Thekkadi that are least-known to common travelers.
Only ardent mountain trekkers, forest walkers, and wildlife spotting enthusiasts know about numerous attractions near Thekkady that you can truly call them hidden gems.
Before I let you know about the attractions near Thekkady, I will tell you how to reach it and where to stay there.
How to Reach Thekkady
It is accessible by rail, road, and sky.
By Flight:
From wherever you are in India, you can fly upto Madurai, Tamilnadu. It is the nearest airport to Thekkady. The distance from Madurai to it is 140 km only.
Alternatively, if you an international passenger from Middle East countries, African nations, the United Kingdom, the United States, and Canada, you can book your flight tickets up to Kochi, Kerala.
From Kochi (Cochin), it is 160 km south east.
By Train:
Kottayam in Kerala is the nearest railroad station.  If you are already touring Tamilnadu state, you can reach up to Theni by train. From Theni to Thekkadi, the distance is only 65 km and the route is very picturesque.
By Road:
Madurai in Tamilnadu, Trivandrum, and Kochi in Kerala are the gateways to Thekkady for visitors who wish to drive.
Places to stay in Thekkady.
Being a highly visited town, you will find several resorts in Thekkadi offering boarding, lodging, and animal safari in the nearby forests.
Homestay options are also available.
Another viable option is guesthouse staying in spice gardens and tea estates in and around Thekkady and Kumily that are separated by just 2 km.
Well-known resorts in Thekkady include:
Sterling Resort
Greenwoods Resort
Oxygen Resort
Periyar Nest Resort
Cardamom Country Resort
Eco-friendly treehouses are also available as alternate accommodation options. Spice Villa Treehouse and Noah's Nest fall under this category.
Eating in Thekkady:
While international cuisine is not available, you can still easily find Chinese foods on the menu card. Otherwise, you are served pure Malabar cuisine in which, coconut is the predominant ingredient. Fish and chicken are the major meat-based dishes in Kerala.
You get to drink quite a lot of spiced and aromatic tea.
Though Kerala state in which Thekkady is located is known as a big coffee producer in India, tea is preferred over coffee among Keralites.
Best Things to Do in Thekkady:
Trekking
The evergreen slopes of the mighty Western Ghats that surround it offers plenty of breathtaking forest trails. Guided trekking tours are available but I would prefer to get lost in the dense jungles and explore the flora and avifauna on my own.
Keeping Thekkady as your headquarters, you can go around it up to 150 Km radius in a cab. If I were you, I would plan for a weeklong trip to Thekkady in order to enjoy the hills, tea plantations, spice estates, homely food, aromatherapy, herbal massages, bird watching, and nature walks.
Thekkady Lake
It is not a big lake but still, it is a tourist spot inside the town.
Periyar Tiger Reserve
It is the closest tourist spot near the town and one of the major attractions. In fact, you can easily walk up to the entrance of the tiger sanctuary. The distance is just 3 km,
Organized jeep and elephant safaris are available. No smoking and drinking inside the Periyar National Park. You must behave like a responsible citizen and do not litter even a small piece of paper. You should not even carry a matchbox or a cigarette lighter.
If you are lucky, you can spot the following big animals during your safari.
Tigers
Elephants
Bison
Spotted Deer
Wild Boars
Lion-tailed Macaque
Nilgiri Tahr
Sloth Bear
Indian Bison
Nilgiri Marten
It is a rare animal and endemic to the Nilgiri Hills. Practice patience and you are sure to spot at least 15 of the 250 species of mountain birds.
These birds sing sweetly and wear attractive plumage.
A ride on a bamboo raft in Periyar Lake is a not-to-be-missed adventure activity. The sound of forest, the sudden clouds over your head, and the chill water are the biggest attractions of Thekkadi.
Kumnily
Kumily is at a walking distance from your resort. It is one of the places to visit. There are large and small tea estates, spice gardens to visit.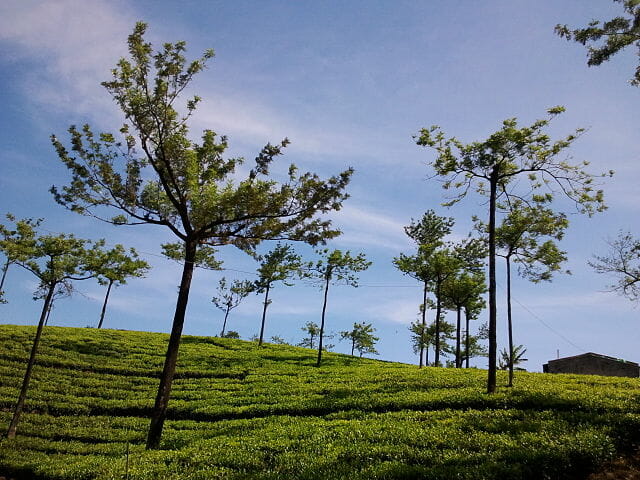 A trek in the Cardamom Hills (Yela malai) gives you exposure to cardamom, coffee and pepper plants.
Yes, you can buy pure black pepper and cardamoms directly from estate owners and also from Government sales depots.
Kalari
Kalari is a type of martial art that is known and practiced only in the state of Kerala. In Kumily town, you can visit a Kalari center.
It is called 'kalaripayattu' in Kerala.
Kurisumala
Kurisamala is one of the places to visit. It is 18 km north. Surprisingly, it is a pilgrimage place for Christians. The place attracts large number of Christians during festivals. There is a monastery also that falls under the Syro-Malankara Catholic Church.
Ottakathalamedu
Those who are staying in one of tea estates in Kumily, will either go trekking on all the mountain slopes, or go on a jeep safari.
The Ghat section is full of natural beauty and the views are spectacular.
Hiking starts from the hotel itself as the base of base of this mountain is only 4 km. The summit's altitude is 4200 feet!
This tourist spot is on the Kumily to Munnar road. The jeep ride will be picturesque.
See the video clip showing how beautiful is the road trip to Ottakathalamedu from here.
Aruvikkuzhi and Pandikuzhi waterfalls, Chellarkovil
If you are wondering where the waterfalls are hidden in, you must travel to Chellar Kovil, Tamilnadu.
Even as you near the spot, you can hear the sound of falling water from a height.
From a height of 4000 feet, the views are fantastic. The lush green mountains that are frequently shrouded by mist, the cool breeze, and the cardamom and pepper estates are attractions of Chellar Kovil, one of the places to visit in.
Chellar Kovil is one of the must-see attractions of Thekkady.
Murikkady
Located only 5 km from the town, it is another hill that you can trek starting from your resort. The view from the top of the mountain and the trekking path are extremely beautiful. Don't miss to see this picnic spot near it.
The places near Thekkady are more beautiful than itself.
Anakkara
At an elevation of 4000 feet, Anakkara is a small hill town on the way to Munnar from Thekkady. 13 km is the distance from it.
On the mountain slopes leading to Anakkara, there are numerous spice gardens that will make you to stop your car and gaze the scenic mountains.
Passionate tourists from Kerala, skip Thekkady and Kumily hotels and resorts and choose for a homestay in Anakara.
The town is absolutely idyllic and the slow-paced life will make you extend your stay in Anakkara, one of the places to visit in Thekkady.
Now, many tourists from North India also are coming to Thekkady and visit Anakkara for its famous ayurvedic spa and massage centers that are located in the midst of spice estates and coffee plantations.
Take a stroll in the market area to buy and eat some of the hill fruits that include:
Red Banana
Mulberry
Passion Fruit
Pomelo
A kind of citrus fruit with sour and tangy taste. It is an aromatic fruit that grows only in the Western Ghats.
Pattumalay
It is a hill village located close to Thekkady. There is a tea factory that allows people to see around.
In addition, Pattumalay is a Christian pilgrim place. A hill top of church is treated as sacred.
Gavi Hill Station
3400 feet is the elevation of Gavi hill village in Kerala. It is one of the places to visit in Thekkady, located at 25 km distance.
Gavi village itself is a part of a reserve forest. You can imagine the surroundings and even visualize seeing many of the wildlife that are living in the Gavi Forest.
While you should be lucky to spot the tigers, and leopards, elephants, gaurs, Nilgiri Langurs are easily seen.
More than 200 species of birds are counted in Gavi Forest region.
Try to capture the Indian Giant Squirrel in your mobile phone camera.
Man, look at its long, bushy tail!
So many places to visit in Thekkady that are not all famous outside Kerala and some part of Tamilnadu and need more promotion by travel bloggers.