Where do adventure travelers go in India? Adventure destinations in India are not many. Nonetheless, the number of adventure travelers in India has been swelling every year. Whenever they share on the web their thrilling experience across various adventure sports destinations in India, journalists take a note of their stories about adventure travel India.
Adventure Travel India- Adventure sports in India
I am one of them who curates such heart-pounding places in India that challenges the hunger of daredevils.
Before I share my curated list of places where dangerous sports activities are available, let me tell you what are all the adventure sports in India that are available.
Bungee Jumping
Mountaineering
Rappelling
Skiing
Hang gliding
Paragliding
Ziplining
Scuba diving
Parasailing
River Rafting
Wave surfing
Caving
Flyboarding
Zorbing
Adventure sports in India
While some states in India are known for water sports, some states are popular for mountain-oriented adventure actions.
In this blog post, I will tell you briefly about adventure destinations in India for each adventure.
Bungee Jumping in India
So, that is what is all about bungee jumping. The adventurer is attached to an elastic cable or rope. He then jumps from a cliff or a bridge or even from a hovering helicopter.
The fun starts with the gravity-pulling free fall while fastened to the rope. At the end of the fall when the retraction takes place, you experience a sort of reverse jumping.
You finally stop oscillating when all the kinetic energy is spent.
Bungee jumping adventure sports in India are available at the following places.
India doesn't lack high-altitude mountains and tall cliffs that act as the launching pads for bungee jumpers. In spite of that, only 7 places offer these dangerous adventure sports in India.
I am sure not all are allowed to take the plunge by the bungy jumping providers in the world. There will be an age limit in spite of your enthusiasm.
Mountaineering Adventure in India
Mountaineering means several ways of climbing a mountain. It points to several forms of adventure activities on a mountain such as rock climbing, trekking, etc. The alternative word for mountaineering is 'alpinism'. In this adventure, any kind of ascending the mountain is the primary objective.
There are numerous places in India where you can either participate or watch others doing the adventure.
Here are a few places in India where mountaineering adventure sport is offered:
The peak is situated at a staggering height of 25,650 feet!
This mountaineering adventure destination in India is also located in the Uttarakhand state.
Talung peak, Nepa border, India
Talung peak is part of the Kabru mountain range.
Kamet peak, Uttarakhand
Mount Nun, Kashmir
Dolphin Nose, Kodaikanal
All the mountaineering destinations in the Himalayas are only for highly-skilled rock climbers and nor for amateur mountaineers.
Rapelling
The art of descending down a mountain, usually a rocky hill, with the aid of ropes is called 'rappelling'.
Rapelling adventure destinations in India:
In almost every state in India, big cities would have adventure clubs. They organize various adventure camps for the youth.
There is an allied activity for rappelling. It is called waterfall rappelling in which the adventurers descend the slippery rocky surface over which water is falling.
Waterfall Rapelling:
Waterfall rappelling destinations, India:
Vihigaon Waterfall, Nasik, Maharashtra
Ullas valley, Khandala, Maharashtra
Usarvardhani Waterfall. Nagothane, Maharashtra
Bekare Waterfall, Bhivpuri, Maharashtra
Jogini Waterfall, Manali, Himachal Pradesh
Skiing
Every one of us knows of these sports. Moreover, we also know skiing adventure destinations in India are only available in the Himalayas that wear snow blankets during the winter season.
Auli in the state of Uttarakhand is the foremost skiing location in India. I had been to this place during a midsummer season. It is a breathtaking place with unlimited beauty. Nanda Devi mountain was visible from there.
Here are more places in India where skiing is available:
Yumthang Valley, Sikkim
Kulu, Manali, Himachal Pradesh
Gulmarg, Kashmir
Pahalgam, Kashmir
Kufri, Himachal Pradesh
Dayara Bugyal, Uttakhand
Munisiyari, Uttaralhand
In all the ski resorts, snowboarding adventure sports facilities are also offered.
A snowboard is fastened to your feet. You then slide on the snow, performing a few tricks as you gain experience.
Snowboarding is an alternative snowy adventure. It is almost similar to wave surfing.
Hang Gliding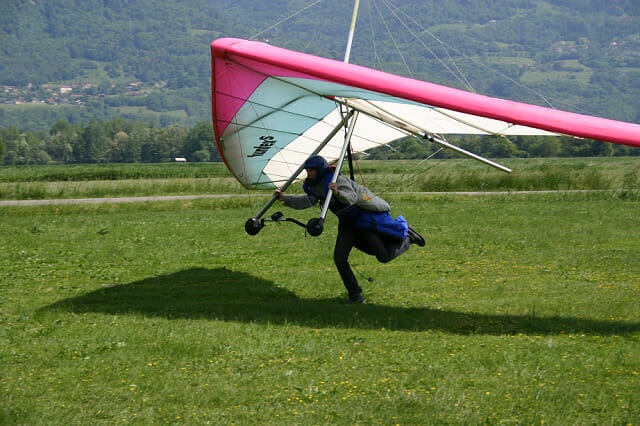 The Hang gliding is a thrilling sport played in the air. Further, Hang glides are made of an aluminum frame that is covered with a cloth as a sail.
You, the glider will hang on to the non-motorized aircraft. In order to take off, you need strong wind. You have to run a few meters fast and then jump in the air to get the elevation if you are launching yourself from the plains.
On the mountains, you usually take from the edge of a gorge. Hang gliding is only for highly courageous sportsmen and it is certainly not for old people.
Hang gliding adventure sports in India are offered in several states. A mountain is not necessary to go up in the air.
Hang Gliding Locations in India:
Pune is the foremost location for hang gliding adventure.
Bir in Himachal Pradesh is the second-best spot in India.
Simla
Otacamund (Ooty)
Dharamshala HP
Yumthang Valley, Sikkim
Indore
Jodhpur
Paragliding
This is another exciting air adventure.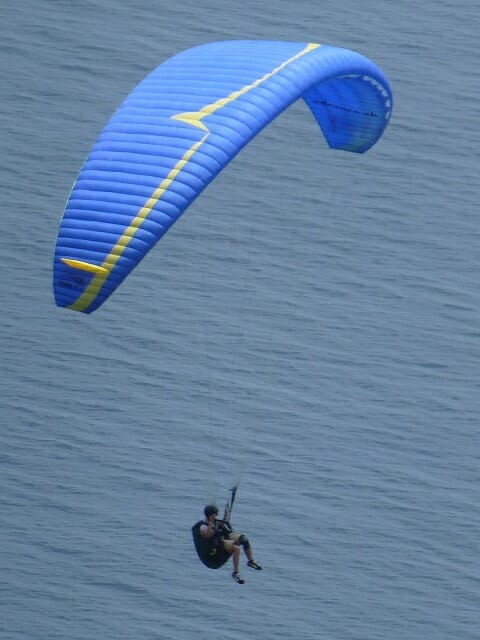 Again, without the use of any manmade power, just by utilizing the wind, you fly a few thousand meters from the ground level.
Unlike hang gliding, where you have to hang on with a lying face-down position, you comfortably sit in a chair that is attached to a cloth sail.
The video explains more clearly, how paragliding works.
Where can you participate in paragliding adventure in India?
I think, wherever to hang gliding is offered, paragliding is also offered except that you can't launch yourself up from the plains.
Bir in Himachal Pradesh and the Yumthang Valley in Sikkim are the two most prominent places for a paragliding adventure.
Yumthang Valley has already appeared a few times in this blog post. You may want to see photo of it.
Here it is, the Yumthang Valley.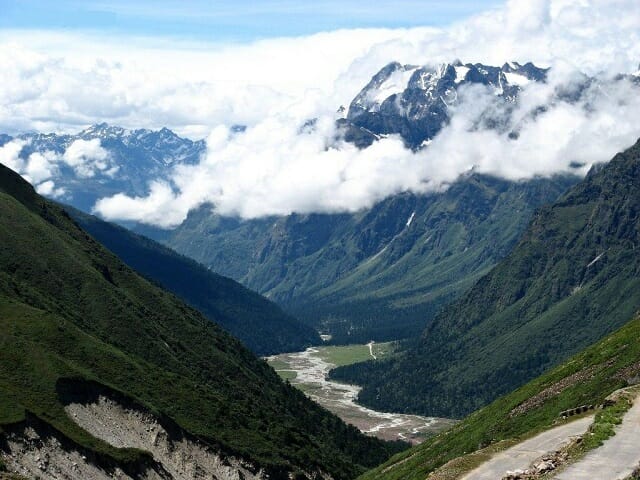 Absolutely enchanting location-right?
Here is a surprising location. The Yelagii Hills, in Tamilnadu, not very far off from Chennai.
Kamshet and Panchgani in Maharashtra
Pithoragarh, Uttarakhand
Nainital
Ranikhet-this and the one above are excellent paragliding adventure destinations in India.
Sansar, Kashmir
Nandi Hills, Bangalore (this is another odd man out)
Hmm.. paragliding has become really, highly popular in India!
Ziplining
Ziplining is a well-known adventure activity and it is widely available all over the world. For zipping, you either need two adjacent hills or even two high-rise buildings standing parallel to each other.
You hang onto metal wires that connect two points.
You either hang to the wire in a standing positing, lie face down, or sit snugly in a canvas chair and zip past a varied landscape such as a forest, a water body, or an abyss. It is a fun-filled adventure sport.
Ziplining adventure destinations in India:
Neenrana Fort, Rajasthan
Munnar, Kerala
Mehargarh Fort, Jodhpur
Rishikesh, the holy town at the foothills of the Himalayas
Kolad, Maharashtra
Buranskhanda, Mussoorie
Dharbandora, Goa
Dawki, Meghalaya (it is 85 km from Shillong and 175 km from Guwahati)
Kerwa, Bhopal
I believe more ziplining adventure sports in India are coming up. Ziplining is also mentioned as "Zip Line".
Scuba Diving
Scuba diving needs no introduction. It was considered a very dangerous adventure in India. However, in the last fifteen years, it has taken a stronghold among daring Indian youth.
Scuba Diving is practiced only in the see where some minimum depth is required. In addition, scuba diving sports are selected where there is something for the diver to see and touch.
There must be a shipwreck laying at the bottom of the sea to invite curious scuba divers. Otherwise, the marine creatures should be diverse and include colorful coral reefs.
Here is best example of incredibly colorful coral reefs under the sea.
Scuba diving locations in India are not too many. I read the Andaman and Nicobar Islands are the prime locations for divers.
More locations for scuba diving in India:
Lakshadweep Islands (all the islands of Lakshadweep archipelago)
Dhanushkodi, the ghost town off Rameswaram Island, Tamilnadu
Pondicherry (the local guides take to several scuba diving spots in the Bay of Bengal, Pondicherry)
Kovalam, Kerala
Netrani island, Murudeshwara, Karnataka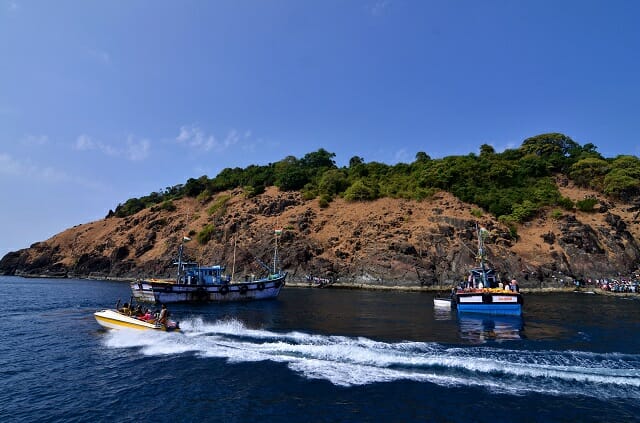 This island has several aliases that include Pigeon Island, Bajrangi Island. Scuba divers are attracted by the diverse fish species and coral reefs in the Arabian Sea near Bhatkal, Karnataka.  Bhatkal is 145 km away from Mangalore in the north direction, towards the Goa coast.
Parasailing
Parasailing is all fun for those who dare. In this water and air adventure activity, you fly in the air over water while holding onto a sail that looks similar to the appearance of a parachute.
In addition, the sailing part is attached to a boat. The boat moves and you also fly.
Parasailing can be done on the land also. Here, instead of a boat, your parasail is attached to jeep. For this, the path of the four-wheeler should be straight, and devoid of any turns. Typically imagine a desert or a large playground or even a sprawling beach.
Nice adventure-eh?
Parasailing adventure destinations in India:
Thar Desert, Jodhpur, and Jaisalmer
Bir, HP
Kangra valley, HP
Pithoragarh, Uttarakhand
Goa (Colangute Beach, Anjuna Beach, Vagator Beach, and Candolim Beach)
Goa is the foremost among the various paragliding adventure destinations in India.
Several beaches in Kerala that include the famous Varkala Beach and the Kovalam Beach.
Mangalore Malpe Beach
River Rafting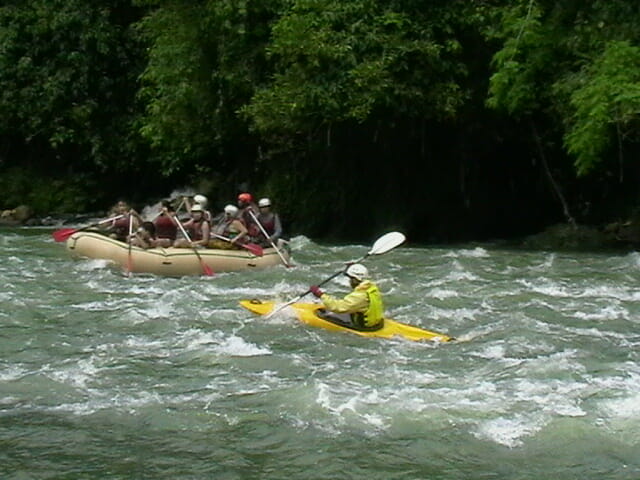 A raft is a floatable boat-like vehicle that is usually made of wooden planks and poles. Contemporary rafts are now made of rubber boats that are inflatable. When not in use, they are depleted of air.
Normally, 4 to 6 people can travel in a raft and all of them paddle the raft to surge forward. The River rafting typically involves navigating in various water currents. Besides,  River rafting gets challenging when the river is in full flow encountering rapids in between.
River rafting adventure destinations in India:
The River Ganga in Rishikesh is the foremost river rafting location in India.
Ladakh is the second-best place for river rafting. Here, the mighty Indus River offer excellent conditions for veteran rafters.
River Siang is a tributary of the dangerous and furious River Brahmaputra, Pasighat, Arunachal Pradesh.
The River Beas in Manali, Himachal Pradesh
River Bhagirathi in Uttarakhand
In Coorg, Karnataka, rafting is possible in river Barapole.
Spiti River, Spiti Valley, Himachal Pradesh
Rivers Sahyadri, Kolad, and Kundali in Maharashtra
Alaknanda River, Chamoli, Uttarakhand
Sikkim, Teesta River
Arunachal Pradesh-Lohit River and Tawang River
Nainbagh, Uttarakhand-River Yamuna
Note:
Only strong swimmers should try the river rafting adventure sport.
Wave Surfing
Wave surfing needs no introduction. We have watched the water sport in television ads mostly.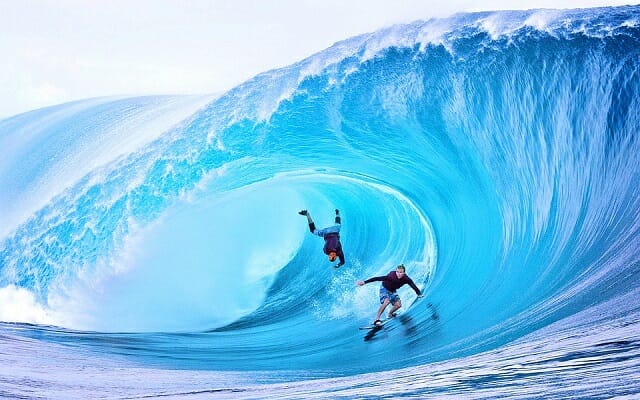 It is played only on the sea waves but not all the waves are surfing-friendly. In addition, not all the seas and oceans produce waves that the surfers love.
The surfer actually rides on the waves, standing on aboard. Generally, surfers choose the waves that drive them towards the shore.
Wave Surfing Adventure Sports in India:
Even though India has an enviable coastline, there are only a handful of spots that are good for wave surfing. Tamilnadu leads the pack with locations in Pondicherry, Mahabalipuram near Chennai, and a few places in Cochin, Kerala.
The majority of the Andaman and Nicobar Islands attract surfers from all over the world.
Some beaches in Goa are known for offering wave surfing spots.
Mulki near Mangalore is a surfing location. As a matter of fact, there is even a surfing training center.
Other adventure sports in India include:
Caving-exploring the caves
Meghalaya is the cave capital of the world because there are nearly a mind-boggling 1600 caves!
In order to experience a daredevil caving expedition, you must get in touch with the Meghalaya Adventurers' Association. It has a Facebook Page also.
Flyboarding
Flyboarding-a terrific adventure that involves throwing up the person standing on a board high up in the air over water.
Flyboarding is available only in Baina Beach, Goa.
Zorbing
This is really not a big adventure sport but just a fun ride you take in a transparent sphere. It is mostly offered as a temporary fun game in makeshift theme parks and some permanent amusement parks.
That's an exciting roll-eh?
Have I missed out on any other Adventure Travel India or an adventure destination in India? Don't ask me to include rides of animals such as yak, elephant, camel, etc. There are only fun; they lack any adventure.