Cruise voyages are not everyone's cup of tea. Especially sea journeys don't agree with all of us. The choppy sea throws not only a huge ship but also makes throw up but not the river cruise lines.
Advantages of River Cruise:
However, river cruises are much gentler on us because of the lack of waves.
In addition, river cruise lines are not ever far off from the land. In case of any emergency, the ship can quickly reach the docks of a nearby city in a few hours.
The food supplies are invariably fresh in river cruise lines as they pick up the veggies and fruits, groceries, and meats from every port of call.
Unlike huge yachts, river ships are much smaller with a maximum of 100 passengers. You can really breathe easy-right?
Another big advantage of a river cruise is you can see virgin villages and small towns that are breathtakingly beautiful.
You can interact with the locals and participate in local festivals whenever you go on a land excursion.
Services are personalized due to a small number of passengers.
Unlike the cruise ships that roam the oceans and seas, there are not many choices of river cruise lines. I have listed some of the well-known ferries that offer truly romantic river cruise tours that take you to unheard-of places along the banks of navigable rivers.
Which Rivers Are Great for River Cruises?
Danube River (Europe)
Rhine River (Europe)
Elbe River  (Europe)
Mekong River  (East Asia)
Yangtze River  (China)
Lijiang River (China)
The Ganges  (India)
River Irrawaddy (Burma)
Moselle River, Europe.
River Nile  (Africa)
Sepik River (Papua New Guinea)
River Zambezi (Africa)
Amazon River (South America)
Lorie River (France)
Thames River and canals in the U.K.
Colorado River  (U.S.)
Mississippi River  (U.S.)
Columbia and Snake Rivers (United States)
St. Lawrence River (Canada)
Cooper River  (U.S.)
Hudson River  (U.S.)
River Volga  (Europe)
 The Top 10 River Cruise Lines in The World:
Viking River Cruises
Belmond
American Cruise Lines
American Queen
Aqua Expeditions
Emerald Cruises
Uniworld River Cruises
Tauck
Avalon Waterways
Crustal Cruises
Every river cruise line offers more than one cruise lasting anything from three days to two weeks.
River Cruises in U.S.
The widespread opinion of us is, Europe garners all the limelight of river cruises leaving the U.S. with almost nothing thrilling.
It is a misconception. There are some equally romantic cruises tours in America also.
In this blog post, I will cover some of the river cruises in the United States. Enough data is available on European river voyages but not much about U.S. rivers.
Memphis to New Orleans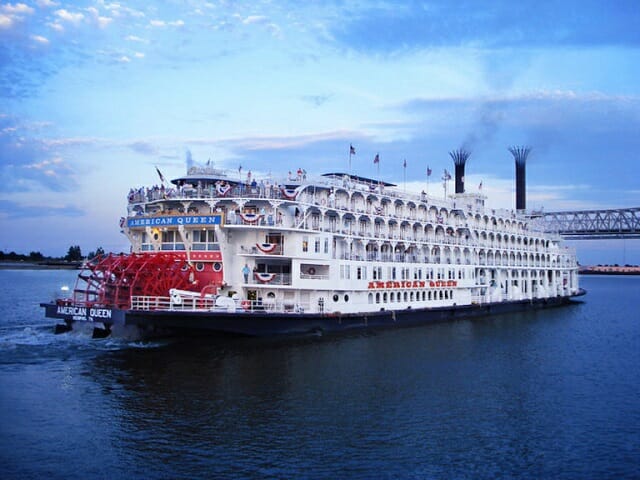 Surprisingly, the distance between the two is not much. I would estimate a maximum of 650 km! Can you believe the American Cruise Lines offer a relaxing cruise that lasts as many as 9 days in Mississippi River?
One of the popular cruise line offers as many as 12 different Lower Mississippi River cruise tours lasting from 5 days to 22 days!
The longest 22 days-river cruise in the U.S. covers 21 ports of calls!
Upper Mississippi River Cruises
Here is a different cruise line that floats on the Upper Mississippi River starting from St. Paul to St. Luis. While the former is located in the state of Minnesota, the latter is part of the Missouri state in the U.S.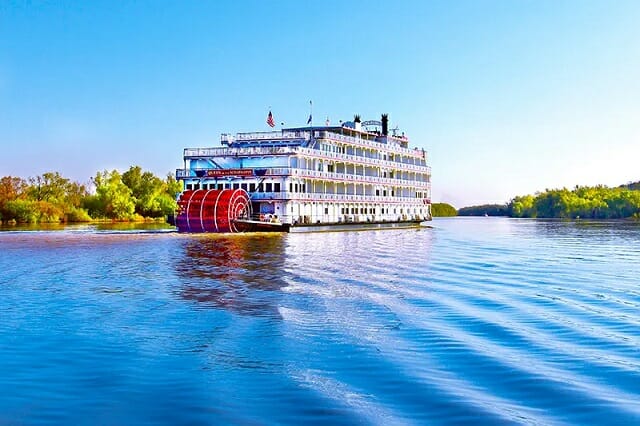 The cruise ship covers a distance of 850 km. Imagine the number of stops in between and a diverse cuisine you can taste. Such a fantastic facility is not possible in any other modes of travel.
This is a 9-day river cruise. The same ship line also offers a 14-day cruise starting from Ohio and ending at Mississippi.
South Carolina to Florida
If you are looking to witness some of America's quaint landscapes and quiet small town, you can definitely consider taking this river cruise tour that lasts 8 days. As of now, the cruise is put on hold. You must watch for its resumption because the cruise will be really memorable.
Columbia River Cruise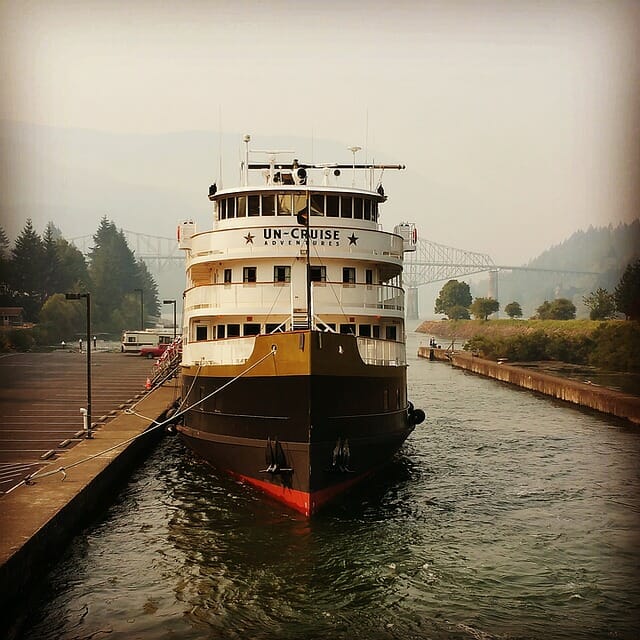 Rated as one of the best river cruise lines, the American Queen Steamboat offers an enchanting 8 nights-cruise in River Columbia.
The long cruise begins from Washington state and terminates at Oregon state. This river cruise route is known as the Northwest Pacific.
It is a luxury river cruise liner that is known to serve connoisseurs' delights on board. During some evenings, you are treated to some live music and drama shows.
This river cruise trip goes through thus far unseen landscape and riverscape ih the United States.
Portland to Quebec City
Ah, I think I would like this river cruise trip. Moving from the United States to Canada in a boat is my long-standing wish.
The highlight of this river voyage is sighting the breathtakingly colorful fall season foliage.
Look at the route map of this dream river cruise.
It's a long-haul voyage for a river cruise. It lasts 10 nights but that doesn't deter the cruise enthusiasts, especially the senior citizen who comprise the majority of any river cruise passengers.
As you saw in the route map above, your ship takes you through Bar Harbor, Lunenberg, Halifax, and Saguenay Fjord before reaching Quebec City.
I must agree there are not as many choices as in Europe for the river cruise tours in the U.S. when compared to Europe. Danube and Rhine Rivers hog the limelight of river cruises anywhere in the world.
Which is the most luxurious river cruise ship in America?
During my research for composing this blog post, I came across an ultra-luxury river ship n the U.S. It is known as the American Duchess operated by the U.S. River Cruises. It is actually the queen that roams the Mississippi River.
It offers numerous choices of accommodation, some of them offer privacy as well as an uninterrupted view.
The types of cabins, decks, and suites in American Duchess include:
Loft Suite (floor to wall glass windows)
This is the most sought-after accommodation because it is really large with two full bathrooms, dining and living areas, and above all a private balcony!
Owner's Suite (it comes attached with a private balcony)
Deluxe Suite
Verandah Suite
State Room (it is the smallest accommodation with a grand name)
Did you notice the lack of river cruises in the Mid West and Southern states in the U.S?
If you are seriously looking forward to your first river cruise in America, choose the Fall Foliage cruise that begins from the U.S. and terminates in Canada.