Wine Farm stay in South Africa -a brief introduction
Wine estate stays are not as popular as ranch stays because the outdoor activities are not many. Nonetheless, Wine Farm stay in South Africa
, especially in the wine estates in South Africa are meant to give you the ultimate relaxation from your routine.
Staying on a wine farm in South Africa is a preferred form of weekend escape for South Africans. Actually, the concept of alternative forms of accommodations are fast catching up.
Some of the other options of staying apart from hotels and resorts include:
Homestay
Farm Stay
Tea garden stay
Apple orchard stay
Wine farm stay
Ranch stay (Dude ranch stay)
Coconut grove stay
To be frank, when I first came across the word 'wine farm stay', I only thought of France and Italy as their wines are the most talked-about wines.
I never knew South African wines command a high place in the world of wine brewing. Cape Town has the most number of wineries than any other part of South Africa.
As a matter of fact, Cape Town is the choicest vacation destination in all of South Africa. It has everything that includes spectacular beaches, mountains, forests, wineries, and game parks.
Which part of South Africa has the most wine farms?
Cape Town, particularly Stellenbosch is well-known for wine estate stays.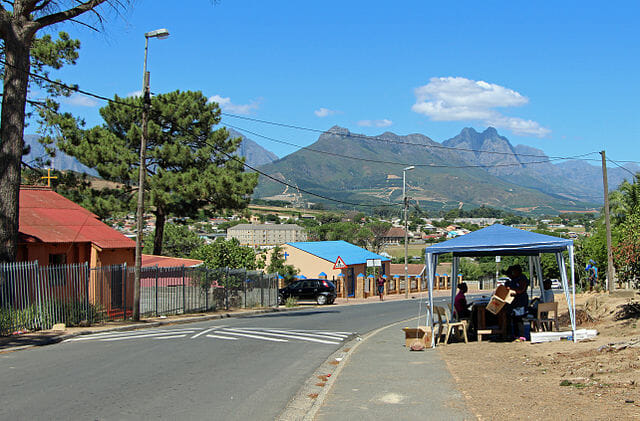 See the mountainous topography. It is said to be ideal for vineyards. In addition, wine farms in this region offer an array of outdoor activities for the guests of wine farms.
Stellenbosch is located just 50 km away from Cape Town.
What can you do by staying on a wine farm?
Well, the most obvious engagement in a farm stay is to taste wines. In fact, wine tasting pulls thousands of wine connoisseurs from all over South Africa. Italy and France don't lag behind to stay in South African wine farms just to study and judge the wines of South Africa.
Apart from wine tasting, depending upon the geographical and topographical conditions of the wine farm location, one can spend maximum time outside of the farm guesthouses.
The activities include:
Walking/hiking
Fishing
Kayaking
Grapes harvesting
Wine bottles packing
Wildlife watching
Of course, you can buy a range of white and red wines to take back to your home for self-consumption and for gifting.
Note:
The year 1659 was when the first bottle of red wine was made in South Africa's Cape Town.
List of Places for Wine Farm stay in South Africa
Here are some of the places in South Africa where wine farm stays are offered: The list is too long that I have shrunk without any logic (smile).
Helderberg
Paarl
Constantia
Worcester
Elgin
Durbanville
Walker Bay
Franschhoek
Wellington
Robertson
Tulbagh
Swartland
KwaZulu-Natal
The map below shows the overall wine region in South Africa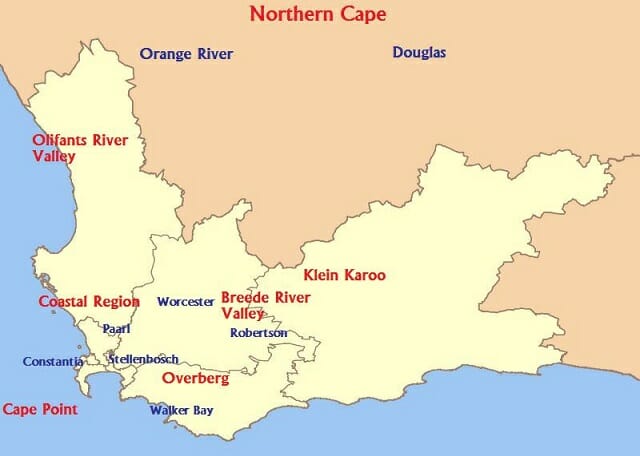 Best Wine Farm stay in South Africa
Some of the high-in-demand wine farms stays in South Africa
Fynbos Wine Farm guesthouse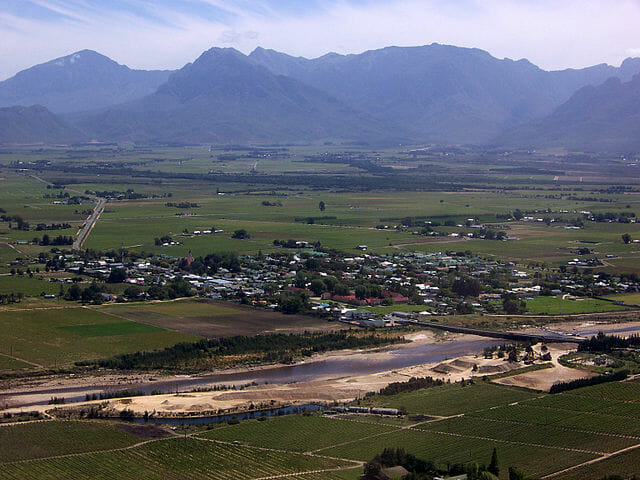 This charming and scenic wine estate is located in the town of Wolseley, Cape Winelands, Boland, Western Cape.
Like most of the wine estate stays in South Africa, the Fynbos wine farm also falls under the category of self-catering. It means you have to cook our food and brew your tea or coffee.
The vineyard is quite large occupying 160 acres of land approximately.
What to do in Fynbos Wine Estate?
This farm is home to a huge variety of wildflowers that you can see by taking a relaxed stroll across the farmland.
Wildlife watching can be your daily activity.  Steenboks (a kind of deer) are easily seen as they are everywhere.
Another one of those 'boks' that you can spot in Fynbos wine farm is Cape Grysbok.
Mongooses are also spotted and that implies the presence of various snake species that we don't want to encounter-right?
Self-sufficient cottages are there for you to book and stay in. Each cottage has two bedrooms; one is big and the other is small that is suitable for children.
Fynbos Wine Estate Stay
In spite of being classified as a self-catering cottage, you are given breakfast for a fee. It is a made-to-order meal, boss, so you have to mention it while booking your accommodation.
This pre-arrangement applies to lunch and dinner too. Please note that the meals are not served in your room; you have to walk up to the restaurant.
You can also opt for home-cooked food. In that case, it is delivered to your cottage.
If you are a solo traveler, you can opt to stay in one of the rooms in the farmhouse.  The room has an attached bathroom too.
Finally, you can select the camping way of staying out in the open. In South Africa, this is the right choice because the countryside's unpolluted air and the nocturnal sounds give you a refreshing experience.
The tents come with mattresses and a chair.
Here is an interesting way to spend time on the Fynbos wine farm. They maintain a sanctuary of rescued animals that are kept and maintained in the sanctuary. Don't imagine a few smelling cages, boss!
There are zebras, springboks, and even the graceful ostriches! If you are lucky, you can pet a Llama or stroke a horse's back and mane. You can also feed them but the fodder is at your cost.
Even birds can be seen. All the wildlife is released back into the wilderness when they are ready physically.
Meerlust Wine Estate, Stellenbosch
First, let me tell you a bit about the location. Stellenbosch, one of the largest wine-producing regions in South Africa is located in Cape Town that is just 50 km away. It is a picturesque wine region on the banks of Eerste River with the backdrop of the Stellenbosch Mountain.
Wine is generally stored in Oak barrels in the cellar to mature.  Stellenbosch is called the Oak City because oak trees are cultivated widely.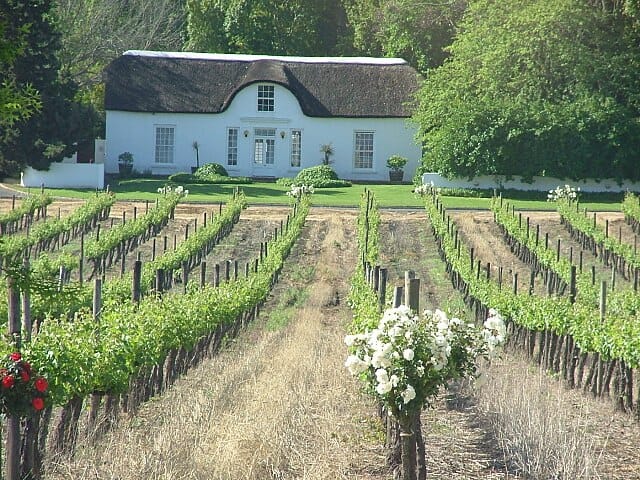 Meerlust Wine Farm has been brewing world-class wines for 250+ years! Tasting their range of wines attract professional and casual wine tasters from the U.S. and Europe.
Two types of accommodations are offered in the wine estate. One is called the 'quarters' and the other is known as the 'thorn springs'.
Facilities include television, food, Wi-fi with pleasing interiors. The verandah is a quiet place to sit and brood. Meerlust wine farm stay is meant to provide you the much-needed rest and rejuvenation. The food and wine would beg you to stay longer.
Outdoor activities include mountain biking, bird watching, and hiking the mountain trails.
The only con is the non-acceptance of credit card payments. The wine estate owners accept only bank transfers.
Meerendal Wine Estate, Durbanville, Cape Town
Here is one more wine farm in Western Cape area existing over 200 years. With such a long experience in producing great wines and running a guesthouse for the visitors, you can definitely expect a memorable stay.
Unfortunately, I could find any images of the wine estate. Even there is no mention of the type of lodging provided.
There is some mention of what kind of food one can expect. Italian cuisine seems to be the favorite of the estate's hotel chefs. Bakery products are also offered.
I stumbled onto a video of the Meerendal wine estate. The glorious sunshine, the rows, and rows of vineyards, the garden in front of the guesthouse were appealing to my eyes.
I chose to cover them in this blog post because of their scenic location and rich experience as a wine host (nice phrase-eh?).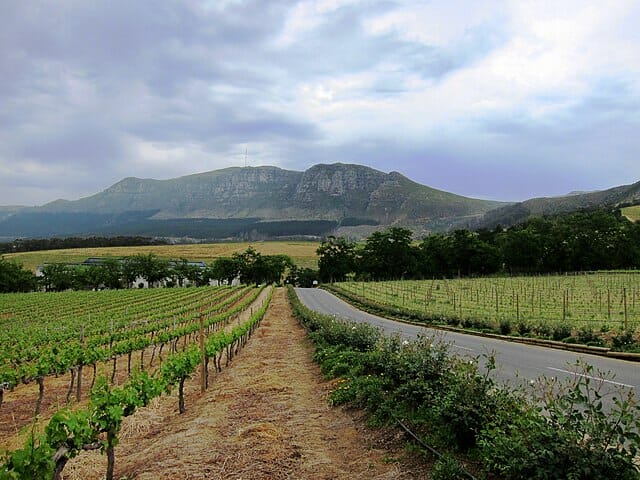 I have a feeling I would love the pleasant atmosphere of Meerendal Wine Farm and like the freshly cooked vegetarian food. Bookmark this wine farm to stay in South Africa.
These are not the only three wine farm stays in South Africa. There are so many more out there. I just wanted to let you know about the existence of the wine farm stay concept and it can be very different from a dude ranch stay or any other farm stays.
I noticed that the majority of the wine estates in South Africa are located in the Western Cape region and the city of Cape Town is less than an hour's drive away.