In this blog post, you will find how many water sports are practiced in India and where such thrilling water sports destinations in India are located.
India is a hot country almost throughout the year. Indian residents naturally would like to beat the heat by escaping to vacation spots that are on the shores of seas, lakes, and rivers. Places near thundering waterfalls are their favorite summer escapes.. Adventure-minded Indians would like to go to water sports destinations in India in order to enjoy the exciting water-based adventure as well as to cool themselves.
Are you ready to take a refreshing plunge?
What is a water sport?
When a sport is played on water or underwater, it is a 'water sport'. The basic examples of water sports are swimming and rowing.
How many water sports are played in the world?
As many as thirty-three kinds of water sports are played in the world.
How many water sports are available in India?
However, only 16 water sports are available in India at various places. I believe these 16 kinds of water sports can exclude different types of swimming and diving totalling 30 water adventures  India.
First, I will name the sixteen water-based adventures below.
Swimming
Scuba Diving
Snorkeling
The first three are the most common water sports played anywhere in the world.
Kayaking
Canoeing
The above two kinds of water sports fall under 'rowing'.
Aqua jogging
Kite Surfing
Wave Surfing
Stand-up paddling
Wakeboarding
Water Games such as water polo, water volleyball, and water basketball
Jet Skiing
Water Skiing
Sailing
Para Sailing
Whitewater Rafting
These kinds of water sports are specialized water-based adventures.
Swimming and scuba diving include various kinds of water sports such as rescue swimming and ice diving.
Some of the water sports destinations in India are given under:
Chennai
Rishikesh
Zanskar
Netrani Island:
Lakshadweep Islands
Ladakh
If you search for the finest watersports destinations in India, invariably, Goa occupies the top position. I would credit the local Government's tourism department entirely for that and not the Portuguese who ruled Goa for a long time. They might have left behind their cuisine, cultures, and traditions but not the advanced water adventures.
11 Water Sports Destinations in India
Let's see what each water sports destinations in India have in store for the water-based adventurers.
Goa
Apart from the most common types of water sports that include swimming, kayaking, and canoeing, only in Goa, you will find some of the advanced and thrilling water sports.
There is some water adventure for every one of us in Goa.
Water sports available in Goa.
Kite Surfing
Parasailing
Scuba Diving
Snorkeling
Kayaking
Water Scooter (Jet Skiing)
WakeBoarding
Kneeboarding
Standup paddling
River Rafting (Mandovi River)
Banana boat ride
Flyboarding
The last-mentioned water adventure named 'flyboarding' is the most advanced and the riskiest of all water sports played in Goa.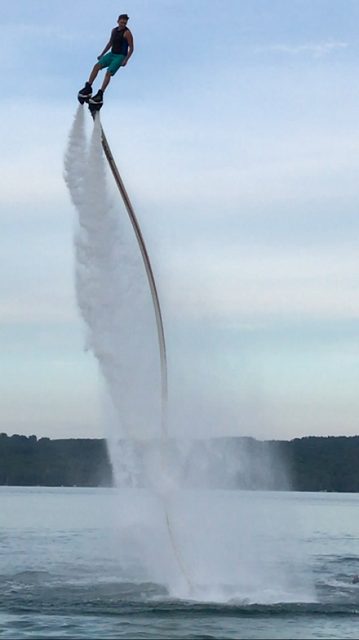 Flyboarding is also known as 'hydro fightin'.
Of all these water sports in Goa, kite surfing and water scooter rides are the favorites of the majority of the tourists.
Watch a short video of water scooter ride in Goa.
Water scooter adventure is also known by 'jet skiing'.
You have to visit the following beaches in Goa to indulge in any of these water adventures.
Calangute Beach
Baga Beach
Candolim Beach
Benaulim Beach
Alibaug
Alibaug is a beach holiday destination near Mumbai. When compared to Mumbai or Goa, vacationing in Alibaug is much cheaper.
You can enjoy a speedboat ride from Mubai's gateway of India to Mandwa near Alibaug. The distance covered is approximately 100 km.
Alibaug is another water sports destination in India. You can indulge in scuba diving, dolphin sighting boat safari, jet skiing banana boat ride, parasailing, standup paddle-boarding, and kite surfing.
You will often see the word 'banana boat ride' in this blog post. It is a water adventure in which about 5 to 6 people hop onto a banana-shaped inflatable. The inflatable is then towed to a motorboat.
The fun ride starts now. If the sea is choppy, there is more fun as well as more risk. When the boat nears the shore, those who are sitting on the inflatable are thrown off into the water.
Watch the video showing the banana boat ride.
Another most enjoyable water sports in Alibaug is called the 'bumper ride'. With the use of an inflatable that can accommodate about 4 persons, your bumper ride starts.
Your inflatable is towed to the motorboat. As soon as the motorboat surges forward rapidly, you will start screaming with joy.
With the increase in motorboat's speed on the wavy sea, your inflatable bumps up and down and that is where all the fun is.
Here is how the Bumper Ride will be
Nagaon beach in Alibaug is where all the thrilling water adventures are available.
Malavan
I recently discovered this place that is noted as one of the best water sports destinations in India. Though Malvan is officially in Maharashtra's Sindudurg District, it is actually in the Konkan coastal region near Panaji (115 km). Even Karnataka's Belgaum city is just 150 km away.
Malvan is a rather unknown haven for water sports and certainly a cheap place, much cheaper than Goa or Alibaug.
Nonetheless, Malvan is a well-known place yielding the famous Alphonso mangoes in India.
Near Malvan, off its coast is a small island called Tsunami Island. This is now a raging tourist destination for water sports such as banana boat ride, motorboat rides, jet skiing, bumper rides, and row boating (kayaking)
Apart from Alphonso mangoes and water sports, Malvan is famous for numerous sweets that include:
Malvan Khaja (sweet bhoondi)
Malvan Laddu (made from moong dal)
Fanas poli (jackfruit is the main ingredient)
Naralachya Wadya
Konkani Meva
Aam Bawadi (mango jelly)
These sweets of Malvan attract me more than its water sports.
Pondicherry
Pondicherry is located on the east coast of Tamilnadu, about 150 km away from Chennai. It was a French colony once and hence known for French bakeries, buildings, and restaurants that serve French cuisine.
Not many people are aware that Pondicherry is on the nap of the finest water sports destinations in India.
Surfing and scuba diving are the main water adventure in Pondy.
Kayaking and motorboat rides are for children and adults who shun adventures in the water.
There is a banana boat ride for intrepid tourists.  Other advanced water sports in Pondicherry include:
Kite Surfing
Paddle Boarding
Canoeing
Windsurfing (an exciting ancient water sport)
Paragliding
Paddle boarding involves both stand-up position and squatting posture.
Andaman Islands
The Andaman Islands command a distinct position on the list of major water sports destinations in India.
The Andaman Islands are two hours flying distance away from Chennai that acts as the gateway to the Andaman Islands.
The most exciting and unheard of water sports in the world is 'undersea walking and that is available in Andaman.
The seafloor walking adventure is available in Port Blair's North Beach and Havelock Island's Elephant Beach.
Watch below how you can walk under the sea.
As you can see, you don't wear any ultra-modern gear or any swimsuit to walk on the sea bed. Simply a helmet that is fitted with a breathing apparatus is all that is required. You don't even have to know swimming to indulge in this thrilling water-based adventure.
Other water sports that you can play in Andaman and Nicobar Islands include:
Scuba Diving
Snorkeling
Banana Boat rides
Speed boat rides
Glass-bottom boat ride
Jet skiing
Seaplane ride (example of a seaplane: https://upload.wikimedia.org/wikipedia/commons/8/8d/Kenmore_Air_Lake_Union.jpg)
Parasailing
Andaman offers luxury all-inclusive beach resorts.
Water sports in Chennai
Chennai came into the arena of important watersports destinations in India early in the 1970s itself. Most of the water sports are available on the east coast road, on the way to the historic town of Mahabalipuram and Fisherman's Cove just before Mahabalipuram.
Catamaran ride on the Bay of Bengal
A ride in the catamaran that the fishermen used to take to the sea for fishing is a thrilling water adventure. Just a few big logs were tied together to make a raft. The fishermen expertly paddle the raft and go far away into the sea to fish with a net. Sometimes, they use sails to move afar.
The kayaking club offers these water sports in the Mahabalipuram beach.
Scuba diving is practiced in the Fisherman's Cove.
Other water adventures that are available in Chennai are:
These two water sports are offered in Kovalam Beach.
Water sports in Rishikesh
River rafting is the main water sports in Rishikesh, on the foothills of the mighty Himalayas. At various points in Rishikesh, the Ganges River is conducive to indulge in whitewater river rafting.
You can reach Brahmpuri in Rishikesh to either watch river rafting or to participate in it. The rafting is practiced from Brahmpuri to Ramjula.
River Rafting in the Ganges.
The raft used in this case is an inflatable one.
Those with strong arms take a kayak on the Ganga River and row for a few kilometres.
Water Sports in Zanskar
Zanskar is one more water sports destination in India. It is located in the Ladakh region. River rafting is played in the Dodo River here.
Water sports in Lakshadweep
The islands of Lakshadweep and Minicoy are superb watersports destinations in India. In spite of a wonderful island atmosphere, the Lakshadweep islands are under-rated and under-visited.
Lakshadweep islands don't lack water sports facilities when compared to Andaman and Nicobar Islands but still, they are not occupying a prominent place on the map of water sports destinatins in India.
Except for the undersea walking, all the water sports that are offered in the Andaman Islands are also offered here.
Scuba diving is the most popular water adventure in Lakshadweep Islands. Other water adventures include:
Parasailing
Jet skiing.
Wave Surfing
Boat rides in the night
Though there are 36 islands in the Lakshadweep archipelago, only the islands of Bangaram and Kadmat offer water sports facilities.
Water Sports in Gokarna
Gokarna located on the Arabian Sea coast in North Karnataka is an unheard-of water sports destination in India.
There are some extremely beautiful beaches in Gokarna.
An example is Kundle Beach.
https://upload.wikimedia.org/wikipedia/commons/8/8c/Kudle_beach_gokarna.jpg
Wow! Isn't it an absolutely beautiful beach/
Not any water sports are available here except a few that includes:
Banana Boat ride
Jet skiing
Parasailing
Bumper Rides
Surfing
River Rafting is available in Kali River.
Water Sports, Kerala
In the backwaters of Kerala, kayaking and canoeing are highly popular. Another exciting water adventure is sailing a catamaran.
The catamaran sailing water adventure is available in Cherai Beach, Vypin Island near Kochi.
In Cherai Lagoon, canoeing is played with enthusiasm.
Kerala is undoubtedly one of the major water sports destinations in India.
India is seriously competing with other places in the world as one of the best destinations for water sports.