Are you shocked and surprised at this title? Why the local guides would don't take you to some places to see in Paris that are extremely spectacular?
Your first question prior to the above is, are there really several more attractive but under-visited places to see in Paris than the most popular ones that a regular bus or boat tour of Paris reveals?
My answer is a big "YES". You don't have to take my word. Read this post till the end that will make you regret that you missed seeing them during your previous visit to the fashion capital of the world.
I have already written 4 posts covering the things to do in Paris. They are:
Expert Travel Guide to Paris for First Time Visitors
What Are The Best Boutique Hotels In Paris
Paris Sightseeing Attractions That You and I Will Like Immensely
Paris Tour — Best Things to Do in Paris.
Country Hopping from Paris: 8 Easy Day Trips from Paris
Under Visited Attractions in Paris
I am happy to dwell into several more things to do and places to see in Paris that are not usually covered by local your operators because there are many more attractions in Paris that are extremely popular that every tourist to Paris would boast about.
Start!
Canals boat tour
I am sure the majority of the visitors to Paris would not be aware of the fact that Paris city has its own share of canal network and a detailed boat tour will reveal stunning architectural marvels of France.
Canal St. Denis is the main one, but that flows only 6.4 km before merging with the Canal de l'Ourcq which is 108 km long!  This long canal flows through Greater Paris. Moreover, this canal is equipped with locks.
It has another marriage with Canal St. Martin.
Boat tours are operated at different timings. Approach the same boat tour operators who take you on a Seine River boat cruise, for Paris Canal Cruise tour.
Here is a video clip of a cruise in St. Martin Canal.
As the boat slowly surges ahead, you will see a different side of Paris. In addition, such offbeat boat tours will give you an excellent opportunity to establish new friendship with the people from different nations.
If you need more information, type the following key phrase in Google's search box. The resultant webpages will keep you busy for the next 30 minutes.
"Paris Canals Boat Tours".
Bassin de la Villette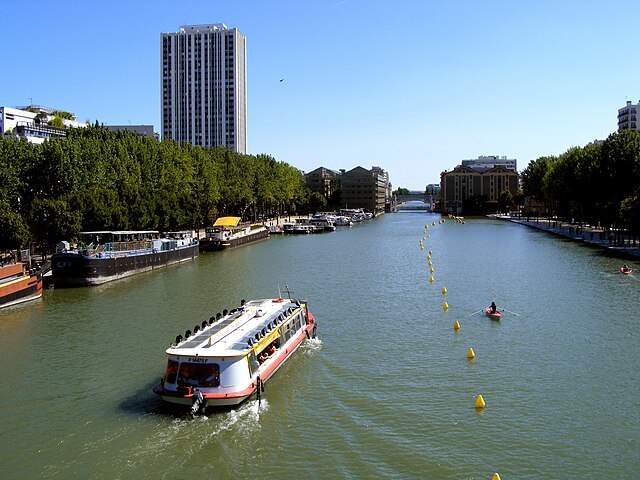 Bassin de la Villette is a man-made lake in Greater Paris. Here also, you can enjoy a 2 to 3 hour cruise. Interestingly, this artificial lake has connections with St. Martin Canal, and the Canal de la l'Ourcq.
One more canal, namely Bassin de l'Arsenel comes into the network of canals in Paris.
I am sure you are hearing about the Paris Canal system and cruise tours on these canals for the first time.
Boulevard Montmartre
When you take a stroll through the beautiful Mantmartre boulevard, remember you are on a historic place and one of the longest (700 feet) streets in the old town of Paris.
It is, incidentally, the oldest (260 years old) tourist landmark in Paris. Remember to go through this famous boulevard at the night.
Art galleries, shops, and cafés are some of the highlights. Above all, a certain portion of the street has a glass roof that lights the street with awesome colors by reflecting the shops' lights.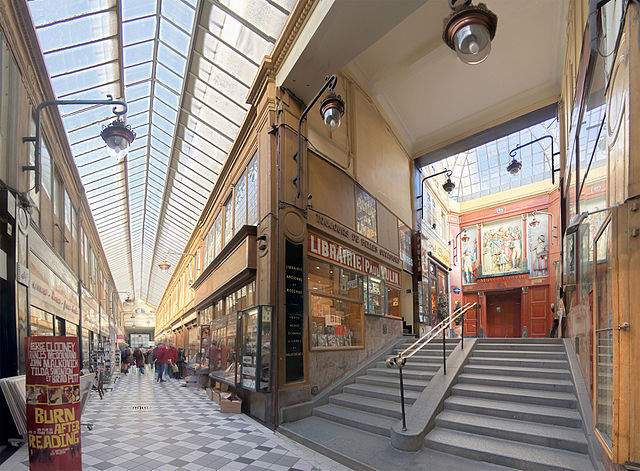 This covered passage is called "Passage Jouffroy".
I think it is a dreamy place, and certainly one of the lesser-known places to see in Paris.
You must be ready to shell out several hundreds of Euros as the shops are just too many.
Montmartre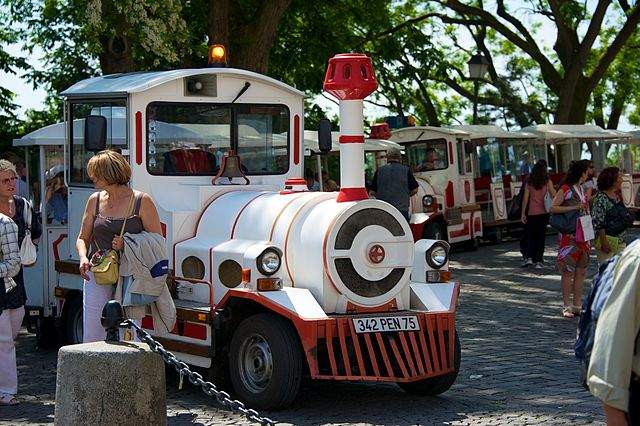 Riding in this toy train is one of the things to do in Montmartre, an elevated locality in Paris. It is again a lesser-known attraction in Paris.
The height of the hill on which Montmartre is located is 430 feet. You get a fantastic view of Paris, its high-rise buildings, and the scenic Seine Rover.
It's an affluent locality and pulls tourists with its nightclubs, and cabaret shows.
One of the star tourist landmarks is the magnificent Basilica of the Sacre-Coeur.
Another 12th century church in Montmartre is the Saint-Pierre de Montmartre.
Like any French popular tourist area, Montmartre too has several arts, and paint galleries, and studios, including that of Pablo Picasso, and Vincent van Gough.
You are supposed to take a walking tour through quaint boulevards, streets lined with shops, restaurants, and bars. Overall, you need to walk for two hours to see all the streets, and boulrvards in Montmartre.
You can access the Montmartre either by a bus or by enjoying a ride in a funicular railway that makes a steep ascent.
Sadly, the ride lasts about 3 minutes only.
Paris Staircase.
Ah, there is another option to go up the Montmartre Hill.
There is a staircase comprising 300 steps.
Mostly young tourists to Paris, climb the famous Montmartre Stairs.
Do you realize this tourist attraction is again a lesser-known attraction in Paris? If you decide to take the harder way up, I am sure, your local guide will bid adieu on the spot-right?
Every visitor to Montmartre is urged to buy some fine French fabrics, ribbons, laces, scarves, snoods, crochet from Merche Saint Pierre on the hill.
If you are a buff of music, you can buy some very good music instruments made of metal, and wood. It will be a cherished souvenir.
Moulin Rouge Cabaret Show.
The last thing to do in Montmartre before you head back to Champs Elysees is,to  enjoy a famous Paris cabaret dance in Moulin Rouge.
It's a popular entertainment in Paris. If you return home without visiting the Moulin Rouge even once, you will be not only ridiculed but even have to take abuses!
One more thing to do in Montmartre in the evening is to sit in a bar on the kerb, and sip a full goblet of the famous French Wine (red wine). It is also an enjoyable way to watch the public, the world's laziest, but also the most amusing way to pass time.
Rue Cremieux
Well, there is nothing to do in Rue Cremieux but to appreciate the neatly laid row of houses that are brightly painted. It is said to be the most colorful street in Paris.
Marche aux Fleurs
This pretty Flower Market is located along the Seine River. The exact landmark is between Notre-Dame Cathedral and Sainte-Chapelle.
But then, you don't have to have a map in hand and locate the flower market. After all, the market is full of fragrant flowers. Both the color and the scent will reveal the location.
Though it is a lesser-visited attraction in Paris, it is one of the must-visit places. Since it is located on Champs Elysees, you on't have to allocate a separate time because, you will be strolling through the most beautiful street in Pars, several times during your stay.
Windmills
You don't have to make a dedicated effort to see them. They are visible from most parts of Montmartre. The unique aspect of these windmills is, they are made of wood!
Dahida Square
While you are exploring the Montmartre, you will come across a small square where you can see art-loving French people paying tributes to a past French music wizard, Dahida. What will strike you is the sincerity of those paying respect to their country's famous musician.
Villa Léandre
It is a cul-de-sac in Montmartre.
The cobbled street is where once Anglo-Saxons lived. Those houses are still there, intact, with beautifully painted outer walls.
You don't to walk down this narrow lane if you don't want to.
That's it about some of the under-visited attractions in Paris.