The map of France reveals its neighboring countries. Including Italy, and Switzerland, you can visit the rest of the countries from Paris as day trips. I mean you can leave Paris in the morning, go to Belgium (example) , take a bus tour of Brussels, buy edible gifts (chocolates), waffles, and glass artifacts, and return in the night to Paris. Let us discuss country hopping from Paris. Let me cover 8 easy day trips from Paris to the adjoining countries.
How do you like that? Wouldn't it be cool? Similarly, you can visit as many as 8 European countries from Paris as day trips.
Of course, you can overstay in any of the countries if you feel you have not seen enough. Either get back to Paris or simply hop to another nearby country.
As you do island hopping in Greece or Italy, do country hopping keeping Paris as your base.
Very convenient-eh?
Country Hopping from Paris: 8 Easy Day Trips from Paris
Let us see which countries you can hop to, from Paris and return the same day or maximum a day after.
Remember, this country hopping is not at all expensive and does not include flying!
Road or rail will be your mode of transportation.
Belgium
Germany
Luxembourg
Netherlands
Switzerland
Italy
England
Monaco
Belgium
The distance from Paris to Brussels in Belgium is a little over 300 km. A high-speed train will get you to the city of glass and chocolates in about 90 minutes only!
For spot eating, try the world-class Belgium Waffles.
A quick bus tour of Brussels may last 6 hours. This would include a stop for lunch, and some time for shopping for chocolates and glass gifts.
Belgium is also known for buying high-quality diamonds. After your guided tour, you can spend two leisure hours to buy diamond jewelry, visit a few tourist land marks, and catch a late night train to Paris.
Popular Sights in Brussels include"
Grand Palace
Michael Cathedral
Automium
Art World
In addition, there is feast for art lovers by way of art exhibitions, museums, and art galleries.
Church of our Blessed Lady of the Sablon
Remember to drink one or two cans of famous Belgium beer before you board the train to Paris.
Two different countries mean different languages, strange cuisines, and awe-inspiring buildings and unique culture.
Germany
Strasbourg is a German city and is the closest to Paris.. The distance between the two cities of France and Germany is 500 km roughly.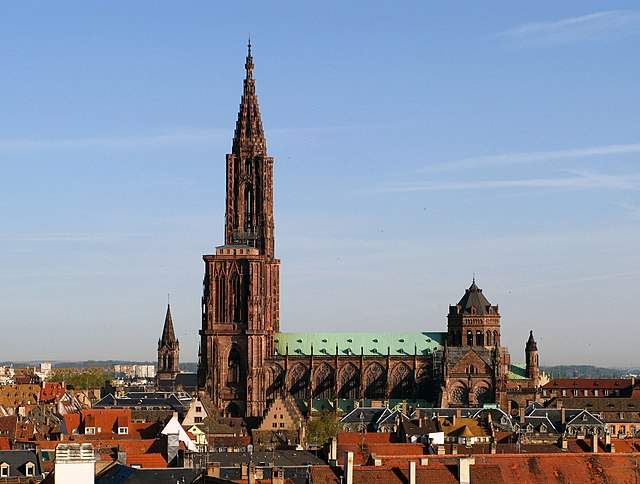 It is quite a distance but don't fret, buddy. High-speed trains deposit you in the Strasbourg railway station platform in less than two hours.  This is a direct train service.
Popular Places to See in Strasbourg:
Rhine River (you can even contemplate a short ride in Rhine).
Notre-Dame cathedral
Barrage Vauban
The Gothic architecture is something that will arrest our stride. These buildings are imposing with intricate carvings.
The city's heritage buildings take you back to historic Roman reign.
Strasbourg is well-known for shopping myriad memorabilia. As many as 50 places are recommended for going on a shopping spree in this German city.
If shopping in a foreign country gives you at most pleasure, you extend your stay by a day.
Excellent country hopping from Paris-eh?
Luxembourg
Luxembourg is an independent country that is sandwiched between France, Belgium, and Germany.
Paris to Luxembourg City (the capital of Luxembourg) distance is 375 km. It is almost 90 degrees east of Paris.
A superfast train from Paris will get you to Luxembourg City in a little more than two hours.
There are 8 trips a day from Paris. The first train leaves at 8.10 am. You will be in Luxembourg in time for a city day tour either by a bus or you can hire a private taxi.
The city bus tour is a convenient hop-on and hop-off excursion. You can get down at any one of the 8 stops, linger around, and get in to another bus at the same spot.
Interestingly, the cty bus tours are only of 1 hour duration. As a matter of fact, there is guided walk tour of Luxembourg City. This walking tour lasts just two hours.
This means you will be able to see all the top landmarks of the city and still have plenty of time to eat, drink, and shop.
Top Luxembourg tourist landmarks:
Notre-Dame Cathedral
Grand Ducal palace
National Museum
Pfaffenthal Elevator
It is an exciting glass elevator ride that gives you terrific views of the Luxembourg City. The lift takes you up to 220 feet high!
The top sight while going up is the Alzette River Valley.
National Dish
Luxembourg's national dish is a smoked collar of pork served with broad beans. If you insist on knowing its local name, here it is:
"Judd mat Gaardebounen"
Let us hop on to another neighboring country of Paris. In other words, let's continue our country hopping from Paris.
Netherlands
It is 500 km north of Paris. In just 3 hours and twenty minutes, a fast train from Paris delivers you at Amsterdam, the capital city of Netherlands.
Since the round trip travel consumes about 8 hours, you are left with just 4 hours in Amsterdam.
It is certainly not enough; you need to stay overnight, enjoy a boat ride in the city's canals, try to catch a few words of Dutch, and roam around after tasting the much celebrated Dutch cuisine and drinking Dutch beer.
However, there is a one-hour city bus tour that covers most of the top attractions in Amsterdam. I don't think there will be a lunch interval in between.
Still, you can be on your own for two hours before you catch the last train back to Paris.
Alternatively, you can spend an hour in a city boat tour, cruising the canals of the Dutch city. I am sure, the city's top buildings, monuments, and public parks will look more beautiful from a boat.
Compared to Venice cruises, Amsterdam's canals don't smell bad. Moreover, here, the boats are roomier than Venice.
To make you boast about your Amsterdam canal cruising experience, digest the following facts:
165 canals
1280 bridges
90 inland islands
75 km is the distance you will cover
60 to 65 minutes is the boat tour duration.
The entire canal network is recognized as World Heritage Site by the UNESCO.
I am sure; you will be center of attraction in a party when you reveal your knowledge about how to tour Amsterdam.
Switzerland
Imagine visiting the Europe's pride Switzerland from Paris in just about three hours by train! Isn't it the star attraction of your country hopping mission from Paris?
You can get down at Geneva. If you are ambitious and intend to spend one full day in Switzerland, you can reach Zurich, the more colorful city in 4 hours from Paris.
Or, you can get down in Geneva, roam around by walk for a couple of hours, and then catch a bus or a train to Zurich.
Don't forget to drink a big glass of hot drinking chocolate that is served on the Swiss train.
Buy as many chocolate bars as you want. Don't waste money on Swiss watches. Wearing a watch is not in vogue now.
Italy
The closest big Italian city from Paris is Turin. Don't expect to see Rome or Amalfi Coast.
Even to Turin, a normal train takes a big 11 and a half hour. The distance is 775 km.
However, a very high-speed train .from Paris reaches Turin in Italy in 5.5 hours only.
The train journey will take your breath away when you see the French Alps pass by.
Turin in Piedmont region was the capital of Italy for years in the 19 th century.
It is still not possible to return the same day to Paris in spite of the frequency of this superfast train. I read as many as 9 train services in a day between Paris and Turin, Italy.
Turin City Bus Tour:
Didn't you wish Turin was your city? It is beautiful beyond description. The entire Northern Italy will steal your heart.
The open-top bus tour of Turin lasts 90 minutes. It is more than sufficient to see every major landmark of Turin that includes:
Palazzo Madama
Gran Madre
San Carlo Piazza
River Po
Royal Palace
Like most of the bus tours in every major city in Europe, in Turin also, it wil be a hop-on, and hop-off type.
Don't forget to drink a glass of Bicerin.
It is a creamy beverage containing coffee, chocolate, and cream.
England
London must be our obvious choice if given a chance to go to the U.K. from Paris.
After all, the distance is only 470 km but we have to cross the English Channel.
The famous Eurostar bullet train will go under the English Channel. The train journey takes just 2 hours and 20 minutes, boss!
Imagine touring two world class cities London and Paris on the same day! It will be your trip of your lifetime and the experience of traveling under the sea in a train is something you can brag about throughout your life.
London City Tour in a Bus:
There are three different options such as an hour, 2.5 hours, and 3.5 hours.bus tours
If you are wise to choose the last option, you would be able to see every fantastic sight in London and still can spend another two hours for shopping.
See the glamorous blue open-top bus engaged for London city tour.
Don't worry about getting back to your Paris hotel; before 11 pm. There are 15 trips a day the Eurostar makes between London and Paris.
So, the under the sea train Eurosyat not only operates services to Paris but also to Belgium and the Netherland!
How about this experience for country-hopping from Paris?
Monaco
Monaco is a micro-nation sitting in the French Riviera. It is facing the Mediterranean Sea on France's south east coast. The distance between the two is nearly 1000 km.
I think you have to fly for this leg of country hopping from Paris. The flying duration is 1.5 hours.
If flying is beyond your budget, you van consider traveling in a train. The duration will be six to eight hours only.
Monaco is an independent nation and is a prestigious holiday destination for the French. In addition, having a chalet there permanently is a social status requirement.
The rich and famous of France are frequent Monaco almost every week. They need not go all the way to Las Vegas to satisfy their gambling urges.
Monaco is full of gambling houses, high-end resorts, swanky hotels, trendy bars, and beautifully decorated restaurants.
As a result, Monaco is very expensive vacation spot. It is the wealthiest place in Europe.
Though, a bus tour of Monaco is available, you can simply walk across the country (east to west) in less than an hour.
Even lengthwise, you can reacj the south end from its north end is 30 minutes.
The measurements are 4.8 km long and just 800 meters wide.
The Monaco City Tour in a Bus:
The duration is just an hour.
As staying is expensive in Monaco, you can return to Paris on the same day by train.
Catch the high-speed train from Monaco at 5.10 pm and reach Paris railway station by 12.30 am.
I hope this blog post is informative and useful to you if you're a globe trotter on a budget.