Quebec City is one of the largest cities in Canada. It is the capital of Quebec province and is located in eastern Canada. It  is easily the best city as far as tourist attractions are concerned. Among the myriad Quebec City attractions, French food is a primary attraction because the official language of Quebec is French.
When you like French cuisine, naturally, you would love to shop anything French-am right? Shopping is a very pleasant experience in it. There are several areas/streets in the city for happy shopping.
There is really no dearth of natural attractions, outdoor activities, and architectural marvels.
Quebec City Attractions:
Let us begin the tour of Quebec City.
But before we begin our tour, let us find out the cheap and best ways to see all the Quebec City attractions.
Quebec City Bus Tour
Similar to all the major cities in the world, it is also offers bus tours of the beautiful city. As a convenient measure for the passengers, the bus tour will be a hop-on, hop-off type.
It means you can get down from the bus at any stop, spend more time than the stipulated duration and hop in on the next bus that arrives at the same spot where you got down.
It will enable you to eat at a particular restaurant that you know of or buy something useful that you saw when the bus passed past the shop.
The bus tour will be on a double-decker bus with the top open if the weather permits. As a person living in Ottawa, I think the weather hardly permits such a luxury.
Apart from the bus tour of the City, there are bus tours that take you to Orleans Island and a tour on the St Lawrence River where you can watch several species of whales including the rare Beluga Whales and Common Minke Whales. Mind you, buddy, these whales are living in the St. Lawrence River and not in an ocean which is their natural habitat.
Your hotel's front desk will help you buy the bus tour tickets.
Top Quebec City attractions to see.
Montgomery Falls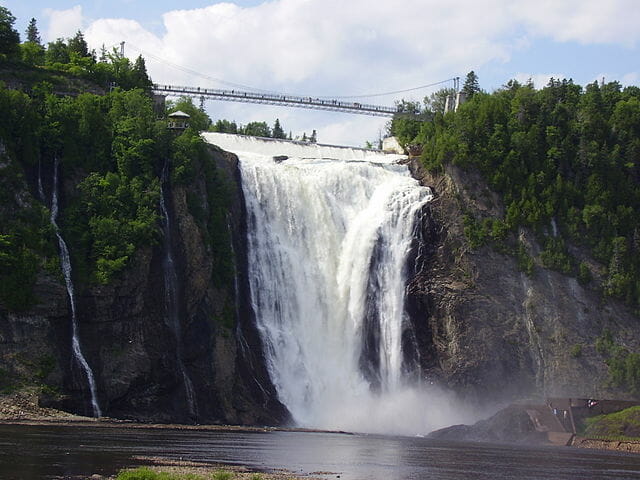 How do you like it? Do you know that boats of a height which is much more than Niagara Falls? Yes, the height of the Montgomery Falls (276 feet) is one and a half times more than the Niagara Falls (167 feet). That's 100 feet taller, buddy. Canadians-up your collar!
Montgomery River is the feeder of the falls in its own name. It's a tributary river of the St. Lawrence River. In fact, the water from the cliff falls into the St. Lawrence River. Is it a natural reunion?
Montgomery Falls attracts approximately 1 million tourists per annum. The surrounding area is developed into a nice park.
In order to access the top of the falls just to get a breathtaking view, cable car services are available. They call it 'funitel'. It takes you from the base of the Montgomery Falls to the top of it, The aerial view is simply stunning.
If the queue for the funitel rail is long and you have no time, go up a long flight of stairs to get the same aerial view.
The video below will make your mouth agape. You can watch both the cable car ride and the staircase view.
During the winter, the water becomes ice and the scene is still spectacular.
It's literally "Freeze"-eh?
There is a third way to get an aerial view of Montgomery Falls. You can go up and walk over a suspension bridge that is built way above the falls.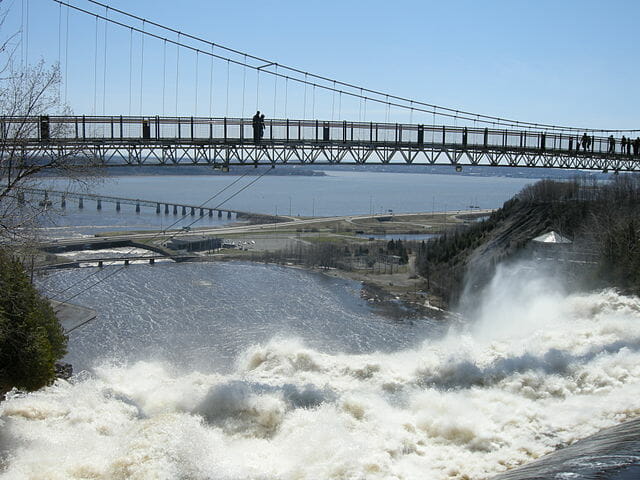 Isn't it a panoramic view?
Other waterfalls to see in Quebec City:
St. Anne Waterfall
Delaney Waterfall
Jean Larose Waterfalls
Chaudiere Falls
Ile d' Orleans (Orleans Island)
The word 'Ile' means an island. In this case, it is a river island and it is one of the historic Quebec City attractions. It is where the first French colony was established in Quebec province.
In spite of it being a river island in the St. Lawrence River, it is large enough to host about 10,000 permanent residents! Hey, that is a sprawling river island indeed!
Orleans Island is located 5 km from the center of the City. It is accessible over a road bridge from Beauport, a residential area in the City.
What a scenic ride it will be! The entire 4.5 km stretch will be will sweep you apart. Consider driving a car with an open roof if the weather permits.
Canyon St. Anne
What a sight! The St. Anne River is falling over the rocks of St. Anne Canyon from a height of 240 feet! It seems canyons play a major in Canada's tourism.
This fantastic Quebec City attraction is located slightly far off from the city's downtown. Nearly 40 km to be covered but the drive will be scenic along the St. Lawrence River.
You can fearlessly look down at the bottom of the canyon from a suspension bridge that runs across the gorge. The canyon's base is way down at 200 feet! That will be a dizzying view from the suspension bridge.
Charlevoix Tourist Train
Charlevoix is a scenic town that is located 120 km from  downtown. You can cover the distance in about 80 minutes. The drive will be worth it because of the natural beauty of Charlevoix and its surrounding Laurentian Mountain range.
Everywhere you turn you will see long stretches of meadows. In addition, there is a fjord called Saguenay. It is a river fjord that is extremely rare in the world.
Do you want to see how the Saguenay Fjord looks like? Take a look at the picture of it below.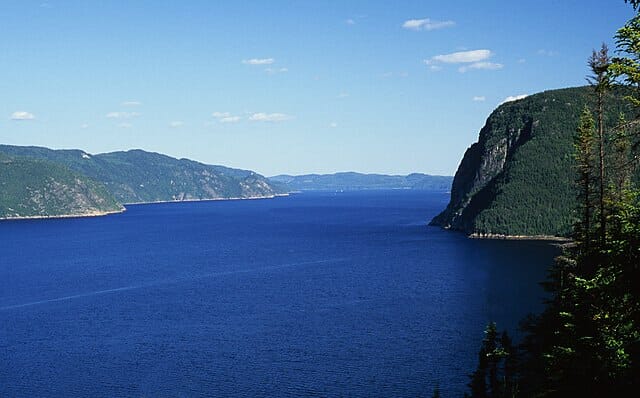 When it started attracting about a hundred thousand visitors, the Canadian Government developed a national park and named it Saguenay Fjord National Park.
This national park offers several kilometers of hiking and skiing trail. Moreover, there are facilities for kayaking on the Saguenay River Fjord. If you want to stay overnight overlooking the beautiful fjord, there are campgrounds and cabins at the site.
Charlevoix  Tourist Train:
hIn order to admire the picturesque Charlevoix region, there is a tourist train that connects Beauport (the site of Montgomery Falls) and La Malbaie, Charlevoix.
Though the train ride will be beautiful, it takes gruesome fours to reach the spot and the same applies for the return journey.
No, for me.
Cap Tourmente
It's beautiful. Looks just ideal as a habitat for wildlife.
Cap Tourmente Wildlife Area (why not a wildlife sanctuary or reserve) is located close to to it. Only 48 km divides the two points. It is past St. Anne canyon in Beaupre. Hence, you can combine the visit to these two attractions.
The star attraction in this wildlife area is the Snow Goose. They are migratory birds. A 20 km scenic walking trail is passionately undertaken by Canadians who are ardent walkers and outdoor lovers.
During your hiking, you will be to see the lovely St. Lawrence River, mountains in the distance, and marshlands where you can spot a colony of Snow Geese and house sparrows.
Other birds that you can spot in this national wildlife area:
Warblers
Wood Duck
St. Martin Harrier
Pileated Woodpecker
Scarlet Tanager
Ruffled Grouse
American Black Duck
Redstart
Indigo Bunting
What a beauty!
Chickadee
Red Cardinal
Blue Jay
It is a regular visitor to our home's backyard where we have kept a few bird feeders.
Old Quebec
Who would not love to preserve and protect such an architectural marvel? At the top of the building, what you see is the magnificent Chateau Fontenac. This picture must have been taken during the fall season which is evident from the dense orange foliage in the front.
Old Quebec is divided into Upper Town and Lower Town. However, both the towns are rich in history. The entire old Quebec is a UNESCO World Heritage Site.
Every building will steal your heart with its intrinsic structural beauty. Here is another example:
Gare du Palais, a bus and train terminal in Old Quebec.
Dufferin Terrace
It's a sprawling public watching area that is similar to the piazzas of Italy. As you take a stroll on the impressive boardwalk, the Chateau Fontenac is visible from everywhere.
Incidentally, the breathtaking Chateau Fontenac is a palatial hotel in the old city. See the convenient benches that lay neatly arranged. If you sit there, you will spend a considerable amount of time watching the people that gather there.
The whole of two forts and the Chateau Fontenac are facing the St. Lawrence River, just abutting the boardwalk.
Dufferin Terrace is undoubtedly one of the finest Quebec City attractions.
Petit Champlain
If you want to look at a century-old Canadain city, how the buildings looked, the old shops, and small cafes, you should visit the Petit Champlain,
I hope you can spot the Chateau Fontenac in the background of Petit Champlain.
Here, have a look at another image of the busy Petit Champlain and you will not hesitate a second to add this Quebec City attraction to your bucket list of places to see once in a lifetime.
It is a street in this old area and it is called Rue de Petit Champlain. It is actually a short street measuring about one-fourth of a kilometer. The antique appearance of the street attracts lots of Americans across the border.
Ramparts of Quebec City
Have you ever been inside a walled city that you might have seen in movies? The walls on all four sides are said to defend whatever is inside the walls.
Inside the tall walls and the gate lies one part of the Upper Town in Old Quebec.
Jacques-Cartier National Park
Countless wildlife lives in the valleys and slopes of Laurentian Mountain. In order to protect them and the flora, this national park was earmarked. It is one of the major attractions in Quebec City that pulls especially the students, nature lovers, and wildlife enthusiasts.
A great range of wild animals can b spotted in this national park quite frequently.
Caribou
Canadian Lynx
Red Fox
The Jacques Cartier River that flows through this region is home at attractive fish called Brook Trout.
It is quite a large national park comprising numerous hiking trails. During the winter, these trails become skiing trails.
Sainte-Anne-de-Beaupré Shrine
Among many churches of repute in Quebec City, this one is quite awesome.
This impressive basilica is rated as a national shrine in Canada. It truly deserved such a prestigious status. It is the site of several miracles. That fact alone is sufficient for hundreds of visitors-eh?
Village Vacances Valcartier
It is a water theme park comprising both indoor and outdoor versions. Obviously, it is a big attraction.
I noticed a huge wave pool, and several waterslides out of which one is pretty steep and long. It is apparent that winter doesn't deter visitors including children to come to the water park and enjoy to the hilt.
I liked the concept of an ice hotel that is open only when the snow arrives.
Quebec Aquarium
The Quebec Aquarium is a must-see attraction. As many 10k marine creatures can be seen here. They include fish, amphibians, molluscs, and mammals.
This is the biggest attraction in this aquarium from where you can see thousands of marine life, swimming freely, oblivious of us, staring at them.
Ferry ride in the St. Lawrence River
A ferry ride in the St. Lawrence River is a must-do during your Quebec City tour. It is a very short duration ride lasting just 12 minutes. Nevertheless, the entire 12 minutes will keep you busy taking photographs and video shooting of the stunning scenery.
Vallee Bras-du-Nord
It is a favorite place among walkers and bikers. It is a park comprising several networks of trails going through dense jungle, rugged rocky areas, and mountain streams. As long as 80 km of hiking trails are used by outdoor activities buffs.
Portneuf Regional Natural Park
Saint Anne River with coniferous forests on either side.
The entire natural park is spread over 5 municipalities that are located roughly 80 km from the town. Surprisingly, apart from rafting, hiking, canoeing, and camping, it is an area that is used to study 'speleology' and practice 'hebertism'.
The first is a study about caves, karst rocks, how wildlife lives in caves, etc.
Even during winter, most of the activities won't stop. The added thing to do when the snow fills the area, cross country skiing is played. In addition to skiing, a related winter sport activity called 'snowshoeing' is also enjoyed. It involved wearing a special pair of snowshoes and walking on the snow.
In addition to wearing snowshoes, you have to use ski poles to balance yourself while walking in the snow.
It seems a tricky sport on the snow.
You can hire ATV also and drive in the snow. I think it is called a snowmobile.
Shopping in Quebec City
I have finally come to the most enjoyable attraction in the City. Shopping is one we enjoy wherever we travel. Even if it is a village, we would hunt for farmers' products that include farm produces and handicrafts.
There are quite a few spots in the City that are known for shopping.
The Petit Champlain street in Old Quebec is the most recommended one.
The old port area is another shopping district where you can buy antiques and replicas of historic monuments. It includes paintings, sculptures, and photographs.
Rue St. Jheananother street for casual shopping after enjoying a relaxing cup of coffee or a mug of beer.
Apart from street shopping, there also shopping malls for buying branded merchandise.
So, when are you planning to visit Quebec City? You can go there any time of the year.