The reason for choosing this topic to compose is the fact that Kota Kinabalu has more than 1000 hotels! That include resorts, hotels, beach cottages, dormitories, and rooms in hostels. Here I have listed out 7 Cheap Hotels in Kota Kinabalu.
This many numbers of options to stay imply that tourism continues to grow at a staggering rate.
With 1000+ hotels, it certainly difficult to find budget accommodations in Kota Kinabalu.
Just for your information, Kota Kinabalu is the capital of Sabah, one of the states in Malaysia. Sabah state is part of the Malaysian side of Borneo, the third-largest island in the world. It boasts of high tourist traffic in the world for its most beautiful natural attractions. It is full of rainforests and stunning beaches.
In addition, the wildlife range is diverse in Borneo. The major attraction is the colony of orangutans, one of the primate species. Even a species of elephant and rhino are endemic to Borneo. Above all, the avifauna includes extreme diversity and endemic species.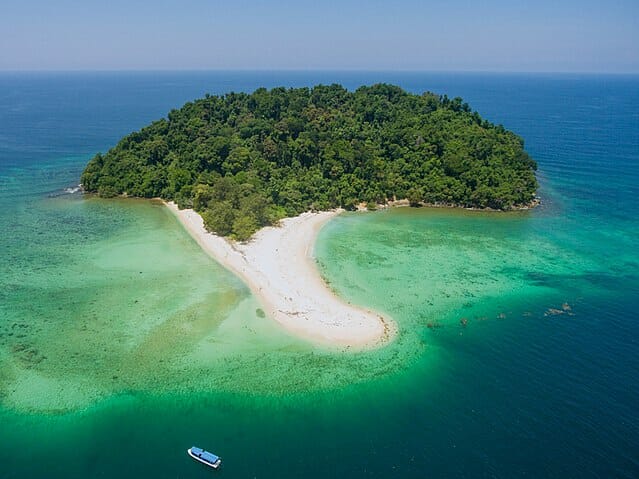 Borneo Island comprises an incredible 7,43,000+ sq. Km is owned by three countries namely, Malaysia, Indonesia, and Brunei.
Now, do you realize why there are 1000+ options to stay in Kota Kinabalu, Sabah, Borneo? As a matter of fact, Malaysia owns only a smaller portion of Borneo. Indonesia's portion of Borneo called Kalimantan comprises 73% of Borneo! It is much more beautiful than Sabah or Brunei.
My aim is to provide a list of budget hotels in Kota Kinabalu. They include hostels and single rooms in cheap hotels.
Cheap Hotels in Kota Kinabalu to Stay:
Grandis Hotels and Resorts
To start with, I am recommending Grandis Hotels and Resorts. In spite of a resort, it is one of the pretty affordable accommodations in Kota Kinabalu.
Its address is given below.
Suria Sabah Shopping Mall 1, Jalan Tun Fuad Stephens, Kota Kinabalu 88000, Malaysia.
Don't let the grandness of the beachfront hotel scare you away, buddy!
This hotel's location is its advantage. One of the busy terminals of Sabah is Kota Kinabalu's Jesselton Point Ferry Terminal.
Moreover, the international airport of Kita Kinabalu is also not far away. A fifteen minutes drive is all you need to reach the airport.
The room starts at just $45 per night. Even a sea view room costs only $6
Avangio Hotel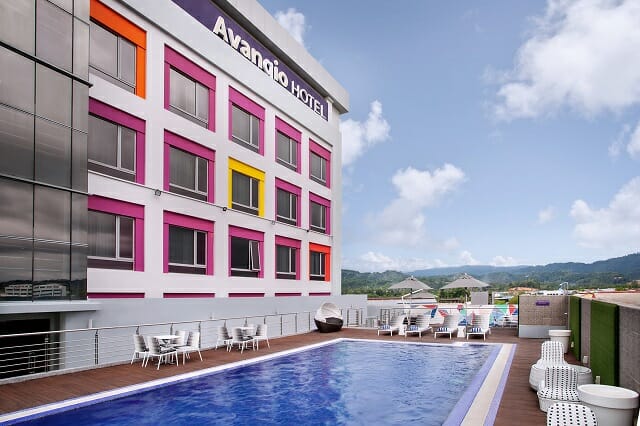 To impress you and to encourage you to read further, I will reveal the hotel's room price. It starts with just $32 per night!
Another encouraging factor is below.
How do you like the two bedroom's appearance?
For your price, you get the following amenities:
Free Wi-Fi
Workout hall
Restaurant
Spa
Address: Jalan Metro 2, Off, Jln Lintas, Metro Town, 88300 Kota Kinabalu, Sabah, Malaysia
Phone: +60 88-536 888
In case you are not able to reach the hotel by phone, you can book by visiting the URL below. Yes, this affordable accommodation in Kita Kinabalu is managed by Agoda, one of the hotel aggregators on the web.
The hotel is close to various tourist landmarks including the Sapi Island.
The distance between the two points is only 8 km! It is a peaceful island that is great for swimming.
I think I would choose the Avangio Hotel to stay in. It definitely falls under the category of budget hotels in Kota Kinabalu.
Hin Loi Guesthouse
Be ready for the biggest surprise about this budget hotel in Kota Kinabalu. It is as low as $17 per night!
The guesthouse is located at 9, Jalan Serih, Tanjung Aru, Kota Kinabalu, Sabah.
By looking at the overall rating of above 8 on booking.com, it is rated as one of the cheapest places in Kota Kinabalu.
As per the modern norms, you are attracted by offering free Wi-Fi connectivity. . The first question on your mind is answered-right?
The next big worry is to reach one of the affordable accommodations in Kota Kinabalu from the airport. Don't worry. You are assured of airport transfer.
I think you may have to shell out a bit which is worth paying in a foreign country. Your safety is taken care of-eh?
Even if you are traveling with your spouse, you pay only $17. Wow. I would say it is certainly dirt cheap in Malaysia's top tourist spot.
In case your travel plan doesn't go through, you can always cancel your booking without incurring any penalty.
Just $17 per night in Kota Kinabalu is a steal. Added to this cheap price, the room comes with an attached bathroom. Even basic toiletries are provided free of cost.
Other facilities of the room include air-conditioning.
Hin Lio guesthouse has a Facebook page through which you can book
Promenade Service Apartments
Address:
3-G-17, 3-G-17, Lorong Api – Api 2, Api-api Centre, 88000 Kota Kinabalu, Sabah, Malaysia
Phone: +60 88-260 888
It charges only $17 per night. Rooms are fitted with air-conditioning. Laundry service is available. That will be a big relief for the guests.
I would say it has an international standard of assistance to disabled persons by providing wheelchair-accessible facilities.
If you are traveling with your entire family, larger rooms are available.
Skypod Hostel
Address:
Lot 38, Jalan Ikan Juara 1, Sadong Jaya, 88100 Kota Kinabalu, Sabah, Malaysia
Phone: +60 19-991 7221
Like any hostel, Skypod Hostel is also centrally located with plenty of amenities. Even the Malaysian railway station is 5 minutes walk away.
Another big plus is the availability of an ATM right on the hotel's premises. Generally, hostels don't provide a restaurant but Skypod Hostel is fitted with a restaurant and also a bar!
There is no air conditioning but for just $10 per night, you can expect that luxury. Nonetheless, rooms are fitted with a fan.
The hostel arranges a lot of adventure activities such as mountaineering.
Skypod hostel is one of the more cheapest places in Kota Kinabalu to stay.
Motel Terminal Inn
It is a motel and it is one of the cheapest places in Kota Kinabalu. Brace yourself, mate! The basic room with two beds costs only $6 per night!.
Address: No. 23-01, Lot 60, Blk H, Jalan Tuaran, Inanam Business Centre, 88450 Kota Kinabalu, Sabah, Malaysia
Phone: +60 88-393 781
Internet access is free. All rooms can accommodate two persons.
If you are plus size, you will need a bigger bed. They provide that and it costs $9 per night.
New Capital Hotel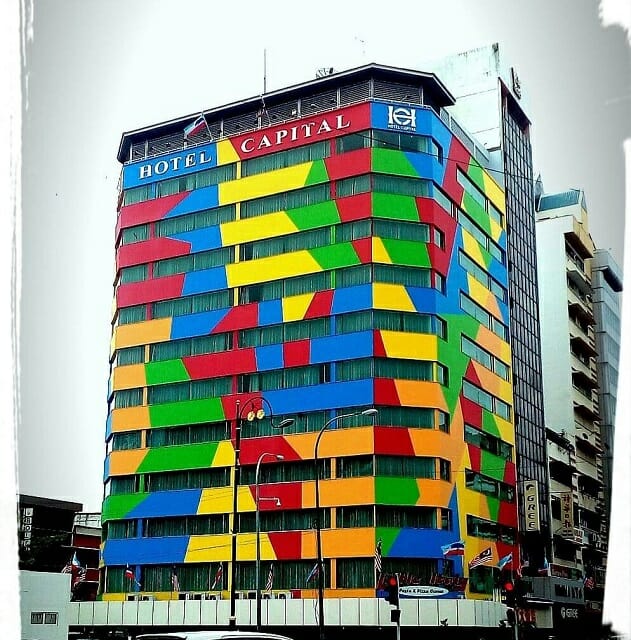 Address:
7 Jalan Laiman Diki , Central Business District, Kota Kinabalu, Malaysia
This seems to be the most colorful hotel in all of Malaysia.
You can book a room for your family for just $12 per night. It has a great locational advantage for budget travelers. Most of the tourist sightseeing spots are close by and you don't have to spend on local transportation.
$12 per night for a 3-star hotel in Kota Kinabalu is within the reach of budget travelers and backpackers.
I have provided very useful information for those who are looking for budget accommodations in Kota Kinabalu, Sabah, Borneo Island, Malaysia.