Agawa Canyon Train Ride is a breathtaking train ride through a canyon in Canada.
How about going through a stunning canyon on a train? Agawa Canyon is right here in Northeast Ontario's Algomo District.
The train goes through some exemplary picturesque routes filled with lush green forests revealing never-seen-before flora. In addition, true to the word, hidden waterfalls will expose themselves with thundering noise as the water rolls through the great canyon walls to hit the bottom of the canyon at nearly 575 feet!
Agawa Canyon Train Ride
The Agawa Canyon train ride will put your heart in your mouth. You will scream with pent-up delight as the train journey goes through the canyon.
Before I describe further about Agawa Canyon Wilderness Park, I want you to watch this short video clip showing the Agawa canyon Train Tour.
From where does this Agawa Train tour starts?
Head to Sault Ste. Marie, a city in Algoma District, Ontario. The train journey starts from this sparsely populated Canadian city that is closer to Michigan (325 km) than Toronto (700 km).
When you buy your train tour ticket, it will be a round trip one. To and fro, it will be 360 km journey. There will be a break of one and a half hours at the Agawa Canyon Wilderness Park.
During the time at the site of the canyon, you can explore a few stunning trails, see the hidden waterfalls, and spotting a few wildlife.
The address of the Agawa Canyon Train station is 99, Huron Street, Sault Ste. Marie.
The first train tour doesn't begin until August 1st. I read the tours will last until October 10th.
The train usually departs at 8 am and return at 6 pm.
What can you do in Agawa Canyon Park?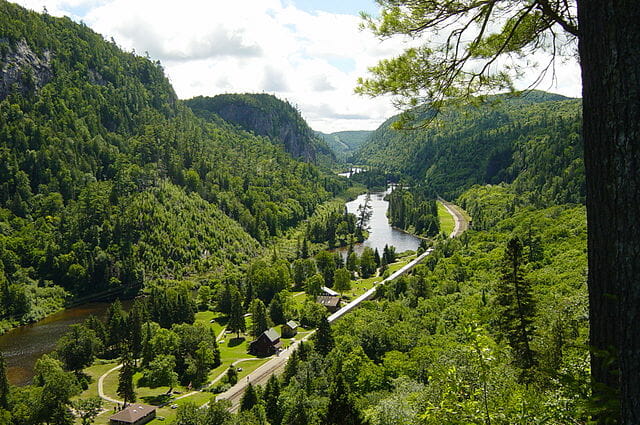 After the fairy tale train journey, you deboard the train to spend some exciting 90 minutes at the site of the canyon.
You can climb up a staircase scaling the canyon walls to reach an observation platform. It is located at a height of 250 feet giving you unprecedented view of the canyon, the surrounding forests and the Agawa River flowing way down below at the bottom of the Agawa Canyon. It will be a 350-step climb, boss!
Visit at least two of the four waterfalls that feed the Agawa River. When you make up your mind to do that, look for signs to reach Bridal Veil Falls because it is the tallest of the four waterfalls. The water begins to fall from a height of 225 feet whereas the height of the canyon is 575 feet!
The names of the other three waterfalls are South Black Beaver Falls, Otter Creek Falls, and North Black Beaver Falls. River Agawa acts as an ideal habitat for Otters and Beavers.
Wildlife watching in Agawa Canyon Wilderness Park
As stated earlier, you can easily spot the beavers and otters. The crevices on the canyon walls provide home to American Kestrels and Golden Eagles. You know cliffs and crevices are simply adored by raptors.
Other forest birds that you can spot if you are lucky include the great blue heron and the attractive American Robin that is known for sweet song.
The area has some inviting walking trails but unfortunately, we have only very short time to explore them. Among the trails, the River Trail and Otter Creek Trail are said to be absolutely beautiful. I think we will have enough time to walk through the 'lookout trail' that is the shortest of all the trails.
I hope this blog post has lured you into book your once in a lifetime train ride. Go to their website to buy the ticket. Don't procrastinate, folks. Tickets sell out faster than you foresee.
There is a list of FAQs and answers at the website that you will find useful.
Is there anything to do in Sault Ste. Marie if you arrive early?
There are a handful of attractions that can keep you engaged for about 4 hours. Sault Ste. Marie Museum
Sault Ste. Marie Canal Historic Site
Whitefish Island
Batchawana Bay Provincial Park
Algoma Art Galley
Lake Superior Provincial Park
Stokey Creek Lodge
Sault Locks Boat Tour
Looking at the list of places to see in Sault Ste. Marie, it is recommended to time your arrival in advance to the train departure time. There are hotels to stay in case you plan a weekend trip for the Agawa Canyon Train Tour.