Would you like to go on a voyage to Africa?
Do you know how many countries constitute the African continent? Don't begin to count. There are 54 countries in Africa. The majority of them are land-locked; I mean, they don't face any sea.
In spite of this fact, every nation is different from others in terms of geography and culture.
Even though the entire African continent is floating on the water, it is not an island because the land area is too huge to term it an island.
Here are the different seas and oceans that surround Africa.
East Africa faces the Indian Ocean and the Red Sea.
South Africa faces both the Indian and the Atlantic Oceans.
West Africa is facing the Atlantic Ocean,
North Africa faces the Mediterranean Sea.
How About Undertaking a Voyage to Africa?
The continent is bounded on the west by the Atlantic Ocean, on the north by the Mediterranean Sea, on the east by the Red Sea and the Indian Ocean, and on the south by the mingling waters of the Atlantic and Indian oceans.
If there is a full cruise to Africa, here is a map of Africa showing all the countries on different coasts.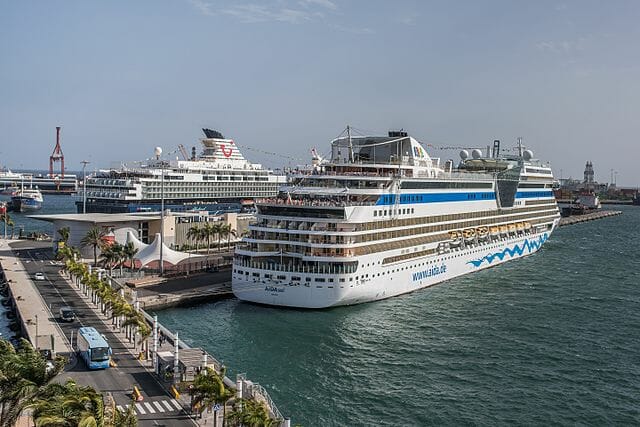 Starting from East Africa, see the countries facing the Red Sea and the Indian Ocean. Finally, on the north, facing the Mediterranean Sea, you can see the following African countries.
Morocco
Algeria
Libya
Egypt
Wouldn't you look forward eagerly to set your feet in each of the coastal countries?
Imagine so many game parks where you can go on a safari, find hidden waterfalls in the forests, stay in rustic forest lodges or treehouses, see savannahs, great deserts, rain forests, eat myriad African cuisine, and above all interact with numerous African natives that speak totally different languages. Do you know that Africans speak a total of 75 languages and Arabic is the most spoken language in Africa?
African Countries:
In case you want to know which are all the countries you can visit during the full Africa voyage? Read the list of coastal African countries starting from East Africa.
Egypt
Sudan
Eritrea
Djibouti
Somalia
Bolivia
Kenya
Tanzania
Nairobi
Angola
Congo
Gabon
Equatorial Guinea
Cameroon
Nigeria
Benin
Togo
Sao Tome and Principe
Ghana
Côte d'Ivoire
Liberia
Sierra Leone
Guinea
Guinea Bissau
The Gambia
Senegal
Mauritania
Western Sahara
Morocco
Tunisia
Algeria
Libya
Egypt (it faces both the Mediterranean Sea and the Red Sea
What an impressive list of African countries that are located in coastal areas!
Let us now find out which cruise lines offer Africa voyages. Voyages to Africa usually focus on wildlife watching regions. Of course, there are voyages to Africa that cover spectacular beaches and remote islands.
For wine lovers and wine tasters, there are special cruises to African wine countries.
From the list of various cruises to Africa, you will find it difficult to choose because every cruise promises an exotic adventure.
When is the best time to go on a voyage to Africa?
From November to mid-May is the best time because that is when the wild animals come out of hibernation.
Monsoon begins in April and ends in June If you are an avid fan of seeing reptiles and insects of Africa, this is the best season but I doubt you will find cruise lines that offer cruises to Africa during the rainy season.
Voyage to Africa:
Grand African Voyage:
Holland America offers a Grand African voyage that lasts a spellbinding 71 nights. It leaves the harbor of Fort Lauderdale on 10 October 2022.
It is a round trip cruise to Africa and terminates at the starting point on 20th December 2022.
If you are looking for a shorter duration of Africa cruise, you can choose the 44 day Grand Africa voyage by Holland America cruise line.
It is a 27 Day Grand Africa Cruise. Is 44 days cruise still out of your reach? Holland America understands your needs. The reputed cruise line offers a 27-day Grand Africa voyage. It leaves the shores of Cape Town on 23rd November and terminates in Ghana on December 4th, 2022.
Western Africa Cruise
It offers 21 day Africa voyage trip. It covers only the west African nations only. The voyage starts from Cape Town and ends strangely in Lisbon, Portugal.
This Western African cruise has already ended and you will have to await the 2023 cruise announcement.
The added attractions for this voyage will be visiting the Canary Islands in Spain and the Madeira Islands of Portugal. These islands are located in the Atlantic Ocean.
Here is the route map of the Western Africa cruise by Azamara.
For booking this cruise and other Africa voyages by Azamara, go to this link.
There are some more cruises to Africa but they are all of the very short duration starting from as short as 3 days! Certainly, the African voyage deserves better coverage-right?
I wish and hope only Holland America can offer full coverage of all the African coastal countries starting from Egypt and ending in Egypt. I am sure such a detailed voyage to Africa can command high demand from cruise lovers.