In this blog post, you will come to know about top 10 places to see in British Columbia.
That's the map of all provinces in Canada. I used to live in ON (Ontario) province. British Columbia province is marked in red and is on the extreme left on the above map. On the other side of the BC province lies the Pacific Ocean.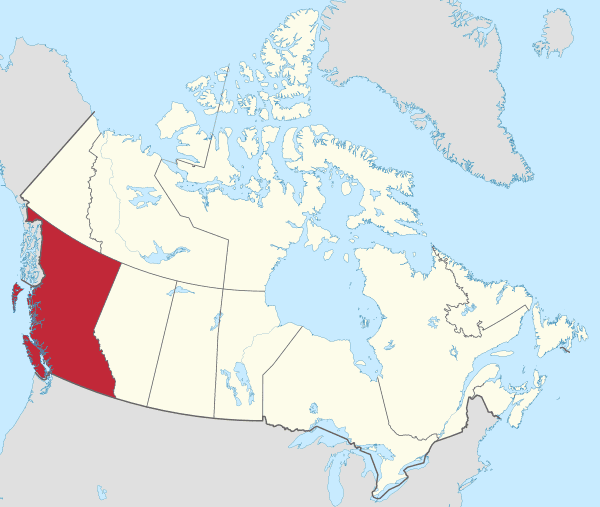 Unlike Ontario, BC is diverse geographically, comprising rocky mountains, lovely beaches on the Pacific Coast, islands, sound, fjord, meadows, forests, and even a desert!
Fantastic Places to See in British Columbia
Actually, some of the weekend holiday destinations in BC would demand more than a weekend. Therefore, give yourself the luxury of extending your stay when you feel like so. Yield to your urges; don't resist. You may not get another chance.
Okanagen Desert
I know you are curious to know how the land of extreme snow has a desert within its geography. I too could not believe there can be an arid land in Canada.
Okanagen Desert is located in the southern BC.
Unlike other deserts such as Thar, the Okanagen desert is not covered with endless sand. This Canadian desert is covered with shrubs that are geographically called "Shrub-steppe". They grow only in semi-arid climate.
Collectively the Okanagen desert is called a semi-arid shrubland.
The nearest city to reach this weekend escape in BC is Osoyoos. It is the last city in Southern BC and the U.S. state of Washington is only 4 km away from here.
The dense shrub is habitat for more than 100 species of invertebrates such as insects, spiders, etc that have no backbone. Out of the 100 invertebrates, 80% are endemic and this unique fact draws wildlife enthusiasts to Okanagen Desert.
Have you heard of owls living in burrows? There is a species of owls known as 'burrowing owls'. You can spot of them in the Okanagen Desert.
Other wildlife that is supported by the shrubs of Okanagen Desert includes:
Red Bat
Peregrine Falcon
Sage Grouse
Tiger Salamdar. A 'salamander' will look like a lizard but it is an amphibian.
You don't expect to see anything beautiful in Okanagen Desert. It will be mostly bats, owls, salamanders, frogs, several more invertebrates.
There are more than 15 hotels in Osoyoos to stay and enter the Okanagen Desert. Osoyoos city is located 400 km east of Vancouver city.
Harrison Hot Springs
The whole place is very picturesque with mountain, forest, and lake. Harrison Hot Springs are located in Harrison Hot Springs village. It is a perfect weekend holiday destination in BC.
Similar to all the natural geysers, these thermal hot water baths have medicinal and therapeutic properties.
After you enjoy a session playing in the natural hot water, you can eat and drink in the small downtown of Harrison Village.
The village community's life revolves around serving the needs of the tourists from various parts of British Columbia.
The distance being just 140 km from Vancouver city, the Harrison Springs is an ideal weekend getaway in BC, especially for the residents of Vancouver.
The temperature differs between both the hot springs. You can expect around 40 degree and 65 degree Celsius.
The adjacent Harrison Lake offers boating. Surprisingly, the lake is equipped with a generous portion of a beach.
You are allowed to catch the Sturgeon fish from the lake. The Canadians are fond of kayaking, angling, and having picnic with their full family on the lake beach.
A small water park is built on the lake's shore. You get inflatables to enjoy floating on the lake.
There is one more mini water theme park near Bridal Falls.
In addition, if you are a golf buff, try to cover a few holes in the golf course that has 9 holes!
If you want to catch a glimpse of the mystical man called the "Big Foot", you can try your luck by visiting the Sasquatch Provincial Park.
A handful of hotels and expensive resorts cater to the needs of the tourists to this hot spot weekend holiday destination in BC.
Vancouver Island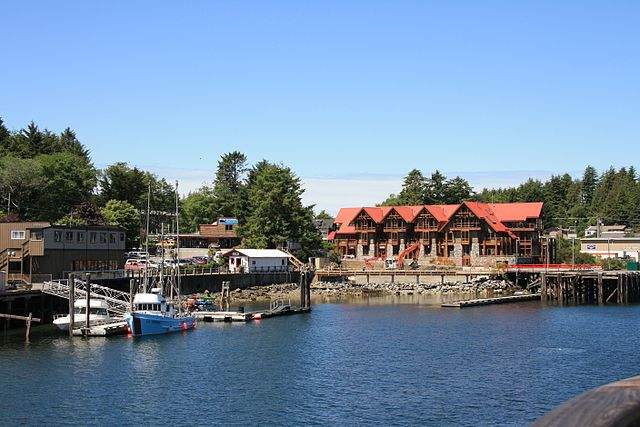 From Vancouver city, Vancouver Island is 175 km away. However, since you will be heading to Victoria City's ferry terminal, you can reach the beautiful island of Vancouver in roughly 3 hours. The distance covered during voyage is 115 km.
You can take the flight from Vancouver city to Victoria City. This is an easier option and takes only 35 minutes.
Vancouver Island is one the most visited weekend getaways in BC.
Vancouver Island is a pretty large island comprising a whopping 32,100 sq. km. Its length and breadth measure 450 km by 100 km.
The island's breathtaking natural beauty constitutes dense rainforests, lengthy beaches, and incredible wildlife.
Let me clear a common confusion regarding Vancouver.
There is a big, thriving city called Vancouver and is located 115 km north of Victoria City on the mainland BC.
Vancouver Island
Victoria City is located on the southern-most tip of Vancouver Island.
The Vancouver Island and Vancouver city are separated by 173 km.
The Vancouver Island is with Victoria City at its southern tip.
The parts of the Pacific Ocean that separate the Vancouver Island from the mainland BC are known as Johnstone Strait, and Queen Charlotte Strait.
The unique geography of Vancouver Island is the presence over 25 lakes in spite of being an island that is surrounded by the Pacific Ocean on all its sides. Amazing water bodies!
In addition, 4 rivers are flowing through Vancouver Island and are emptying their water into the Pacific Ocean! I never heard ofa fresh water river in an island.
The generally warm climate of Vancouver Island is the biggest attraction factor for all of the Canadians including those living in Ontario, some 5000 km away.
Still, you can see snow falling on Mount Washington whose peak stands at 5200 feet!
On the west coast of Vancouver Island are the famous dense rainforests and some islands and islets.
Victoria City
Victoria City is the capital of British Columbia province and it is located on the Vancouver Island instead of mainland BC. I think it is a unique fact and nowhere else in the world you can find the capital of a large mainland on an adjacent island.
The area of BC is a mind-boggling 1 million sq. km approximately.
Another interesting fact about Victoria City is its size. It is smaller than Vancouver City, the biggest city in British Columbia.
Victoria City has a big museum known as Royal BC Museum. It is one of the must-see places in BC. The museum displays are over an unbelievable 7 million objects. It's no wonder rated as one of top most attractions in BC.
Other places to see and the things to do in Victoria City, BC:
Beacon Hill Park-It is bult along one of the straits that divide BC mainland and Vancouver Island.There are several fun things to do here.
Craidarroach Castle-oh, what a name for a castle!.
It once belonged to a British Baron but now it is a historic monument of Canada.
Vancouver City
At the outset, it is very interesting to know that Vancouver has been in existence since as early as 8000 BCE!
It is ranked alongside New York city, Mexico City, and San Francisco City. Moreover, Vancouver is the highest visited place in Canada due to its friendly climate. Vancouver sits right on the Pacific Coast, in Western Canada.
For the scenic places, and pleasant climate, Vancouver is the best place to live in Canada.
Popular places to visit in Vancouver and the things to do
Surfing-The immaculate Pacific Ocean is conducive to surfing, sailing, and swimming in this part of the world.
Stanley Park-It is bigger than the Central Park of New York. It's massive, comprising 1000 acres! It is a favourite among walkers and they love the entire length of 27 km trail.
Seawall-For nearly 30 km, you can hike along the Pacific Ocean in Stanley Park. The promenade is all along paved.
The promenade is extremely picturesque with mild sun on your back. It is one of the top most people watching places to see in BC and in the world.
Toy train ride-such a huge park is bound to give you a jolly ride in a mini train that covers most of the Stanley Park area.
Sadly, the train ride lasts just 15 minutes. You can see the sullen faces of the children when they alights the train.
Other attractions in Syanley Park:
Aquarium
Lions gate Bride for taking videos and photos. It is built over the Burrad Fjord.
A restaurant that serves absolute delicacies of North Pacific cuisine.
A mini water splash park
A breathtaking Rose Darden
None O clock Cannon Shot-we all have seen cannon in historic monuments and museums. But we might not have heard or seen a cannon when fired. In Stanley Park, everyday at 9 pm, a single shot will be fired in the air. I read this has been going on for 100 years everyday! Amazing fact about Stanley Park.
Capilano Suspension Bridge
This attractive suspension bridge, an engineering feat is built over the Capilano River in North Vancouver.
The Capilano River is quite voluminous and surrounded by thick woods.
It is an observation platform and a big tourist attraction in BC. Though its length is only 460 feet, it stands over 230 feet above the river.
In addition, a canopy walk alternatively known as 'cliff walk' is an added attraction here.
BC Rockies
The Rocky Mountains in Canada's Alberta and British Columbia provinces is one of the biggest attractions in BC.
Interestingly, the Canadian Rockies extend into Montana state in the U.S.
If you ever go to BC, you will mostly visit the Rockies on your first day itself.
Yoho National Park
Canada has several national parks that include the Banff NP, the most visited national park in Canada.
Yoho NP is located amidst the BC Rockies. It comprises a large 1100 sq. km area.
Two lovely waterfalls and quite a bit of wildlife can be seen and enjoyed in Yoho NP.
Pacific Rim national Park Reserve
I would love to explore this NP in Bc province, Canada because it comprises of three different regions namely:
Broken Group Island
Long Beach
West Coast Trail
Three different geographical features under one national park is really unique. The experience also will be diverse such as seeing marin lives, land birds and animals, hiking the trail and boating in the islands.
The Broken Group islands and islets must be interesting as they are floating in Barkley Sound, lying on the west coast of Vancouver Island. A 'Sound' is an inlet of a sea into the mainland or the sea is seen inbetween two large landmass.
Queen Elizabeth Park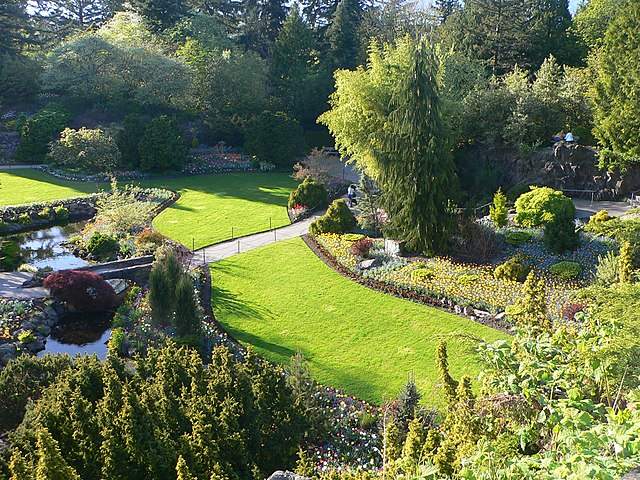 This is a well landscaped public park on an elevated ground in Vancouver City. It is a much-talked about attraction in BC.
I guess you need a full week to see all the attractions in British Columbia, one of the Canadian provinces.
I think you can go on your own to tour BC; you really don't need a local guide.