Why winter holidays are important to the children? In most parts of the world, children would undertake the second semester examinations. Surely, they would be looking forward to a break. Children wish to get away from the home atmosphere and go somewhere they can enjoy the wonders of winters. Best Winter holiday destinations include:
Hill stations where there is less or no snow
Ski resorts
Lakefront cities
Coastal getaways
Tropical islands
Wildlife safaris in Africa
Well, the options are wide and unlimited for people who wish to take their entire family for winter vacations.
How do you generally choose a place to spend the winter holidays?
A few decades ago, when the internet wasn't present, you talked to friends and neighbours and asked for recommendations based on their experience.
However, this era is different. You shamelessly approach the mighty Google and search for winter holiday destinations based on your preference.
A further development is looking at Google trends, or twitter trends in the topic of new , and upcoming places that promise you unique entertainment options, offbeat locations for lodging, exotic foods, and ample malls for shopping.
In this blog post, you will discover new and best winter holiday destinations.
The winter holidays are just 7 weeks away. It is an ideal time now to decide and reveal to your family where you are going to take them to, when the second term exams are over.
This would give them time to brag about it with their classmates.
10 Best Winter Holiday Destinations
Let's go!
Plitvice Lakes National Park, Croatia.
As I mentioned earlier, lakefront places are too good for spending your holiday in the winter. If the lakes are frpzen, you can try ice skating. If they are not frozen, you can try many different water sports that include:
Kayaking
Sailing
Canoeing
Standup paddling
Angling
Pittvice Lakes Nation Park in Croatia is classified under the list of World Heritage Sites by UNESCO for the extreme scenic beauty, the limestone jagged rocks that seem to have grown out of the water, ancient caves, and numerous waterfalls that either feed the lakes or originate from the lakes.
There is a location advantage here. Your family will scream in joy when they hear from you that you will take them for a short trip to more European countries apart from Croatia.
Yes, Herzegovina, and Bosnia are close neighbors to Pittvice Lakes NP. The fact that the place attracts over a million visitors a year is reason enough for the treding status of the place as one the finest winter holiday destinations in the world.
 Salient features of this NP in Croatia
As many as 16 lakes are here.
The lakes ared fed by several rivers.
Even underground rivers are the sources for the lakes.
Uniquely, all the lakes connected with each other. Isn't that a wonderful and rare sight?
In between the lakes, you can see snow-white limestone deposits.
Here is a video of the Pittvice Lakes and waterfalls that will hook you firmly.
Since each lake has different sources, you can expect the water in various colors.
Astonishingly, the water colors change depending on the minerals from the incoming waterfalls.
The range of wildlife to spot is also diverse.
Overall, the Pittvice Lakes National park in Croatia is a picture-perfect place for vacation.
Gobi Desert
A desert as one of the winter holiday destinations should surprise many. Before, going into the desert, let us know its location.
Gobi Desert is in Mongolia. A location map below will throw better light on it.
Both Mongolia, and China are on either side of the Gobi.
Gobi Desert is vastly different from Sahara, and Thar Deserts where heat is the predominant feature.
Gobi Desert comes under 'cold desert' geographical classification. May be it is the main reason to get listed under winter holiday place.
Cold deserts too are very hot in the summer but during winter, they are very cold.  It comprises a mind-boggling 1.3 million sq. km area.
Here is how the Gobi looks.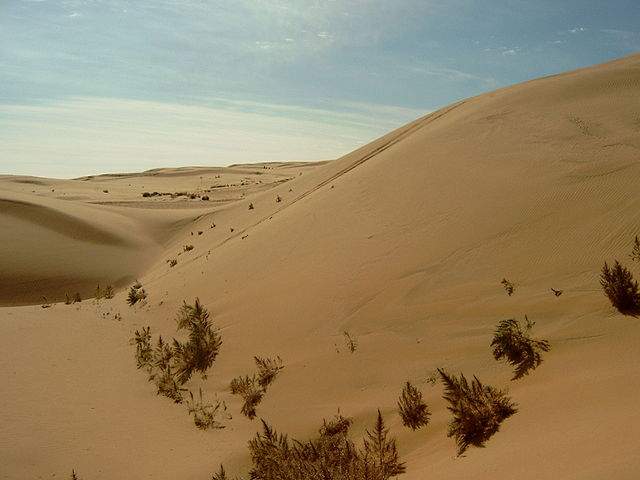 After seeing the above image, you must be wondering how the desert in Mongolia can be a holiday destination! What to do in the desert?
Here are the top sights to see in the Gobi Desert:
Flaming Cliffs
Gobi Gurvansaikhan National Park
It measures a staggering 380 by 80 km in length and breadth respectively.
Yolin Am Ice Field-it's a deep gorge surrounded by the Gurvan Saikhan Mountains..
Zhangye Wetland
Beizi Temple
Shiliin Bogd-a volcano that is extinct
Climb sand dunes
Watch sunset and sunrise-it will be an unique experience in a cold desert
Ride on the back of a camel
There are desert lodges to stay and have food.
I have you will have a totally different winter vacation destination that you never thought of. Ponder over it and decide in its favor for the upcoming winter, folks!
Trakai Island, Lithuania.
That's your destination to spend a week in the upcoming winter. Isn't it a dreamy place? Do tou want to know more about it? Read on, mate!
Do you know where Lithuania is? It is in Europe, facing the Baltic Sea. When you go there for your winter vacation, you can seriously think of visiting several other European countries that include:
Finally, Russia is also on the southwest of Lithuania.
Our winter holiday destination in Lithuania is an island where the 15th century castle is the star attraction.
Lake Galve is near Vilnius, the capital of Lithuania. The lake has 16 small islands. Trakai is one of the big islands.
The castle is situated on Trakai city. Look at the castle from another angle.
I am sure you are lured fully.
Trakai Island is located just 29 km from Vilnius.  You can get to the island both by bus and train. The journey time is less than half an hour.
There are hotels to stay on the island and spend a peaceful week in Eastern Europe.
Bruges, Belgium
How is the architecture of this stunning building? It is the main market in Bruges, a coastal city facing the North Sea.
Similar to Venice and Amsterdam, Bruges city too has several canals on the banks of which, stand beautifully painted ancient buildings.
A boat of the canal will reveal the beautiful parts of the city.
Since it is a coastal city, you can't witness too much of snow; but it receives a little snow only in December. That's the reason Bruges makes a great winter holiday destination.
The beach is quite beautiful during the winter. The temperature of the sea will hover around 7 to 10 deg Celsius.
Bruges has numerous attractions to see such as cathedrals, market squares, and museums.
Banff National Park, Canada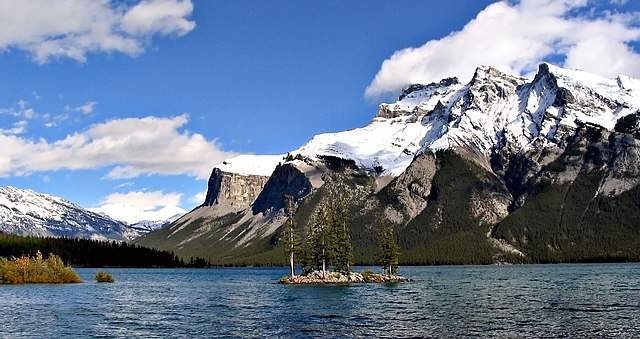 The place is called the Sulphur Mountains, part of the Canadaian Rockies, a natural wonder of the world.
The Sulphur Mountains are within the Banff National Park, one of the biggest tourist attractions in North America.
The flora, and fauna, the glaciers, safaris, cable car rides, the freezing weather, draw large number of tourists from the United States, and Canada.
Alberta province is the proud owner of the Banff NP. You can easily reach this NP because it is located just 110 km from Calgary, the capital city of Alberta. This makes Calgary also as an excellent place as one of the winter vacation destinations.
Apart from the glaciers, Banff NP is an ideal place to see the vast ice fields.
The winter temperature in Alberta will be around -25 deg C.
Banff Town is equipped with several hotels, and forest lodges to stay.  If you are a winter sports buff, you need a minimum of 5 days to see the Banff NP, its skiing tracks, and frozen lakes including the Lake Louise.
When you are visiting the Banff during winter, you will be able to see the spectacular Northern Lights from anywhere.
There is a mobile app that will alert you to get out and witness the brilliant Aurora Borealis (northern Lights).
The Lake Bled and its naturall surroundings are simply breathtaking. In addition, there are some interesting legends associated with it.
The folk tales mention about sightings of fairies in the forests abutting the Lake Bled.
There is more in store that you should listen to the vivid recount by the local guides.
The Lake Bled can be visited if you reach Bled Town. It is located 55 km north of Ljubljana, the capital city of Slovenia.
Lake Bled looks very beautiful during the Christmas. Snow clad mountain peaks, frozen rivers, and lakes will give you a perfect and memorable winter holiday.
This a best winter holiday destination, every year.
This is a photo of Tallinn, the capital city of Estonia. Do you know where Estonia is> It is a north European country, facing the Gulf of Finland, an extension of the Baltic Sea.
If you choose this best winter holiday destination in 2023, you will land in Tallinn.
You can quickly escape to Helsinki, the capital of Finnland during your stay in Estonia. The Finnish capital is only 50 km away!
The winter temperature doesn't go below -8 deg C. That's a tolerable chillness in December and January.
Tallinn's old town was developed during the medieval era. The city still retains the old world charm. In fact, it is more preserved with high care now, since it was declared a World Heritage Site by UNESCO.
Tallinn is an IT capital of Northern Europe. It wll be interesting to know Skype is based out of Tallinn.
The city has two large lakes and a river to see as tourist landmarks. A limestone cliff is strangely runs through the city.
Along its path, there are a few observation points overlooking the Gulf of Finnland. The maximum height of the cliff is a little over 200 feet only.
Tallinn being a coastal city and also at north European location, is an ideal place for spending two weeks of winter.
I am sure the Norwegians, and the Swedish are the regular tourists because of severe snow in their countries in winter.
High Atlas Mountains, Morocco
Not the majority of us know that the Atlantic Ocean got its name from the Atlas mountain range in North Africa.
In the region of Megreb in Morocco, it can be seen dividing the unfriendly Sahara Desert from both the Atlantic Ocean, and the Mediterranean Sea.
The Atlas Mountain range runs 2500 km. It goes through Algeria, and Tunisia also.
Morocco, Tunisia, and Algerian are all North African countries and the western part of the Arab world.
Hiking the mountain up to its summit Toubkal is an exciting adventure. The altitude of the peak is situated at 13,600 feet! Morocco should be your destination to witness this terrific mountain range.
Morocco being a North African country, is not very far from the Sahara. Thus it has a friendly winter climate.
The winter temperature is between 8 to 0 deg C. The country's high Atlas Mountains receives snow in the winter.
If generally a hot country sees snowfall, the climate is just awesome.
Raid is the name of the type of Moroccan accommodations, especially, in the Megreb region.
The following cities are excellent to see the wonderful High Atlas Mountains, and the wonders of Megreb region:
Marrakesh
Agadir
Tangier
El Jadida
By the way, if you want to enter the mighty Sahara desert and go for a desert safari, Marrakesh city is the gateway.
Every winter, Morocco, and the High Atlas Mountains are best vacation spots in Google.
The final lure from Morocco is its exotic food.  For example, how about sinking your teeth in a camel burger?
Couscous is the most widely eaten mutton- based dish in Morocco.
One of the weird ingredients is caramalized onion rings. I think I need to compose an exclusive blog post on Moroccan cuisine.
Cotswold, England
You might have read about the timeless beauty of the English countryside. Every small village, and tiny towns speak of absolute naturally beauty.
They are quaint to be exact. The bread, and breakfast Inns provide typical English hospitality, offering tea, and cakes in the morning.
Cotswold region in south-west England is a perennially peaceful location. You are not likely to see any snow but some frost might remind of your home town climate in Ottawa.
Following is a list of cities or towns where you can go for the 2023 winter.
Bilbury
Broadway
Kingham
Burford
Harbin, China
More than eighteen (yes, 18) million people go to this place in north China where a city of ice comes to life during the winter.
Take a look at the Ice and Snow World, Harbin, China.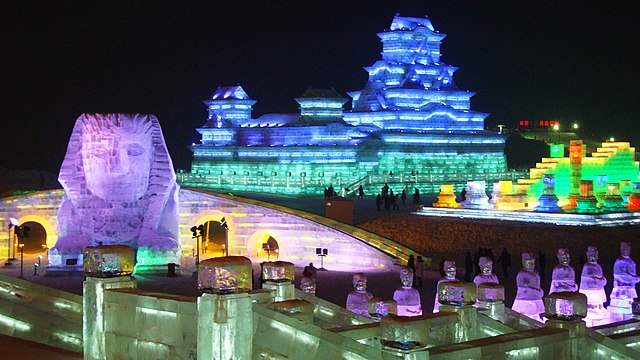 An international festival of snow sculpture is the world's biggest draw in China.
The large range of sculpted figures made out of ice will make your mouth wide open in disbelief, and admiration.
This annual festival is two month long, starting from the Christmas week.
Apart from the city of Harbin, you can also go to Sun Island, a river island to see hundreds of ice figures.
Look at the process of building an enormous city out of ice and snow.
This is sheer magnificence! There is absolutely no match to the International Snow and Ice Sculpture Festival in Harbin, China.
Can you image how big it is a google trend as a winter vacation destination?
How do you go to Harbin, China?
Don't assume you have to travel from Beijing which is over 1700 km from Harbin.
Harbin has its own international airport. It receives flights even from Japan, and China. If you are on the western coast of the United States, you can book a flight from Los Angeles to Harbin, Taiping International Airport. Beware of 17 hours long haul flight.
If you are in Tokyo, your flight duration is about 4 hours.
So, how do you like these 10 winter holiday destinations in the world? Which is your first choice? Mine is Harbin, of course!