Dubai is turning to be a hot tourist destination. When I blogged about Dubai attractions sometime ago, I started realizing Dubai will soon compete with the first Disney Land in the United States. I request you to click on the link above and go through the list of things to see and best things to do in Dubai.
You will quickly admit it would take at least a week to see all of Dubai things to do. If you are a food connoisseur, you will have to spend an additional week  here in the city.
In order to enjoy it fully, you need an experienced guide which I think is difficult to find. However, if you join an organized Tour, you can do best things in Dubai without any hassles.
I have found several  Tours and Excursions that offer excellent tours including a desert safari and a hot air balloon aerial tour of the desert.
Additionally, you should take their hotels' recommendations seriously as they know better. Moreover, you know it is an absolute shoppers' paradise. Local touring companies can take you to the best places to buy souvenirs, gold, and dates.
Suppose, you have only two days to see around,  any Excursion and tour company will show you around so that you don't miss much of the tourist landmarks during your visit.
7 Best Things to do in Dubai
In this blog post, you will read about the best things to do in Dubai offered by several excursions and tours operators. All you have to do is search for the below-mentioned keywords to find who offers the cheapest tours.
Burk Khalifa Tour
Burj Khalifa is the foremost attraction because it is the tallest building in the whole world. Naturally, buying a ticket involves standing in long queues. Therefore, it is advisable to join a local tour and excursion organizer who makes extraordinary things possible with ease.
"Burj Khalifa tickets and tours" should be your search phrase. Look who gets you quickly to the best viewing platforms and assure a seat inside a lounge
Important tip:
Look out for a tour and excursion operator who promises a 'skip the line ticket'.
That will save precious time while touring.
Dubai Desert Adventure Tour
There is really no point in returning from Dubai if you don't set your bare feet on one of the world's hottest deserts sand. You know you cannot roam in a desert without a local guide. You will very quickly get lost.
Moreover, sandboarding in Dubai's desert will be an exciting adventure. The tour operator will take you to the best sand dunes that offer wonderful slopes to slide on.
Another memorable adventure n the desert that a tour provider should offer is a ride in an all-terrain vehicle.
Here is a video showing a dune bike (quad bike) ride in Dubai's desert.
Of course, a camel ride in a true desert is a must. Deserts are camels' homes and they enjoy walking and running on the soft desert sand with you on its back.
The highlight of the desert adventure tour is a sizzling hot air balloon ride.
Choose a tour and excursion that offers this hot air balloon ride over the desert.
Dubai Shopping Tour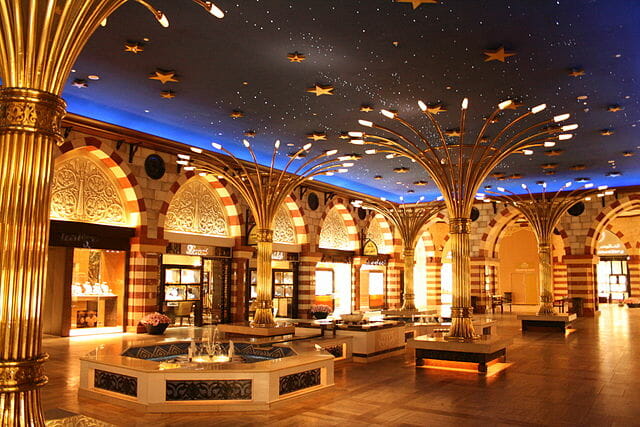 Whenever you tour, you will allocate substantial time for shopping-right? In a foreign country, to go on a shopping spree, it is better to join an organized shopping tour.
There is no dearth of shopping malls in Dubai. As a matter of fact, there are about 20 shopping malls and districts in Dubai. Therefore, you can expect several shopping tour providers.
Irrespective of what you want to buy, you will be taken to exclusive shopping streets known for selling apparel, perfumes, dry fruits, desert headgears, etc.
Of course, there will be a visit to the top gold-selling shops where you can buy authentic gold bullions. Dubai gold souk is the most visited place to buy gold in Dubai.
If you are a passionate shopper, you join a full-day shopping tour that would include lunch and tea in some of the high-end restaurants.
In joining a private shopping tour in a chauffeured luxury sedan, the chauffeur will also act as a guide and do the haggling for you. Isn't convenient?
Apart from gold bars, it is known for selling high-fashion jewelry. Reserve some funds for that.
Dubai Food Tour
I suppose in every big city in the world, there will be eating tours (food tours) (connoisseur tours). Usually, such food tours will not involve visiting top restaurants. Mostly, it will a street food tour as that is where you can eat authentic local cuisine.
Arabian cuisine needs no introduction to food lovers and passionate eaters. Dubai's street food scene may not satisfy a vegetarian. However, they can try myriad bread (rotis), samosas, milkshakes, dry fruit sweets, etc.
Oh, there is one particular dining experience that you should miss. Look for a Eating tour that offers a seat in the mid-air, suspended restaurant, right over the Arabian Ocean.
The aerial view of Dubai's skyscrapers and the sea is incredibly beautiful! As the dining platform slowly revolves, you are assured of a 360-degree view of the city.
Dinner in the desert is another big attraction advertised by the Food tour operators. The food will be 100% authentic Arabian cuisine. Deserts tend to get cooler at night. You will be seated around a campfire and served salivating delicious meats with lot of spices. The dinner will include live bar-be-que cooking.
Dubai Helicopter Tour
The aerial view of any city is memorable. If the city is situated by the banks of an ocean, sea or a lovely river, the view is even more magnificent.
You can sure contemplate taking a tour in a helicopter. For approximately 30 minutes, you will be shown the city's skyscrapers, and the Arabian Sea.
You will be pointed out at the extraordinary Burj Khalifa, the scenic Dubai harbor, the desert, and it's celebrated manmade islands.
After seeing the video above, I think you will first choose to take the helicopter tour. What a way to enjoy a Dubai excursion and tour!
Bus Tour of Dubai
A helicopter tour of  may not be affordable for all tourists. There is an alternative way to see the city. It is the familiar bus tour that just about every big city in the world provides.
Sticking to the trending norms, in Dubai also, the bus tours offer the hop-on and hop-off way of going around the city.
Look at the bus: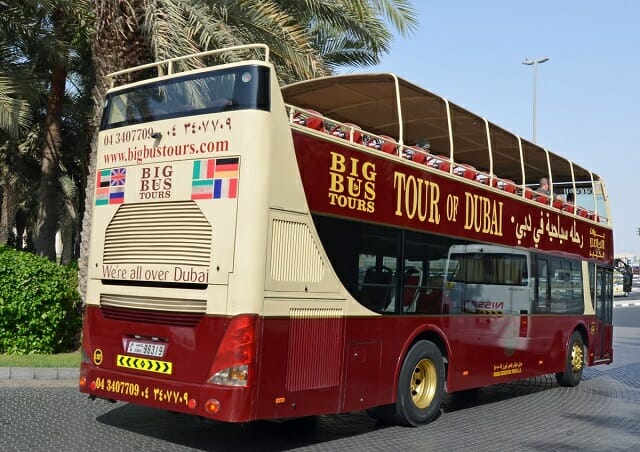 It is big and I think about 50 passengers can be accommodated inside. Your bus ticket would come with a brochure that tells you all the hot tourist landmarks where the bus would stop at.
You can decide which stop you would get down, let the bus go, and have your fun. When the next bus comes, you can show your bus ticket and get into the bus and continue your tour.
Nearly every popular sightseeing attraction in Dubai will be covered. I read the bus stops at 40 places that include the shopping malls, the fountains, the harbor, and the souks.
Your ticket can be bought as per your wish to see city. I mean, you can buy a ticket that is valid for either one day,three days or a week! Isn't that very convenient?
In addition, you get a discount at some of the places such as Dubai's exciting underwater zoo!
Apart from the Dubai city tour, there is an exclusive 'beaches tour' offered by the Dubai bus tour company.
Arabian Sea Cruise tour
This is a not-to-be-missed tour and excursion. For nearly one and a half hours, you can enjoy the coastline of the city.
If an aerial view of Dubai gave you fantastic pictures and videos, seeing it from a distance away and that too from the Arabian Sea will give you goosebumps.
Don't imagine a traditional boat. You get on board an inflatable only.
The sight of Dubai Marina, and the Palm Jumeirah will be captivating.
These are the artificial islands in Dubai, a tremendous feet by the humans.
Oh, of course, there are also luxury yachts that are more glamorous to ride on. However, they are expensive but you are provided various dishes to eat out on the deck. Nonetheless, the heat will drive you inside the air-conditioned comfort of the yacht.
The added attractions include a view of the artificial islands in the Arabian Sea, the Atlantis luxury resort, and the Burj Al Arab, the magnificent 5-star hotel, right on the beach.
That's all about things to do in Dubai. There are two more entertainments of which is one is seeing the Hatta Mountains and the other is a one day tour to Abu Dhabi in a bus. I hope you found this blog post on the various ways enjoy your stay.