In which cities in the world you can enjoy a Hot Air Balloon Ride? Views of spectacular beaches, lush canopy of Rain forests, cloud-filled mountain peaks, canyons, gorges, lakes, rivers and important tourist landmarks from a height give us a different perspective-right?
Such aerial views are possible when we climb high peaks of mountains, go on top of a skyscraper, or view from a lighthouse.
However, these aerial views are static. The scene below won't change even if you come again after a few years.
However, if you look below from a hot air balloon, you will be able to appreciate different views of your own city or any place of tourist importance.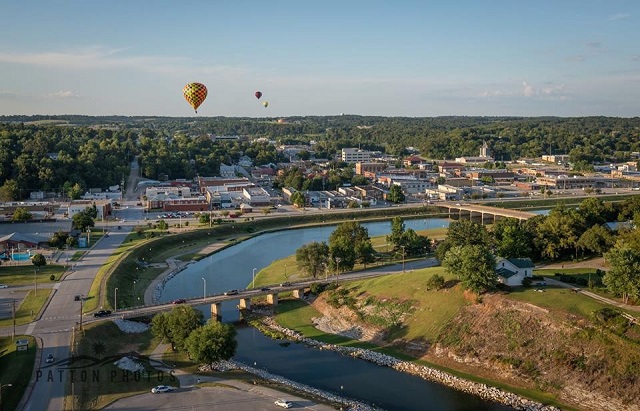 As the giant balloon filled with hot air floats across the sky, you can spot and identify numerous landmarks that include monuments, parks, winding rivers, City Scapes, and more.
Even an unimportant or ordinary pocket of a water body or green space will make your jaw drop if you have an aerial view of it.
8 Best Places in the World for a Hot Air Balloon Ride
Hot air balloon rides are thrilling because of the silence of the space. Noise from the city above when  you fly won't reach the hot air balloon.
Therefore, a hot air balloon ride is the most exciting lifetime experience
How many places in the world where you can go high up in a hot air balloon?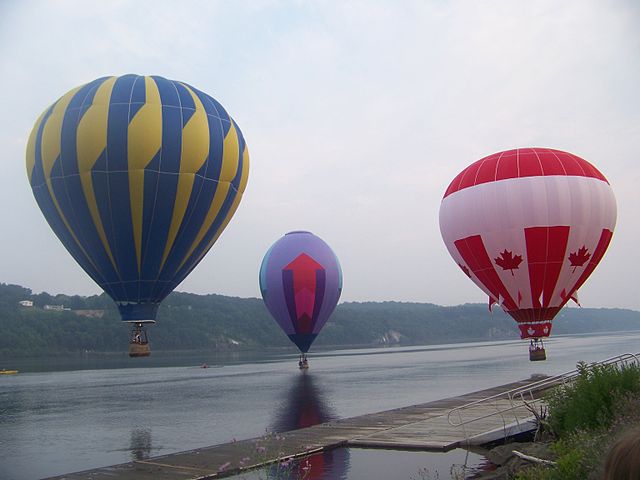 Hot Air Balloon Ride in Dubai
In spite of the world's most visited commercial city, Dubai doesn't boast of many tourists because there are not many natural attractions.
Of course, there is no match for Dubai's luxurious hotels, high-end restaurants, and swanky shopping malls.
Nonetheless, when it comes to natural attractions, Dubai has only beaches and deserts.
The same dry and hot deserts and sunny beaches will look simply breathtaking when viewed from a hot air balloon.
You will agree with the aerial views of the ocean and beach but you might wonder what can be more attractive in a desert-whether you look at it from a hot air balloon or from a desert safari vehicle.
However, those who have enjoyed the hot air balloon ride in Dubai have posted different feedbacks. They said hot air ballooning trip over Dubai desert gave them another angle at which you should look at the vast expanse of sand dunes.
Wow! That basket attached to the hot air balloon carried more than 20 people! In addition, I thought the balloon was flying quite high; it must have been more than 3000 feet!
I think the views of desert animals and oases won't be clear from such a height.
Nevertheless, the one-hour hot air balloon ride in Dubai will be just awesome.
Yarra Valley, Australia
This is what in Yarra Valley you will see from a hot air balloon. Yarra Valley is famous for the wine brewing industry.
Yarra Valley is just a stone's throw away from Melbourne city at 35 km.
The vineyards would not capture our fascination when we tour around the wine region. The flora looks like just another plant.
However, when you viewed from a high altitude, it looks pretty different. In fact, the landscape of the vineyards will show its beauty only from a higher plane.
The hot air balloon ride over Yarra Valley lasts only 45 minutes.
Angkor Wat, Cambodia
Angkor Wat temple complex is a world wonder. The architecture and the layout of the entire temple complex can only be appreciated if viewed from high above.
A hot air balloon ride is the perfect time to capture the artistic beauty of Cambodia's pride. The Angkor Wat dates back to the 12th century, folks!
The unique aspect of a hot air balloon ride in Cambodia is the balloon is never let free to float around. Yes, it is tied to a static pole. This is a very safe hot air balloon ride and is ideal for beginners to shed their 'acrophobia'.
You will stay afloat in the basket of hot air balloon just for 10 minutes. The crowd waiting below is considerable and is impatient to get inside the bamboo basket.
Bagan, Burma (Myanmar)
Can you guess the number of temples in the picture? It amounts to nearly 13,000 structures that include pillars, spires, and pagodas.
Incredible! Imagine 13,000 ancient temples that have withstood the vagaries of weather since the 13th century!
Can you visualize the aerial view of these temples from a hot air balloon?
This can be the ultimate sight for an aerial view.
These are all Buddhist temples, buddy! Out of these thousands of structures, one would steal your focus. It is the Anandha Temple with its golden spires!
Bagan from a hot air balloon:
OMG! So many hot air balloons flying over Bagan; this means a hot air balloon rides in Bagan is a very popular tourist attraction of Myanmar.
Hot Air Balloon Ride in Serengeti, Africa
Most of us must have seen the massive migration of wild animals in the Serengeti National Park. Invariably, the scene would be an aerial view shot either from a hot air balloon or from a helicopter.
My Goddess! What a sight! These wildebeests are hurrying through the vast emptiness of Africa as if they have an urgent appointment on the other side of the world!
Can you afford to miss a ride in a hot air balloon in this part of Africa? Serengeti National Park is located in Africa's Tanzania and Kenya.
Hot Air Balloon Ride in Dambulla, SriLanka
The Emerald Island will take your breath away when you view it from a balloon filled with hot air. Generally, islands will be captivating when viewed from high above.
When you see a piece of landmass surrounded by waters from all sides from high above, it looks terrific.
SriLanka is an island full of thick rainforests and misty mountains that would appear splendid from a hot air balloon.
New York, United States
Not many tourists are aware of a hot air balloon ride over New York, the ultimate city in the world.
Imagine seeing all the familiar landmarks of New York such as the Liberty Statue, the Manhattan Bridge, Empire State Building and the Long Island from flying above the city, riding in a hot air balloon.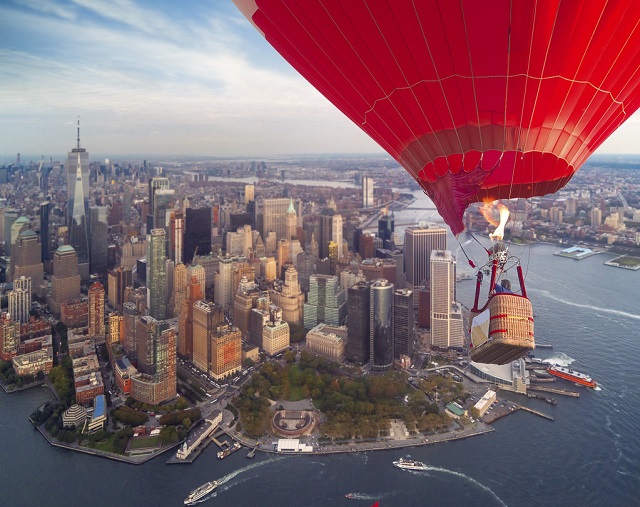 I read there are a handful of hot air balloon operators in Upstate New York. This means your waiting time to get on board is minimal.
Hot Air Balloon Ride in Luxor, Egypt
Egypt is a mesmerizing nation. Its great and towering pyramids, temples, and monuments have kept us intrigued ever since we read the history of Egypt, their strange culture when we studied in school.
If pyramids and Egyptian temples will give us neck sprain when looked up at close quarters, they would induce an audible gasp when looked from a higher plateau.
Hot air balloon rides in Luxor is a sought after tourist attraction.
The highlight of the attraction from the hot air balloon is the legendary River Nile of which we have all read so much about.
Conclusion:
A ride in a hot air balloon over beautiful places in the world is an unforgettable experience. Of the 8 places that I covered in this blog post, I would rate the hot air balloon ride over the city of Bagan as the most beautiful because of nearly 13,000 pagodas down there.