This blog post on the best airline credit cards for earning miles and enjoying other benefits is suitable for both first-time flyers and frequent flyers. It is no secret that credit cards give flying miles.
Trains are now plying empty or with only 50% capacity. Even budget travelers have now started flying mainly to save time. Moreover, their affordability also has gone up.
Why flying is preferred over road or rail traveling?
You need not apply for long leave.
Weekend holidays have now become possible only if you fly in the early evening on Fridays and return late on Sunday nights or even on early Monday mornings thus giving you an edge over the number of hours you can stay in your weekend getaways.
You can minimize the chances of contracting contagious diseases.
How does using a Airline credit card helps you earn flying miles rewards?
Whenever you book your flight tickets using your credit card, the card provider rewards you by giving you a loyalty discount called 'miles'.
Over a period of two or three years, if you continue to use your credit card for booking cheap flight tickets, you accumulate the miles so much that one of your future travelings becomes 'FREE'. I mean, you don't have to pay for your flight tickets! Won't you love that facility?
In addition, once you achieve the status of 'frequent flyer', you start earning more flying miles.
Suddenly, during one fine vacation time, you discover that your entire family can fly 'business class' either free or by paying only the cost of an 'economy class ticket!
Apart from booking flight tickets using your credit card, if you book your hotel room, airport transfer by cab, you get a substantial cash discount just for using the credit card.
Warning:
Use your credit card judiciously by paying the entire due amount before the due date. By doing this, your credit score is high and your credit limit is also increased by the credit card provider.
One of the other benefits of using your credit card is, you become eligible to stay in airport lounges even if you are holding economy class boarding passes. When you get free access to the airport lounges, you can eat and drink whatever is available without costing you anything!
Here comes a big surprise if you hold a good credit card meant exclusively for travelers. You get an extended interest-free period for clearing the outstanding amount.
For example, the normal credit-free period is 45 days. In this special case, you can pay even after 6 months with zero APR (Annual Percentage Rate).
Long back, I read a particular flyers' credit card allows you to pay after fourteen months of your first purchase without any interest!
Hotel accommodation and restaurant bills might catch you unaware if you don't watch the menu cards closely. Credit card providers usually have tie-ups with several branded hotel chains. If you take their recommendations seriously, you get a hefty discount on boarding and lodging
Even, your cab rides cost you less if you pay through your credit card.
How to find out the best airline credit cards for earning more flying miles?
There is a simple trick here. You don't have to scour the web to find the right frequent flyer credit card to earn high flying miles.
If you just click on an online advertisement of a credit card meant for earning miles and hotel discounts, you will get to see more of such ads. Then, you can easily compare the credit cards and the issuing banks and select the best card.
Within a year, you will even become a paid consultant for selecting the right credit card for frequent flyers.
Just to get you started, I give some recommendations for credit cards. Just peruse the list and put a tick mark against the best in your opinion.
Best Airline Credit Cards
Look for a credit card for travelers that don't charge an annual fee.
Discover it Miles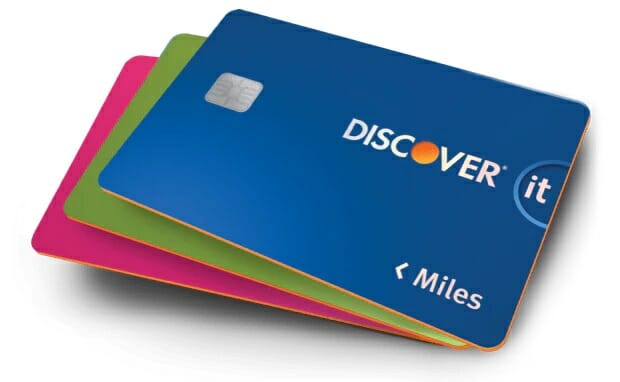 The name of the card is clearly suggestive.  I chose this card because its signup bonus is irresistible.  Another salient feature is, at the end of the financial year, whatever miles you have earned is doubled!
The third advantage for buying this card is, for all your day-to-day shopping, if you pay through this credit card, you earn miles.
In addition, if you don't plan to travel in the near future, you can use the existing miles on your account to pay for your groceries! Wow!. Isn't that a fantastic deal?
Discover It Miles credit card is free for a lifetime.
All the purchases you make during your first year of getting this card earn you a higher rate of miles than normal.
If you travel to another country that uses a different currency, you don't have to worry about incurring any foreign transaction fee. There is no such charge.
Some of your local purchases will get you a 'cash back' bonus.
Bank of America Travel Rewards Credit Card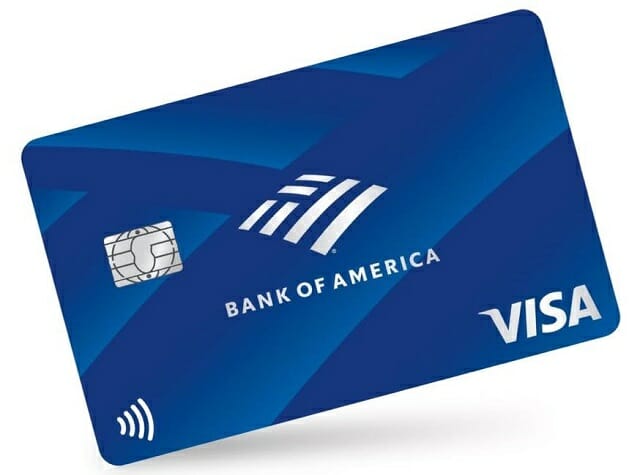 It is written all over the wall that this credit card is highly suitable for travelers and travel bloggers who come under the category of frequent flyers.
Well, for starters, this is a free credit card with no annual fee. Imagine a credit card issued by none other than the Bank of America comes free when you apply.
Similar to most travelers' credit cards, the Bank of America Travelers Reward Credit Card also entices you by offering an extended due date with no interest as an introductory offer.
Here comes the icing on the cake. After your $1000 purchases, you are given a whopping reward of 25k points! To get it, you must show an aggregate of $1000 outstanding within the first three months of getting this juicy card.
Read some of the salient features of this card.
Zero annual fee
Rewards points stay alive forever.
Use your miles/points to buy an air ticket from the airline of your choice. Yes, you are not forced to use one or two airlines only stipulated by the card-issuing bank.
Delta SkyMiles Reserve American Express Card
It is the general norm for a credit card issuer such as Visa, Master, or American Express to tie up with a major airline. By this strategy, it is easier for them to transfer the rewards given by the airlines to you in the form of flying miles.
It is a straightforward deal with clear transparency. Without a middle man, you earn the loyalty rewards as miles.
If you are a shrewd traveler, you will sign up with a new traveler credit card every three or five years or so, mainly to grab the bulk miles offered either as a signup bonus or as an introductory offer.
For instance, Delta Airlines offer a cannot-be-ignored offer.  If you spend $5000 before 13th April using this exclusive travelers credit card, you get a whopping 100,000 miles as a bonus!
Tell me frankly, can you ignore this awesome deal?
Here is an excellent benefit. I believe Delta Airlines have their own lounge in several airports in the U.S and Europe. If you hold this credit, you get special access to their airport lounges.
Their benefits list goes on and on such as free first luggage.
Chase Sapphire Preferred Card
This is a VISA card known for travelers' rewards. The tie-up is with Chase Bank. Introductory offer amounts to 60,000 points for a spend of $4000 only. The deadline to spend is within three months from the date of receiving the credit card. In terms of cash, these points fetch up to $750 when redeemed.
That is really a big cash saving even for a rare flyer-right?
Other ways to earn flying miles:
Hotel accommodation charges paid through the Chase Sapphire Preferred Card.
Earn loyalty points when you eat out. This benefit is applicable even for takeaways ordered through online delivery partners and paid with the card.
We all use several apps on our television such as Netflix or HotStar. These spendings also reward you. This is the first time I am across this reward for getting entertained, sitting in your living room!
Annual bonus points are worth 10% of your early purchases of anything. This is over and above your regular rewards for every purchase.
Are you impressed with this credit card that is beneficial for travelers?
I admit there are several more airline credit cards that are meant for earning flying miles but these 4 are the best in town.