Dubai, the paradise in the middle of a desert has been giving tough competition to some of the world's highly visited places that include Florida, Venice, Rome, Turkey, and Paris. Amidst a blazing desert, what can be the Dubai attractions?
I too, like any people scorned the idea of going to Dubai for a vacation. I could not imagine what one could do in Dubai except to go for shopping and eating. It is surrounded by a hot desert!
Amidst a blazing desert, what can be the Dubai attractions?
Nevertheless, when I found out that one could even go skiing in Dubai, my interest in finding out the tourist places to see in Dubai was piqued.
27 Best Dubai Attractions
What I stumbled onto was amazing! I am happy to share my findings about Dubai and its tourist attractions.
Kite Beach, Dubai
The Kite Beach in Dubai fascinated me above all other tourist places to see in Dubai. My mouth was agape when I looked at the colorful scenario in the beach where kite surfing is done in another level.
Two beaches in Dubai are famous for kite surfing. One is the Nasimi Beach and the other is called Fazza Beach.
Kite surfing that is also called 'kite boarding' is an exciting water sport in which you stand on a surfboard, harness your ankles onto the board, and hold onto a large kite that looks almost similar to a parachute.
You move on the water as the wind propels the kite. If the wind speed is high, then, you also move faster on the water accordingly.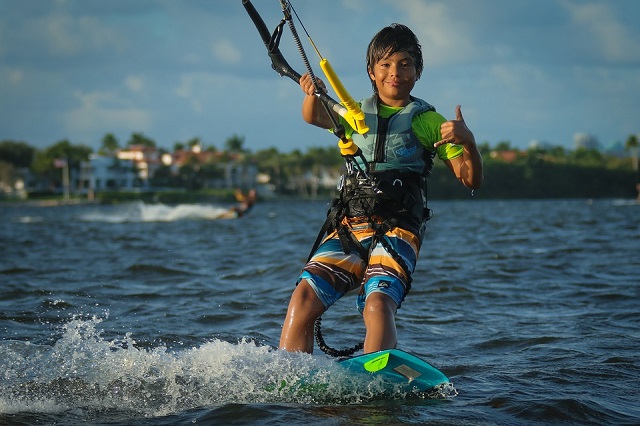 Both the kite beaches are always crowded in spite of the heat. Numerous restaurants line up the beach so that the tourists don't go staring.
Some of the food joints found on the Kite Beach are:
95 Degree Speciality Coffee that also serves brownies and croissants apart from coffee.
Booba is actually a tea shop where you get to taste exotic tea varieties that include yogurt tea and fruity tea.
Carnival Treats
Dynamite Bites
Häagen-Dazs This is an ice cream parlour
Hot Chips and Cotton Candy
Hum Yum
JJ Chicken
Kaakunada-you get Lebanese food here.
Kimbo Espresso Italiano
Koko Strom-hot chocolate drink
2 Degrees Pint – a beach Bar
What else is available in the kite Beach, Dubai?
Dubai tourism department has done amazing job all over the tourist places to see in Dubai. Look at what else is available in the Kite Beach.
Umbrella Rental
Showers before and after swimming in the Arabian Sea
Restrooms
Valet parking
Beach Lounge Chairs
Kite Beach is one of the ultimate Dubai attractions. The cheer from the boisterous children would not bother you at all. As a matter of fact, you also tend to join the fun.
Kite Beach, Dubai-what a place!
Skiing
"Skiing in Dubai? Are you crazy"?
No I am not. You can go skiing in Dubai where the daytime temperature hovers around 45 Deg C.
One of the biggest Dubai attractions is the 'ski resort'. This large ski resort comprising a mind-boggling 22,500 sq.mt is built inside the famous shopping mall called 'Mall of the Emirates'.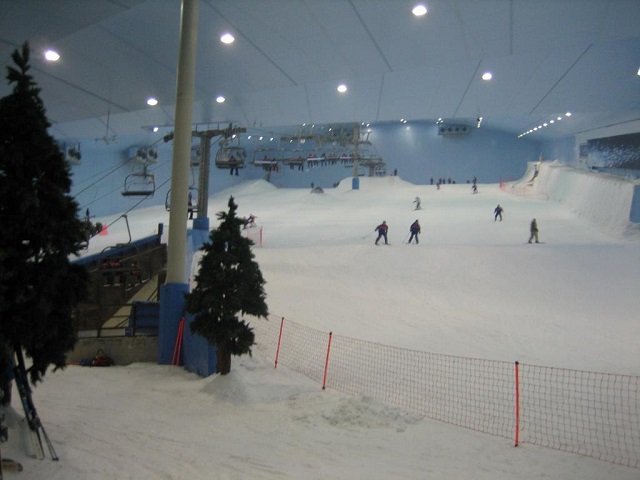 Do you know that inside the ski resort, minus one deg temperature is maintained, not during the entire day but throughout the year! Incredible and outstanding achievement!
The skiing area is built with slopes of varying steeps, mounds for jumping with your skiboard, and a long run for skiing on a level platform that measures 400 meters in length
This ski Dubai along with a kids play area has been in operation since 2005.
Skiing boards, snow goggles, etc are available on hire. Alternatively, you can also purchase them from a store at the ski resort.
Another astounding aspect of the Ski Dubai is the real penguins that add a sense of reality to the whole business.
Zabeel Park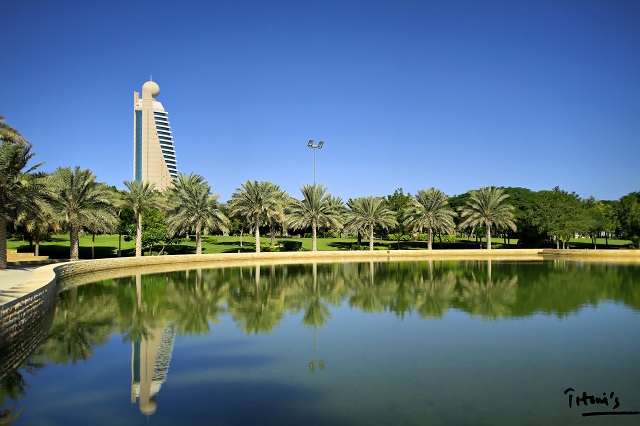 This is a large public park containing numerous activities for all age group. The recreation facilities in Zabeel Park include:
Jogging track
Roller Skating ring
Family picnic areas
Lake
Boating
Ice Skating
Golf course
Restaurants
Gym
Zabeel Park is all green perennially with over 10,000 trees! Unimaginable feat in a desert city! In addition, you get a free wi-fi access!
Dubai Frame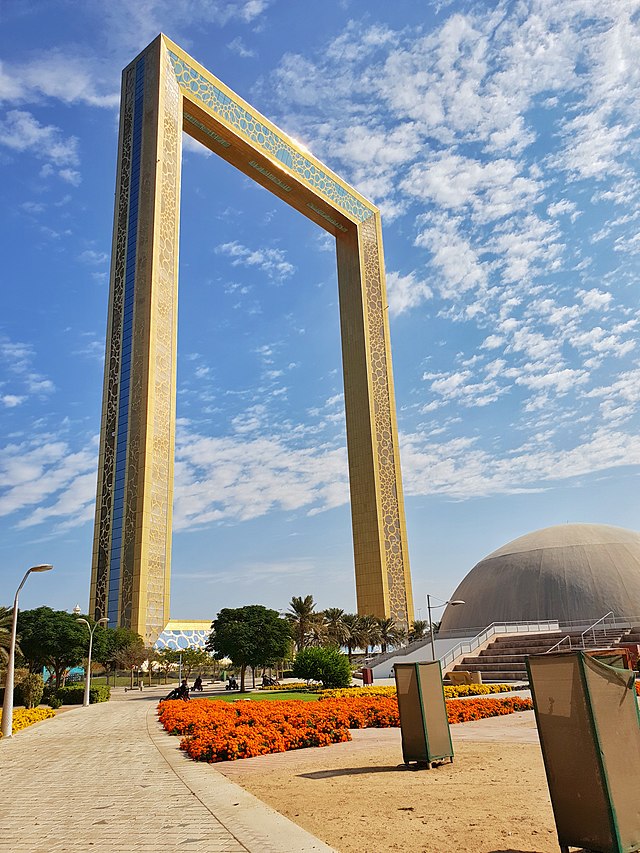 Dubai Frame standing tall at nearly 500 feet is an important tourist attraction in Dubai. It is just a tourist landmark in front of Zabeel Park, a public recreation area in Dubai.
Zipline Dubai Marina
How do you like that? Isn't that terrific?
This ziplining adventure that is totally different and out of the world!
Normally you hang on to the rope in a standing position and slide across. The view won't be all that nice as in this Dubai adventure wherein you are able to see most of the skyscrapers of Dubai.
Moreover, you are made to lie face down on a soft bed and as you zip over Dubai, you can happily enjoy the Dubai skyline without a worry.
The XZLine Dubai Marina as it is called in Dubai, you will be zipping at a speed of 80 km e hour. The height of the starting point of your zipline is above 550 feet!
Dubai Global Village
One of the beautiful tourist places in Dubai that every tourist do not fail to visit is the Global Village. Don't assume it is some sort of a monument, buddy.  It is a big theme park.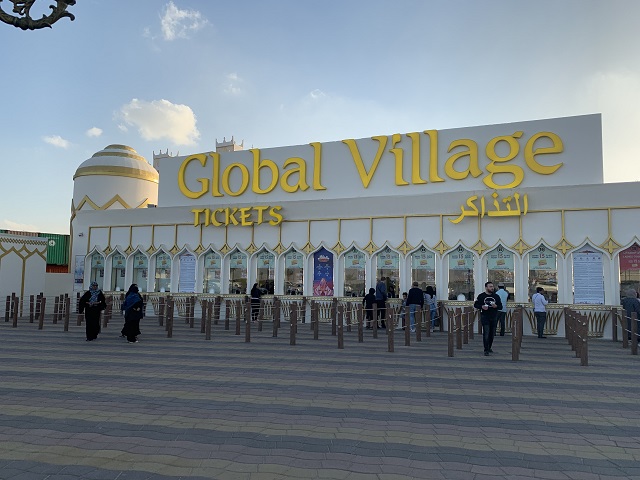 Well, any theme park attracts all age group of people as there is something for everyone-right?
Global Village too offers numerous fun rides for children as well as adults.
Like any theme park, one can find eating a joy at the various food kiosks.
As many as 90 countries in the world have their presence in some form or other. It can be a cultural pavilion, a local cuisine outlet, or a fun ride or a game! One can even find shops selling myriad things from a particular country.
The park area comprises a whopping 17 million plus sq. ft. I am sure you will have to spend a full day to see everything in this global village.
Here is a very short video clip of Dubai Global Village.
On Thursday and Friday nights, you can witness a fantastic fireworks show.
Sadly the Dubai Global Village is not open throughout the year
Hot air balloon ride
Another one of biggest Dubai attractions is riding in a hot air balloon.
There are ten operators of hot air balloon adventure in Dubai. Usually, your balloon ride is combined with a desert safari in Dubai.
The heated up balloons fly over 3000 feet height over the hot desert. During your thrilling ride, the pilot of the hot balloon will show you the camels, oryxes, roaming in the desert below.
After some time, the balloon will touch down the desert and you will be taken on a jeep for a desert safari. Now, you can spot the oryx close up. Desert Safari is a once in a life opportunity.
Al Seef
After you enjoy the scenic creek, appreciate the old buildings of Dubai, you can turn your full attention to eating various cuisine of the world. This will be your dream eating experience that you will never again get it.
You need a full evening to enjoy fully in Al Seef. Don't miss out on the 'Museum of Illusion' in Al Seef. You will be talking about your observations for many days.
Burj Khalifa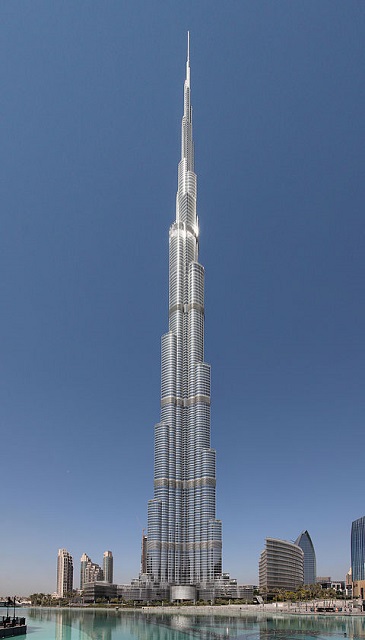 I guess seeing the Burj Khalifa, the world's tallest building will be your first outing in Dubai though I have given attention to Dubai's memorable adventure first.
The Burj Khalifa will attract your eyes wherever you go in Dubai because of its mammoth height of 2,700 feet! Don't try to gauge the height by looking up; you will only hurt your neck.
However, once you go up using any one of the fifty-seven elevators, you can look down on Dubai from an observation deck set up at approximately 1500 feet!
Dubai Fountain
The famous and fantastic Dubai fountain is in front of the Burj Khalifa building.
What a dazzling sight! It is no wonder the fountain is lit by a whopping 6000 lights! This choreographed fountains eject water at a tremendous force so that the water reaches a height of 500 feet!
You can leisurely walk along the 900 feet platform and capture all the fountain's glory in our camera.
Burj Khalifa Park
One of the Dubai's astounding achievements is to bring green amidst a blazing desert that hardly sees any rain. The Burj Khalifa Park is a large park surrounding the tall building. The park also contains numerous well-lit fountains.
Camel Race
I thought the camels are incapable of running. What a misconception! The lazy-looking camels can run and even participate in an exclusive race among them in Dubai.
Camel Race is one of the important tourist attractions to see in Dubai.
The camel races begin at 7 am and ends by 9 am on weekends only in Al Marmoom camel race track. It is a cheerful event that should not be missed at any cost. Don't forget to take your children. They will be proud to share their experience with their friends back home.
Perfume House
Al Shindagha Museum is known as the Perfume House in Dubai. It is located close to Al Seef-the Dubai Creek.
Long before the modern flowers, chemicals, and alcohol-based perfumes came into being, the perfumes made in Arabia only ruled the world. The knowledgeable Arabians used fragrant oils, saffron and rose flowers to make perfumes.
In the museum, pick up some information regarding Arabian perfumes, how they are manufactured and more.
Oh yes, you can also buy perfumes for self and as gifts.
LEGO Land
I am sure you recognize the name. Yes, it is a big theme park in Dubai for all age groups. You can use any number of roller coaster rides that challenges you.  There are as many as 55 rides out of which some are interactive rides.
Insipids can enter various pavilions or simply taste Arabic food.
Skydive in Dubai
Are you a sport? Is skydiving is your cup of tea? Then, you can join the bands of other like-minded adventurers and go dive from the sky. The free fall would be at a speed of nearly 200 km per hour. It is an expensive adventure, boss!
Aquaventure Waterpark
You can expect all the attractions that your children would expect from a water theme park. There will be an aquarium too that you as a parent can enjoy. The water slides and rides will be fun for all.
In the 'kid's only' section, there are as many as 30 water slides such as 'Leap of Faith',  'Lazy River', Splashers Park, and Poseidon's Retreat.
Dubai Opera House
Does opera still attract people? I thought even the English people got tired of it. Nonetheless, there is a breathtaking opera house in Dubai that is certainly worth seeing.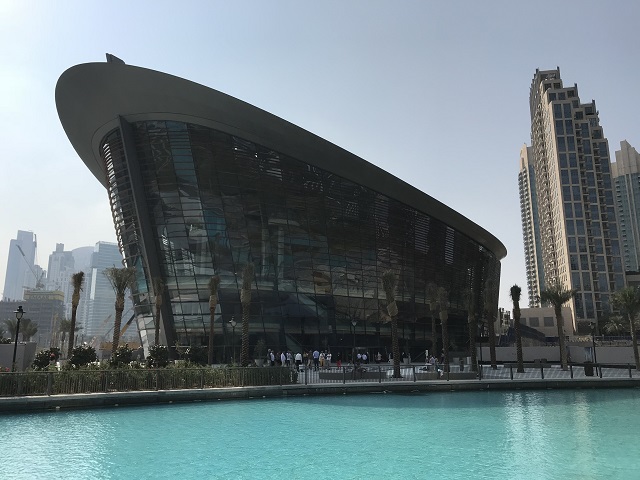 Ah, the design is surely creative and futuristic!
Right through the year, something or the other will be going on in the opera house. You can watch operas, music concerts, ballet dances and what not!
At a time, two thousand spectators can sit and watch a show in the Dubai Opera house.
Underwater Zoo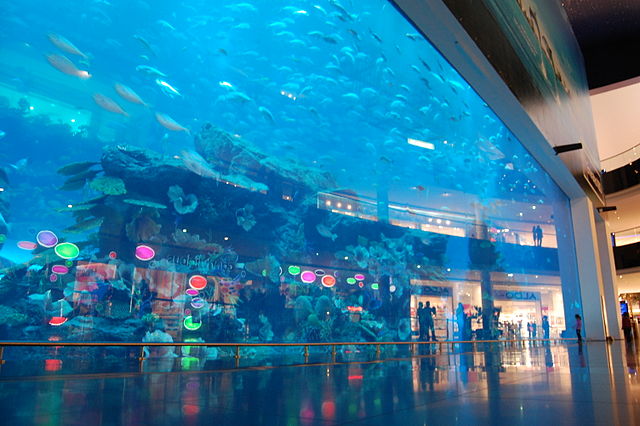 It is an aquarium that is more aptly named 'Underwater Zoo". The Dubai aquarium is located in Dubai Mall which is also unique as usually, aquariums are located close to the seashore.
Among 300+ marine creatures, even sharks are housed in this aquarium that is one of the top tourist dubai attractions.
Sega Republic
As if the Global Village and LEGO Land are not enough, the Dubai tourism department gave license to the Sega Republic to set up a theme park in Dubai.
Now, it renamed as "VR Virtual Park". You can enjoy with your family myriad rides and games here that include:
Show your skill related games
Motion Simulator
Rope Rush
Xyclone
Robotnik
Laser Maze
Sega Republic is loved by some older children who can't resist proving their skills and talent. They especially would not move away from the laser maze.
Naturally, Sega Republic is one of the important tourist places to see in Dubai.
Spice Market
Don't brush it aside, thinking what you can do in a spice market that is known as 'spice souk' in Dubai. The fragrance will not allow you to leave the souk's premise which is located close to the Al Seef-the Dubai Creek.
Don't assume there is a single big shop displaying the spices and dry fruits. The 'souk' implies there are numerous small shops that are located in criss-crossing by-lanes and cul-de-sacs.
What can a tourist to Dubai buy in the spice market?
Well, I don't think you will be able to ignore a single item because each one's heady fragrance and colourful appearance would want you to buy it.
I name a few spices that you can buy in Dubai's Spice Souk.
Saffron
Nutmeg
Clove
Rosemary
Dry fruits
Tea
Of late, the vendors utilised the opportunity by started selling Persian clothes, homemade jewellery, incense sticks, carpets, frankincense (sambrani), and curios. Almost all the spices and dry fruits are of incredible quality.
Regarding their rates, you are welcome to bargain, mate. Dubai's Spice Souk is an attraction that you can't overlook.
Gold Souk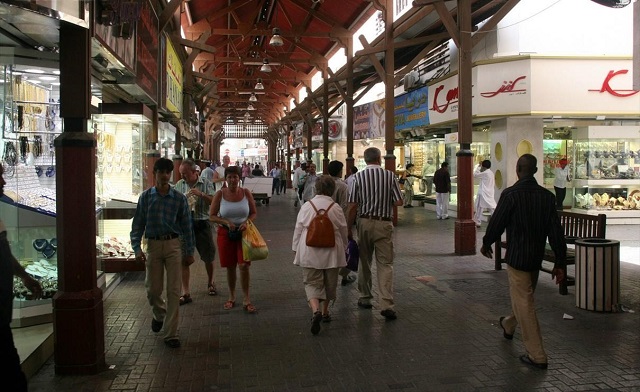 Who will return from Dubai without buying at least 5 grams of pure gold? I came to know long before that in Dubai, there is an ATM that spits 24 carat gold biscuits! Dubai is  world famous for its  gold. And shopping for gold or platinum ornaments in Dubai is a good choice.
If you have some knowledge about diamonds, you can buy that in Dubai Gold Souk.
Abra Ride
Abra is a boat. Tourists can't resist riding the charming Arabian Sea in a boat. This jolly boat ride is available in the Dubai Creek. When you are touring the Al-Seef area, you can see the Abras churning the sea.
In Dubai, the boat docks are known as 'water stations'. One abra will take a maximum of 20 persons only.
Wild Wadi Water Park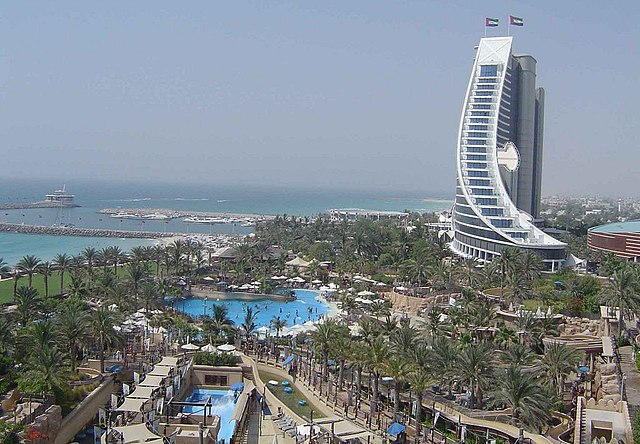 How about swimming in a cooled wave pool that created artificially in this Dubai Wild Wadi Water Park?  Apart from the usual water slides that the kids would just love to explore, you can try the manmade surfing conditions too inside this water theme park in Dubai.
Miracle Garden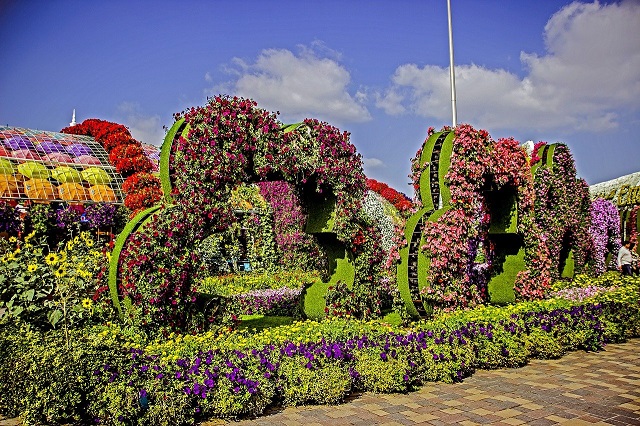 It is indeed a miracle because over 7, 75, 000 sq.ft of desert transformed into an incredible flower garden. There are several million flowering plants inside this miracle garden. Don't you think it is one of the biggest tourist dubai attractions?
A big salute to the Dubai Government's stupendous feat!
Butterfly Park
Inside the Miracle Garden, another miracle created by housing a butterfly park where over 15,000 butterflies are happy to live there, feeding on the nectar from the flowers.
Palm Islands, Dubai
Another extraordinary achievement of Dubai tourism is the creation of two islands artificially just to provide high-end beachfront bungalows to affluent people and offer options to entertain themselves and also the tourists.
The Palm Islands' names are:
Palm Jumeirah
Palm Jebel Ali
Dubai Marina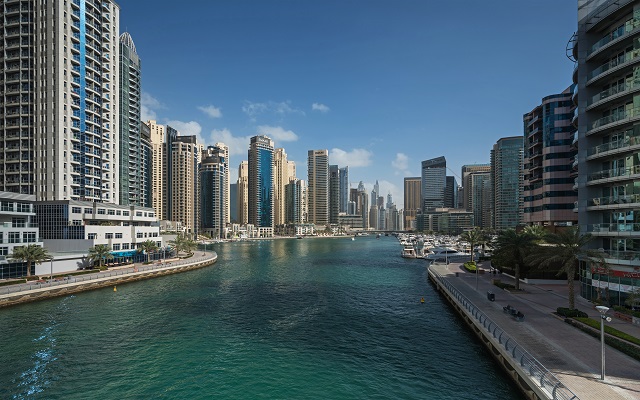 What a beautiful promenade! It will be exciting to walk on the promenade, shop, and eat. The Dubai Marina is one of the most visited Dubai attractions.
The long promenade abutting the Arabian Sea is 3 km long. You must visit the Dubai Marine twice in a day. Once, in the morning when you will be appreciate the surrounding skyscrapers and the blue canal and again when the sun sets on the Persian Gulf and Dubai comes to its utmost glory when the lights are turned on.
https://upload.wikimedia.org/wikipedia/commons/a/ae/Dubai_Marina_Skyline_93.jpg
There is a big shopping mall with several restaurants in Dubai Marina.
Oh man! I think I need to plan for week long holiday in Dubai as early as possible before I change my mind in favour of South Africa, my dream vacation destination.