Cheetah safari in India after 70 years.
Not many of us are aware of the fact that athletic Cheetah, the fastest animal in the world was considered extinct in India.
We had some of them that were shot dead by a Maharaja in 1948. Since then, we in India have seen the Cheetah only in films.
Sometime last year, 8 cheetahs were brought from Namibia, Africa and were released in Kuno National park but were kept isolated for some time.
Next week, 12 more cheetahs are arriving from South Africa and will join their mates in Kuno National Park.  After a brief period of isolation, cheetah safari will be made available in Kuno National Park, Madhya Pradesh.
You can book your first ever cheetah safari in India through the national park's website. I think the cost will be a bit expensive.
It will be a safari in a jeep. The ticket will cost around Rs.2500 per individual. So, this is the news about upcoming cheetah safari in India after 7 decades. The news has gone viral now in social media. Wildlife enthusiasts from all over India are eager to visit the Kuno National Park.
Now about some more details about the Kuno National Park, where it is located, how to reach it, and the timings of the cheetah safari. You will come to know which are the other animals and birds that you can spot in the lush Kuno NP.
Where is Kuno National Park?
Sheopur district in Madhya Pradesh (MP) state is where the Kuno NP is located. Since its size is approximately 750 sq. km, the NP spreads into the neighboring Shivpuri district also which is also in MP.
How do you go to KuNo National Park?
The park has four gates that are set wide apart. Therefore, you can enter the NP from:
Jaipur, Rajasthan
Indore, MP
Gwalior MP
Jhansi, MP
Gwalior and Jaipur are the two nearest flight links to enter the Kuno NP.
From Gwalior, the distance is around 150 km. It is 300 km Jaipur.
From Jhansi, Kuno NP is 200 km away. Frpm Indore, it is quite far off at 490 km.
Therefore, Gwalior is the most suitable gateway to Kuno NP. In addition, Gwalior also has a railway station that is very well connected all cities in India.
How do you book a safari in Kuno National Park?
We are in digital era. Online booking is possible for any kind of booking. Visit Kuno National Park website.
Cheetah Safari in India timings:
6.30 am to 11.30 am
3.30 pm to 5.30 pm
Have a look at a jeep safari in Kuno wildlife sanctuary.
When is the best time to go for cheetah safari?
November to March is the best time. In fact it is the right time to go wildlife watching anywhere in India.
Which other birds and animals you can spot in Kuno apart from cheetah?
Here is another specialty of Kuno forest. Lions are living here. Previously, only the Gir National Park hosted the kings of the jungle.
Asiatic Lion's photo
Wildlife you can watch in Kuno NP.
Leopard
Several species of deer including the bulky Nilgai.
Fox
Jackal
Hyena
Wolf
Mongoose
Porcupine
Langur (monkey)
Now, they can be spotted in Kuno.Asiatic Lions are the pride of Kuno animals and birds sanctuary.
Birds in Kuno wildlife sanctuary:
Several species of vultures and eagles. They would be part of any forest because they eat the carcasses of dead animals.
A few species of owls and harriers
Falcons
Aspreys
The most beautiful bird in Kuno NP is the shy Indian Golden Oriole.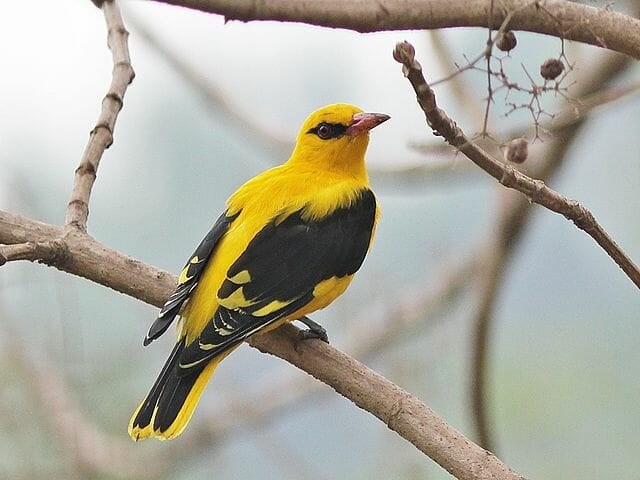 Another extremely rare bird of Kuno wildlife sanctuary is Demoiselle Crane.
I am sure, this is the first time you are seeing this gorgeous bird. They are migratory in nature. They arrive from Mongolia during Indian winter only. The north Indians call this long-legged beauty as 'koonj'.
Demoiselle Cranes live in large flocks.
What are the nearby attractions to Kuno NP.
Amet Fort
Maitoni Fort
Palpur Port
5 more national parks are in Madhya Pradesh that you can visit including the highly popular Kanha National Park, a big tiger reserve in India.
The date for the first ever cheetah safari in India is yet to be announced. But it will be during this month.