What is a staycation and staycation ideas?
The word 'staycation' is the new keyword circulating among travelers and travel bloggers. I would even say it is a new trend among holidaymakers.
I think it means stay+vacation that stand abbreviated to 'staycation'.
Oxford language defines it as "a holiday spent in one's home country rather than abroad, or one spent at home and involving day trips to local attractions".
In short, it is how you spend your weekend holiday in your own country.  Generally, in order to make most of the weekend (two days and one night) we usually start by late afternoon on Friday to our choice of the destination so that we reach our hotel or cottage or a campsite on Friday night itself. In this way, we can spend two full nights and two full days there. We depart by late in the evening, say by around 9 pm, and reach our home on Monday early morning.
In order to reach our chosen stay vacations weekend, if we decide to drive, then the distance should around 400 km only.
However, if we fly to a destination within our country, the distance should not take more than two and a half hours of flying time.
To my understanding, plane travel should be avoided in deciding your 'staycation destination'.
I think I have made a fairly good attempt in describing 'what is staycation'-right?
12 Best  Staycation Ideas for Vacationing
What do you do once you reach your destination?
Well, I am sure you would have done your research before fixing upon your stay vacation destination. Since it is a new place for you, it is better first to hire a local guide to take you around to all the prominent local attractions.
Seeing around means after visiting all the tourist landmarks, you return back to your place of stay on the same evening or late in the night.
Well, my style of engaging myself in a new stay vacation destination will be to get lost. Oh, I mean I would neither take a local guide nor use my car GPS. I would just drive or walk whenever I find a road. It is more like exploring without any pre-acquired knowledge.
If your hotel rooms has a spa, make use of it fully. Don't fix an appointment for at least two hours so that you fully relax and let the spa treatments work on you.
Interact with the locals, find the town or village's customs, local special food or drink and accept an invitation of a lunch or dinner from one of the locals.
Go on a relaxed window hopping.
Buy a souvenir that was locally made by hand.
Attend a local festival if any. In fact, arrange your trip so that you are there to witness the local event.
Volunteer in a hospital or in a counseling center.
Indulge in some outdoor activities such as swimming, rowing a boat, trekking on a hill, take a long and leisurely walk in a rainforest, etc; Do angling if that thrills you. Do anything that physically challenging.
More Ideas
Teach whatever skill you can impart to the local school children. It should be a satisfying act for you.
I read that 'geocaching' is a fun game but that is possible only if you travel with a group.
Ask your hotel receptionist to recommend a peaceful picnic location and go there with your family, packing all that you require for your picnic. You won't be disturbed at all because you are new there.
Try to pitch up a tent on the shore of a river or lake and count the stars in the night.
Hmm… so many useful staycation ideas on how to spend your time during a trip!
How to find a staycation destination?
I believe all the weekend destinations that are located within 400 km of your residence can be chosen for your staycation. Your traveling cost to the place should be dead cheap.
Search the web for campgrounds near your hometown. Staying in a camp is the best thing to do during your stay vacation. Yes, think of hiring an RV (caravan). That should be real fun.
Approach a Zostel. If you are in India and looking for staycation ideas, visit zostel, a branded and affordable hotel chain in places of tourist importance.
The hotel founder says it is backpackers' delight. They offers dormitories and private rooms also.
For example, a resident of Bangalore can plan a vacation in Mysore, an absolute dream of a city for sightseeing and eating, Zostel has its presence in Mysore in the form of 'Gokulam', a backpackers' hostel.
This is just an example. You can find a fantastic staycation ideas  and destinations near every big city including New Delhi and Mumbai
As an example, see it is also in Pushkar, Rajasthan. It is a highly visited pilgrimage center in the state of Rajasthan, India.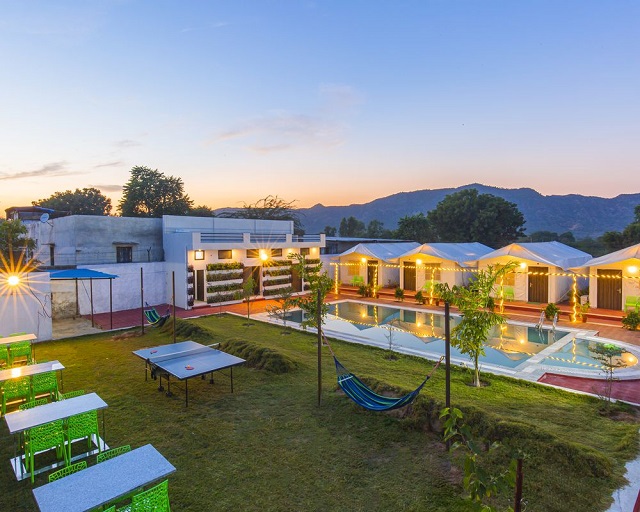 courtesy: Zoatel
I intend to do a special and exclusive coverage on it and its presence in various parts of India, the facilities available in it and also organizes nearby sightseeing tours and expeditions if any.
Now you know some staycation ideas and best budget friendly destinations near  you.