In this blog post, find out the cheapest countries that one can visit. These cheapest countries are spread over in four continents that include Asia, America, Africa, and Europe.
Not every one of us can dream of taking a vacation abroad due to high rates. However, if you are a solo backpacker, you can manage to visit several affordable nations.
In fact, world tourism depends mostly on the number of budget travelers who are also called the 'backpackers'.
For them, the daily budget when they travel for their annual holiday is very meager. They look for only public transport to move around and affordable hostels and homestay for their accommodation.
Based on extensive research on the web and after reading numerous travelogues, I have filtered a list of 14 nations in the world that fall under the category of 'cheapest countries' in the world.
How to call a nation as the cheapest country?
A number of metrics classify a country as budget-friendly such as:
Availability of hostels, couch-shares, homestays, bread and breakfast inns, etc
There should be a number of street food stalls
A wide network of public transports such as metro buses, trams, and trains. Example: Chennai and New Delhi in India.
Tourist landmarks that don't charge the tourists
List of 14 cheapest countries in the world to visit
Let us begin the list of 14 cheapest countries that one visit.
Ethiopia, Africa
Armenia
Slovenia
Guatemala
Sri Lanka
India
Latvia
Cuba
Turkey
Georgia
Bangladesh
Vietnam
Rwanda
Zanzibar
14 cheapest countries in the world to travel
Ethiopia, Africa
Sandwiched betweenfive beautiful and budget-friendly African countries, Ethiopia is one nation in Africa and in the world, an affordable country that you and I also can travel without planning in a big way.
At the outset, know Ethiopia's bordering counties.
Kenya
Sudan
Eritrea
Djibouti
Somalia
Let us see why it is one of the cheapest countries in the world.
From wherever you are in the world, you will be landing in Ethiopia's capital Addis Ababa.
It has more than 10 youth hostels to stay.  Youth hotels are where the backpackers would prefer to stay because of the low rent per night.
You can eat your three times meal at street food stalls that sell bread called Injera with cereals, boiled sweet potatoes, cakes, and a snack called 'sambusa' that is similar to the Indian 'samosa'.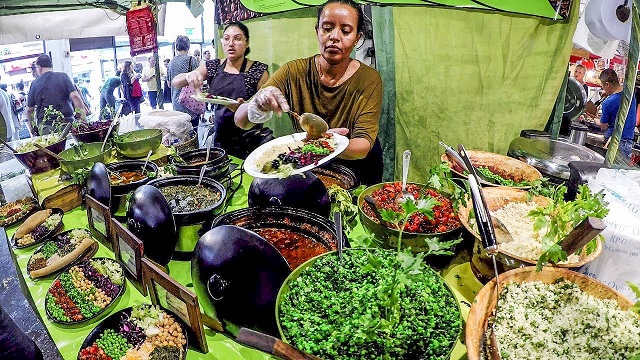 Soups and coffee will be sold in the morning. During the hot afternoon, fruit juices will be available at roadside shops.
You can move around Addis Ababa in local buses and trams.
Armenia
Armenia is a European country but it is located on the borders of Asian country Turkey. Iran, Azerbaijan, and Georgia are also Armenia's neighbors.
Contrary to the common belief that Europe travel is beyond the means of a common traveler, Armenia is the one of the cheapest countries in Europe.
Armenia's tourism revolves around its ancient churches, excellent food that resembles Mediterranean cuisine with a touch of Turkish flavor.
It would surprise you to know that Armenia is the target of connoisseurs from around the world who are paid for their Armenian food reviews.
Street food stalls in Armenia are more crowded than the restaurants. For as little as $2, you can buy your full lunch even in its capital city Yerevan.
Hot dogs are a favorite food for backpackers in any country. In Armenian cities, you can see sidewalk cafes serve hot dogs and sausages at affordable prices.
Lahmajoon is an Armenian version of a pizza.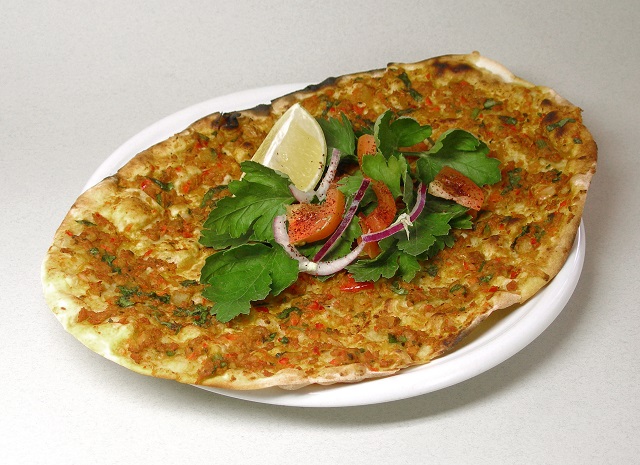 It's a poor men's food. I read it is quite filling if you eat two of them.
As you can see, the dough is garnished with vegetables under which lamb crumbs are strewn. Similar to Turkish and Iranian cuisine, Armenians also consume a lot of spices and herbs that include cumin, cayenne, cinnamon, and pepper that you can find in this Armenian pizza.
Hostels located in street lanes charge around 8 dollars only per night. These low-priced accommodations are usually clustered around bus and train terminals.
Local buses and underground trains ply as public transport. Yes, they are cheap.
Slovenia
Imagine the highly fancied Switzerland is not far from Slovenia but still, Slovenia is one of the cheapest countries in the world to tour.
One of the main reasons for Slovenia's affordability is its small size because of which moving around doesn't cost much.
For example, Ljubljana, the capital of Slovenia can be seen around by riding a rented bicycle! Slightly older backpackers can travel on local buses.
There is no dearth of hostels in Ljubljana. These cheap accommodations are conveniently located near the city center.
Street food in Slovenia is quite diverse. Imagine eating a hot dog containing horse meat! Burgers are also widely sold in the streets of Slovenian villages and small towns.
Sausages are cheap in Slovenia and so also their smoothies.
If you happen to be in Ljubljana on a Friday, then, you have hit a jackpot. There is an open kitchen on Fridays where a street becomes alive with street food stalls that sell food from neighboring countries.
The most popular snack of Slovenia is 'Burek', a juicy and succulent pastry.
Noticing the flaky appearance, I believe it is more of a stuffed puff than a pastry.
Slovenia is a picturesque country and also cheap to travel to.
Guatemala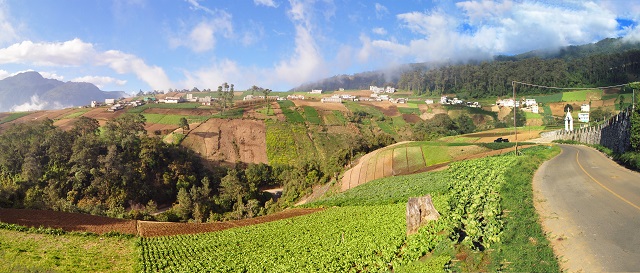 Guatemala is one of the cheapest counties in Central America, bordering Mexico.
Even its neighboring counties including El Salvador and Honduras are classified as cheapest countries to travel in the world.
Guatemala is a beautiful volcanic country with cities not as developed as the cities of North America.
Backpackers find Guatemala cities, small towns, and villages incredibly cheap.
For moving around in Guatemala, the noisy and bumpy tuk-tuk offers a private ride with your friends and family. It is also called 'auto-rickshaw' in Asia.
Tuk tuk
A still cheaper form of transportation in Guatemala is the oddly named 'chicken bus'.
Chicken bus
Hostels provide dormitory types of accommodation in Guatemala. For as little as $5 per night, they are adequate.
Couchsurfing in the form of homestays is plentiful in Guatemala cities.
Food is dirt cheap in Guatemala. Even in restaurants, you can eat a full meal for just $3!
The local foods of Guatemala that one should try eating from street food kiosks are antojitos, chuchitos, and Kak-ik, which is a kind of tomato stew in which you can find chunks of turkey meat, floating.
One of the strangest snacks in Guatemala is the fried banana. I wonder how a ripe fruit can be fried with spices!
Sri Lanka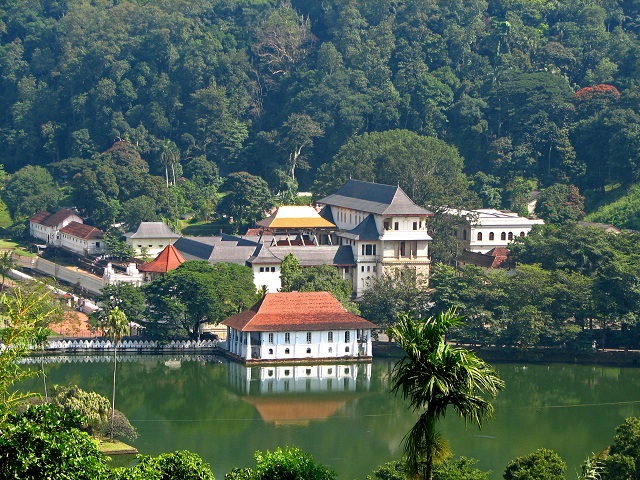 Sri Lanka, an island country located in the Indian Ocean is certainly a cheap country to visit. Its capital Colombo is the highly visited city in Sri Lanka followed by the hilly Kandy, an incredibly beautiful place in Sri Lanka.
Let us first look at the food scenario in Sri Lanka. Rice is a staple like any Asian country. Served with various gravies and curries, a plate-meal of lunch served with vegetables and buttermilk costs around an unbelievably $1.
You need not have to depend on street food to save money. Small restaurants also serve affordable food.
The cuisine will be similar to Malabar that uses plenty of coconut and cashew. As a traveler to Sri Lanka, you will have an unforgettable experience of eating your food from lotus leaf!
Public transport in Sri Lanka.
Local buses are the cheapest form of moving around in entire Sri Lanka.  Alternatively, you can get in a tuk-tuk, another cheap way of getting around in Sri Lanka.
Trains take you to the farthest towns and villages in Sri Lanka. If you don't mind a steaming journey, train travel is dirt cheap in Sri Lanka.
For cheap accommodation, lodges that usually come with a diner, offer rooms with a private restroom charge around $5 to $10 per night.
Some lodges do not offer rooms with an attached bath and naturally, they are cheaper.
India
It would be surprising to know that the cost of living in India never rose beyond the reach of common men even after 50 years!
Of course, staying is expensive in big city hotels but not so in smaller towns that are near excellent tourist landmarks.
For example, Salem, Erode, Madurai are smaller cities that are gateways to highly acclaimed hill stations and temples.
Of late, ever since the couchsurfing came into being, as a budget traveler, you can pay less than $3 for an overnight stay in the house of the host.
Travelers can easily stay in transit dorms in big bus stations and railway junctions.
Paying guest accommodations are available throughout Bangalore. You have a safe stay and also get to eat homely food.
Everywhere you travel in India, you will find street food on road corners. Sumptuous breakfast costs as little as $1.  That heavy breakfast can sustain you until 6 pm!
Public Transport in India
I would say India's public transportation is the cheapest in the world. Buses are frequent and cover extensive areas.
Local bus in Bangalore city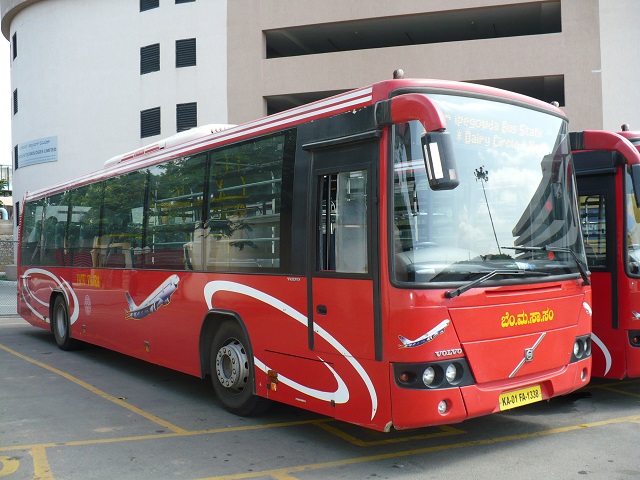 Local trains in big cities (Chennai) and trams in Calcutta are quick and cheap.
Auto rickshaws are ubiquitous even in obscure villages.
Overall, India is the cheapest country in South Asia.
Latvia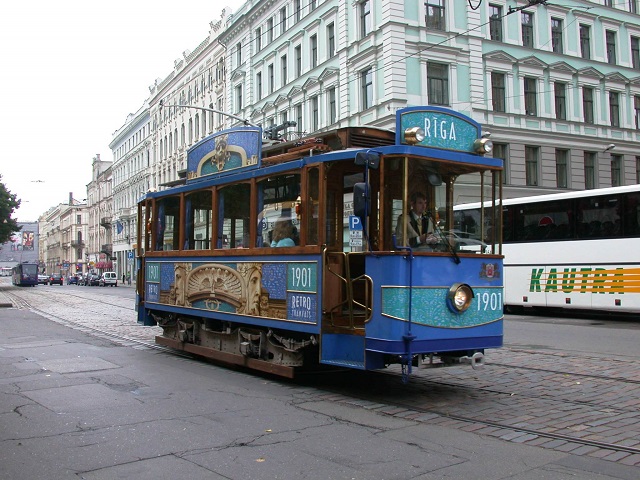 Here is one more cheapest country in Europe. We now move on to the Baltic region in Northern Europe and the subject of our country is Latvia.
I think I have piqued your curiosity. You must be wondering what is there to see in this rather unheard of a European nation.
The tourist attractions are so many in Latvia that you need a minimum of 15 days to spend in Lativia to appreciate its stunning natural beauty and medieval architecture!
Don't assume for a 15-day stay, you need to spend a fortune. On the contrary, being one of the affordable nations in the world, you don't clear your bank balance to tour Latvia.
Local transportation Latvia is incredibly cheap and convenient. There are trams and buses that crisscross the capital city of Riga.
One ticket is valid for the whole day and you can use it to travel on both buses and trams.
Latvian cuisine predominantly uses potatoes and barley. Pork is widely eaten in Latvia. These and the eggs are available as street food costing shockingly cheap.
It seems wheat is a staple in Latvia. It is cooked in various forms but generally without spices.
Breakfast in small cafes includes cabbage soup and pancakes. Noodles are eaten at any time of the day.
A street food scene in Riga, Latvia.
Backpackers find hostels easily that are located in central locations. Maksian hostel and Brivibas hostel in Riga have good looking but small rooms that cost damn cheap.
Cuba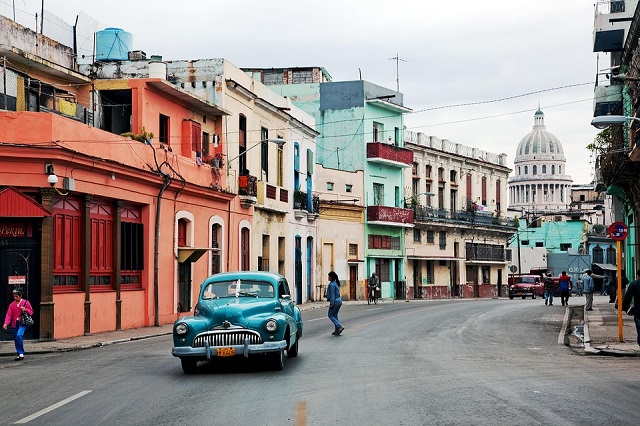 Very colorful buildings that are closely built mean this part of Cuba is old. The land of cigars, Cuba is one of the cheapest countries to travel in the world.
Cuba is located in the Caribbean Sea, south of Florida. On its other side are the Atlantic Ocean and the Gulf of Mexico.
While accommodations are slightly high at $20 per night, the food and public transportation are quite affordable.
The food is especially cheap. In fact, cigars are costlier than food. The cheapest food is Tostones.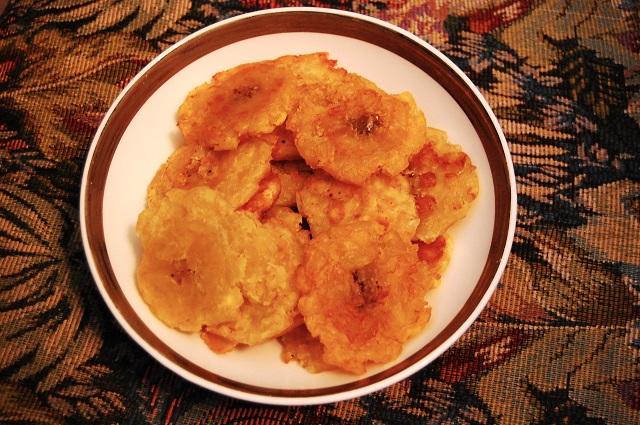 These are friend banana slices.
For a fuller meal, you can try pork burgers named Hamburguesa de cerdo. Yes, the word indicates it is a hamburger. It is sold for $1.5
Pizzas surprisingly cost just 0 .25$ apiece. You will be shelling out around 5$ per day for food, Mojitos, and coffee.
Getting around in Cuban cities will be cheaper if you choose bus travel. In addition, share taxis or group taxis is another mode of moving around in Cuba.
To sum up, Cuba is certainly affordable.
Turkey
Wow! Istanbul, Turkey's capital appears quite a modern city with skyscrapers and night lights. A backpacker would be intimated by its appearance but Turkey is unbelievably cheap.
The location of Turkey geographically is very interesting. The major part of Turkey is in Asia but a minor part of it is in Europe making it a 'transcontinental' country.
Turkey's beaches, mosques, and museums attract tourists mainly from the Middle East countries and central Asia.
The food is the cheapest in Turkey's busy streets. Moreover, the cuisine is Arabic and meat is the staple in Turkey.
Watch this video clip until the end to know what are all the types of food you can eat in Istanbul's streets.
Oh, what an awesome range of food! Even a poor eater like me will be transformed into a gastronome in Turkey.
Moving around in Istanbul is facilitated by trams, buses, and underground metro trains.
Unlike the Calcutta trams, Istanbul trams are fairly faster and much better looking.
For shorter distances, you can hop on in a minibus but to travel more than an hour in the city of Istanbul, buses are recommended.
For backpackers and budget travelers, hostels are good options in Turkey. They are not dead cheap like India and Nepal but when compared to a hotel stay, you end up paying only 25% of a hotel room.
Georgia
Another cheap Eurasian country is the under-visited Georgia. Also, Georgia called as Caucasian nation. This means the region between West Asia and East Europe.
Georgia mostly visited by Central Asian and Middle East country citizens. From the dry and arid Arabian peninsula, Georgia gives them pleasant changes in the form of several high mountain ranges that include the Likhi Range and the Greater Caucasus Mountain Range.
Georgian countryside is more beautiful and idyllic than its bigger towns and cities.
City buses and rental bicycles are the cheap modes of moving around in Georgia. Bicycle rides are more fun of scenic backgrounds.
Group taxis called marshrutkas take passengers to all corners of Tbilisi, the capital of Georgia. They look like a minivan.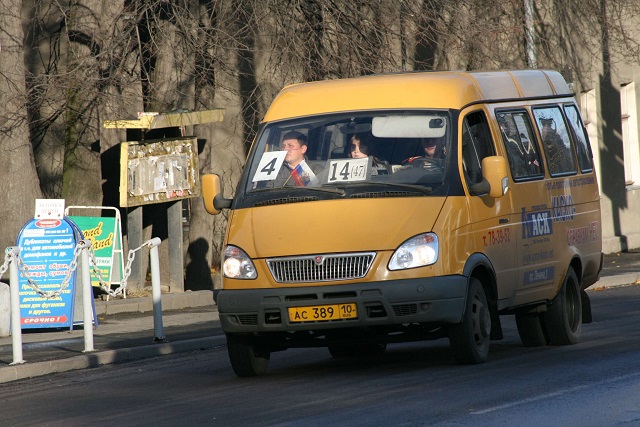 Because of the mountainous region, you will find a few cable car services in Georgia.
Food costs are backpacker-friendly. Besides, Seafood  served as street foods and so too roasted corn cobs and chicken momos (dumplings).
I would rate the Georgian street food as diverse and numerous than Mumbai which is considered as a true haven for street food lovers.
Do you know there are as many as a whopping hundred street foods served in Georgian cities and towns?
You will find the hot dogs ubiquitously and also Burrito. Surprisingly, you will find several Indian snacks such as 'pani poori' and 'chana chats' on the streets of Georgia.
It is easy to get around in local minivans, marshrutkas.
For affordable staying, hostels and motels are great choices. However, Clean rooms and fresh towels are the Georgia hostels' trademark. It might cost around $15 per day.
Bangladesh
Bangladesh attracts quite a large number of wildlife lovers who have heard so much about the Sundarbans National Park that hosts the world's largest population of tigers.
Cox's Bazar is another big tourist attraction in Bangladesh. It is where you can see a big beach with enviable length.
How about this fact? The length of the Cox Bazar beach is a whopping 120 km thus making it the longest beach stretch in the world!
In spite of a big touristy country, can Bangladesh be the cheapest country in Asia? I have watched a few videos of Bangladesh streets that implied the local traffic as chaotic due to the clogging of local buses and auto-rickshaws. Surely, both these modes provide cheap transportation.
In addition, cycle rickshaws are also plying on the streets of Dhaka.
It is the cheapest mode of local transportation in any city in the world.
In the videos, similar to Calcutta, I saw countless street food stalls selling everything imaginable.
Fuska-a kind of stuffed pooris is the widely available street food in Bangladesh's streets. For lunch or dinner, fish biriyani is the most eaten food in Bangladesh.
For cheap accommodation, hotels with rooms are available. They also provide dirt cheap dormitory type of beds.
I think I should move Bangladesh at the top of my curated list of the cheapest countries in the world.
Vietnam
Vietnam, best known for its cheap cost of living. Vietnam's tourists mainly come from its neighboring countries that include Laos, China, Cambodia, and Thailand.
Vietnam's majority of the tourists are backpackers who travel where food and accommodation are affordable to them.
Moreover, Dormitories in Vietnam's cities and small towns are wallet-friendly to budget travelers. Even Hanoi, the capital of Vietnam is one of the cheapest cities in Asia.
Vietnamese survive on street foods such as stews and soups. At any time of the day, you can see them enjoying their hot bowl of vegetable soups or fish soups.
Then come the noodles in incredible avatars. A bowl of noodles with bread cost less than a dollar.
Moving around in Hanoi is very cheap. In addition, The means of local transportation is mainly buses. For private transportation, you can hail a motorcycle taxi.
Bicycles are highly popular among the Vietnamese. You can rent one to move about in Vietnam.
These two African nations frequently mentioned as affordable nations on the web.
I would say 'affordable' as a misnomer. Both the travel-worthy African countries are extremely cheap to tour around.
So, pick your choice among these fourteen cheapest countries for your impending vacation.