Can you guess how many chicken dishes can you eat in India? I once came across an article in Google newsfeed that there are as many as 60 Indian chicken dishes that a connoisseur can relish.
I think it is possible considering the 29 states and 4 union territories in India. In India, every state has its own cuisine. Innovation in the kitchen does not only takes place in Mexico but also in the Indian kitchen.
The chefs in India are adept at finding a new recipe by fusing their region's way of cooking with other regions' recipe and also with imported recipes.
Before a tourist from western countries visits India, he usually does his research online about what he can eat. Since chicken dishes are the most eaten meat in the world, the tourist would invariably look for different varieties of Indian chicken dish that he can eat at his place of visit.
In this blog post, you can find as many as fifteen different Indian chicken dishes. You can pick your fancy and find out where you can eat that in any big Indian city.
15 Delicious Indian chicken dishes that you can eat in India
Bamboo Chicken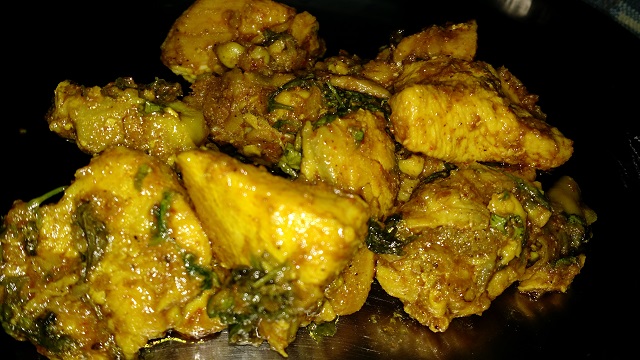 I bet the majority of the western tourists and to some extent, the Indians also, would not have heard of this unique Indian chicken dish called "Bamboo Chicken".
Basically, the chicken meat is stuffed into a bamboo shoot after marinating the meat in a paste made of 6 spices.
The bamboo shaft is then thrown into an open fire on the ground or a coal-burnt stove.
After about 30 minutes or so, the bamboo shoot is carefully removed from the fire and the cooked chicken is pried out and served on a plantain leaf..
Bamboo chicken is placed on top of the list of Indian chicken dishes because this chicken curry is cooked without oil!
Imagine a delicious Indian chicken dish cooked without oil! Won't you want to try it?
Cashew Chicken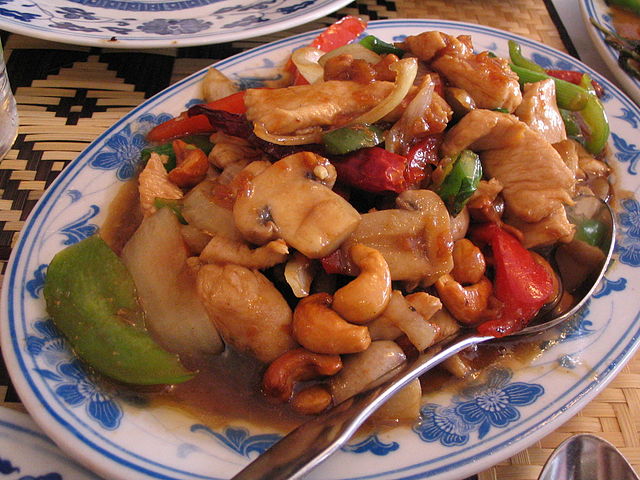 Cashew chicken is another Indian chicken dish that is not well-known. This innovative chicken meat was found on the menu of one of the restaurants in Goa. Goa cultivates cashew in a large scale. They even bew a liquor out of cshew!
When served, the plate is filled with chunks of boneless chicken with a generous sprinkling of roasted cashew nuts.
Since cashew chicken is made using the stir fry method, not much oil is used, and hence, a healthy chicken dish.
Chicken Kuruma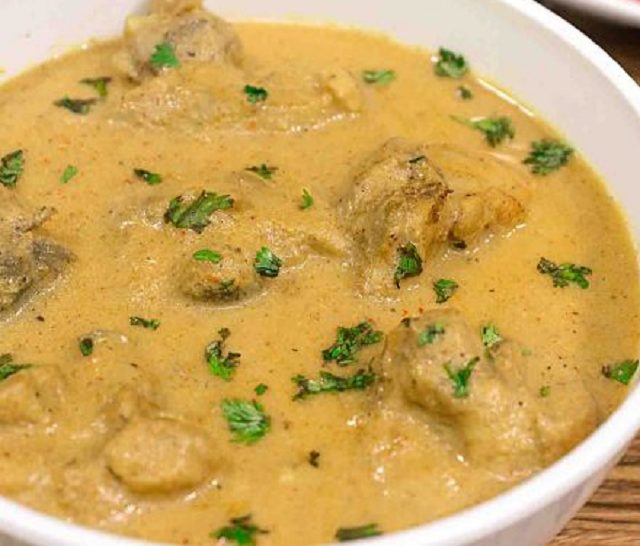 In Indian restaurants, the spelling of 'kuruma' varies such as 'korma'. Never mind it as long as you hear the sound ending with 'ruma'.
This exclusive Indian chicken dish is a gravy item and served as an accompaniment (side dish). People order chicken kuruma along with either rice or roti. In deep South Indian villages, the local delicacy dosa is served with chicken 'korma'.
Chicken kuruma is very popular among Indian meat eaters and it has a pleasant fragrance. The main ingredient of chicken kuruma is coconut that is ground with several spices.
Peshawari Chicken Kebab
India has several bordering countries and among them, Pakistan is one. Naturally, the recipes from such neighboring nations find their way into India. The region of Peshawar in Pakistan is famous for culinary innovations.
For example, look at this chicken dish called 'chicken kebab'. Generally, kebabs are served as skewers.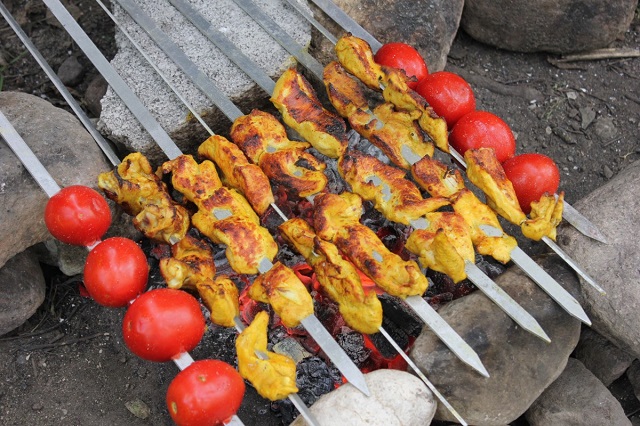 The chicken or mutton meat that is shoved upon a piece of a steel rod is then grilled to perfection.
In addition, kebab is also spelled 'kabab'.
The Peshawari chicken kebab looks like a 'vada', a very popular Indian snack.
Unlike a chicken kabab made in Indian cities, the Peshawari chicken kebab also contains some vegetables that include carrot and onion.
Eaten as a starter in lunch or dinner, the chicken kebab is an all-time favorite for Indians.
Though the Indian version of chicken kabab can be found even in the streets of deep south Indian towns, its Peshawari version will be available only in a few states in India that include Punjab and Delhi.
Chicken Biryani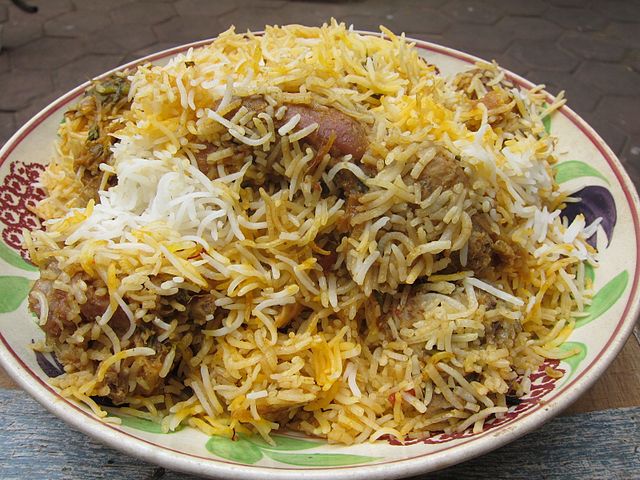 Biryani, the most preferred meal in India is nothing sort of ubiquitous. This rice-based main course is made in just about every city, town, and village, however small it may be.
Biryani uses the aromatic 'basmati rice'. Chicken or mutton biryani is a wholesome meal.
If it is chicken biryani, it is served with one or two boiled eggs.
Biryani is extremely spicy but its taste will make anyone an addict to it.
Chicken biryani in India is one of the Indian chicken dishes that a tourist from Europe or Australia would definitely enjoy.
Wazwan Chicken
This Indian chicken dish is rather lesser-known among Indians because it is an event-based main course in Kashmir. Yes, Waswan chicken is a Kashmiri dish. I doubt its availability anywhere else in India.
Usually, a chicken is cut into either two or four big pieces and cooked and served. I mean, the chicken meat is not minced into small pieces and the bones removed.
Waswan chicken dish is also cooked as a single piece.
Kori Roti
An odd name for an Indian chicken dish-right? This chicken dish is an exclusive specialty of Mangalore, a big, coastal city in Western Karnataka. The chicken curry with gravy is served with crispy wafers made of rice!
In this Udipi region chicken curry, the main ingredient to make the gravy is coconut milk. Moreover, a very spicy chili called 'byadigi red chili' is used. What a combination!
Byadigi chili is not available all over India.
In the Tulu language, 'kori' means 'chicken'.
Amritsari Murgh Makhani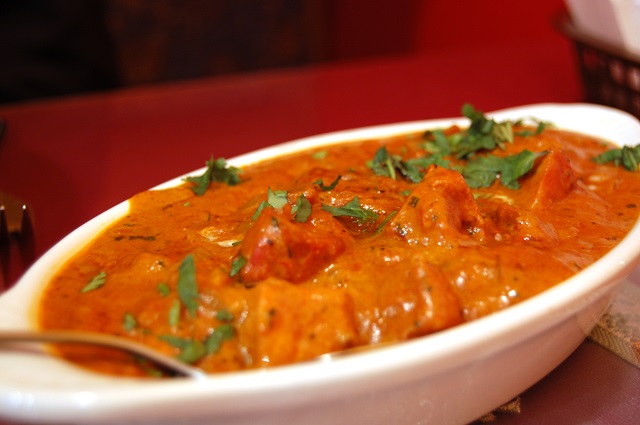 The types of chicken dishes in India vary from region to region. The varying factors are the ingredients and the method of cooking.
Amritsar is a city in Punjab state, on the border of Pakistan. The Sikhs are excellent cooks, both vegetarian and non-vegetarian food.
The predominant meat eaten in Punjab is chicken that is cooked in several methods and one such method involves generous use of butter and fresh cream.
If the name of this Indian chicken dish too long and tough to pronounce, try its alternative name 'butter chicken'.
Butter chicken is loved by the majority of the Indians and it has penetrated to every nook and corner of India from as far as Amritsar.
Malai Chicken
Malai chicken has another name and it goes by 'murgh malai'. This will be useful when you find it on the restaurants' menu card. The word 'murgh' means chicken.
Malai Chicken is the tastiest chicken dish among all other chicken curries made in India. The word 'malai' means fresh cream.
Malai chicken must have been originated from Kashmir because one of the ingredients is saffron that is grown only in Kashmir and exclusively by the Kashmiris.
Another exotic ingredient found in malai chicken is rose petals. This means, malai chicken gravy tastes mild and not spicy at all. I think children from western countries would take a fancy to this Indian chicken dish.
Any Indian chicken dish, if it is served in gravy form, goes well with roti and rice.
Vindaloo Chicken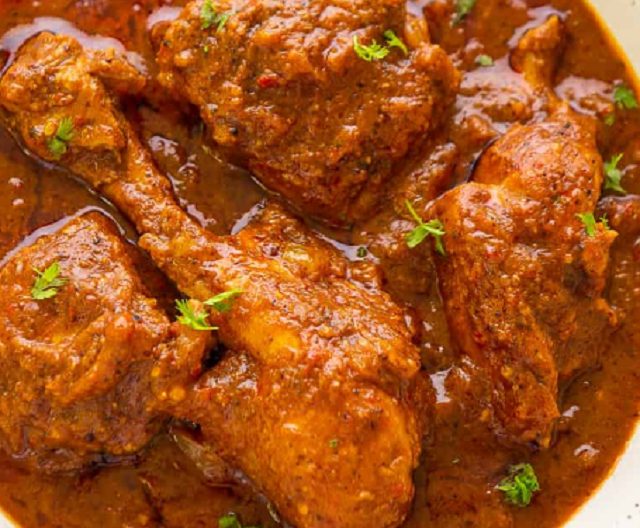 Vindaloo chicken is an Indian chicken dish that is served in all the restaurants of Goa. Big pieces of chicken marinated in a vindaloo paste is then cooked and served with rice.
Vindaloo paste is a native of Portuguese who ruled Goa for a long time and left behind their cuisine and festivals in Goa.
Vindaloo paste was originally made of wine, garlic, and vinegar. Later, the local chefs of Goa innovated the vindaloo sauce by suing more Indian spices.
Naattu Kozhi Varathathu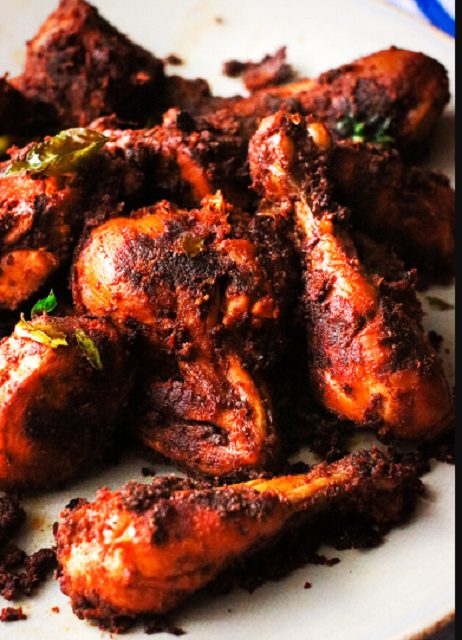 The name "Naattu kozhi varathathu" is found in the Malayalam language. This extremely juicy and succulent Indian chicken dish is otherwise known as 'chicken fry'.
The word 'naattu kozhi' points to chicken that is not grown in incubators. In India, ardent chicken meat eaters prefer 'naattu kozhi' to the commonly grown white colored chicken in chicken farms.
Country chicken is its another name.
Naattu kozhi varuthathu is a dry chicken curry that is eaten as a starter. As you tour Kerala during your annual vacation, you will find this chicken dish's name on every restaurant's menu card.
Chettinad Chicken
Chettinad is a region in South Tamilnadu. In addition, Chettinad is highly popular for its own exclusive cuisine that uses only natural ingredients. The modern kitchen gadgets won't be used by the women folks of Chettinadu.  For making the tasty spice paste, the cooks use only grinding stone in their kitchen or in the backyard.
Chettinad chicken can be called as the spiciest Indian chicken dish all over the world.
One of the unique ingredients that are used in the preparation of Chettinad chicken is called "kalpasi" which translates into "black stone flower".
Chicken Lollypop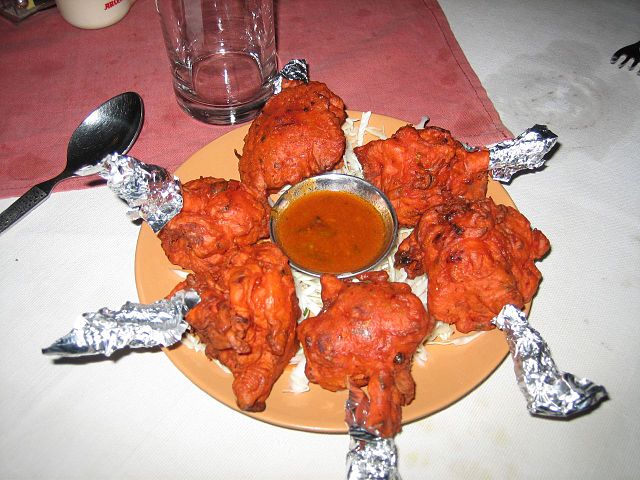 As the name suggests, very crispy chicken meat is served as a convenient piece to hold between your thumb and index fingers. You simply dip the lollypop chicken in a bowl containing red chili sauce and sink your teeth in the flesh.
Hmmm…. Yummy and tasty chicken meat will simply melt in your mouth.
Chicken Tikka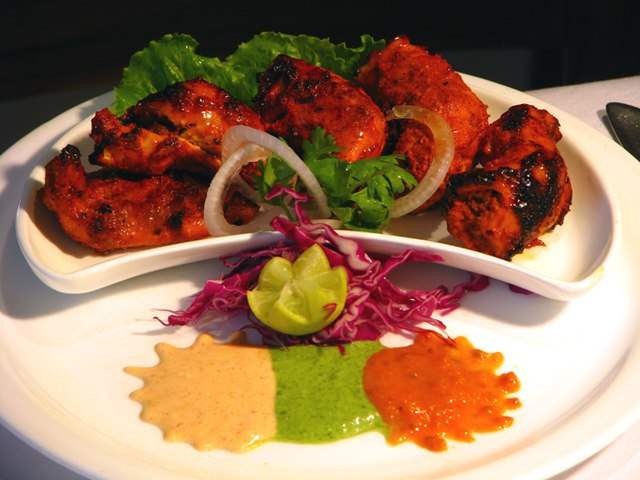 As it appears in the image, this popular Indian chicken dish is eaten either as a starter or as an evening snack. Chicken tikka involves frying boneless chicken nuggets covered in the traditional spices of India.
Tandoori Chicken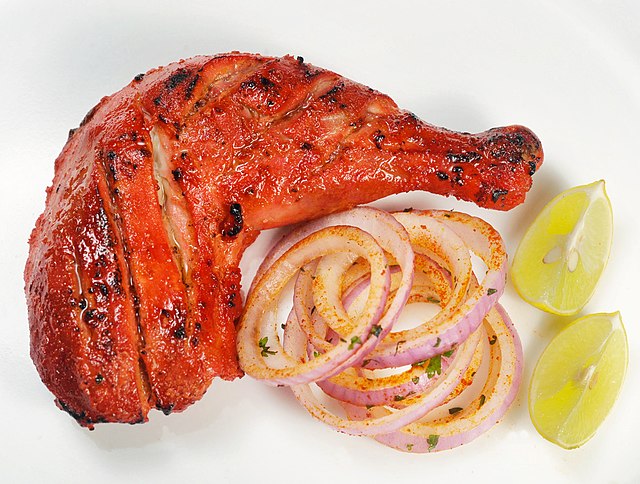 Tandoori style of cooking originated in the Avadh region of India. Modern-day Lucknow and Kanpur in India are in the Avadh region in ancient India.
Tandoori chicken is a tasty Indian chicken dish that is cooked in open charcoal fire because of which the dish will have a smoky flavor.
To cook the chicken thigh or breast in tandoori style, no oil is used. Tandoori meat is uniquely tasty and there is surely no match for this Indian chicken dish.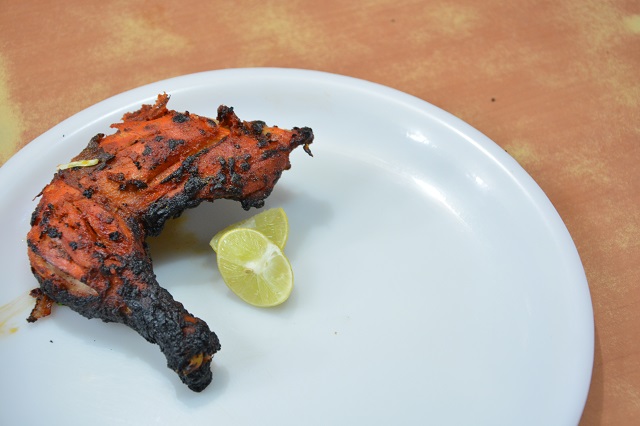 Strangely, tandoori chicken is made only for dinner.  Tandoori chicken tastes delicious if eaten in a roadside Dhaba (restaurant), sitting in an open space.
Apart from these 15 Indian chicken dishes, you are likely to find several more chicken curries in every state of India.
I think one can even do a thesis on Indian chicken dishes. I meant to say the scope is vast to write a paper about chicken curries of India.