So what attracts the tourists to Florida? Apart from the huge and sprawling theme parks, are there many more interesting places to visit in Florida?
Florida is the most visited state in the United States by tourists. This unique fact is in spite of Florida's unfriendly weather and flat terrain.
Yes, of course! The four giant theme parks that include Disney World, Universal Studios, Kennedy Space Center, and Lego Land garner the major chunk of the tourists and children.
However, there are more than 30 exciting things to do and very interesting places to visit in Florida that you should not miss when you tour Florida.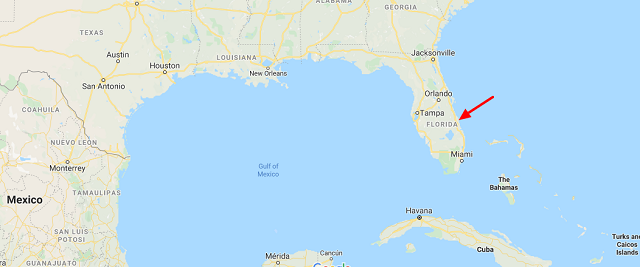 These include national parks, state parks, animal reserves, beaches, islands, scenic road trips, water sports, and museums.
8 Most Interesting Places to Visit in Florida
Your first trip to Florida requires more than a week's stay even after compromising numerous landmarks, fun rides, and eating out.
Here are the most interesting places to visit in Florida
Let us first look at the other interesting places to visit in Florida apart from the theme parks.
Florida Keys
The Florida Keys are small islands that are more aptly called 'Keys'. There are 882 Florida Keys out of which only 30 are inhabited.
You can drive through the breathtaking highway from Miami to the Florida Keys. I suppose the most interesting part of visiting the Florida Keys is the drive over the ocean. The duration of the road trip is about 4 hours of terrific beauty.
Since the Florida Keys are located on either side of the Gulf of Mexico and the Atlantic Ocean, the view is simply breathtaking.
For once, skip the theme parks to visit the Florida Keys. You have to allocate a full day for your Florida Keys trip, unquestionably the most interesting thing to see in Florida.
The names of these islands (cays) end with the word 'Key'. An example is "Long Point Key".
What can you do in the Florida Keys?
You can indulge in various water sports, visit marine parks, ride in a mini toy train, and gaze at the sea while lounging on a beach chaise.
You can explore Dry Tortugas National Park, John Pennekamp Coral Reef State Park, and look at a fantastic range of butterfly species in a butterfly park.
Biscayne National Park
The Biscayne National Park is located offshore of Miami Beach. You can drive to Biscayne Bay from Miami Beach.
Biscayne National Park is more of a marine park because 95% of the park is on the Atlantic Ocean. This huge national park comprises the beautiful Elliott Key.
Snorkeling is highly recommended because of rich marine life including corals and the rare 'blue crab'.
The lagoon is large enough to go kayaking or scuba diving.
Biscayne National Park is called a rich ecosystem because the landscape is diverse that includes:
Mangrove forest
Swamps
Coral reefs
The fish and turtle species, and swarms of marine life beckon nature enthusiasts and oceanography researchers.
One of the exciting things to do in Biscayne National Park is to go on a guided boat tour.
I am sure you will include visiting Biscayne Bay in your list of very interesting things to do in Florida.
Key West Butterfly and Nature Conservatory
A butterfly park means, more than the colorful creatures, you can see nectar filled flowers of various hues and sizes!
I am sure you will enjoy seeing the flowers better than quickly darting butterflies that deny us a closer look.
This butterfly conservatory is located in Key West, the most visited of all the Florida Keys.
Did you notice the majestic pink flamingoes in the video? They add color to the butterflies and flowers. Giving company to the flamingoes are finches and canaries that don't prey on the butterflies and caterpillars.
The Key West butterfly conservatory is certainly an interesting places to visit in Florida.
Bok Tower Gardens
The Bok Tower Gardens is usually not included in the guided tour of interesting places to visit in Florida. However, you can make a trip on your own to see the offbeat but spectacular and historic garden located in the city of Lake Wales, Florida.
After seeing the video of Bok Tower Gardens, you will certainly make it a point to explore the beautiful Bok Tower Gardens.
The flora (trees, plants, bushes, and lawns) of the garden is rich and diverse. The flowers and fruits attract quite a large number of birds and butterflies.
Since the number of bird species that thrive on the garden's flora numbers to over 100, the Bok Tower Park is considered as a bird sanctuary.
Singing Tower
The tall Bok Tower measuring 205 feet is known as the 'singing tower' as it is built with a whopping '60 bell' chiming system with incredible melody. The Bok Singing Tower is the star attraction in Bok Gardens.
Pine Ridge Trail
Inside the Bok Gardens is a scenic walking trail located high above the ground level. It called as Pine Ridge Trail. The entire length of the trail is a Pine Ridge Nature Preserve.
As you take a long walk amidst nature, you will see the rare Sandhill Cranes strolling as if to give you company.
Hammock Hollow
Children would be very happy to play in a dedicated play area inside the Bok Tower Gardens. They would be reluctant to leave the Hammock Hollow, a creative 'play-and-learn' park.
So, how do you like the Bok Tower Gardens Park in Florida? I reckon it is a very interesting places to visit in Florida.
Mote Marine Laboratory and Aquarium
Florida has several marine parks to see numerous marine creatures that contain hitherto unseen marine lives.
In Mote Marine Aquarium, you will be pointed out at a great range of fish, sharks, corals, crocodiles, river otters, etc by the guide.
In addition, you can observe:
Octopuses
Seahorses
Jellyfish
Manatees
Mote Marine Center is of course an offbeat but an interesting places to visit in Florida.
 Places to Visit in Florida: Busch Gardens
That's quite a colorful bird. You can see many more such rare birds and common forest animals in Busch Gardens, Tampa, Florida.
It is actually a zoo, a very large one comprising over 300 acres that houses mindboggling 2700 wildlife!
Open jeep safari rides offered at regular intervals of time.
During later years, as is common in Florida, numerous fun rides and slides were added, drawing huge visitors every day.
Trivia:
Do you know the Busch Gardens is operated by SeaWorld, one of the most interesting places to visit in Florida?
Places to Visit in Florida: Dry Tortugas National Park
Many tourists tend to skip Dry Tortugas National Park because the main attraction is an imposing fort (Jefferson Fort). They are not ready to take the 110 km boat ride to Dry Tortugas Island from Key West.
If only they are aware of the awesome coral reefs, exotic birds, and breathtaking marine life that they can see in the surrounding seven islands, they would skip seeing the crowded SeaWorld theme park.
In addition, a seaplane takes visitors from Key West to Dry Tortugas. This is an alternative transportation to Dry Tortugas.
Dry Tortugas also gives you an opportunity to wet your feet in the Gulf of Mexico, the location of the Dry Tortugas Island.
Dry Tortugas National Park is a must-see interesting places to visit in Florida.
Edison and Ford laboratory and winter home
I am thrilled even to look at the lab where Edison worked to invent. I would certainly take time to leisurely look at Edison's lab.
The sprawling campus also houses the winter home of Ford, the motorman.
In addition to these scenic places in Florida, there are many more attractions that include:
Clear Water Beach
Sunken Gardens
Adventure Island
Fury Water Adventure ( a terrific place to see)
Florida Caverns State Park
Then those four immaculate theme parks in Florida to spend time starting with Disney World where you need a minimum of three days to cover just 25% of all the rides and attractions.
Oh, Florida, here I come.