Wales, a small country that is located as part of Great Britain is a tourist's ultimate dream. Wales is a fine mixture of historic castles and churches and ultra-modern Cityscapes.  In addition, among so many things to do in Wales, visiting some extremely picturesque places is usually included in your guided tour of the country.
Welsh (the people of Wales) are fiercely proud of their motherland's rich cultural history and traditions. They value their past very much. In fact, their cuisine is proof of their beliefs and values in the country's tradition and heritage.
Any country that is largely mountainous coupled with a pretty long coastline like Wales, is blessed with breathtaking natural attractions such as:
Beaches
Two different climates
Valleys
Grasslands
Meadows
Mountain streams
Avifauna that depends on marine life and mountain products such as fruits, nuts, and insects.
13 Things to Do in Wales
There are too many tourist landmarks in Wales. However, I am listing here only the very best places to visit in Wales. I may touch briefly a castle or two (after all, there are about 600+ castles in Wales).
I will also cover a few things to do in Wales that will cheer up children that include a ride on a steam locomotive pulled train and a funicular train.
Aberystwyth
The language of Welsh is a real tongue twister. The above name "Aberystwyth" is an example. This beautiful coastal resort town is a highly visited tourist destination in Wales and the first thing to do in Wales.
The main natural attraction of Aberystwyth is the confluence of two beautiful rivers namely Ystwyth and Afon Rheidol-(another example of tough Welsh language).
Aberystwyth also known for the cute funicular train. Alternatively, it known as Aberystwyth Cliff Railway.
The next entertainment to the children is the 19 km ride in a narrow gauge train pulled by a heritage steam locomotive.
Brecon Beacons National Park
The Brecon Beacons National Park is located amidst the  Brecon Beacons mountain range in the southern part of Wales.
The image above indicates the landscape is filled with rolling hills, waterfalls, and large tracts of meadows. This idyllic setting implies several scenic walking trails in the mountains.
When the wind is right, you will see adventure seekers trying their courage in hang-gliding and windsurfing. I ought to think both are almost similar-ie: surfing the wind.
One can spot several species of mountain birds including the rare Ring Ouzel.
The Brecon Beacons National Park is one of the finest natural attractions in Wales.
Exploring the Brecon Beacons National Park is one of the best things to do in Wales.
Pembrokeshire Coast National Park
This is another one of the natural wonders of Wales. It is obviously a national park that enthuses marine creatures buffs and beach lovers.
The maritime national park is located along the Pembrokeshire Coast in the western part of Wales.
Best places to see in Wales's Pembrokeshire Coast:
Some of the Welsh beaches have received awards for their beauty.
Tall rocky cliffs overlooking the bay
Picturesque estuaries that include Daugleddau estuary
Gwaun Valley
Caldey Island
Preseli Hills
Aquatic birds to spot in Wales's beaches:
The most striking bird is the Puffin.
Other seaside birds that thrive on the marine lives of Wales are:
Garnets
Shags
Shearwaters
Snowdonia National Park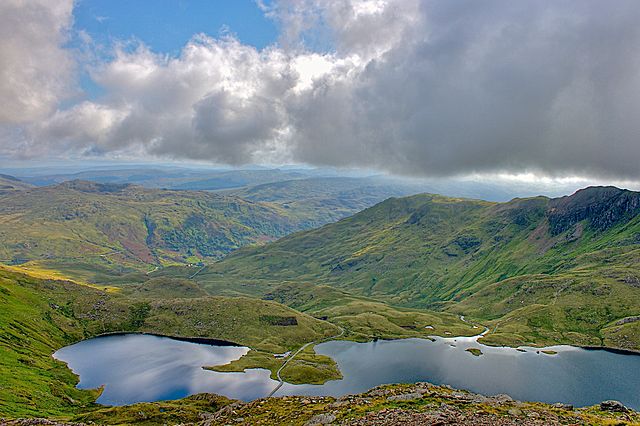 Snowdonia is the name of a mountain range in Wales and the national park established in this region is named after the mountain.
Visitors to Wales are highly recommended to visit this natural wonder. The landscape is unique with rolling hills, rivers, and lakes.
There is a toy train to take you to the summit of the Snowdonia mountain. Going around the Snowdonia National Park is always included in the list places to see in Wales.
Lake Vyrnwy
The lake is actually a reservoir catching rainwater. This natural beauty of Wales is located in Powys county.
If you have strength on your legs, take a long stroll circling the lake. Else, depend on the four legs of a horse and hop on to his back.
Llyn Ogwen
The Llyn Ogwen is a lake that is laden rich with fish attracting anglers from nearby towns. They come to Llyn Ogwen is a popular picnic spot for the North-western Welsh.
The altitude of about 1000 feet plus, adds the charm of the place with excellent views.
Interestingly, Llyn Ogwen is fed by numerous mountain streams meaning, it is a freshwater lake.
Skomer Island and Skockholm Island
Both these small islands are just off the Pembrokeshire beach in Wales. If you ask me what to do in Wales apart from visiting castles, I would highly recommend you to go on a Skomer cruise.
The boat takes just about 20 minutes to reach Skomer Island. Its twin, the Skokholm Island is also close by.
No one lives in these two beautiful islands. However, these Welsh islands are inhabited by thousands of seabirds that include:
Atlantic Puffin
Razorbills
Manx shearwaters
Great Cormorants
Guillemots
Skomer Island requires a maximum of four hours to explore. But for spotting the large colony of puffins and other seabirds, there is nothing else to do there.
However, these aquatic birds draw a large number of tourists from all parts of Britain.
Wales has declared both Skomer and Skokholm islands as Site of Special Scientific Interest and a Special Protection Area.
Skomer is best known for its large breeding seabird population.
One can walk across the length and breadth of the island in less than an hour!
The best time to visit Skomer islands is between April and September.
Fairy Glen
The picture depicts a place that is something out of a fairy tale. This eco-rich natural wonder is one of the first places to see in Wales. If I were ever to tour Wales, Fairy Glen would be my first choice to begin my Wales sightseeing.
Fairy Glen is actually a gorge, hidden safely in the Snowdonia Park area.
Conwy Castle
This is an awesome building! The imposing Conwy castle is located close to Fairy Glen. It is truly an architectural marvel.
This is one of the finest castles of 600+ castles in Wales. Don't miss seeing this tourist landmark when you go to Wales.
Three Cliffs Bay
The three cliffs that you see are not taller than 20 feet! Nevertheless, they lure rock climbers. Once atop, they are rewarded by a spectacular view of the sea.
The summit view also includes the ruins of the Pennard Castle.
The Three Cliffs Beach is a very clean beach with very few people at any given time. It is one the "Blue Flag" beaches, a sort of an award in Wales given to the beaches alone.
Llyn Padarn
I think the word 'Llyn' means a lake in Welsh. Llyn Padarn is a gorgeous lake with a backdrop of the ubiquitous Welsh mountains.
The lake is one of the most scenic places in all of Wales. It is an ideal place to sit and lapse into introspection.
The best thing to do in Llyn Padarn is to rent a kayak and move across the calm waters of the lake. Such an opportunity to navigate a Welsh lake doesn't come often.
If you have a company, try to get on board a canoe and enjoy an hour of canoeing. Whilst in a canoe, try your luck in angling. The Welsh trout said to be very tasty.
Aber Falls
River Afon Goch plunges from a height of 120 feet from the cliffs of Carneddau mountain.
Occasionally, visitors are seen braving the chill by playing in the plunge pool.
Here is a more scenic way of looking at the Aber Falls:
Among other best things to see in Wales, castles and lakes are abundant and I am sure they are worth seeing. Of course, you will get bored looking up at the ancient castles and deserted lakes in Wales.
Eating in Wales
To break the monotony, go to some typical Welsh Inns and try their spongy pastries and typical English biscuits and tea.
Don't forget to eat a Welsh rabbit that contains no rabbit meat. Its name is actually 'rarebit'.
Cackles of Wales:
Do you know what is this?
They are not seashells but edible mollusks. They called  as 'Cackles' in Wales.
Surprisingly, the cuisine in Wales has started using a lot of Indian spices and condiments.
If you are a beer buff, you can drink gallons of it in Wales. The Welsh simply love to drink locally brewed beer.