I am sure the image above of a treehouse made you sit straight. Glance at it again, and you are hooked. If you are already married, you will contemplate spending your second honeymoon in those stunning treehouses.
If you are unmarried but in love with someone, you would take her there and propose.
This is just one example of a beautiful treehouse. I have curated a big list of  houses on trees  in the world hanging high above on trees. Treehouses, aptly called love cabins because of the uninterrupted privacy you get.
Even to have a cup of coffee, you will have to climb down, trek quite a distance to the dining area.
Renting in a treehouse certainly expensive because of the cost of maintenance and to serve the guests.
List of Best Treehouses around the World
Love Cabins, Australia
Jungle Jive Tree House, Munnar
TreeHouse Point, Washington
Tree House Lodge, Costa Rica
Bangkok Tree House
Athirapalli Rainforest tree house, India
Bird's Nest, Sweden
Chateau Tree House, France
Tree House resort,  India
Lion Sands, South Africa
Best Treehouses around the World
Browse through the biggest list of splendid tree houses located in various forests and national parks globally.
Love Cabins, Blue Mountains Australia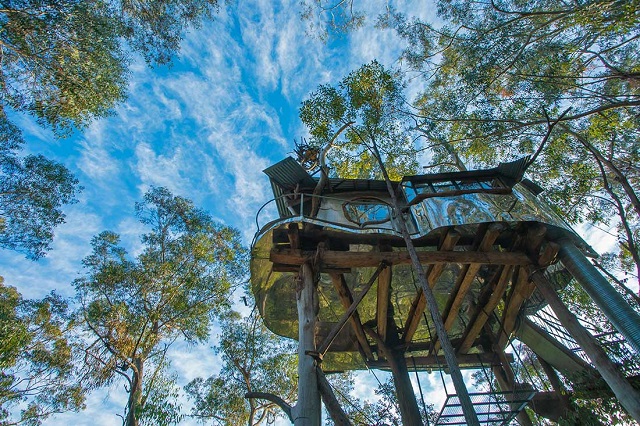 I think the treehouse mostly perched nearly 50 feet from the ground. The glass walls of these love cabins provide spectacular views of the trees and hills outside.
Sadly, there is no restaurant nearby. You must bring your own food and drink. Even the check-in and check-out timing are shocking. It is 5 pm and 12 pm respectively.
I think this wilderness treehouse is meant only for small parties.
For bookings, please visit Love- Cabins.
Jungle Jive Tree House, Munnar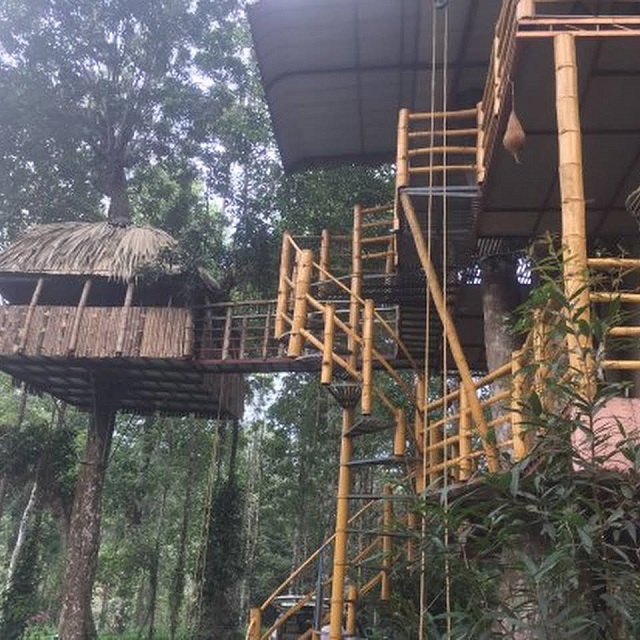 Address: Muthuvankudi, Mary Land Road, Anachal, Kerala 685565
Phone: 083018 81171
There are two types of treehouses here.
Mountain View Tree House
Garden View Tree House
Garden View treehouse seems to be on the first floor, and the Mountain View treehouse is on the second floor. The treehouse's view differs because of the height, which is 10 feet and 20 feet, respectively.
Both the three houses have a bathroom with a hot water facility. Sorry, boss, there is no air-conditioning as it is not required in Munnar.
Amenities in the treehouse include tea or coffee making appliances and wi-fi. Internet connection is free.
A complimentary breakfast also served. For lunch and dinner, you have to walk to the restaurant.
Check-in allowed from 1 pm, and the check-out is the next day at 12 noon.
Treehouse Point, Seattle, Washington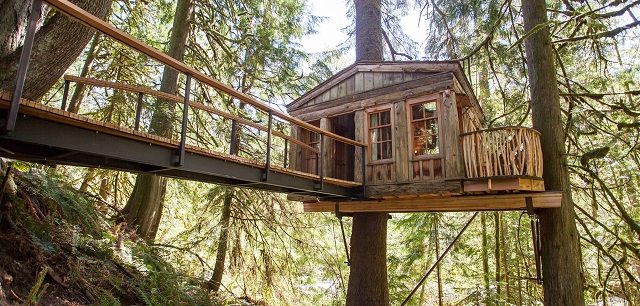 Oh, there is wood everywhere. Built amidst thick woods, the TreeHouse Point in Washington offers more than a couple of treehouse varieties to choose from.
I read their website; what I read indicated the confidence of their properties. It seems the treehouses are ideal for conducting happy events apart from a weekend staying.
If you intend to use the treehouse point for a weekend escape, you can carry light because the amenities include some toiletries.
Even delicious food including breakfast and lunch is cooked exclusively for the guests.
For a relaxed romantic weekend in the forest near Seattle, visit treehouse point.  I think you will fall in love at first sight.
Tree House Lodge, Costa Rica
Costa Rica is a Central American country known for its dense forests and diverse flora and fauna. The woods in Costa Rica boast giant trees that eagerly host tree houses on their branches.
Look at the image below, and you will understand how staying in one of the treehouses will give you an incredible experience.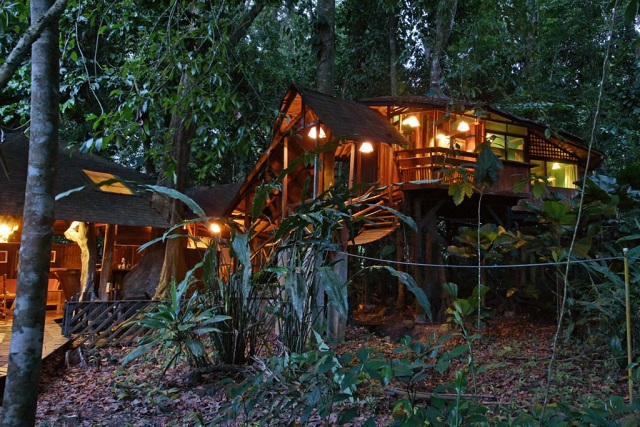 Your approach to the tree lodge is through a suspended wooden bridge. Nice beginning-eh?
This two-story treehouse is large enough to accommodate a family of four.
The restroom is built creatively on the tree.
The treehouse lodges come with air-conditioning, a refrigerator, a kitchen, and a bathtub!
Book your tree house online.
Bangkok Tree House
This concept of an open-to-sky treehouse is bold and beautiful. We rarely get a chance to sleep looking at the starry sky.
The open space on a treetop, fitted with a bed that is covered by a mosquito net is like lying on the terrace of your house.
The dining area of this cute treehouse has a roof.
I think you will have a feeling of hanging on the air while staying, looking up at the sky.
This means you have to go out after the sunset and get in just before the sunrise.
Visit their website to inquire about the pricing and other details.
Athirapalli Rainforest tree house, Kerala, India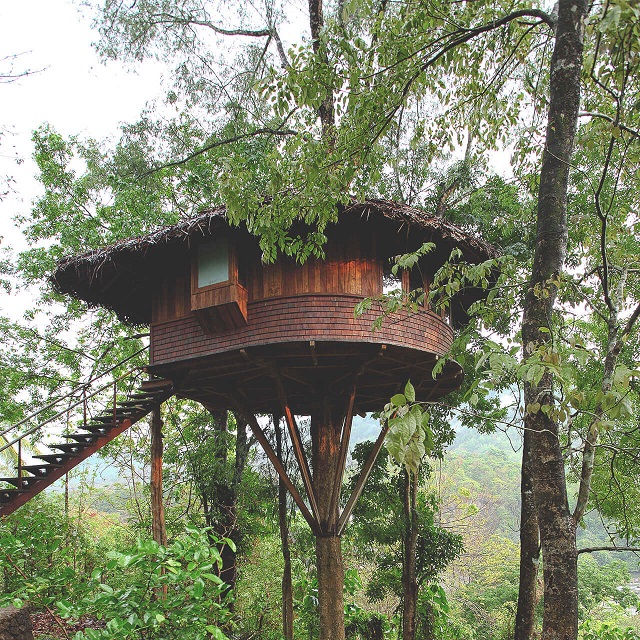 Have you heard of the thundering Athirapalli waterfalls? A video of the same is given below. How about staying in a treehouse in the vicinity of such incredible waterfalls in Kerala?
For full details of the treehouse near Athirapalli waterfalls, please visit https://rainforest.in/
The surrounding rainforest is a well-protected ecosystem. The flora and fauna of the western ghats are worth seeing at least once in your lifetime.
Bird's Nest, Sweden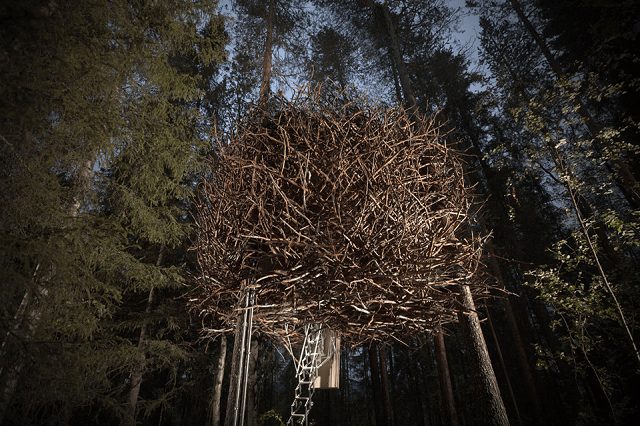 This highly innovative treehouse built to look like a real bird's nest. What you see above is the tree house's outer appearance. You must be wondering what is inside of this bird's nest, the world's most strange-looking treehouse.
Below is the image of the bedroom inside the bird's nest.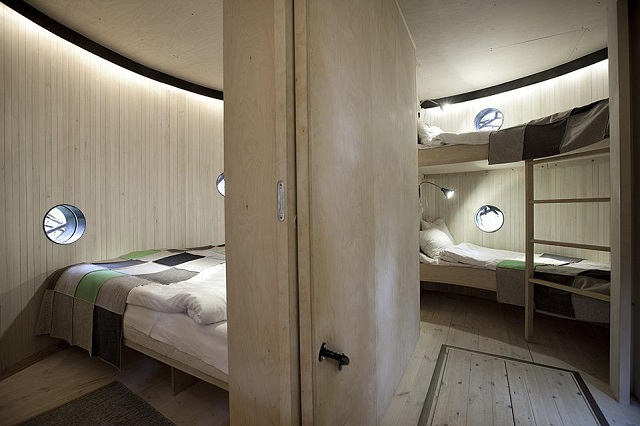 Do you know where this 'bird's nest' treehouse is located? Buddy, it is located just 50 kilometers before the 'arctic circle'! The Lule River is flowing in proximity. The exact name of the place is Harads.
The privacy of the bird's nest treehouse is so much so that, not even the birds can see you curling up on the cozy bed and daydreaming!
Chateau Tree House, France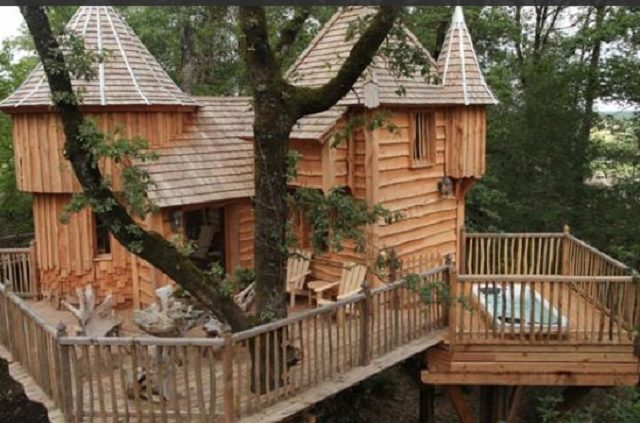 OMG! A miniature chateau built on a treetop? This is simply magnificent. The French people are known for fine taste in food, dress, drink, and finally architecture.
This chateau-like designed house built on a tree is called 'Milande'. The most striking aspect of the creative treehouse is the observation terrace.
There are two bedrooms in the Milande treehouse. The amenities include a bar with small supplies for your immediate needs.
The fully air-conditioned rooms with free internet provided to the guests.
The location of the treehouse in Bergerac- a small town close to  Bordeaux, a city in Southern France.
TreeHouse resort, Wayanad, India
There cannot be a better place to find and stay in a treehouse than Kerala, India. The number of trees in a rain forest cannot be easily identified and indexed. The rainforests in Kerala are the ultimate place for nature lovers who hug every tree with love.
Vaithiri Resort, a dream resort set amidst lush, evergreen rainforests and mountains in Wayanad, Kerala.
Vythiri Resort, Lakkidi, Kerala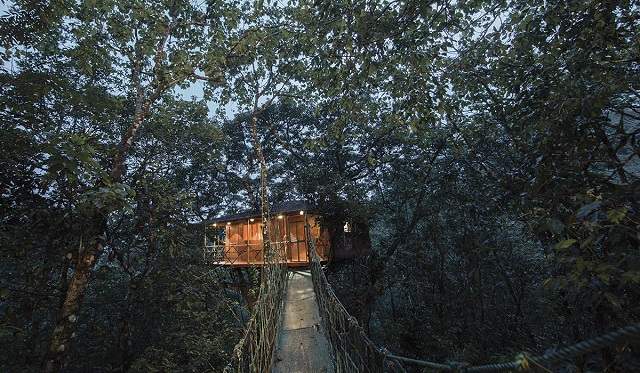 There are five tree houses in Vaithiri Jungle Resort that are in high demand throughout the year.
The reasons for attraction include tree houses, an ayurvedic spa, a river flowing within the vicinity, and excellent Malabar food.
If you are not afraid of height, book the treehouse that is built about 90 feet above! Here is where you get the real bird's eye view.
Note:
No room service, no smoking, and no drinking inside the treehouse.
For details of the tree houses in Vythiri Resort, please click the link below.
Lion Sands, South Africa
South Africa, the world's most toured country for wildlife watching and delicious food is one of the ideal places to stay in a treehouse overlooking a vast savannah. The wilderness in front of you and on all sides can make you spend one of your laziest and relaxed holidays.
Lion Sands offers tree houses to stay in Africa's Kruger Park and Sabi Sand Game Reserve.
Next to the treehouses in Wayanad, Kerala, I found the tree houses in Kruger National Park, South Africa, the most beautiful.