Never plan a weekend trip to New York, especially, if it is your first visit.  I was bowled over when I did exactly that.
In one and a half days, I could hardly see 5 of my very familiar places that I have read in English novels written by Irving Wallace, James Hadley Chase, and Harold Robins.
When I finally checked out of my hotel with a long face, the receptionist handed over a brochure that spelled out exactly one hundreds things to do in New York.
30 Best Things to Do in New York
Let me share some of the compulsory things to do in New York. It include places to see, visiting amusement parks, taking selfie in front of historic landmarks, dishes to eat, joining important city tours, food tours, cruise tours, etc
I reckon you should at least spend a full week to make it your ultimate tour of your lifetime.
Ready? Let us go yankee. .
Visiting Time Out Market
As you watched the video, Time Out Market in Brooklyn is the largest food court in the world.
You drink from the finest bars that are carefully invited to set up. You can eat from the restaurants that promise authentic and ultimate food delicacies from top cuisines in the world.
There are rows and rows of mind-boggling range of culinary fare. The display of food items will simply sweep you off your feet.
Warning:
Fast for 24 hours; well at least for 25 hours before you visit the Time Out Markey; else you will not do justification for flying across the world to test your gourmet experience.
Check out what shows and events are scheduled in the rooftop of one of the buildings. Whatever may be the show, the colourful bright lights take you to a new world.
Seaafood Cruise
To be more precise it is called the 'lobster cruise' in Hudson River. Try North River Lobster company's lobster roll or a plate of freshly caught 'oyster'. Do you know how to eat an oyster?
Oysters are eaten raw, buddy! Sometimes, the oysters served at your table may still be alive but you will realize it only after you pop is in your mouth.
Lombardi's
As you guessed right, Lombardi's is an eat out for 100% authentic Italian pizzas, pastas, Risotto, and what not. This is one of the highly recommended places to eat.
For international food connoisseurs, there is a Russian Tea Room, Greek Minetta Tavern, Pongal for Indian vegetarian delicacies, and Nakamura where the Japanese Americans throng.
Night Market in Uptown
It is another fantastic eating spot. You can call it a food court containing food stalls and drinking holes numbering over 60. I think it is not open all days; so check out with your hotel's front desk.
Beaches to See in New York.
Before I cover more incredible things to do in New York, I will tell you about the best beaches you must go while you are touring on your own.
The Atlantic Ocean will not disappoint you.
Cherry Grove Beach
Jones Beach
Long Beach
Coney Island Beach
Fort Tilden Beach
Orchard Beach
Brighton Beach
The sea beaches are always crowded. It is difficult to find a solitary spot anywhere. In addition, the noise coming from the visitors will even suppress the sound of the Atlantic Ocean waves.
However, you will truly enjoy your time in any one of beaches, especially facing the Atlantic Ocean.
I will include a few beaches of large lakes to see.
Lake George Beach
Finger Lake Beach
The lakes and river beaches are comparatively quiet. These beaches are more picturesque. Some of the lakes are part of state parks with nicely landscaped meadows, gardens, and sidewalks.
Overall, you can allocate two evenings to see a few beaches.
Amusement parks and theme parks in New York City.
There is simply no dearth of amusement parks, and water theme parks. Sadly, you will not have time to enjoy all of them. Therefore, I will briefly mention only a few of them that assure you and your children a wonderful and memorable time.
Coney Island Amusement park
It is Luna Park that you will definitely visit.  The rides include thrilling roller coaster, giant wheels, circus coaster, etc.
Look at the crowd in Luna Park. It attracts more than two million visitors a year. If you are visiting New York City with your family, you need one full day in Coney Island.
Enchanted Forest Water theme amusements.
It has as many as 32 water rides, slides, wave pools, and splashes.  You can see the happiest side of your children. The best ride here is the 1000+ feet Amazon Ride through forestry settings.
Added attractions include a mini zoo where you are allowed to pet the animals and birds and a show of circus.
I must admit, I rate the Enchanted Forest Water Safari Park higher the Luna Park in Coney Island. It is simply an ultimate attraction to see.
Splash Down Beach
Legoland Resort
If time permits, you stay a night in Legoland Resort. The food and drinks are awesome.
Museums and Art Galleries in New York
New York City attracts those with avid interest in fine arts and history through numerous museums and art exhibitions. There are 28 museums. If you have time, visit at least one from the list below.
Robin Museum of Art
The displays include over 35,000 objects depicting the art in India. The displays include mostly intricate sculptures, and murals dating back to 1500 years!
You can also see exhibits pertaining to the art in the Himalayas, especially Nepal.
This sprawling museum is located in the heart of Manhattan area.
National Museum of American Indian Art
By American Indians, the museum authorities mean the Native Americans. Sure, their cultural practices and beliefs were amazing to the contemporary American. They are particularly bewildered at various religious ceremonial objects such as wooden cravings, feather-made figures,  and day-to-day life necessities such as clothes, pottery, cutlery, and even storage items.
Visiting the museums and art galleries are considered as one of the things to do in New York by the discerned tourists.
I believe the museum continues in its collection efforts.
American Museum of Natural History
I am sure natural history of our universe and ancestors pull thousands of people. Moreover, you can gather bewildering and incredible facts with which you can enthral a batch of audiences in a party. If you want to become a party hero, visit a few museums.
Brooklyn Museum
This museum is really huge comprising over half a million sq. ft!
9/11 memorial museum
Van Gogh Exhibition of Art
This is a highly recommended visit in NYC.
Scenic Destinations to See in and Around New York
There are public parks, islands, and waterfall to visit.
It comprises 170 acres of land. Strangely, it is an island located within City harbour.
Butter Milk Channel
It is a narrow strait that is just one km long.  Further, it separates the Brooklyn from Governors Island. In addition, it  is a rare opportunity to see a 'strait'.
Brooklyn Bridge
Yes, we all have seen it in magazines, news snippets, and movies. Brooklyn Bridge is one of the popular tourist landmarks in NYC.
It is built over the East Hudson River. Further, it  connects Brooklyn and Manhattan.
In addition, it is always thickly crowded.  To cross its length of 1 .8 km on foot, it might take 30 minutes!
Please know that Manhattan is also an island in NYC.
There are 3 more suspension bridges that you must see in NYC.
They are all connecting Manhattan Island with Long Island. The names of the other three bridges are:
Queensboro Bridge
Manhattan Bridge
Williamsburg Bridge
The Brooklyn Bridge being an iconic of NYC, and a National Historic Landmark, it is a site of most photographed and the most filmed landmark in all of the U.S.
Central Park
It is a huge public to see. And, it comprises nearly 850 acres! Further, it attracts approximately 50 million visitors every year.
The Central Park is located in Manhattan. You will be drawn to several landscaped areas, lakes, and a large 'sheep meadow' that is filled only with human beings.
Other Tourists Interests in Central Park:
Skating Rink
A reservoir
Carousal (you can enjoy rides in revolving carousal)
Central Park Zoo
Bethesda Fountain
Central Park Mall
It is not a shopping mall, mate!  And, it is literally a mall of beautiful avenues and landscaped gardens. In addition. it is a pleasure to walk through the mall to reach the Bethesda Fountain.
Ride in a horse drawn carriage
The highly visited Central Park is also a national Historic Landmark to see in NYC.
NASA attraction
NASA video footage is one of the must-visit attractions. You may not believe there is much that is happening in the outer space above our earth.
NASA has captured numerous natural phenomena that have happened in the space. Do not dare to miss seeing this incredible attraction to see in NYC.
You have to go to the James Webb Space to get enthralled by the NASA video clips.
Rockefeller Center
Amongst the things to do in New York, visiting the Rockefeller Center is a must. It is a famous cultural center comprising 19 skyscrapers in Manhattan.
The large complex of buildings house several art-works in faculties that include drawing, painting, murals, and sculptures. A skating rink is well patronized.
Times Square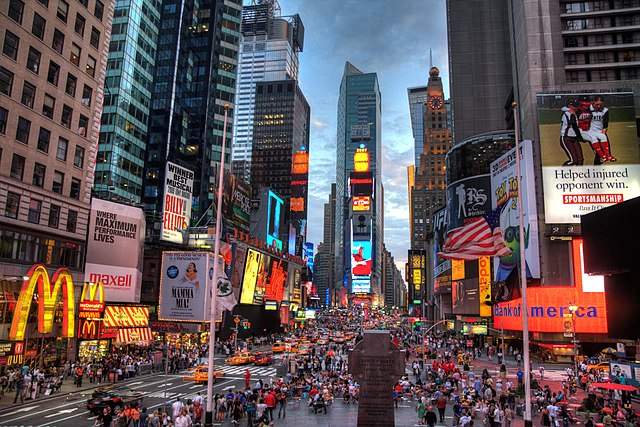 Most probably, you will stand in the Times Square on your first day. It is an iconic tourist landmark.
It is always crowded. People keep coming in throughout the day expecting lean periods of crowds but they are disappointed to see thousands of people.
You can't find a parking place in Times Square. Get down from the taxi quite afar from Times Square and walk a long way to reach the spot.
Go there when it is brightly lit. The billboards of bars, shops, and restaurants will be striking. Times Square is a major entertainment hub in NYC.
Well, I think I have to stop at this juncture. If I continue further, you may have to end up exploring ways to live in New York City, simply the capital city of the world.