Texas, one of the southern states of the U.S.A. is a rather under-exposed state when it comes to tourism. There are numerous breathtakingly beautiful spots in Texas that even natives of other states in America are not aware of. They would rather visit Florida or New York for a week-long vacation.  Look, I am not exaggerating a bit when I use the word, 'breathtakingly beautiful. Read this post until the end and I foresee your urge to leave your comments under every Texas attractions.
The beautiful spots in Texas that I intend to report in this article include waterfalls, canyons, historic sites, an unknown beach, mythical sightings, a cemetery for automobiles, lakes, springs, and wildlife reserves.
Top 12  Texas Attractions:
You will conclude at the end that these are certainly hidden tourist landmarks in Texas.
Choose a cooler season when you plan your Texas tour because its heat keeps us at bay through a major part of the year.
Gorman Falls
Isn't it terrific?
The water falls from a height of 70 feet. As part of the Colorado State Bend Park, the park's greenish surroundings and hills contain several scenic hiking trails.
Even to reach the waterfalls, you have to walk nearly 3 km. Overall, the hiking trails measure 50 km! Sadly, there is no way to stay somewhere in between to get to the finish line in two days. I am sure even ardent hikers will be seeing fantastic flora and fauna if they can hike the entire 50 km trail.
As you have to walk 3 km from the main road to reach the Gorman Falls, it is certainly one of the hidden gems.
Blue Lagoon, Huntsville
Have you ever been to a limestone quarry or a granite quarry? Rarely, these quarries will have a natural pond that the Americans call a lagoon.
Invariably, these lagoons are rich in minerals and the water is potable. This Texas attraction is again a lesser-known beautiful spot and located just about 130 km outside Houston city.
Natural springs are beautiful to look at and always cool to take a dip in. This Blue Lagoon located in a quarry is owned by someone and he collects a small entrance fee that I think is certainly worth.
The pond is bordered by natural pine trees that serve as a picnic spot.
Enchanted Rock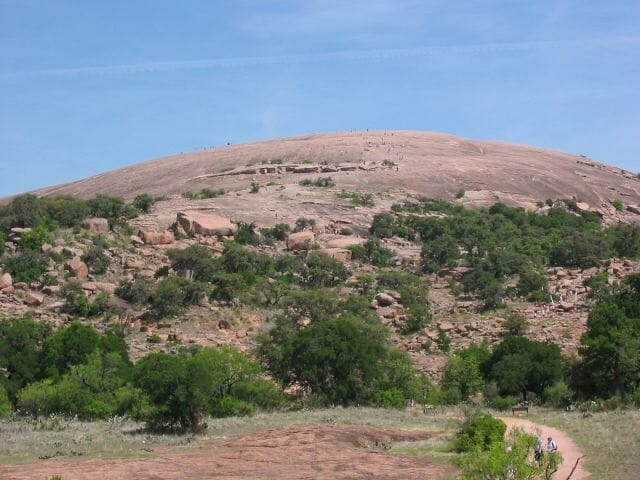 I don't know the reason behind this name. Nonetheless, I like the name. At certain times of the day, you can notice a pink shade on the hillock.
In order to see this Texas attraction, you have to reach Fredericksburg, a lovely city. The 'enchanted rock' lies on the outskirts of Fredericksburg city.
It is actually a large area and is part of the Enchanted Rock State Natural Area. At a glance, the area surrounding the pink granite rock looks barren but it is not so. There is dense foliage around the area.
Birders flock to this Texas attraction throughout the year as it is home to about 50 species of avifauna.
Here are some of the attractive birds that one can spot if patience and luck are your virtues.
Blue Grosbeak
Scissor-tailed Flycatcher
Woodhouse's Scrub Jay
In addition, if you are a seasoned identifier of sparrows, you can spot several species of sparrows here.
Bird-watchers and passionate hikers can be seen camping around the enchanted rock. A few caves can also be explored for any wildlife.
One of the hidden places in Texas well worth a visit.
Spy Rock
Spy Rock is similar to the enchanted rock, another pink granite hill that's the summit is situated at a height of 1750 feet! It is located in Mason County.
Marfa –Mysterious lights in the sky
Marfa is a small town, in western Texas. It is adjacent to a desert. What attracts tourists to Marfa is the strange and inexplicable lightings in the sky.
Are they UFOs? Or, are the ghosts wandering there, emitting light to show their presence?
Whatever it may be, it is included in the list of Texas attractions. Yeah, I am intrigued.
The colors of the lights are yellow and orange and the size of each sighting points to spheres as if there is a ball of fire floating in the space.
It would look eerie if the lights are officially announced as from aliens.
Jacob's Well
Among the many beautiful spots in Texas, natural springs amidst karst (soluble limestone rocks) beds are included.
You don't stumble upon natural springs in the wilderness often. So, when there is a notified attraction of a city or a village that is the seat of these natural springs, they warrant a look even if it means a slight detour.
Jacob's Well is located in Wimberly, near the Hill Country region.
If you are touring Austin, you have to allocate three hours to go and come back from the site of Jacob's Well.
You have to carefully descend a series of steps to reach the water's surface. Its bottom is another 120 feet down.
Some people wear divers' gear and take a dive from the ground level.
Willow City Loop
It's highways are generally barren with few that command a stop or at least a second glance from your car.
Of course, there are exceptions. The Willow City Loop is one such place among the lesser-known beautiful spots.
If you are heading west towards Fredericksburg, you will come across a lovely stretch of naturally beautiful place as seen in the video above.
Cliff with overgrown bushes, small gorges, grounds covered with colorful wildflowers, grasslands that are gazed at by wildlife is some of the identities of Willow City Loop.
The unmistakable 'bluebonnet' wildflowers are so cheerful to pass by. Spring is the season you have to choose to drive through this beautiful loop.
Other wildflowers that smile at you include:
Mexican poppies
Firewheel
Yellow daisies.
Did you notice a relaxed deer and a couple of wild turkeys in the video?
There are ranches on the way; some of them can be dude ranches that accept guests to stay with them.
This is the most traveled road in Hill Country Region.
Pedernales Falls State Park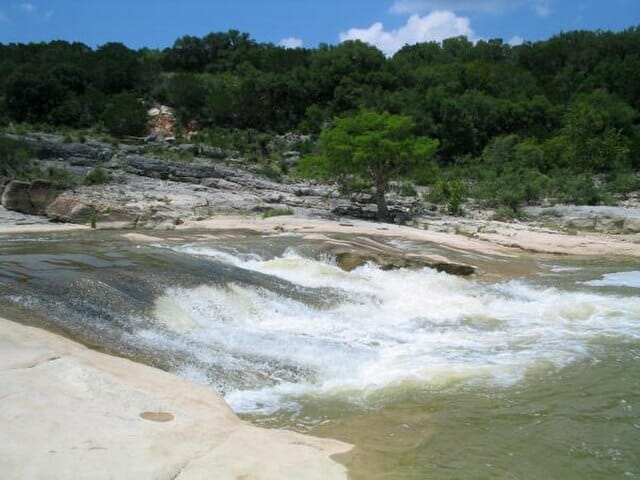 This is River Pedernales, flowing in the Pedernales Falls State Park. It is the feeder to the waterfalls in its name. The river has got wild temperaments by turning into a river of strong current suddenly.
See above when the river becomes a waterfall.
In spite of carrying the name 'a dry state', some of the beautiful spots in Texas prove it is a misnomer.
Here is a big surprise for you, buddy. River Pedernales is a tributary of 1400 km long River Colorado. Yes, there is a Colorado in this state. I think it will even surprise long-time residents of the Colorado State in the U.S.
Pedernales Falls State Park is located in the Texas Hill Country Region.
From the city of Austin, Texas, this place is just 42 km away in the west.
Boca Chica Beach, Brownsville
Abutting the Mexican Gulf is Brownsville Village. The Boca Chica Beach, a recent Texas attraction is here where you can find a deserted beach that has suitable conditions for swimming.
There is another reason for this obscure area to attract people. There is a belief circulating in the Brownsville village that it was the site of pirates long ago.
When they find few ships passing by, they had to desert the place and the locals believe the pirates might have buried some of their captured wealth below the Boca Chica beach.
The local Government has formed a state park around Boca Chica Beach, one of the southernmost beaches.
Well, I don't think you will drive all the way to the Mexican border, just to see a deserted beach that will look like an uninhabited island during the daytime.
Nevertheless, it is one of the Texas attractions in recent times. I think the myth of buried treasure does the trick.
San Felipe Springs
I am sure it needs these type of natural springs at regular intervals. They can act as cooling towers for the heated surface.
Val Verde County is where you have to go in order to see this Texas attraction. It is worth traveling nearly 250 km from San Antonio city because there are 10 such springs in and around the San Felipe Spring.
Well, if you have heard of the Rio Grande River that flows both in Texas and in Mexico, these natural springs empty their belongings into the Rio Grande.
Walk along the shores of the springs and you will find a neat row of trees that give the much-needed shade that attracts the passersby to stop and enjoy the natural breezy spot.
Laguna Atascosa National Wildlife Refuge
In Cameron County, this wildlife sanctuary is a sprawling area comprising 400 sq. km. It is home to a few endangered wild animals that include Gulf Coast Jaguarundi and Texas Ocelot.
Apart from beasts, one can spot lovely birds such as Aplomado Falcons, pheasants, red cardinals, and the Green Jay.
What a color combination!
Look at this strange=-looking duck with a read head.
These ducks feast on crabs that are in striking blue shade.
This Texas attraction is located close to the Rio Grande, near the Mexico border.
Claiborne West Park
This is another big Texas attraction for wildlife enthusiasts. The park is planted with numerous trees and naturally is home to myriad bird species.
Claiborne West Park is located in the easternmost part of Texas, near Orange County.
If you are a first-timer to Texas and if you love to watch birds, type "Great Texas Coastal Birding Trail" in your car's GPS and it will do the rest.
There is no dearth of beautiful spots in Texas. Read a few travel blogs that focus on a range of travel destinations, and you can quickly make a bucket list of Texas attractions.