Which hotels offer private pool villas in India?
Your own private pool attached to your hotel room -isn't that you and your spouse always wanted but never had the time to find such Private Pool Villas on the web?
Here, I am your travel planner. I have curated a list of hotels that offer rooms with an attached swimming pool in Bangalore. Actually, when I started my research on Private Pool Villas, I did not expect to find so many results that met my search phrase.
Very long ago, maybe 20 years before, I saw a private resort in Chennai's East Coast Road that provided a villa with an attached pool which was fairly large. I guess its length was 25 meters and width 6 meters!
When a conservative Chennai offered that dream luxury, why not Bangalore, or Cochin, or Jaipur, the best cities in India that are known as honeymoon destinations?
8 Best Private Pool Villas in India
What an ultimate luxury for couples, especially, just married couples who would be ready to pay a high price for a hotel room that offers private pool.
Peruse my list of Private Pool Villas in India.
Cherai Beach Resort, Cochin
How do you like the attached swimming pool to your villa?
Cherai Beach Resort is located in Cochin. It can be easily found near the railway station of Ernakulam.
Cochin is right on the beaches of the Arabian Sea. Moreover, the canals that carry the backwaters through the city are an attractor factor.
Numerous resorts in Cochin and Alleppey cities are built on the canal banks with rustic design, spas, ayurvedic treatments, the freshest seafood, and more.
Cherai Beach Resort offers several independent villas for the guests. One villa is reserved for couples that seek a hotel room with an attached pool. This is called a 'pool villa' in Cherai Beach Resort.
Along with your exclusive pool, you also get your private Jacuzzi! Man, what else can you want in a Cochin Hotel?
There is also a balcony overlooking the backwater lake.
Actually, every cottage and villa is overlooking the canal. The rear of the scenic cottages is full of lush green trees.
Catch the famous Kerala lobster and fry it in the kitchen of your villa. Go for a long boat cruise in the evening until you see the sunset.
Cherai Resort is one of the hotels that offer a room with a private pool.
Contact them onlien for more details like types of other accommodations, outdoor activities, and prices.
Spice Tree, Munnar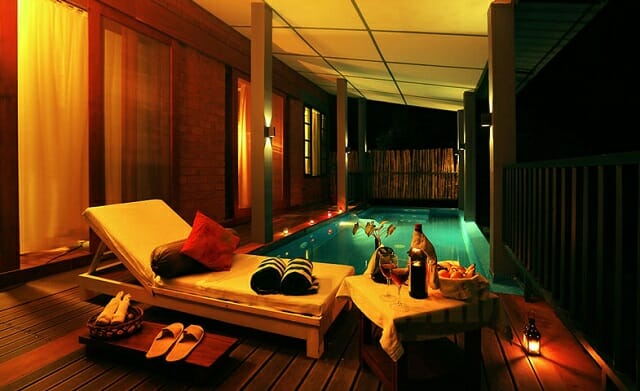 Well, aren't you impressed with this poolside lounge that is part of your hotel room?
He added attraction to spend your honeymoon in this hotel room that offers private pool is the location Munnar. It is one of the most visited hill stations in Kerala state, India.
The villa bedroom has a view of the lush green mountains of the Western Ghats. The early morning view from your hotel room will make you the morning time lasts until 4 pm in your watch. It is so much refreshing out there with roaming mist, the sun rays trying to penetrate the mist, the sweet bird songs, and the cool temperature.
Munnar is a hill station; even the attached pool is heated. There cannot better choice if you are looking for a hotel with an attached pool.
The villa's furniture includes a separate living room with connected television. Laundry service is also available in case you extend your stay which is more likely. I think the well-equipped spa and massage centers are also likely to prolong your honeymoon.
To stretch your longs, take a stroll through the neatly laid tea garden or walk up to a waterfall that is 5 km away from Spice Tree Resort.
The hotel's travel desk can help you hire a luxury sedan with a knowledgeable driver cum guide who will take you to Eravikulam National Park and Anayirangal Dam.
What a serene place. I think for a moment, even the honeymoon couples will forget about returning to the warmth of the hotel room that offers private pool.
There is a multi-cuisine restaurant that won't let you feel hungry during your stay.
Visit the resort's website.
Heritage, Madurai
It is a bit weird that the word 'heritage' stands alone without any word preceding it. After all, it is a hotel that you are referring to-right?
Heritage offers a pool villa that falls under the category of hotel rooms with an attached pool. When these hotels refer to a 'pool', it is not necessarily a swimming pool. It may point to just a plunge pool in which you just splash around. Even after we grow up, such a small and private water body will revive the youth in us-eh?
The only con is the pool, even though is attached to your hotel room, is not a closed one but open to the air, thus lacking privacy.
Other than that, you cannot say any lacuna in Heritage where every type of accommodation comes with all the modern amenities.
For bookings, contact them through their website
Mango Mist, Bangalore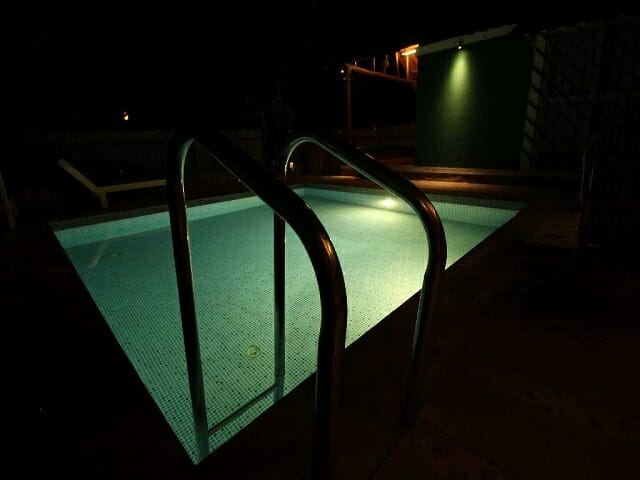 The photo could have been shot with more natural light to lure prospective honeymooners. Bangalore is a hot destination for a honeymoon.
The Name Mango Mist indicates the hotel that offers a room with a private pool is located on the outskirts of Bangalore.
The website says the resort is 25 km from Bangalore towards Bannerghatta Park.
I gathered the resort offers quite a bag full of outdoor activities that would certainly not interest couples that come to stay without their children.
The range of adventure activities offered at the site sounds like a theme park!
Examples:
Zorbing
Zipline
Rock climbing
Twenty cottages are offered for guests and one of them is the one with an attached pool. There is built on a tree.
One of the top facilities is a fish spa that is for real.
Visit mangomist.com for full details and booking well in advance because of a good occupancy level.
Leonia Holistic Destination, Hyderabad
The word 'holistic destination' in the name of the Andhra resort is suggestive of innumerable facilities and amenities. They are so much so that you simply don't have to drive out of the resort to buy anything or ask hotel staff to get it for you from outside the resort.
Leonia Resort is located 30 km from Hyderabad city. Even the city's airport is not very far away. I mean, when you come out of the airport, you need not drive all the way to the city; the resort is located in between the airport and the city.
Leonia Resort offers a room with an attached pool. It is ideally named 'Honeymoon Suite'.
Don't imagine a large swimming pool, mate. It is just a plunge pool that is attached to your suite. However, the pool is not within the roof but out in the open.
Your amenities include:
Spa
Free Wi-Fi
Round The Clock Room Service
Fitness Center
Complimentary Breakfast
Small Water Theme Park
Night Club
Theaters (note the plural)
Restaurants
Bars
Ayurvedic Massage
Meditation Hall
If you want to spend a weekend in this Hyderabad resort, book well in advance because the holistic resort enjoys quite a good patronage.
Celestia Suites also have attached plunge pools and a private Jacuzzi.
There is another Private Pool Villa. The pool is fed by a gentle cascade. The name of the room is Cascade Suite.
I think I would choose this Cascade Suite among other rooms that offer an attached pool.
Mount Castle Villa, Lonavala
Lonavala is one of the highly visited weekend holiday destinations. Set amidst the mighty western ghats, rolling hills, and lush greenery, Lonavala is the most favorite city-escape for Mumbaikars and Punewalas.
Mount Castle Villa enjoys a good occupancy level because of its size. With 5 bedrooms and a living room, a large family or a group of corporate clients can book the villa.
It comes with an attached pool, out on the open. Yes. It is an indoor pool.
Numerous attractive amenities draw guests in truckloads.
Why this resort in Lonavala is always booked?
Lonavala is a central place with numerous naturally beautiful places to see. Just to mention a few:
Kunte Waterfalls
Tiger Point
Karjat Hill Station
Lion's Point
Being a big destination for short vacations, the price would vary according to the season; the monsoon is the leanest month during which the prices will be slashed down.
Ivy Palms, Mumbai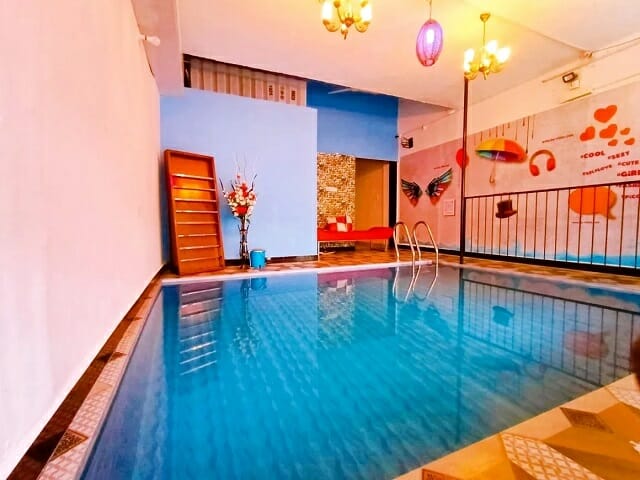 I found out a handful of hotels in Mumbai that offer Private Pool Villas in Mumbai India.
Ivy Palms impressed me the most among a few hotels that offer rooms with a private pool.
It is actually a villa that you will be taking on rent. Though it comes with three bedrooms, who would say 'no' to a honeymoon couple that wants Private Pool Villas for incredible privacy?
Ah, it is great that Private Pool Villa with a roof above for added privacy.
Visit them online to know about amenities, nearby attractions, and pricing.
Pikasa Villa 411, Mumbai
Bombay (Mumbai) is well-known for year-round parties by film personalities, businessmen, and bold and beautiful individuals.
They may live in sprawling bungalows with private pools but when it comes to throwing a private part, they hire villas offered by big hotel chains. These villas with 4 or 5 bedrooms within a compound have a small private pool to either enjoy a dip or to host a poolside party.
If you are also impressed and want to pass on your recommendation for a hotel room with an attached pool, please visit their website.
The property is located in Goregaon, Mumbai. To be frank, the hotel's website doesn't throw many details except a gallery of photos. It is better to call them by phone.
To conclude, honeymooners from India need not to Switzerland or France to enjoy the ultimate luxuries that a hotel can give. In their own country, countless resorts and hotels offer Private Pool Villas.
Mumbai, Cochin, Hyderabad, Bangalore, and Chennai are some of the cities where you can find places with private pools. When I checked the rates in such hotels, I concluded they are comparatively dead cheaper than visiting a foreign location.
For example, I saw the Munnar resort is asking only around Rs.7000 per night for a room with a personal pool. It comes to less than $100 per night! In addition, you get Indian food and water that are you are used to.
Please share this article with your friends and families. They will find it useful.