Stargazing is an interesting time pass. However, it is not a popular hobby among us because the gadgets that are required to look at individual stars, constellations, and planets are not easy to come by. Let us discuss about exclusive stargazing places that are called Dark Sky Parks.
What equipments are needed to watch stars in the sky?
Telescope
Finderscope
Binoculars
Eyepieces
Lastly, you need some fundamental knowledge about stars and constellations.  There is an excellent stargazing guide by none other than the National Geographic Channel that is sold through Amazon
Here is the link to it.
It is titled the "Guide to Night Sky".
Which are the best places for stargazing?
Where are the best spots to watch the star-filled night sky?
Night sky watching cannot be achieved from your Brooklyn Apartment balcony because too much artificial light will hinder your clear vision of the stars.
So, you need to go to exclusive stargazing places that are officially called 'Dark Sky Parks'.
In the USA, there are several dark sky parks spread across the continent. In this blog spot, I will mention some of the stargazing places. Choose the one that is nearest to you.
Important Note:
You need a company to share your joy of finding something spectacular. Therefore, take one or two like-minded people along. As a matter of fact, the cost can be shared!
What kinds of places are actually good for night sky watching?
A vast open space that is totally dark, is the ideal spot for this hobby. There should not be any artificial lighting as far as you can see. In addition, no skyscrapers or mountains should stand between your eyes and the dark sky.
A desert is the best place over which the sky is always clear that exposes the stars that are embedded in it.
In addition, a tall mountain summit that is located somewhere in the wilderness where there is no town or village exists.
In the United States, the western part of it has such places where dark sky parks are found.
11 Best Dark Sky Parks USA
 Here is a list of dark sky parks in the U.S.
Glacier International Dark Sky Park, Montana
Actually, this dark sky park comprises a large area that extends up to Canada.
Its Canadian part is called Waterton Lakes National Park of Canada.
Both these places are certified by the International Dark Sky Association (IDA). So, such dark sky parks are called IDA destinations.
Glacier National Park is a vast area that you cannot visualize. For example, can you mentally see a place that covers a breathtaking 4100 sq. km area?
It stretches across Montana's well-known Rocky Mountains that are glacier-clad during the winter.
This vast wilderness attracts other adventurers that including trekkers, cycling buffs, and campers. Oh, I should add naturalist enthusiasts and wildlife watchers as this tremendous wilderness is a habitat for numerous wildlife.
I should specially mention alpine meadows, high-altitude lakes, spectacular forests in Glacier National Park that attract naturalists in large numbers.
As you need powerful eyepieces and telescopes to watch and identify the stars, you have to go to St. Mary Observatory. It can be found at the entrance of the park. It has a high-resolution telescope with which, you can even identify moving galaxies if you know how to identify them. This is called St. Mary Star Dome.
See the tarry sky watched from Darksky Park, Montana.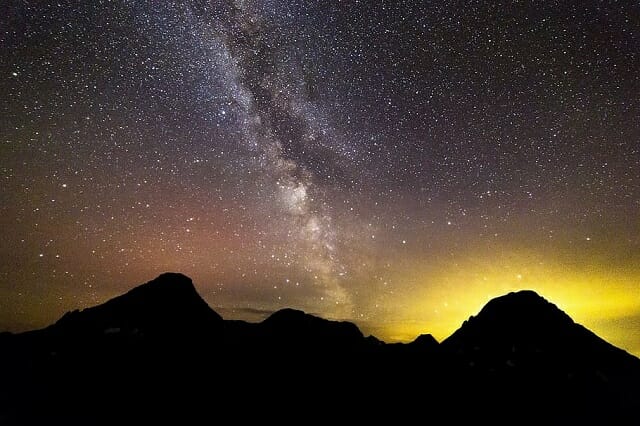 As an additional note, if you plan your visit carefully, you can even capture the spectacle of 'northern lights' from Glacial National Park, Montana.
Cherry Spring Park, Pennsylvania
This would bring cheers to the Easterners. This dark sky park is located in Pennsylvania.  This stargazing place is one of the IDA locations in the U.S. Inexplicably, the land is enveloped in so dark an environment that one can even catch a glimpse of the Milky Way galaxy.
Here is a video that shows how a milky way looks from the earth.
This Pennsylvania Dark Sky Park is situated at an altitude of 2300 feet, where, the darkness is not pierced by any artificial light.
The IDA location in Pennsylvania is so popular that the park hosts start parties twice a year. The event attracts amateur stargazers, budding and veteran astronauts. Some of them are repeat visitors who seemed to know the sky events calendar.
The spectacle of Trifid Nebula watched from the Cherry Spring Dark Sky Park. This has something to do with Sagittarius.
The Cherry Spring Park is also good for wildlife watching, trekking, and camping.
Do you know?
Do you there is a unit of measurement for how bright a dark sky is? It is called the "Bortle Dark Sky Scale". Mentioned as 1 to 10, the lower the number means the sky is thinly polluted by artificial light.
Visit the official website of Cherry Spring Dark Sky Park located at dcnr.pa.gov/StateParks/FindAPark/CherrySpringsStatePark/Pages/default.aspx
See, there is much to know about stargazing, IDA, the quality of the darkness of the sky, and so on.
Death Valley, California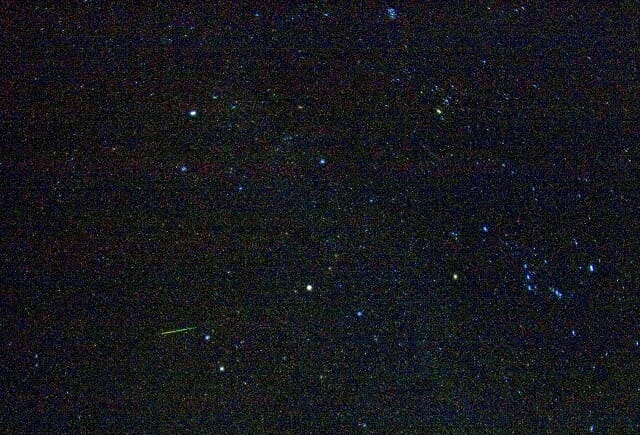 Death Valley is an IDA location. The dark sky park here is 160 km away from the big city Las Vegas.  Most of the Mojave Desert
Death Valley is not a misnomer. It is located in California, part of which is a hot desert. Don't assume the deserts in the U.S. are not as hot as Sahara or Thar deserts. The summer months witness about 55 degrees C which makes Death Valley one of the hottest places in the world.
Apart from being a place for stargazing, there is another interesting geographical phenomenon in Death Valley,
Part of Death Valley is called Badwater Basin. Its surface is an incredible 282 feet below sea level!
Death Valley National Park draws stargazers and budding astronauts due to its thick dark sky with not a speck of cloud, thus revealing all the treasures of the sky.
It is one of the IDA locations which makes the talking point for space lovers and bloggers who focus on this rare and interesting niche.
Is Milky Way visible from Death Valley?
What time of year can you see the Milky Way in Death Valley?
Yes! The peak summer season in this part of California is in April and May. Rise very early from Las Vegas (the place of your stay), cover the 200+ km quickly so that you arrive at the vantage position well before dawn to capture the magnificent sight of the Milky Way.
If you shy away from Furnace Creek (200 feet below sea level) during the summer, plan your stargazing trip to Death Valley after the middle of August. The stargazing period lasts until September end. This is a convenient period because the darkness envelops immediately after the sun disappears.
Try to find some accommodation in a small town called "Perhump', located about 5 km away from Furnace Creek.
Your stars observation platform is close to Furnace Creek. Look for a sign that reads "Harmony Borax Works", a borax mine.
Harmony Borax Works is located close to the Furnace Creek Visitor Center and provides a great place to see the stars with little obstruction from the mountains. …
Mesquite Flat Sand Dunes is one more stars viewing platform in Death Valley.
It is 37 km away from Furnace Creek in the north direction.
Great Basin National Park, Nevada
First, watch this short video of a star-filled night sky shot from this Dark Sky Park and then read more about the park and its location.
Isn't it simply breathtaking? A million thanks to the video uploaded by CBS Sunday Morning.
This has become an IDA certified Dark Sky Park only five years ago. A veteran stargazer would have identified from the video, the following:
Stars with popular names
Well-known constellations
Planets
Milky Way galaxy
Andromeda Galaxy
Even without looking through a powerful telescope, you can view stars as shown in the video. This implies the place is absolutely dark without any light pollution.
This Nevada dark sky park is located in White Pine County which in turn is close to the Utah border.
I think you have to locate a place close to the stargazing spot because Las Vegas is a whopping 470 km away.
When I searched for the nearest city or town to the Dark Sky Park in Great Basin National park, the result confused me as to how to reach the stargazing place.
First, the result declared that the name 'Great Basin' is a misnomer because it constitutes several small basins
Secondly, the national park is not only a part of Nevada but also extends into the adjoining states that include:
Utah
Wyoming
Idaho
California
Oregon
My second attempt revealed a city named 'Ely' which is 106 km northwest of the Great Basin National park.
There are several hotels to stay in Ely.
Big Bend National Park, Texas
That's the magnificent Rio Grande adjacent to the Big Bend (literally).
Western Texas is known for long stretches of wilderness (Chihuahuan Desert ) without any big mountain ranges. It is an ideal condition for night sky watching. When travelers blogged about their stargazing experience in the Big Bend National Park in Texas, the word reached the IDA (International Dark Sky Association) that must have personally visited the site and certified it as one of the IDA locations.
The darkness is awarded the Golden Tier status that observed negligible external light.
The mention of Rio Grande means the dark sky park is close to the border of Mexico.
During the daytime, the park draws visitors who are ardent wildlife enthusiasts. They are interested in spotting at least a dozen bird species out of 450 recorded species.
As a stargazer, you can seek the help of one of the park rangers. The park comprises an area of over 1250 sq. km. There is really no crowd threat over such a vast space.
On the night of your visit, if you are lucky, you can easily spot the Milky Way roaming freely high above.
Natural Bridges National Monument, Utah
That is the 'natural bridge' the monument points out to. It is located in Utah, near the White Canyon, Four Corners region.
The four corners include that of Arizona, New Mexico, Utah, and Colorado. Somehow I have been bumping on  Colorado quite frequently. It is the state in America that seems to have more tourist landmarks than any other state.
Well, coming to the natural bridge, its actual name is Sipapu Bridge. Even during the day, the sky above the bridge is damn clear. Not a speck of clouds is spotted.
I think it remains as such during the nighttime also in summer, making it an ideal stargazing place.
It possesses an enviable name as the first 'dark sky park' in the United States. It scored a rank of 2 on the Bortle Dark-Sky Scale. That is a very impressive condition for star watching in the sky.
I read there are a few tents in which you can stay overnight.
Great Sand Dunes National Park, Colorado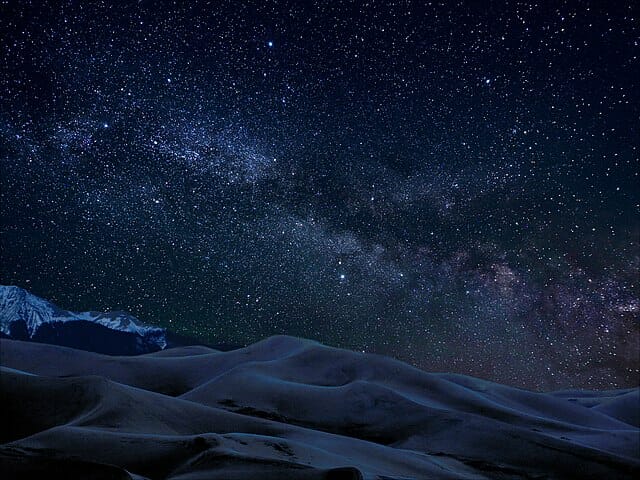 The presence of large stretches of sand dunes means, you have obstruction to count the stars up above the sky.
One particular spot among the sand dunes measures 750 feet tall. Ah, isn't that an ideal stargazing place?
With no light pollution, you can have satisfactory night sky watching. This is an IDA designated Dark Sky Park.
The Grand Sand Dunes National Park is a haven for bird watching. With over 450 species of avifauna recorded, I am sure the birders will have a field day of several new spotting.
Denali National Park, Alaska
If a place is too good for watching the "Northern Lights", then it is equally good for stargazing-right?
Denali National Park in Alaska is said to be the best place for watching the dance of light that is officially known as the Aurora Borealis(Northern Lights).
The best time for Alaska as a stargazing place is after the middle of August. In addition, the best time to watch and appreciate the countless stars and planets in the sky is from midnight until 3 am.
In other words, it should be the time of polar nights when the midnight sun is absent.
Denali Mountains with the summit at 20,300 feet is located in Alaska's interior part.
The night sky is viewed from Denali Mountain.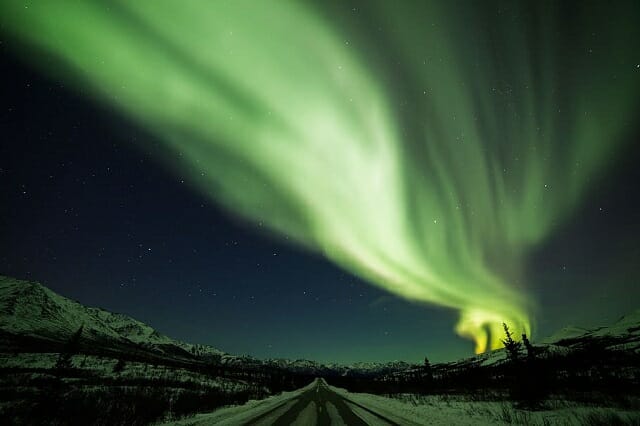 The clear and dark night skies during the winter in Alaska pull thousands of space science enthusiasts. In spite of such an ideal condition for stargazing, I wonder why it is not an IDA location!
Headlands International Dark Sky Park Michigan
The Headlands International Dark Sky Park is located near Mackinaw City in Michigan. This 500+ acres of wilderness is covered with clear skies that are essential for displaying its wares.
The news reached the International Dark-Sky Association and it awarded the status of Dark Sky Park in 2011.
In addition to being a dark sky park, it serves as a habitat for several wild animals including the huge 'Wild Turkey' and the mammoth 'black bear'.
It is endemic to North America and is considered the smallest of all black bears.
Hiking trails are earmarked for easy navigation. However, during the winter, snow covers the trails and you have to enjoy the thrill of self-navigation.
I think this is the only stargazing place in the U.S. where you can also watch the shooting stars that are also known as meteor showers. Some stargazers also reported having spotted the grand Milky Way constellation.
With easy accessibility, the Headlands International Dark Sky Park is thronged by amateur astronauts for week-long star parties in which each participant brings his own star watching gear plus his knowledge of the stars and planets.
James River State Park: Gladstone, Virginia
It's a designated dark sky park by the IDA. Actually, the James River and grassy shores themselves attract thousands of locals and tourists for the scenic beauty of the place.
During the summer and autumn nights, the sky doesn't wear any clouds, thus displaying all that it possesses.
So, during the daytime, kayaks can be seen on the river and at night, stargazers lay down on the grass and look up at the sky keenly for any sign of motion (meteors freaking away with freedom).
I think the state of Virginia has two dark sky parks and this one is located near the beginning of the Blue Ridge Mountain range. The other one is Staunton River State Park.
Spot the moons of other planets.
If you possess a powerful telescope, you can identify the moons of other planets!
I read the stargazing place offers quite a few bunk beds and camps for an overnight stay that is essential because the nearest city Gladstone is a whopping 1000 km away.
Finally, we have arrived at the ultimate place for stargazing. Is there a better place to watch the night sky more clearly than the cliffs of the Grand Canyon?
While the daylight shows us its sheer wild beauty of rugged cliffs and deep gorges, it turns us into becoming passionate astronomers with its brilliantly-lit night sky.
You will truly realize what it means to 'countless'. The stars and planets viewing are so amazing that it earned the prestigious status of 'dark sky park' from the IDA. It surprised me to note that this award was given only as recently as 2019!
I am sure this sprawling open area comprising over one million acres in the topmost place for spotting the meteors that light the sky fully naturally.
In addition, Grand Canyon Dark Sky Park is easily the best location to spot numerous constellations and several planets including Saturn.
Starr parties are held in June very frequently, drawing night sky buffs to participate. For the sake of their convenience, there are simple accommodations for overnight stay.
Do you know?
It will amuse you to note that while the U.S has 60 dark sky parks, the U.K. has only one and is named Galloway Forest Park.
Find out if there are any IDA certified dark sky parks in your country.