In this blog post, we will cover all of Palawan province, one of the large provinces of the Philippines. This province itself has 1800 islands, and islets.
I have given below a map.
The location of Palawan province
Location of Palawan in the Philippines
The image above points to the map of the Philippines. Notice the seas that surround the entire Philippines Islands.
South China Sea on the west
Philippines Sea on the east
Sulu Sea in the middle
Celebs Sea on the south
There are 7,600 + islands floating in these 4 seas.
The distance from Manila to Puerto Princesa, the capital of the province, and is 800 km.
29 Top Things to Do In Palawan, Philippines
Now, you understand the location of the Philippines. The southern tip of Palawan is not very far off from Kota Kinabalu in Borneo Island. Approximately 510 km is the distance between Puerto Princesa and Kota Kinabalu.
How to reach Palawan province so that you can see 90+ top attractions in Palawan?
Puerto Princesa has an international airport. So, check whether your country serves that place. Alternatively, you can fly to Manila, the capital of the Philippines.
From Manila, there are flight connections to different places in the province that include Puerto Princesa, El Nido, and Basuanga Island which is the largest island in the province.
The flying time between Manila and Puerto Princesa is 90 minutes.
There is also a ferry connection between Manila and Palawan. The 800 km distance is usually covered in 24 hours, roughly.
Similarly, you can ride in a ferry to Coron, Basuanga Island from Manila. The distance to be covered is 300 km. It might take about 6 to 7 hours to cross the South China Sea.
Best time to Visit Palawan:
November to May is the best time to visit Palawan or other parts of the Philippines. The rain will stay away invariably during these 7 months.
Staying options in Palawan:
Depending on where do you intend to base and tour Palawan and its islands, you choose your option. The range of stays always varies in it because of its highly popularity.
Palawan is rated as the most beautiful island in the world. You can imagine how expensive it can be in such a place.
There are resorts, hotels, and guest houses at different rates. Vacation rentals outnumber traditional hotels and beach cottages.
For budget travelers, youth hostel can be a good choice. Bed and breakfast inns are also available in some parts of it.
For adventure-minded travelers, there are campgrounds including glamping, which is a sort of luxury camping accommodation.
Food in Palawan:
Seafood is the predominant food in the Philippines. The Filipino cuisine is a mixture of Chinese and Malay. Chicken is widely eaten. Based on my research, I give below some of the foods you can taste in Palawan province.
Exotic dishes in Palawan
It is the local sizzlers, boss! Imagine eating a crocodile meat! Isn't that what you would call 'truly exotic food'? Filipinos make use of crocodile meat in more than one way, such as sausages. Crocodile meat is supposed to be very rich in protein.
It is made from the meat of something called "woodworm". It is widely served in all the restaurants in the Philippines. The woodworm is said to be harvested from 'mangroves'. It is actually a wood mollusk. Oh, man! What a find!
It is a unique Filipino dish in which chicken meat is soaked in a spice paste containing garlic, onion, bay leaf, soy sauce, and pepper powder.
If the image appeals to you, just look for 'insal' in menu card in the restaurants. It is also found in street food kiosks.
Rice is the staple of Filipinos. Sinangag is a rice dish. It is nothing but garlic fried rice. Strangely, Sinangag is made with leftover rice. Thought is an item in the main course, it is mostly eaten for breakfast.
This is beef adobo.
The expert Filipino chefs have learned to cook the chicken adobe with numerous variations which is achieved by altering the spices, condiments, and dressing. It is a highly recommended dish to try when you are touring Palawan.
Braised pork.
Kare-Kare
Dinuguan-another Filipino stew.
Jam
It looks like a mixed-fruit jam, but no; it is actually a bottle of coconut jam. I have never heard of a jam made with coconuts.
This is how the coconut jam looks when spread on a bread toast. Another major ingredient to make the jam thick is either chicken or duck eggs.
The range of Filipino dishes is quite long that needs a dedicated blog post. I will get to it later.
 Palawan  Attractions:
Let us now begin our long list of attractions in Palawan. Please note, the majority of things to do in Palawan involve island hopping, entering lush rainforests, hiking evergreen mountains, visiting beaches, wildlife watching, and enjoying water-based sports.
Underground River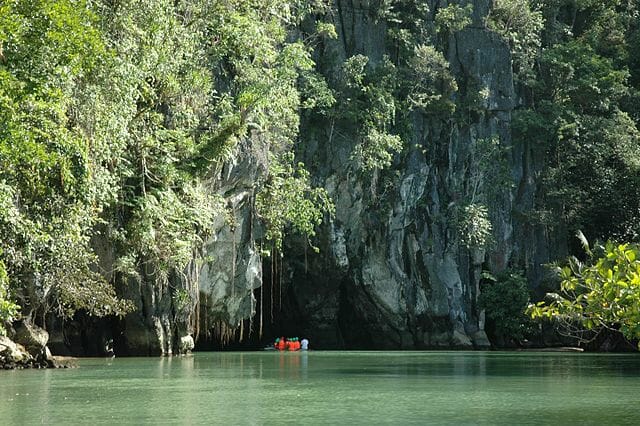 Aren't you really curious to touch the water of an underground river? This is the foremost attraction.
This is part of Puerto Princesa Subterranean River National Park. The journey begins at the base of St. Paul Mountain. The location is within the island Province, one of the 1800 islands of Palawan.
If you are staying in any hotel in Puerto Princesa, you can reach the underground river in an hour or so. The rarity of a subterranean river made the UNESCO to list it as a Heritage Site.
Additionally, it falls under the list of New 7 wonders of Nature.
As a Ramsar Site, it is abundant with prey to birds, mammals, and even reptiles. The area is full of rare wildlife. The Philippine Myna is an example.
Hill Myna
Here is a video of the tourists entering the underground river.
Did you notice the bats hanging onto the jagged rock formations?
Kayangan Lake
Even in a photograph, it justifies its certificate that says it is the cleanest lake in all over Asia. It is located in Coron, one of the islands in Palawan. Kayangan Lake is one of the major attractions.
Look at the backdrop of a dense jungle. It adds a certain romantic appearance to the lake.
Kayangon Bay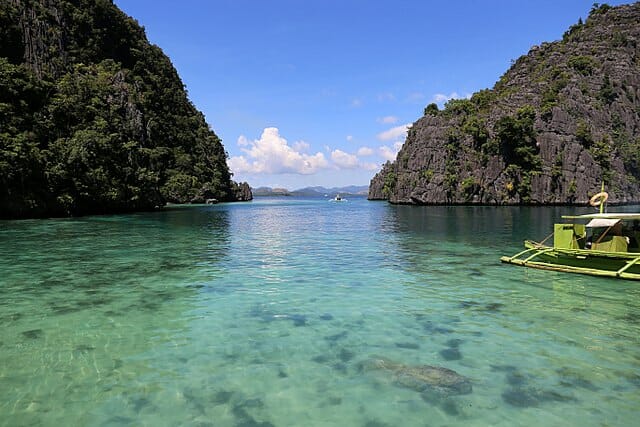 It's sheer magnificent. Bay is comprehensively explained. This is how a 'bay' looks. Take a boat ride, go near the shore and take a photo at the opening of the bay.
Twin Lagoon
What a beautiful spot in Coron Island! The water is compelling visitors to take a headlong plunge. Two clear bodies of water separated by a cliff. This breathtaking place is accessible only by boat.
Swimming is allowed in the twin lakes. The scenery will be absolutely captivating. The Twin Lagoon is one of the best attractions in Palawan.
Note the word, 'lagoon' and it indicates the water is from the sea. It is a kind of sea inlet, almost like a 'sound'.
Note: There is an entrance fee to explore the two lagoons and their shores.
Barracuda Lake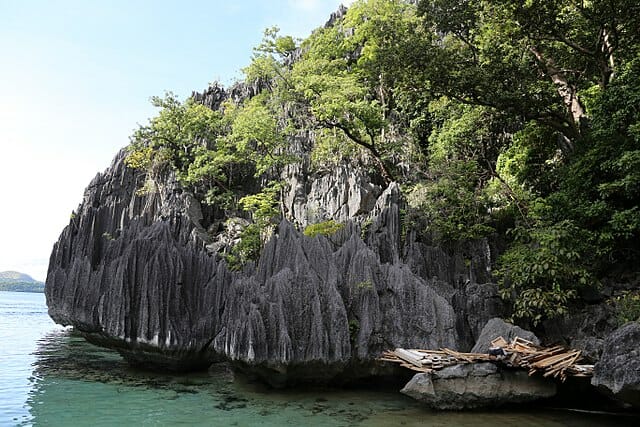 No barracudas here, folks! The name is not meant to scare you off.  Long ago, a barracuda's skeleton was found resting at the bottom of the lake, and hence the name.
Very beautiful rock formation-eh? It is also unique and commands a photograph with you standing in front of it. This sight is also in Coron Island.
Coron Island has several such spectacular rock formations, which are sometimes as big as an islet. Below is one such example.
It is one of the top diving sites in the Philippines because of its unique temperature changing property. A phenomenon called 'Thermocline' is a sort of layer in the water body that lies in between the upper and lower layer. Inexplicably, the temperature varies several times in a day and that too distinctly noticeable.
Banol Beach
Of the many things to do in Palawan, visiting its hundred plus beaches will be enjoyable.
A boat ride in an open boat, even in the midday, will be pleasant. Water sports buffs put on their snorkeling mask and explore the marine lives, leisurely.
Waling-Waling Island
I already wrote at the beginning of this blog post that Palawan province, which itself an island in the Philippines, has about 1800 islands.
Well, Coron is one such island which has a few islands under it. Waling-Waling Island is a sort of sub-island of Coron.
It is a resort island and attracts mainly Filipinos for a weekend stay. The uncrowded beach, clear water, and excellent hospitality are great traits to be called a perfect honeymoon destination.
The blue sea contrasts beautifully with the white sand shore. The lobsters caught here are said to be delicious. Well, that alone would pull food bloggers and paid connoisseurs to this tiny floating islet off the shores of Coron Island of the province.
Diving Spot
Apart from its numerous naturally beautiful spots, Coron has several shipwrecks underneath. They were all sunk during the Second World War. The ships belonged to Japan.
Therefore, Coron Island is a favourite diving spot for ardent scuba divers.
Las Cabanas Beach
We have now come to El Nido, at the northern end of the island. All of El Nido is famous for beautiful white sand beaches, clear sea, limestone cliffs that act as observation platforms and diving spots, great marine creatures.
Las Cabanas Beach is the most visited beach by the Filipinos. Even from Manila, the locals will come to El Nido just enjoy the pristine beaches that don't seem to get spoiled by tourism.
If you are wondering what El Nido is, it is one of the municipalities of the province and is known for its stunning coastline and marine vegetation.
El Nido is considered more beautiful than Coron Island.
Nacpon Beach
The waves are children-friendly here. In addition, the beach has a beautiful backdrop of coconut trees that remind you are on a tropical island.
Nacpon beach is a bit far off from El Nido. 17 km is the distance between the two. Here too, you have to shell out some dough to enter the beach.
You have a few eateries that serve you piping-hot fish curries. The 4-km long beach can never look crowded.
Seven Commondos Beach
Visiting this El Nido beach is one of the happy things to do in Palawan. The beach sports white sand. A small hillock is behind the beach with thick foliage.
It will add to your pleasure when you have to come here by boat only but it is a very short ride.
Reefs are seen quite close to the beach. Water-happy snorkelers are seen with gleaming face to float on the water.
Island hopping tour in El Nido
El Nido for its part is supported by 12 cute islands and islets. It is advisable to charter a separate boat to do island hopping in South China Sea.
Among its islands, Cadlao Island is the most visited one. The second most pristine uninhabited island to see is the Entalula Island. These are the places on earth where beauty and serenity alone co-exist. You should see it to believe it, buddy.
Mount Taraw
If you can test your stamina for half an hour, you can reach the top of the small mountain Taraw. The panoramic view is so stunning that your gasping breaths will immediately recede. Mt. Taraw is one of the important tourist landmarks in El Nido.
Mount Tapyas
Hiking this mountain that offers wonderful views and memorable hiking experience is one of the things to do in it. Hiking is children-friendly. You only need to climb 700 steps. You can expect to reach the top in 45 minutes.
Mount Tapyas is located in Basuanga Island.  Remember to begin your climb so that you reach the summit just before the sunset which is a once in a lifetime pleasure.
Calauit Safari Park
The open zoo is set in idyllic conditions. Seeing the tall giraffe and the cute zebra on a tropical island will give you a new experience. Sometimes, even those exclusive African animals will seem to question themselves as what are they doing on a land surrounded by a sea.
Different species of deer and bucks are added attraction, especially for the children. A mammal called "Binturong" also known as "bear cat" is a rare animal that is not found in other parts of the world.
Binturong
Most of the animals were brought from Africa.
The location of this wildlife sanctuary is Calauit Island, which is part of Basuanga Island. It lies very close to Basuanga Island.
Just 5 minutes boat ride will get you to Calauit from Basuanga. The sanctuary occupies a big 3700 acre land. The entire Calauit Island is transformed to a wildlife park and naturally, it is one of the important tourist attractions in this province.
Taraw Cliff
After a long canopy walk on a suspension bridge and through wooden steps, you reach the top of mountain Taraw, whose jagged clips look scary and at the same time, beautiful.
Once you reach the top, you will be glad you took the pains of coming here. The view from the top is nothing short of breathtaking.
Climbing the Taraw Cliff is one of the exciting things to do in Palawan. The location of it is El Nido municipality, in the province.
Sabang Beach
Palawan's most sought-after wave surfing spot is this beach. The waves suddenly assume mammoth proportions that throw fear on the onlookers' face but it is excitement for those who dare to ride those huge waves.
Sabang is located in Verde Island.  Though there two more beaches in Sabang, it is the Sabang beach that is a happening place.
The tourist, mainly Filipinos throng here because of a party atmosphere. There are restobars that open early in the noon. During night, dance bars open to add some cheer among the visitors.
The adjacent La Laguna Beach (Big) is conducive for swimming.
Tabon Caves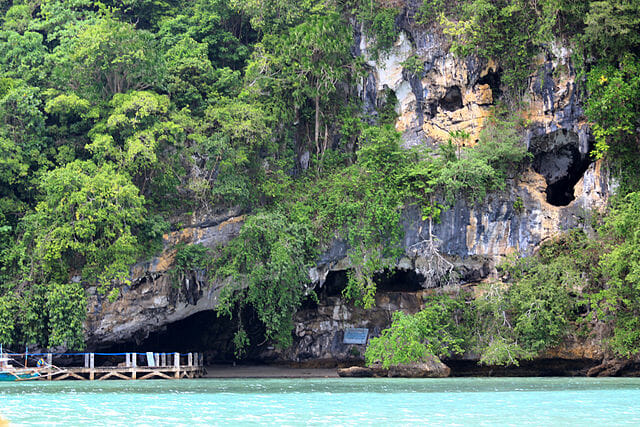 The scene looks somewhat eerie. It is always so when a tall cliff that is covered with plenty of trees, stands in front of a large water body where rarely humans are seen. To see these caves, you have to go to Quezon municipality.
Do you know there are 215 caves? That is a staggering number in not a very large area.
As of now, only 29 caves were officially entered. The result of the study is, only 7 of them are still opened to visitors.
Where can you watch the mysterious Fireflies in Palawan?
Firefly parks are scare in the world. I still see them in the backyard of my house in Ottawa.
In the capital, Puerto Princesa, there is a firefly park. They lit up the surroundings with their light-emitting tail.
The name of the park is Iwahig Firefly Watching Mangrove and Wildlife Park, Puerto Princesa.
Please note that in order to watch these brilliant flying creatures, you have to go to Palawan only in November and December when the mangrove bushes look fresh and green.
Lio Beach
Lio Beach is known for a range of water sports. Just for the sake of water sports enthusiasts, this island has 4 hotels and several restaurants.
This beach is El Nido and is said to be very clean and rates os one of the best beaches in Palawan.
Those who are not well versed in adventure water sports are happy to swim here.
Shimizu Island
Look at the giant rock formations! They look stunning.
Bacuit Bay is one of the sedate places in El Nido. From here, a 45 minutes boat ride will take you to Shimizu Island that will instantly steal your heart even as your boat is about 400 meters away in South China Sea. Shimizu Island is on the west coast of El Nido.
There is an interesting story to the island's Japanese sounding name. Once, a group of divers went in the water but one never surfaced.
Finally, when his body was recovered, he was identified as Shimizu and the island was named after him.
Snorkelers and scuba divers are eager to see the multi-coloured marine lives and underwater vegetation.
A special boat that is dedicated to take the tourist to this island is the only option to set afoot on this island. Lunch is included in your tour ticket.
Nagkalit-Kalit Waterfalls
Among the various things to do in this island, seeing at least a few hidden waterfalls is a must. Waterfalls in such terrific tropical islands will be located amidst picturesque setting.
You can expect a forest surrounding the waterfalls. In addition, you are sure to find several birds that you might not have seen before.
Nagkalit-Kalit waterfalls are located in El Nido. It seems, El Nido steals the show when it comes to the things to do in Palawan.
When you are taken to Nacpan Beach, you will see signboards showing the direction to head to the waterfalls.
From one of the two falls, water is gushing and it is an inviting sight. The lack of height makes the falls safe to go near. Did you notice the water looked damn clean?
Strangely, the water is very cool to touch in spite of bright sunshine near the trekking entrance.
Bulog Dos Island
It is part of Coron. As in the other islands of Palawan, the water is turquoise and the beach is with white sand.
You might have come across the word 'turquoise' when it comes to describe the color of sea. Do you know what is meant by that word? Do you know the real color of 'turquoise'? Here, take a look at the mineral known as turquoise.
Now, do you recognize this color and have seen in some seas? The basic chemical of turquoise is Copper Phosphate.
This island is just a sandbar. It means a strip of sand that is bordered by the sea on its either side. Bulog Dos Island is certainly one of the must-see attractions.
You may be excited to know that you have to ride in a boat for nearly 90 minutes from Coron Island to reach this small paradise.
The presence of corals and numerous exotic marine lives warrant an hour at least in the water with snorkelling mask on.
Here is an aerial view of the Bulog Dos Island. Notice the greenish-blue color of the water that is known as 'turquoise'.
There are some hotels too here to stay.
Baywalk in Puerto Princesa
I would rate this Baywalk as one of the top 10 attractions in Palawan. The video showed the Baywalk facing the sea in Puerto Princesa, the capital city. The city is part of the island, one of the 1800 islands of this province.
It is fairly a long walk measuring roughly 2 km. On the way, you can see the U.S. Embassy also apart from numerous attractions.
Quite a few open-air eateries make aromatic seafood that you cannot resist the temptation to taste a couple of seafood dishes.
Atwayan Beach
Visiting this beach is one of the recommended things to do in Palawan. It is a serene and secluded beach in Coron Island. 'Tuay shells' are found scattered on this beach. I couldn't gather more information on tuay shells except the Filipinos make a soup out of them. However, I stumbled onto a video of Atwayan Beach and it is simply gorgeous with white sand that is nicely contrasted by turquoise sea.
Entalula Beach
The best of turquoise sea, white beach, rocky mountain, and a deep jungle abutting the beach-what more can you ask for on a real tropical island?
It is undoubtedly the top most attraction. Entalula Beach is located on an island bearing the same name. It is off the shores of El Nido.
CYC Beach
The wonderful marine lives that swim in very clear water makes this beach attractive for swimmers and snorkelers. Somehow, this beach keeps pulling more visitors that resulted in several hotels coming up at this venue in the island.
CYC when expanded says Coron Youth Club. Coron Island is already known for superb beaches that are backed by mangrove trees.. Additional beauty is the white sand.
For a change, there is no entrance fee for CYC beach.
Cadlao Island
It is a breathtaking island in El Nido. Uninhabited by human beings but inhabited by stunning coral reefs and wearing white sand, it has several beaches for deserted look.
Listed as one of the must-visit attractions in Palawan, you will be taken aback by the stark beauty of the beaches.
The names of the beaches where the tourists are taken by any island hopping tour packages, include:
Nat-Nat Beach
Pasandigan Beach
Cadlao Lagoon—best for swimmers and snorkelers. There is also a resort with great reviews.
Paradise Beach
Bucal Beach
To maintain the ecology of this marine paradise and to preserve the corals, you need to pay an eco-tourism development fee apart from the entrance fee. Oh, there is one more called environment fee.
San Vincente
It is almost a secret destination in it. It has a long beach known exactly by the same name that is said to be longer than Boracay Beach.
Long Beach stretches into a big 15 km long! It is located on the west coast of Palawan Island. The best time to travel to Palawan Island is from November to May.
If it's attractions are so high number and widespread across the length and breadth of the province, how one should organise his itinerary?
Several tour operators who are equipped with arranging island hopping tours offer tailor-made tour packages. Most of the tours require you to spend 4 days and 3 nights.
After closely studying several tour packages, I recommend the following tours:
El Nido island hopping tour
Enjoy your travel to the Philippines, one of the ultimate land of tropical paradise.