We have no idea how many lakes are there in the entire world; only individual countries have their own count. However, we certainly have a list of all the most beautiful lakes in the world.
I have gone through more than 80 listings of beautiful lakes spread across the globe. With great difficulty and after a lot of reluctance, I squeezed the list and filtered just 10 lakes that will steal our hearts.
10 Most Beautiful Lakes in the World
If you are by chance visiting a country where one of my top 10 lakes is located, make it a point to see it and share your photographs through social media with the apt hashtags.
Let us go over the list of 10 most beautiful lakes in the world.
Most Beautiful Lakes in the World: Lake Pinatubo, Philippines
The photo of this beautiful lake in the Philippines did not do justifications to its actual size. Lake Pinatubo comprises 450 acres of surface area.
Such a vast lake is purely filled by rainwater and the water cannot be contaminated because the lake is situated at a staggering height of 3000 feet!
This is a crater lake, mate; it means, the lake is on top of an active volcano called 'Pinatubo'.
If you ever travel to Manila, the capital of the Philippines, please take time off to climb atop mount Pinatubo and see the simmering lake under glorious sunshine.
Here is another stunning view of Pinatubo Lake.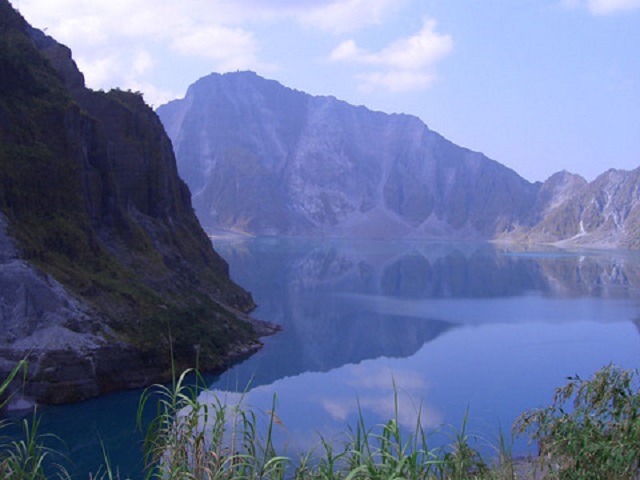 You can travel by car up to a certain height of the volcanic mountain.  Brace yourself for an hour of trekking on the mountain trail to reach up to the rim of the lake.
Most Beautiful Lakes in the World: Lake Titicaca, South America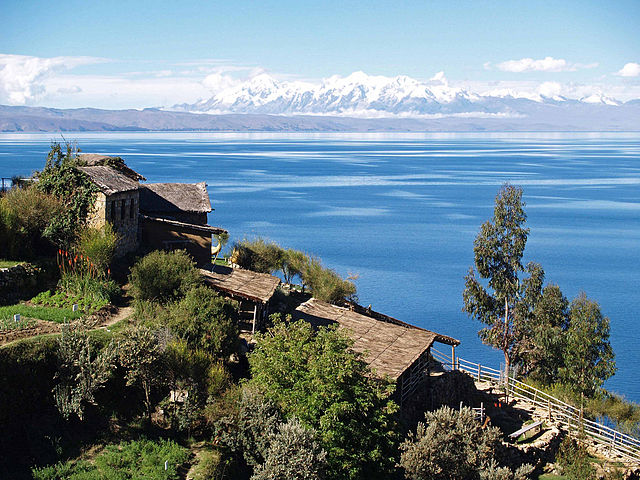 Here is an interesting fact about this beautiful lake in the world. Lake Titicaca situated at a whopping height of 12,500 feet above sea level is fed by as many as 27 sources. Imagine nature's hidden surprise.
At such an alpine height, 27 rivers converge on to a single but vast water body.
The area of Totocaca Lake comprises 8300+ sq.km.  Lake Titicaca flows in two South American countries namely Bolivia and Peru.
Can you visualize a lake that stretches into 190 km! Incredible length-eh? Its width is 80 km!
Islands in Lake Titicaca
There are man made islands and natural islands on Lake Titicaca. It's the artificial islands that drew my attention.
Look at one of the man-created islands in Lake Titicaca.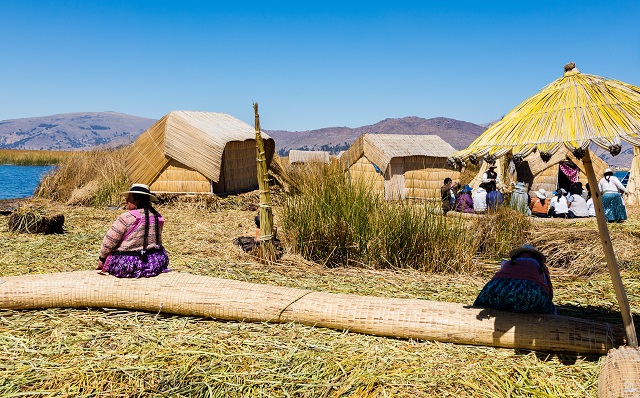 There is a kind of reed that grows abundantly on the lake's shore. Uros, the native of Amazon rainforests, collect the dried reed and dump them on the water and repeat the process till they get a solid platform to build a thatched hut.
These artificial islands are all floating islands.
Other naturally formed islands in Lake Titicaca, South America.
The residents do not eat sugar because they have no access to dentists. What a strange arrangement!
Taquile Island
Isla de la Luna
Isla del Sol
Surprisingly, the natives that live here offer Homestay facilities. You as a guest should be willing to eat their food only.
Lake Isabelle, Colorado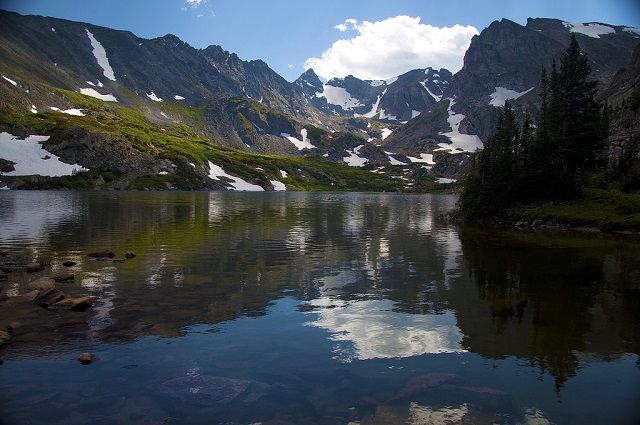 Surrounded by snow-clad mountains, Lake Isabelle in Colorado is one of the most beautiful lakes in the world.
It is located 55 km from Colorado's capital Denver.
Because of the mountains at the backdrop of this beautiful lake, it attracts trekking enthusiasts all through the year except high wnter when the lake itself is frozen.
The highly scenic Apache and Navajo mountains and their summits draw hikers. There are several walking trails on the Indian Peaks thronged by avid fitness buffs from all over North America.
Beautiful Lakes of Canada
Lake Horseshoe, Canada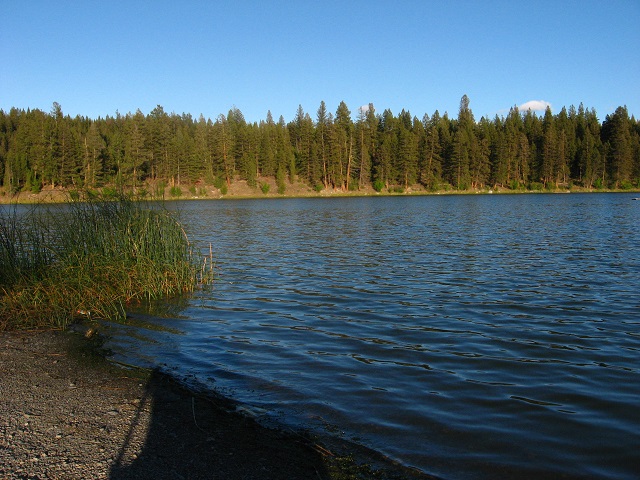 Canada is the ultimate country in the world for picturesque lakes that are also unimaginably large. Canada is home to 31,000 plus lakes including the four Great Lakes.
Lake Ontario
The Lake Superior
 The Lake Erie
Lake Huron
Don't you think it is tough to choose some beautiful lakes from a whopping 31,500 lakes in Canada? However, based on the travelers' feedback, I have added a few Canadian lakes in the list of 10 most beautiful lakes in the world.
The Horseshoe Lake is one such scenic lake in Canada.  It is part of the beautiful Jasper National; Park, Alberta province.
Lake Huron, Canada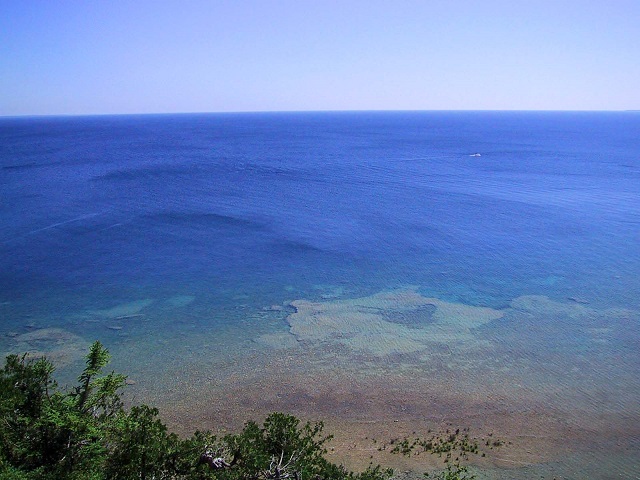 One of the Great Lakes of Canada, Lake Huron is connected with Lake Michigan of North America through a few Straits of Mackinac.
One of the strikingly beautiful lakes in the world, Lake Huron's size is beyond our power of visualization. Its length alone is 332 km! Its width is almost equivalent at 295 km!
The overall area of Lake Huron occupies a mind-boggling 59,600 km.
Most Beautiful Lakes in the World: Lake Erie, Canada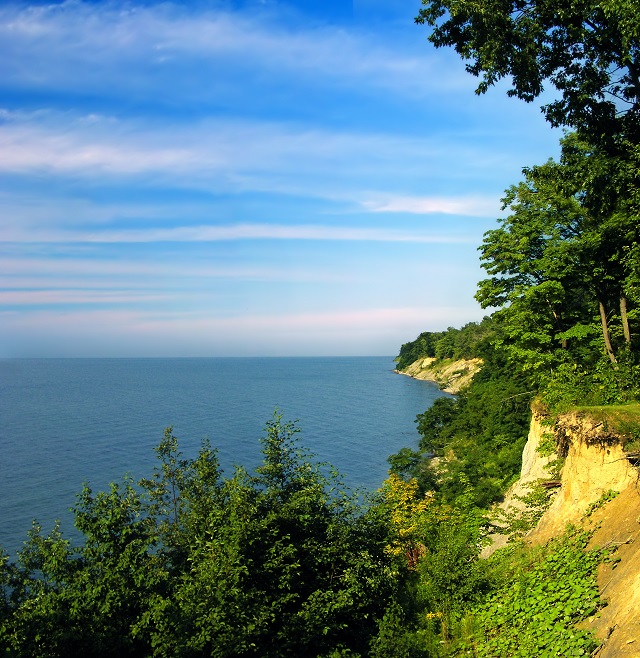 Lake Erie is undoubtedly is one of the beautiful lakes in the world. The fact that it is part of the 4 Great lakes of Canada adds much weight to its beauty and of course its size.
It attracts a large number of visitors that are mostly from North America.
Moraine Lake, Canada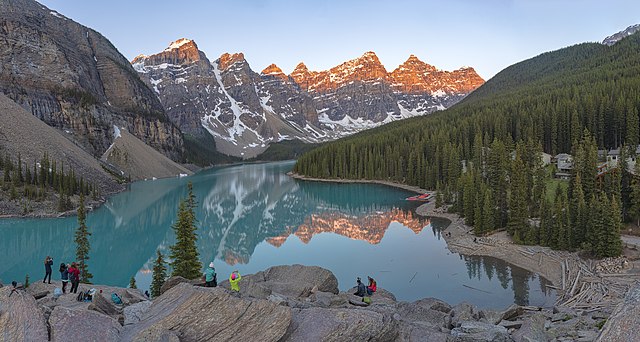 Moraine Lake is more beautiful than Lake Huron and Lake Erie. The photo of Lake Moraine above is a proof of its unmatched beauty.
Since Lake Moraine in Canada's Banff National Park is a glacial lake (fed by the melting glaciers), its appearance varies from time to time.
The several mountain peaks that you see as the backdrop of the Lake Moraine are actually ten in number. They are aptly called "Ten Peaks".
The summit of each of the mountain stands at an average height of 6000 feet!
Lake Moraine is a big tourist attraction because of its location inside Banff National Park, the numerous walking trails and the canoeing facility the lake offers.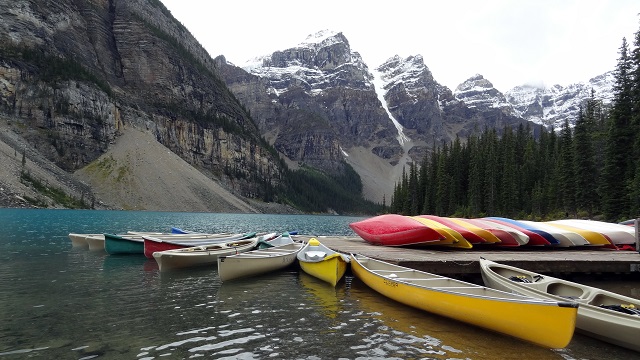 Reed Flute Cave, China
Reed Flute Cave is a complex of caves housing a lake that is illuminated beyond description in multicolor.
See the video clip below and you will understand the reason for its popularity.
All the colorful lightings are man made.
This beautiful lake in the world is located in Guangxi province, China.
The walls of the caves contain deposits of limestone, stalactites, and stalagmites.
This incredible lake attraction in China is said to be 180 million years old!
OMG! This Chinese tourist landmark has been attracting visitors for 1200 years!
Wular Lake, Kashmir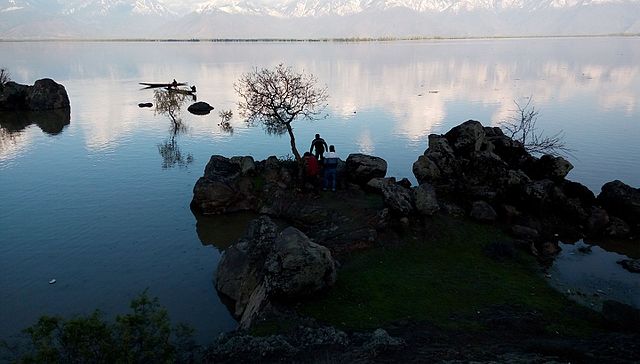 Of so many lakes in Jammu and Kashmir state of India, Dal Lake is the most popular one but the Wular Lake is the most beautiful lake of them. It's a freshwater lake in India.
Wular Lake is not only a big tourist attraction but also known for its rare fish species that include the oddly named Mosquitofish.
Wular Lake's fish yielding capacity is evident from the fact that around 8000 fishermen's livelihood depends on the fish.
The next big attraction is the birds that also feast on the number of fish that live in the Lake Wular.
During the peak tourist season, you can enjoy boating and water skiing in Wular Lake.
Mystic Lake, Montana
Mystic Lake's beauty is unmatched even by the lakes of Michigan. Surrounded by majestic, snow-clad mountains, trekkers throng the lake during summer and fall seasons.
These ten lakes are the most beautiful lakes in the world. Pick your choice and plan a trip.